T

he Galapagos Islands are known for many things: epic wildlife, beautiful beaches, and being wildly expensive. What most people don't realize is that cheap and even FREE activities are plentiful here. So why the big secret?
The tourism industry has cemented the idea that the Galapagos can only be explored via cruise. This is false. While it's true that boats are necessary to reach more remote islands (which require a guided tour), there are four other islands where tourists can stay independently. This means plenty of options for a DIY trip!
Intrigued? Here's all the cheap and free activities you can do yourself in the Galapagos. Don't miss our other SUPER comprehensive post on planning a trip to the Galapagos on the cheap. Bon voyage!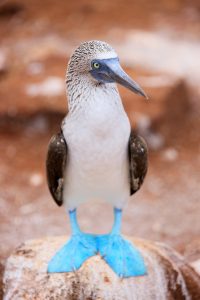 Activities accessible on all islands
Across the four islands that tourists can reside on – that is, Santa Cruz, San Cristobal, Isabela, and Floreana – there are many activities that are cheap or free. Marine iguanas, sea lions, blue-footed boobies, sea turtles, and more can all be spotted without a multi-night cruise!
That being said, if you do wish to book a last minute cruise, we'd strongly advise checking our other post here. Now, here are general activities you can do on any of the four inhabited islands.
1. DIY snorkelling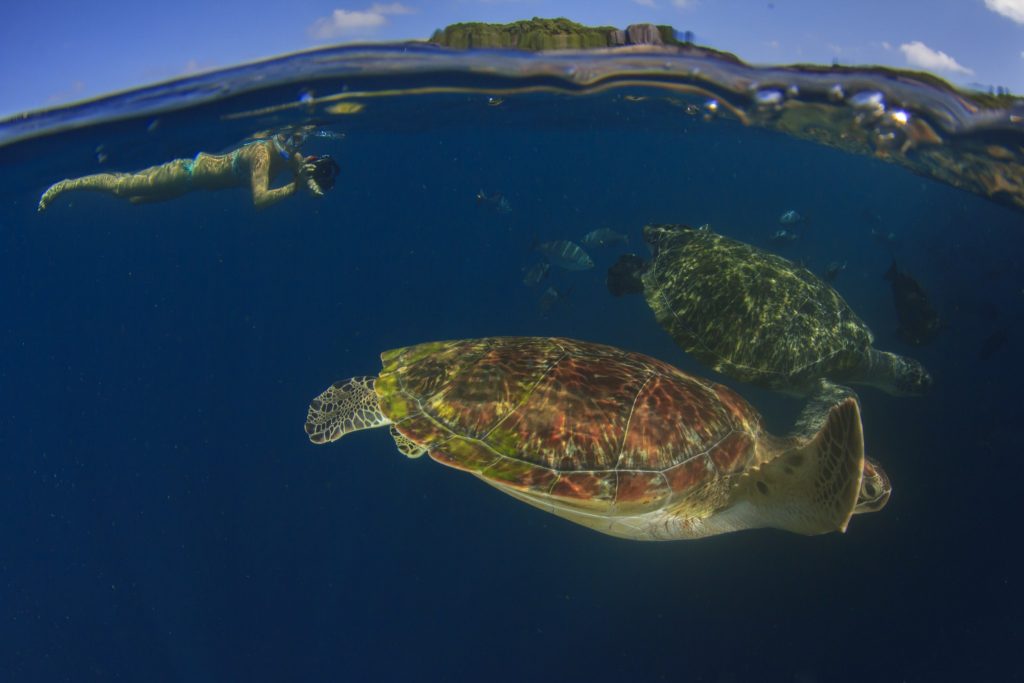 What: Rent gear from equipment rental shops and/or accomodation, then visit various snorkel sites (ask staff for input, we list some below!)
How: Rent gear or bring your own!
Price: ~$15-$20+ USD per day (hence can be cheaper to bring your own)
Snorkel shop or hotel staff will know the best spots for marine life spotting. Every island has snorkel spots reachable by foot, water taxi, or kayak.
2. Sea lion selfies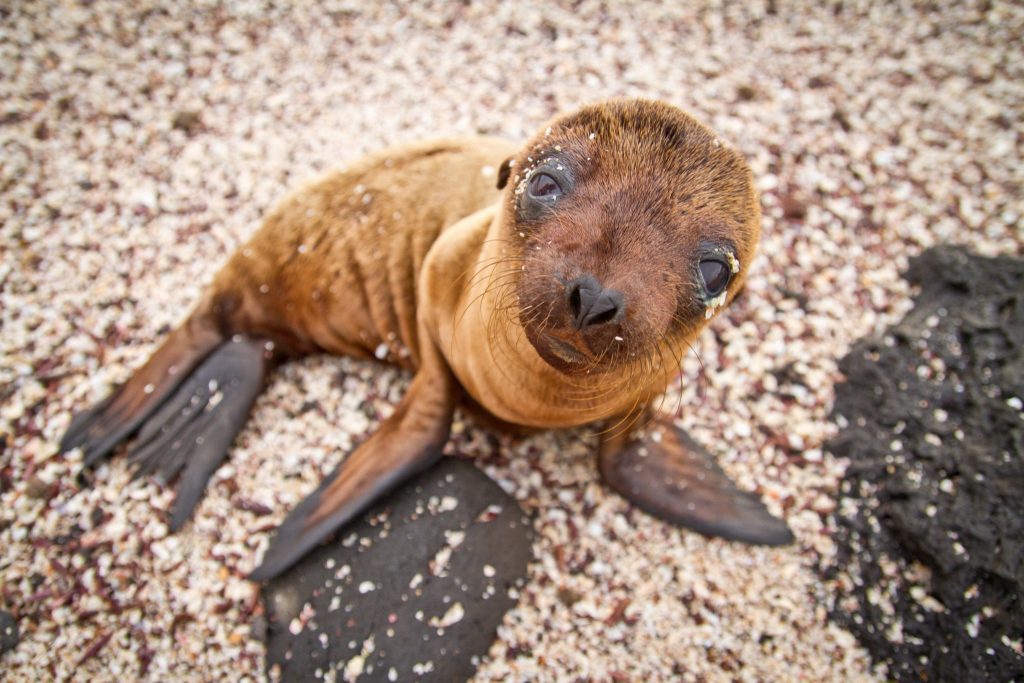 What: Take photos with sea lions along beaches, docks, and the main strip
How: Snap a pic! Do so responsibly – from a distance, quietly, and without flash.
Price: Free!
Want the best selfie of all time? Grab a seat next to a local – sea lion, that is. Fearless of people, you can find them hanging near benches and beaches anywhere, no tour needed.
On Isla San Cristobal we could reliably hang out with them near the port, where nearby cafes & ice cream shops offer wifi to customers. Grab an ice cream and Skype home to show off your newfound friends.
3. DIY kayaking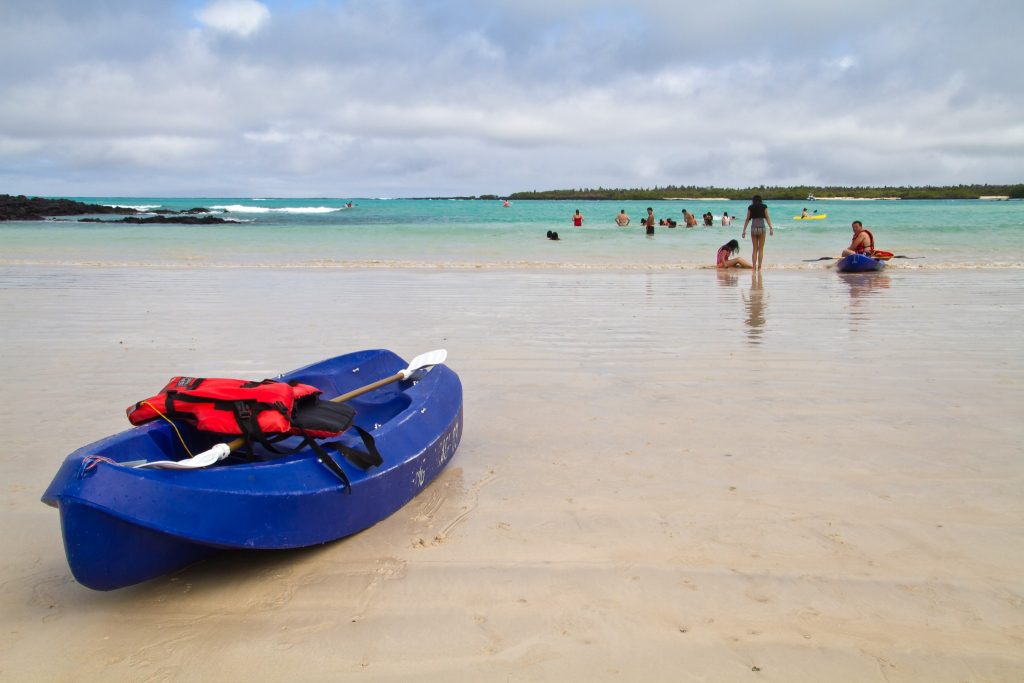 What: Rent from rental shops along the main streets and set out from nearby beach (you may want to also rent snorkel gear)
How: Ask your hotel or look for rental stores along the main streets.
Price: $20-$40 USD for the day
It's not hard nor is it expensive to rent some kayak gear and paddle for the day. Simply pop into any of the abundant dive/rental shops and ask where is best to head out. Staff will be happy to advise on good kayaking and snorkel routes.
4. Island hopping
What: Visit any of the islands accessible by ferry and/or day tour. Islands you can visit on day tours include Santa Cruz, San Cristobal, Floreana, Isabela, South Plazas, Bartolome, North Seymour, and Santa Fe. Islands you can visit by ferry include Isabela, Floreana, Sana Cruz, and San Cristobal.
How: For day tours, book ahead online, or in person at a shop or hotel. For ferries, purchase at ticket booth (usually located at an island's main port).
Price: Tour prices vary from $60-$200+ USD (snorkel and dive tours cost most, land-based walking tours are cheapest). Ferries are ~$20USD+ each way.
Day tour choices are endless. The only question is, water or land? Tours are usually either land-based with short hikes and wildlife spotting, or water-based with snorkelling or dives. So, where to go?
For stunning vibrant flora, South Plazas is hard to beat with its red bushes, green cacti, and yellow iguanas. Bartolome has epic volcanic landscapes that will make your Facebook photos the envy of all you know. that will make your jaw drop. Isabela holds the world's second largest volcanic crater. It's hard to go wrong with any option!
Most of the ferry rides are fairly long (a few hours) and pricey , so "island hopping" in this regard is best done with an overnight stay, not as a day tour.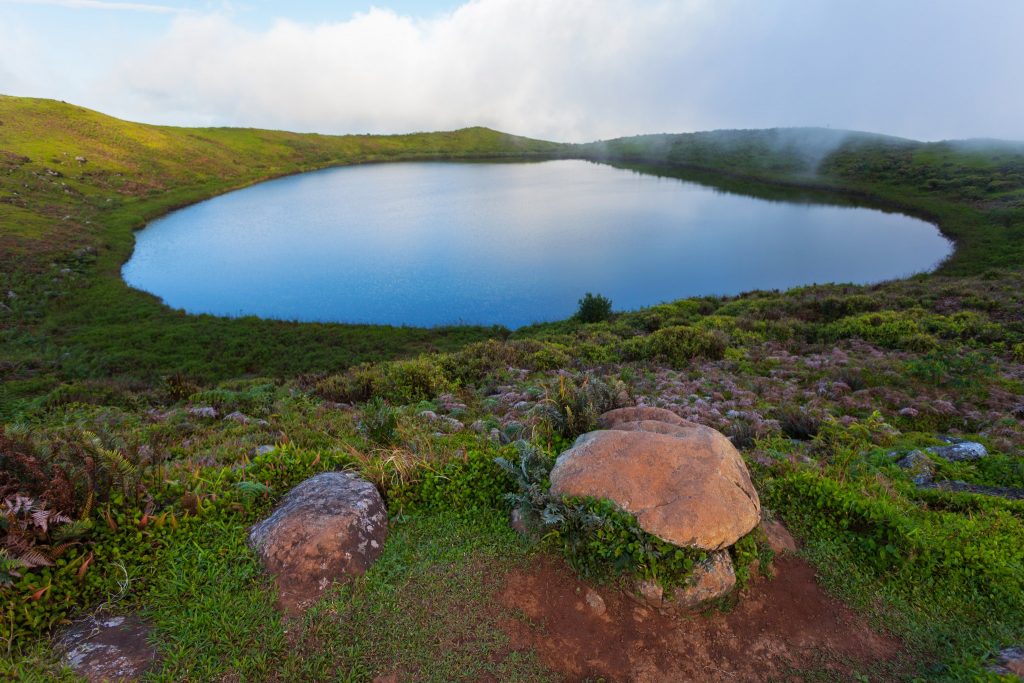 5. Visit world-class beaches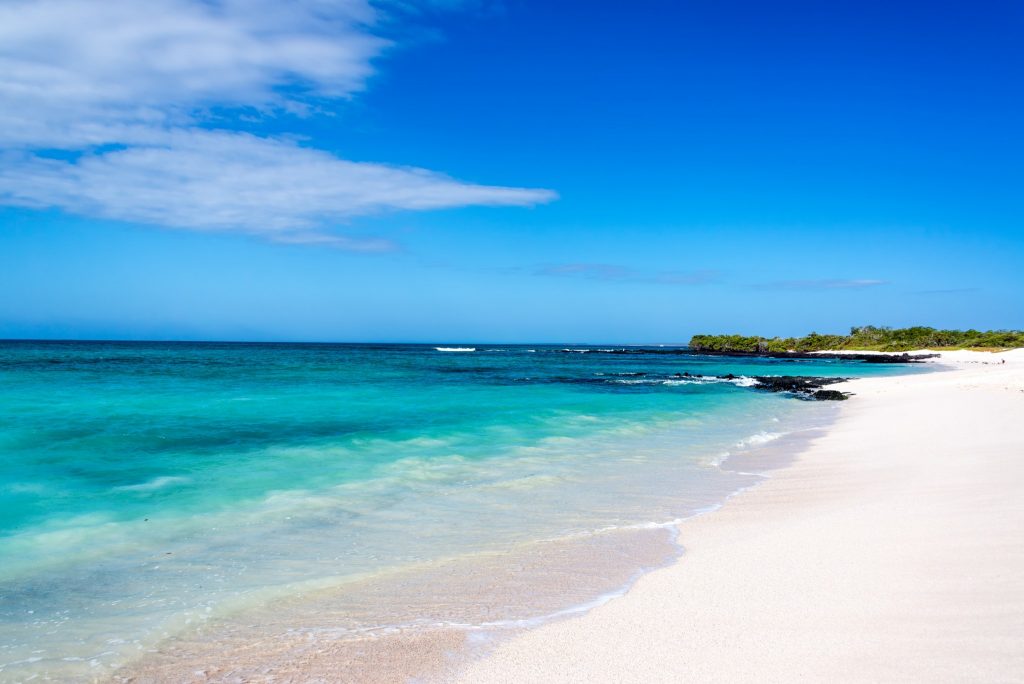 What: Beach bum on pristine beaches next to friendly birds, iguanas, and sea lions
Where: Any recommended beach, ask your hotel/hostel staff or a Tourist Information Center for recommendations
Price: Free!
It's no secret that Galapagos has some breathtaking beaches. One can easily spend a full day picnicking next to wild iguanas and fearless birds with turquoise ocean before you. Simply ask at your hotel or tourist information centre for good beaches.
6. Wander the streets on foot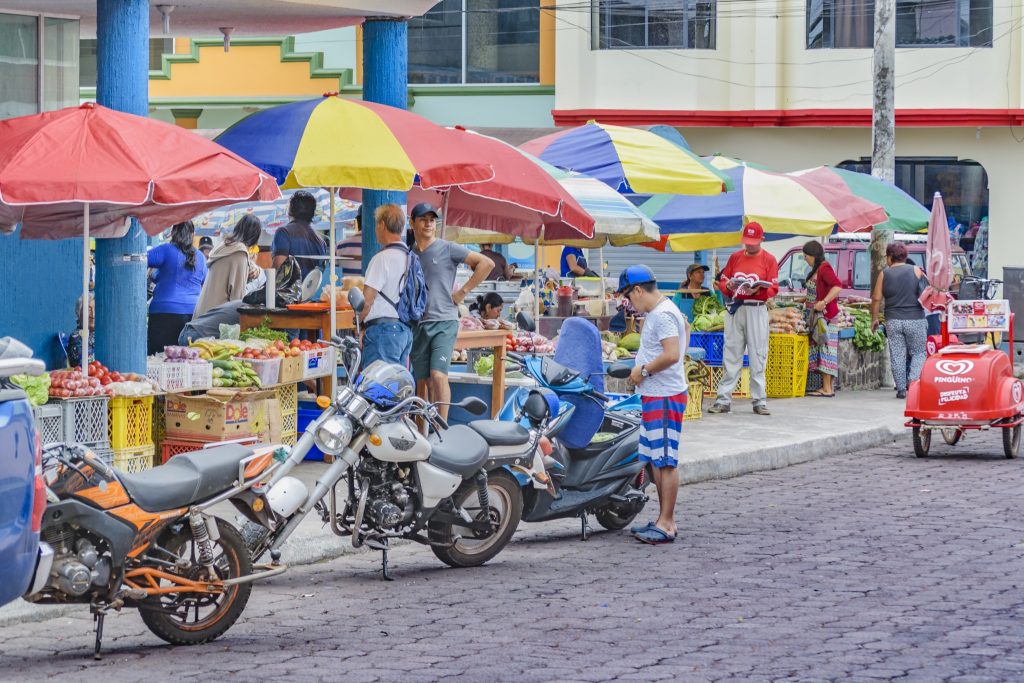 What: Explore the surrounding shops and neighbourhoods
Where: Main strips and beyond
Price: Free!
The Galapagos has a definite South American flare. Why not immerse yourself in its sights, scents, and culture? Have a street-made empanada or check out a local bar for a cold brew while a South American soap opera plays on a hanging old-school TV.
Many of the main streets offer exquisite handmade souvenirs and artwork. Even if you aren't after a splurge, it makes for great window shopping. Be sure to sample the local fare –platos del dias, soft-serve ice cream, fruit & yogurt bowls, freshly blended fruit smoothies, and more.
In Santa Cruz we stumbled upon a BBQ along the main strip (below) where fish were freshly prepared and cooked. Eager sea lions and pelicans happily awaited scraps!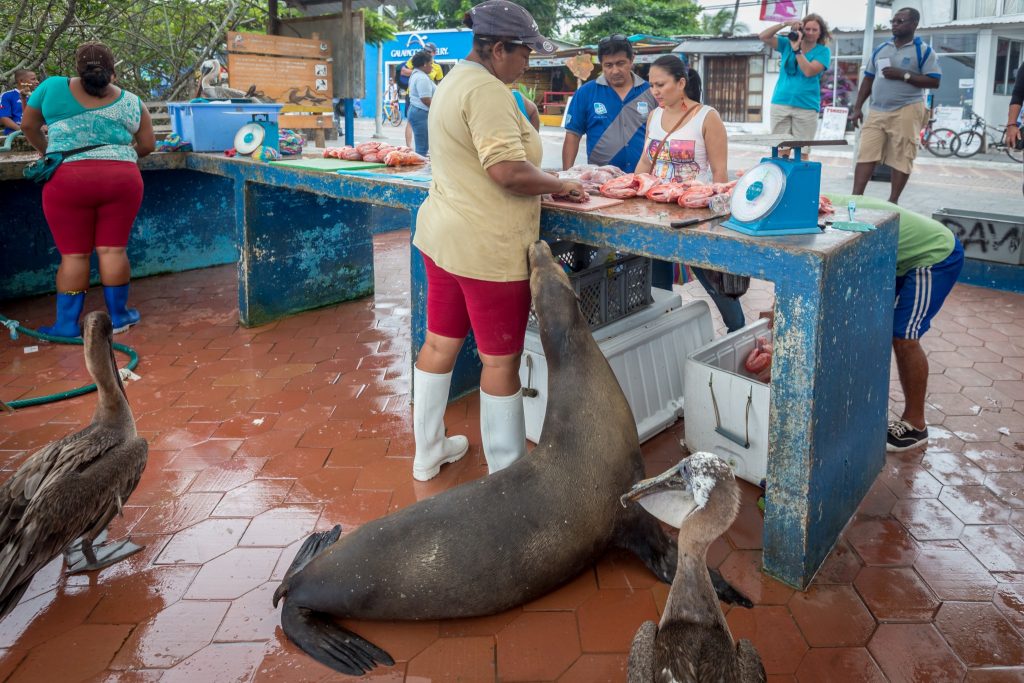 Activities on Santa Cruz Island
1. El Mirador de Los Tuneles (lava tunnels)
Where: Near Bellavista, look for signs saying "Los Tuneles"
How: Take the local bus or taxi to Los Tuneles. Best combined with a trip to the El Chato Tortoise Reserve and the Los Gemelos Craters if you wish to see them.
Price: Santa Cruz Los Tuneles $5USD entrance fee, plus ~$30-$40 for taxi hire (be sure to negotiate the price before getting in and confirm which stops you are making).
Much of the Galapagos was formed by volcanoes. But did you know that lava flows also created hidden underground caves throughout the islands? Hot, molten lava left hardened outer "skins" when it continued flowing outwards, leaving behind long, tunnelled caves.
On Santa Cruz Island you can explore these on your own, tour-free, for just a few dollars. We had the caves entirely to ourselves on our visit and it is conveniently close to the next attraction… tortoise viewing!
2. El Chato Tortoise Reserve

Where: Isla Santa Cruz – Bellavista Area (near Los Tuneles)
How: Taxi hire or public bus
Price: $3 USD (includes complimentary organic coffee & tea)
Gaze into the wrinkled eyes of 100+ year old tortoises at the El Chato Tortoise Reserve. Here winding paths are speckled with gently-roaming tortoises who are unfazed by tourists. This is a great rainy day activity (often it is rainy in the highlands anyway).
If you're making the trek here, you may as well combine it with a visit to Los Tuneles and the Los Gemelos craters as both are nearby. Most taxis will wait for you at the reserve while you take tortoise photo ops, explore the nearby lava tubes, and then drive you to the Los Gemelos craters. Be sure to agree on visiting all or any of these sites and a price before you first jump into the cab.
3. Las Grietas (grottos)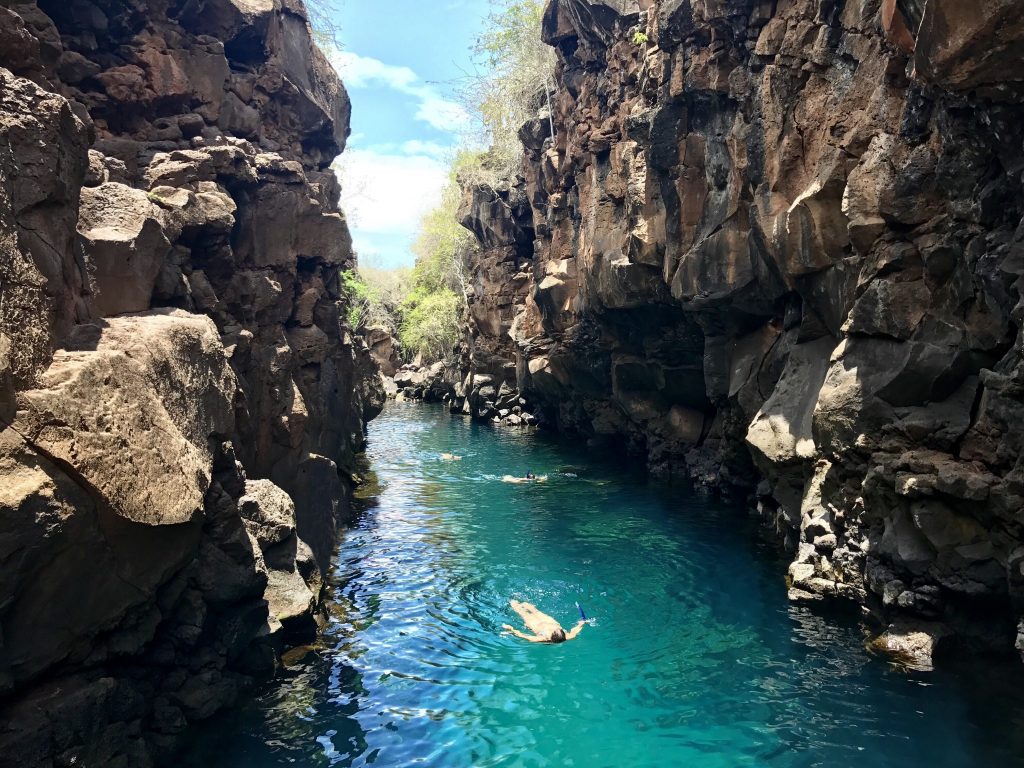 Where: Isla Santa Cruz – Bellavista Area (near Los Tuneles)
How: Taxi hire or public bus
Price: $3 USD (includes complimentary organic coffee & tea)
These small natural rock formations cradle turquoise waters peppered with fish. The grottos are accessible via taxi followed by a ~30 minute walk. Snorkel gear can be hired here for $3 USD.
4. Los Gemelos Volcano Craters

Where: Isla Santa Cruz en route to/from the airport (taxi drivers will know)
How: Taxi
Price: Entry is free, taxi ~$30-$40 USD round-trip from Puerto Ayora
Once upon a time these twin craters held bubbling hot magma deep underground. Today the nutrient-rich soils here have birthed two lush, gaping holes that will make you feel ant-like as you stare in. Simply hire a cab to check them out.
5. Tortuga Bay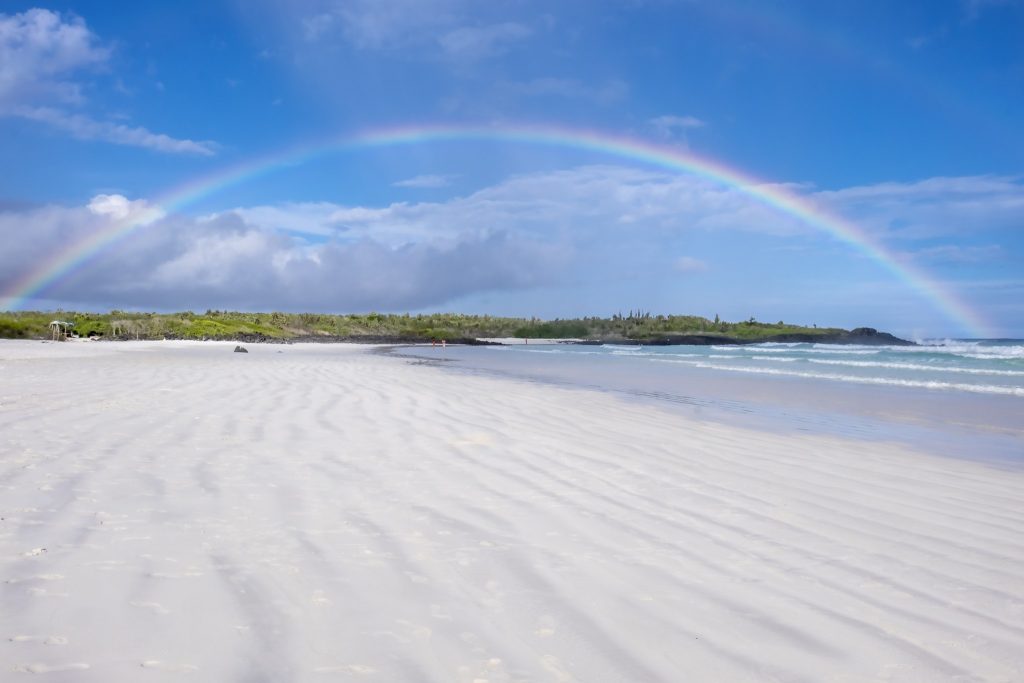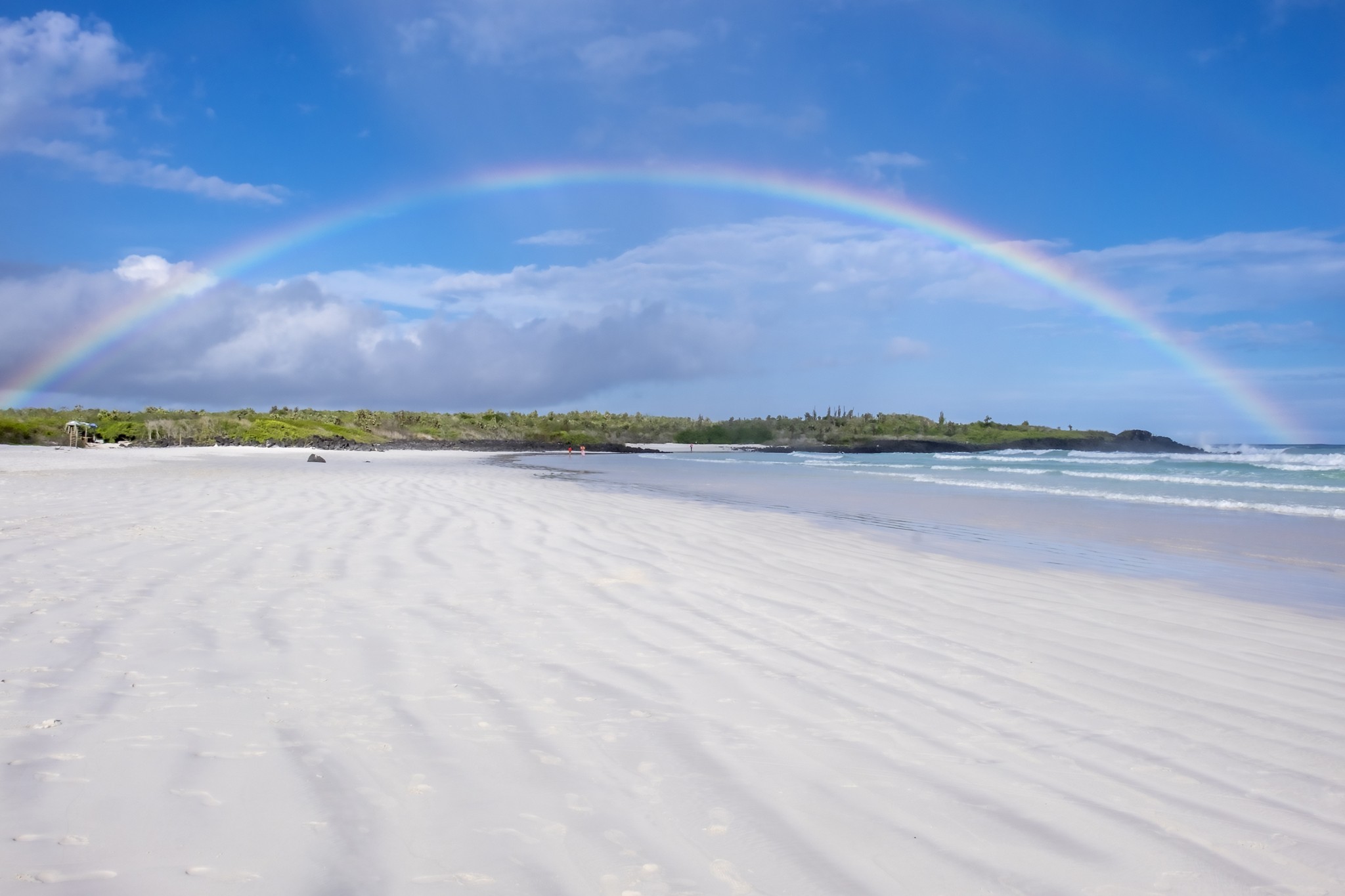 Where: A 2.5km walk from Puerto Ayora that leads you to a picturesque white sand beach
How: Access by foot on a 2.5km trail from the main strip (get a map from Tourist Info or your hotel)
Price: Free
This bleach white beach is contrasted by its blackish iguanas strewn about. The water here is blue as Koolaid and the wildlife is plentiful. Fancy a picnic? This is the place to do it and you can seek shelter in the clusters of mangroves.
6. German Beach (Playa de las Alemanes)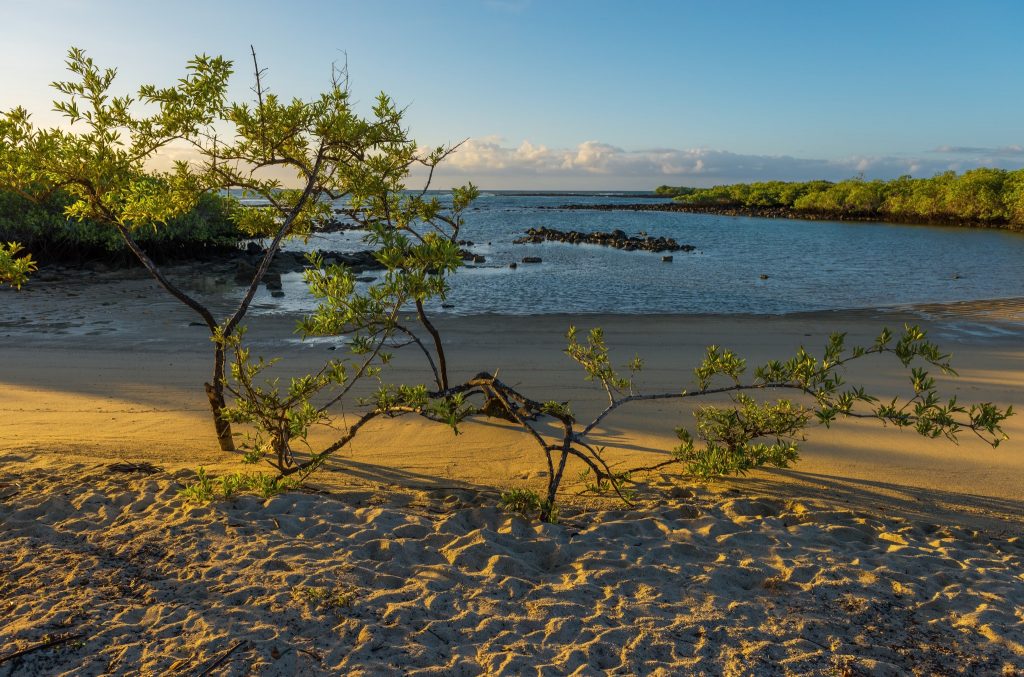 Where: Puerto Ayora, Santa Cruz
How: Take a water taxi from Puerto Ayora main port then walk ~300metres up the wooden boardwalk to the beach
Price: Beach is free, taxi is ~60 cents
7. Las Ninfas Lagoon
Where: Santa Cruz
How: Walkable from main town, ask hotel for map & directions
Price: Free
Called Lagoon of the Nymphs, this mysterious lagoon is best visited at dusk when "nymphs" (or perhaps ghosts?!) quietly stir up bubbles along the water. This lagoon has a quaint boardwalk around the water that offers a nice shadey walk on hot days.
8. Garrapetero Beach
Where: Santa Cruz Island on the Eastern side (Northeast from Puerto Ayora)
How: Hire a taxi or bike from Puerto Ayora
Price: Free
This is a highly secluded beach compared to others on Santa Cruz, largely because it is not as easily accessible. The serenity is totally worth it.
9. Charles Darwin Research Station
Where: Santa Cruz
How: A short walk from the main town (ask hotel for map & directions)
Price: Free
The Charles Darwin Research Station breeds and studies tortoises to aid in conservation efforts on the island. The museum is small and simple but has an array of insect specimens as well as see some tortoises up close and personal.
Activities on San Cristobal
1. Mann Beach & Frigate Bird Hill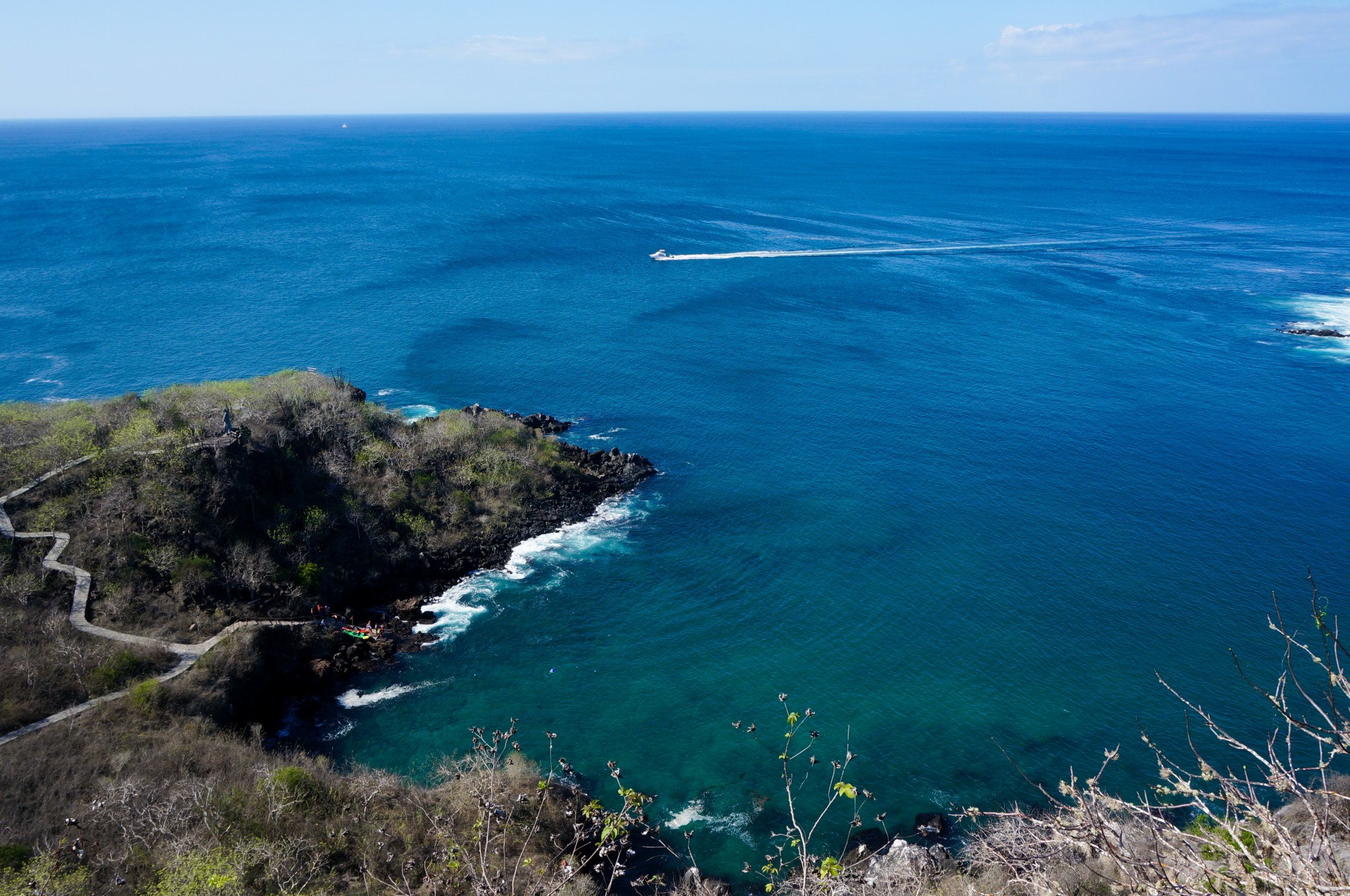 Where: San Cristobal
How: ~2 mile walk from main town (be sure to bring water)
Price: Free
This epic hill scape so named for its popularity with frigate birds overlooks a nice snorkelling bay (pictured above and marked on our map below). The boardwalk that leads you there has a few routes and is well labelled to indicate lookouts and Mann Beach.
We've snorkelled in the bay pictured above and had pretty fabulous luck on our first go. Just seconds after plunging in the water, we spotted a sea lion sleeping on the sea floor, a giant manta ray, and countless star fish and colourful fish. The water can get quite choppy here, so go when seas are calm (hence why our second attempt wasn't so successful).
2. San Cristobal Interpretation Centre
Where: San Cristobal Island
How: Walk from town (ask hotel for map/directions)
Price: Free
This is a more impressive interpretation centre with fascinating history about the colonization and development of the Galapagos. This is best combined with a trip to Frigate Bird Hill as it's on the way.
Activities on Isabela
Isabela is physically the second largest island in Galapagos, but is still sparsely inhabited with just 2,200 residents who mostly live in the main town, Puerto Villamil. This is stopover on some multi-night cruises (which is how we've visited it), but tourists can visit via ferry and stay overnight tour-free if they so choose. There isn't much accessible here without a guided tour, save for the massive Sierra Negro crater and the local beaches.
1. Sierra Negro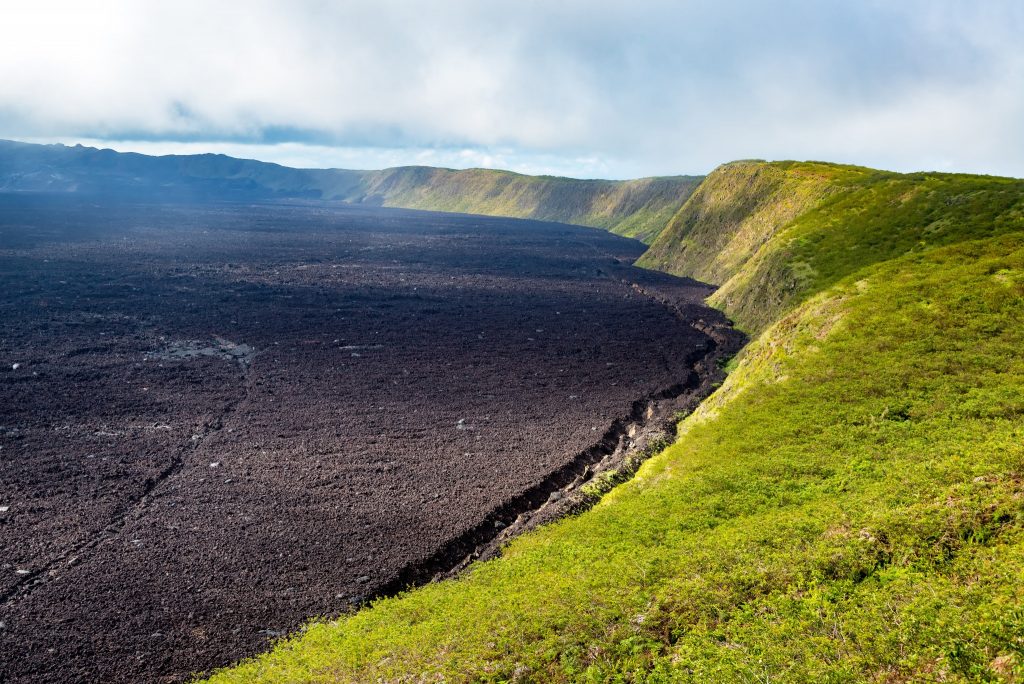 Where: Isabela Island
How: A 30-minute drive from Puerto Villamil steep hike (~3 hours up and 2 hours back down)
Price: Free
The main attraction of Sierra Negro is not the usual Galapagos wildlife spotting, but observing the world's second largest volcanic crater. The hike is not simple, but if you're impressed by epic views, this will most certainly be worth it.
2. Wall of Tears (El Muro de las Lágrimas)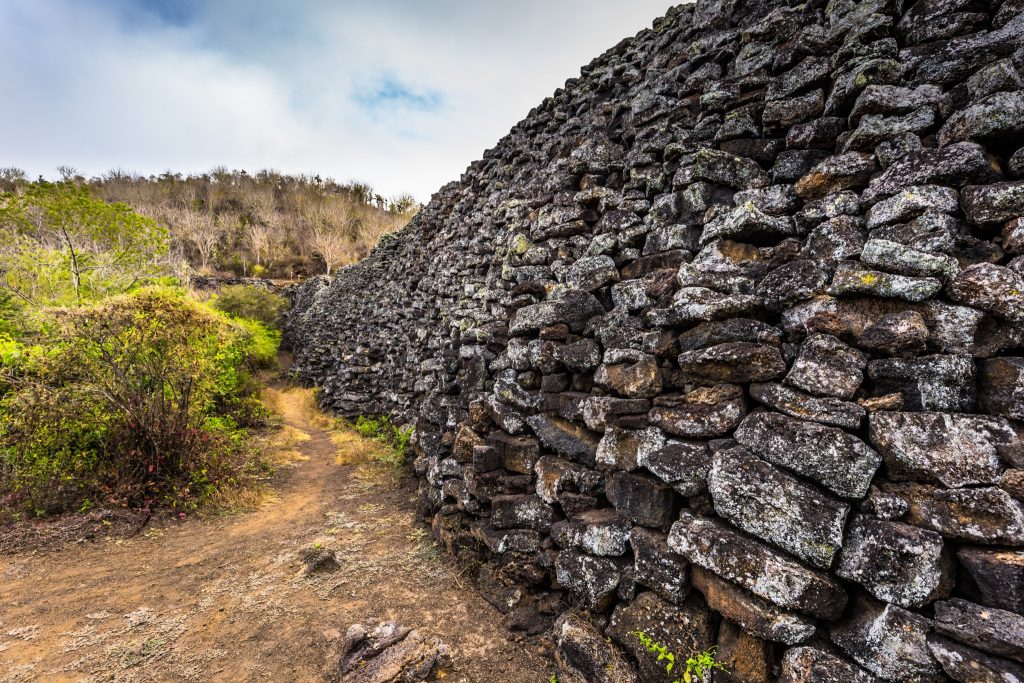 Where: Isabela Island near Puerto Villamil
How: 5km down a sandy walkway from Puerto Villamil (ask for directions if unsure)
Price: Free
This tragic piece of history is one of the most significant historic sites in the Galapagos. The wall was constructed by prisoners in the 1940s-50s, many of whom died during the wall's construction. The wall allegedly served no functional purpose other than for prisoner's suffering to carry heavy lava rocks in the gruelling heat. The wall is reportedly haunted, with locals and visitors having claimed to hear cries and wailing alongside the wall.
Activities on Floreana
The least visited of the tourist-accessible islands, Floreana offers a handful of interesting sites for visitors, some of which require a guide (ask your accommodation if unsure). The main town is Puerto Velasco Ibarra on the aptly named Black Beach.
Some multi-night tours make a stop here, but you can otherwise access Floreana via boat from Santa Cruz. Just be sure to plan ahead as these boats do not depart every day, and may not leave if there aren't enough passengers.
1. Post Office Bay
Where: Floreana Island
How: Ask locals/hotel for directions (it is a short walk)
Price: Free
Post Office bay was first set up by whalers in the 1700s who placed a wooden barrel to deliver mail. The concept was if you spotted a letter in the barrel that you could hand deliver, you did so. Today this idea continues (see photo above!) – so feel free to drop off a letter, there's just no knowing when it will be finally picked up by someone heading to its destination!
2. Lava tunnels
Where: Floreana Island near Post Office Bay
How: A short walk from the post office barrel is a ladder that takes visitors down into the lava tubes
Price: Free
3. Cormorant Point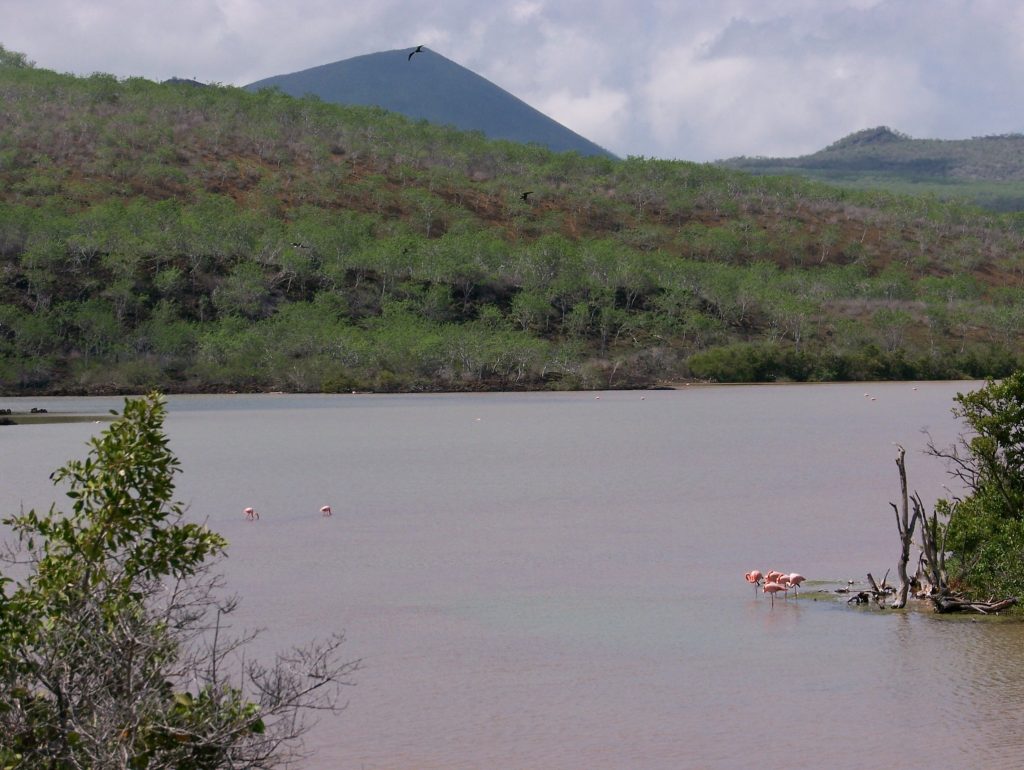 Where: Floreana Island
How: Walk
Price: Free
Cormorant Point has a few areas of interest to visitors including green sand beach (made green by olivine crystals), flour beach, and the flamingo lagoon. The latter is made popular by the fact that flamingoes can be spotted wandering the murky waters.
4. La Loberia Beach
Where: Floreana Island, just outside of Puerto Velasco Ibarra
How: Walk
Price: Free
This beach is regularly visited not only by tourists, but sea lions, marine iguanas, and sea turtles. Snorkelling and kayak rental is also possible here.
5. Highlands (Cerro Alieri and Asilo de la Paz)
Where: Cerro Alieri – 15 minute ride from port, Asilo de la Paz – 45 minute ride from town
How: Taxi or drive
Price: Cost of taxi
The highlands can be visited by vehicle and offer plenty for plant lovers (there are 48 different plant species at Cerro Alieri!). Asilo de la Paz is mostly a historic site where visitors can see the "cave of the pirates" (pictured above and yep, they really were inhabited by pirates who first inhabited the island!). Also viewable is a fresh water spring that was essential for the first population of settlers.
---
And there you have it – all the ways you can explore the Galapagos and not break your travel budget.
Have you been to Galapagos yourself? What activities did you find to stretch your buck while sightseeing? Feel free to share below!