Outside the usual travel cost-cutters such as taking transit over taxis and hostels over hotels, there several simple ways to see Japan affordably. If you think exploring this intriguing place means bleeding your budget, think again. Here's 6 easy tips to travel Japan on the cheap!
---
 1. Take buses over trains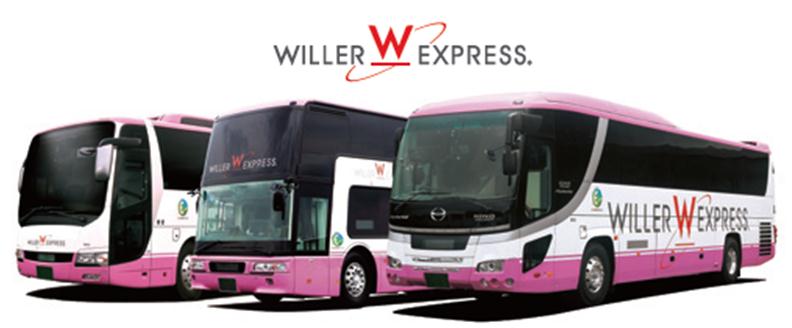 Similar to European travel, a cross-country rail pass has become a popular but overpriced staple of touring Japan. Scenic as it is, you can save huge by taking the bus to get around.
There are several bus companies, but Willer Express offers a ¥10,000 3-trip pass and a ¥15,000 5-trip pass (~$100 and $150 USD respectively). These 3 and 5 travel trips (referred to as "days" on the site) can be used anytime, non-consecutively within a 2-month window. There are even overnight routes, which saves on accommodation. The buses are quiet, clean, and cozy, complete with reclining seats and a pull-over head blind to block out light.
If you're contemplating the Japan Rail Pass, check out our Japan Rail assessment here to decide whether it is worth the cost for your particular trip.
Popular Willer Express destinations include Tokyo, Hiroshima, Kyoto, Osaka, and Nagoya. At a fraction of the ¥29,000+ price-tag of a 7-day rail pass (which must be used within the 7 days), you've got added flexibility for half the cost. If you don't purchase a bus pass, taking the bus in general over trains equates to big savings.
Where to buy: the Willer Express pass can be bought online and used at the respective terminals of your departure.
Note: for flying cheap around Japan, there are several discount air passes which are only available to tourists. Peach Air is Japan's budget airline, and with flights for as little as ~$40USD across the country, flying can be hugely cheaper than the rail pass. For more tips on flying cheap, check out our popular guide "How to Book the Cheapest Flight Possible to Anywhere".
---
---
2. Dine at Japanese fast food chains
Think all fast food is deep-fried, processed junk? Think again. In Japan, "fast food" means steaming bowls of rice, savoury meats, crispy dumplings, miso soup, with a side of green tea. Basic meals (e.g. a rice bowl and green tea) can be bought for as little as ¥130 (~$1.30 USD), but bigger and fancier dishes (below) range from ¥300-¥600 , or ~$3-$6 USD.
Cheap restaurant chains to find eats like these include:
"Button" style restaurants are often cheap (easily <¥500 or ~$5 USD). You simply select and pay for your meal based on the photos and prices listed on the machine (pictured below), bring the receipt to the cook, get your meal and enjoy!
3. Get a Grutt pass for sightseeing
If you plan on seeing even a handful of museums and art galleries in the Tokyo region, the Grutt Pass is a well worthy purchase for savings. At ¥2,000 (~$20 USD), the pass pays for itself quickly, as it provides free admission and discounts to over 50 impressive museums, art galleries, and attractions across the Tokyo area.
Being in Japan for 6 weeks, we made excellent use of our Grutt pass – the magnificence and abundance of attractions granted entry by it cannot be understated. To see Japan's famous robots and other technologies to tickle the mind, check out the National Museum of Emerging Science and Innovation. For a colourful array of Japanese history, biology, and modern science, the National Museum of Nature and Science is a must-see. The MOMAT has contemporary art displays from retro to modern art in a variety of mediums. For a fascinating walk through the Japanese Edo period, be sure to check out the Edo-Tokyo Museum.
Where to buy: The pass can be purchased at the Tokyo Tourist Information Centre (1st floor of the Tokyo Metropolitan Government Building), LIBRO (Ikebukuro, Kichijoji, Shiodome SIO-SITE, Chofu), PARCO Book Center in Shibuya, Ueno Park Information, Asakusa Culture Tourist Information Center, TIC TOKYO (Nihonbashi Exit of Tokyo Station), and plenty more.
---
---
4. Search broadly for accommodation
In our experience, Booking.com and HotelsCombined consistently found the cheapest accommodation options in Japan. When in less travelled areas, the Lonely Planet Japan guide was the best resource for hotels, hostels, and ryokan (Japanese-style guesthouses). Tourist Information Centres are also a reliable source of English-speaking assistance if in less-touristed areas.
5. Get take-away meals from grocery stores
Cheap and fresh bento, take-away sushi, noodles, and udon are just some of the grab-and-go options available at Japanese grocery stores. They're great for picnics, hikes, and people-watching in a city park. Prices range from ~¥130-¥300, though we regularly (and effortlessly) spent ~¥200 per box (~2 $USD) per bento in our 6 weeks there.
Thrifty hint: hit up grocery stores in the evenings when these boxes are further discounted – presto, tomorrow's cheap lunch!
---
---
6. Hit up $1/plate conveyor belt sushi
¥100 (~$1USD) per plate conveyor belt sushi can be found throughout the country. This is a great way to sample a variety of affordable sushi and linger with locals. Locations include:
More frugal advice: street food and markets are great opportunities for tasty, affordable eats (pictured below). We've got more thrifty food tips (including some of the ones listed here in greater depth) in our article: how to be a frugal foodie in Japan!
---
And there you have it, 6 simple tips to make travelling Japan more affordable. What tips do you use to see Japan on the cheap?