Budget airlines do a few things differently from their full-service counterparts. Firstly, they offer significantly cheaper tickets. For those wanting to spend their dollars on experiences over short-term comfort, that appeal is enticing enough.
But despite making travel increasingly affordable, skepticism towards low-cost carriers remains rampant. Aren't budget airlines terrible? Scammy? Unsafe? Today, we're going to bust some myths. Here's 7 must-know facts about budget airlines!
Psst: want to learn other cost-cutting flight hacks? Here's how to score free flights with credit cards & points, while the best travel credit cards for 2020 can be found here. You can also master finding crazy cheap error fares, booking extended layovers for cheap or FREE, and learn expert flight booking hacks.
1. Budget airlines are just as safe as regular airlines
Contrary to popular belief, low-cost airlines aren't cheaper due to subpar safety. In fact, airplane location, not airline type determines crash likelihood, and the 9 of the 10 biggest aviation disasters in Europe and North America involved non-budget airlines. Transport analyst Max Leitschuh sums it up best in saying,
"Any airline anywhere in the world knows that crashes or a reputation for poor safety is bad for business. That reputation will lose an airline far more money than it would (gain) by cutting corners on safety."
2. You'll likely need to pay for luggage weight
Higher-priced tickets often include hefty weight allowances (although these days, this is becoming increasingly scarce). Budget airlines have a limited carry-on amount. Usually it is 7-10kgs (~15-22lbs), or none at all. You pay for what you use; remember luggage weight = fuel consumption.
To reiterate, always check the baggage allowance and check if it's cheaper to book in advance. Do not estimate. Do not hope to dodge the airline luggage scale. See our epic travel fail of that time we had to throw out tons of belongings to avoid $1,400 in excess baggage fees. A portable luggage scale is a simple solution and is now a must-pack wherever we go.
3. In-flight food & drink are often extra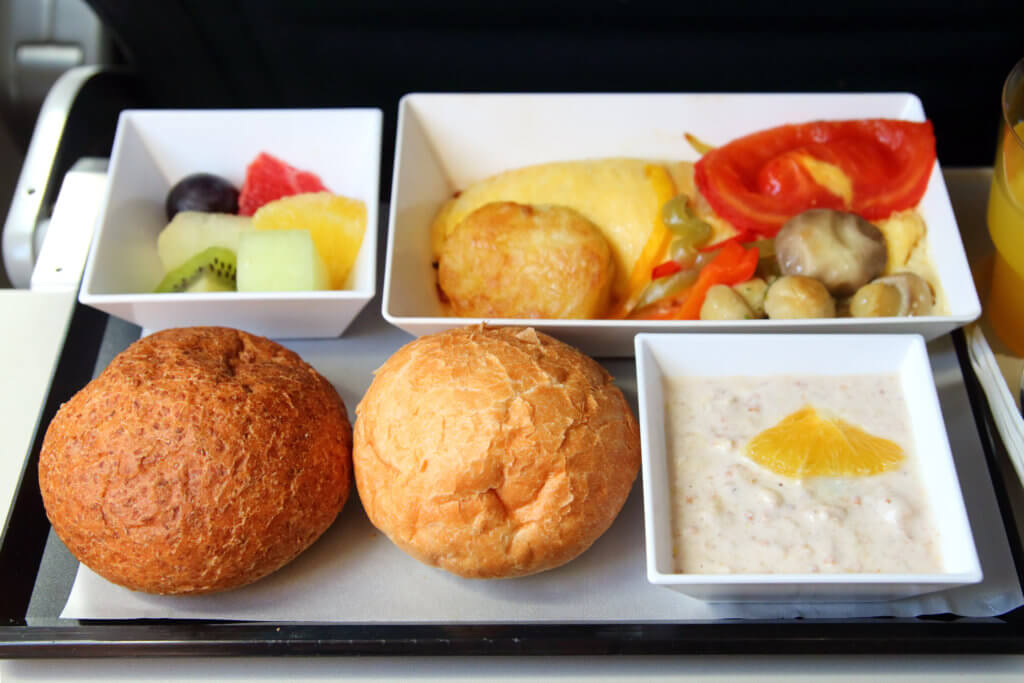 The "free meals" you receive on full-service airlines are actually paid for in your higher-priced ticket. As such, budget airlines don't charge you for this to reduce costs.
Even if you fly a low-cost carrier and buy food and drink on board, you've likely still come out ahead over flying a full-cost airline. For more serious savings, bring sealed snacks and/or purchase food and drink post-security. You can even BYO airplane cocktail making kit to upgrade bar cart drinks to first class cocktails.
4. You may need to print your own ticket
Few airlines these days charge for not printing your ticket, but always check ahead. Mobile boarding passes are now (mostly) accepted, but do not forget to check in ahead of time to obtain it. If you decide to print your ticket instead but don't have access to a printer, ask the front desk at your accommodation, or print at a library, university, or convenience store.
5. The airport could be outside of a major city
Sometimes budget airlines land at airports far from your destination. This isn't always the case, but can be common, especially in Europe.
Paris is one such example. RyanAir offers cheap tickets to the Beauvais airport, but it is 1.5 hrs from Orly (the main one), and is much further from the city (see image below). Always check Google Maps to be sure where the airport is. If it's further out, factor in transit costs/time to determine if it's still worthwhile.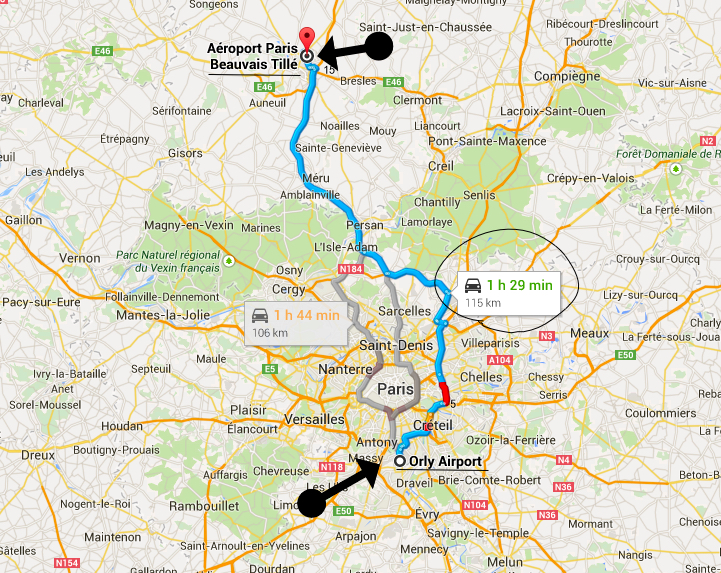 6. The customer service could be better, worse, or exactly the same
Whether you fly budget or full-service airlines, great and terrible experiences happen anywhere. In our own travels, we've only ever had rude staff, lost luggage, and flight delays/cancellations flying with full-service airlines (shout out to United and Delta).
Don't be scared by naysayers. Cancellations, delays, and rude staff can be found anywhere and everywhere. If you're convinced otherwise and this is a dealbreaker, simply book a full-service flight.
7. The aircraft may have a more basic interior
The interior of budget planes (not the actual infrastructure) have noticeable differences. Cushions may be firmer, seats much smaller, and in the case of RyanAir, there may even be advertisements on the walls like a public bus. You'll likely not have a TV screen, so plan ahead and bring a book, magazine, or music.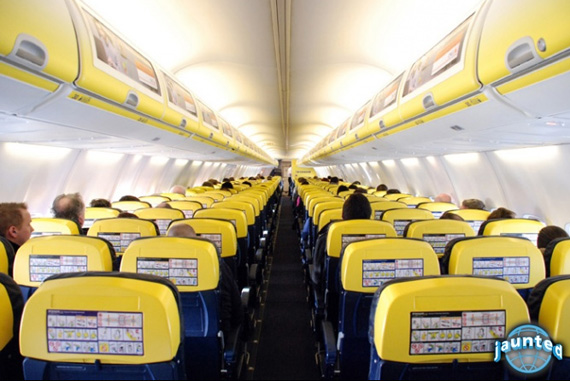 Thrifty tip: Check for extra fees
Some airlines will charge a fee for credit cards, or even a basic processing fee when buying your ticket online. Others may add on additional taxes, which will be stated upon check-out. Always factor extras into your total cost when price-comparing. And remember, you can save money on food and drink by packing your own.
So, Are Budget Airlines Actually Cheaper?
Almost always, yes! Though stacks of fees may make it feel like you're paying more, it's nearly always cheaper to fly budget. Skeptical? Do the math, or see our examples below. Often savings are significant, especially for long-haul flights where you could save hundreds of dollars.
Our best example would be on our flight to Canada from Australia. We booked it as two separate legs, with an intentional 5-day stopover in Hawaii (to learn how to book cheap/free extended layovers yourself as we did (check this post here, and our other general flight hacks here). For that round-trip, we saved $400 per person.
Looking now, one can see a flight from Sydney to Honolulu is $412 with Jetstar, plus $39 luggage (unless you pack light like us and use free carry-on only – learn how to do that here). That's a grand total of $451, compared to the next cheapest flight with of $572 – a savings of $121 per person each!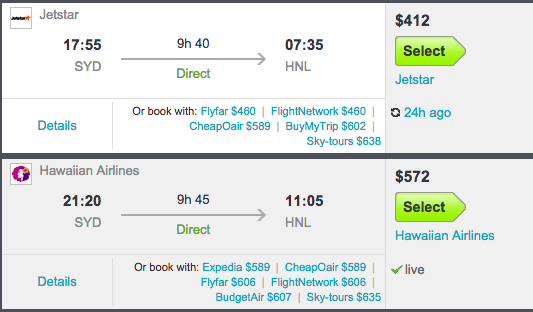 The Thrifty Gist
Budget airlines are no less safe than regular ones
Always purchase the appropriate luggage in advance and use a portable luggage scale to check ahead of time
Check the airport location before buying your ticket to ensure it's not far out (which could cancel out the flight savings in extra transit)
Buy sealed food/drink at the airport if you want to save on in-flight meals
Check for any extra fees such as credit card surcharges
For a comprehensive list of budget airlines, check our ultimate flight guide article here. Want to find crazy cheap, even free flights? Learn how with credit card & travel points here, and with the best travel cards for 2020 here.