Updated with new tips for 2023!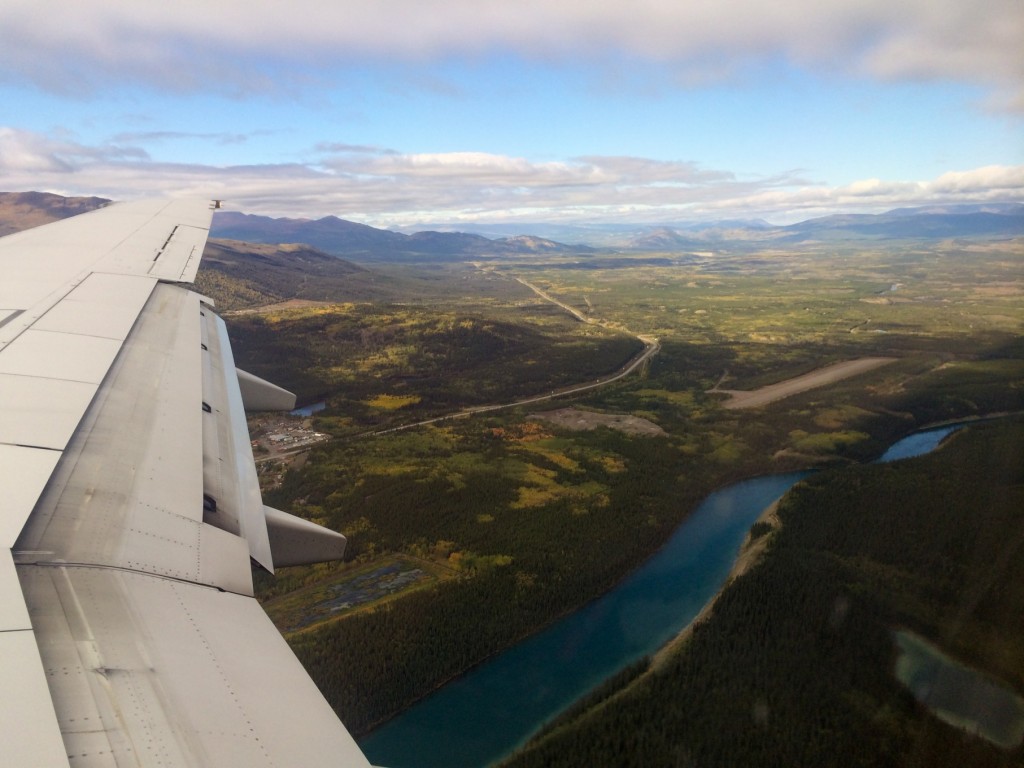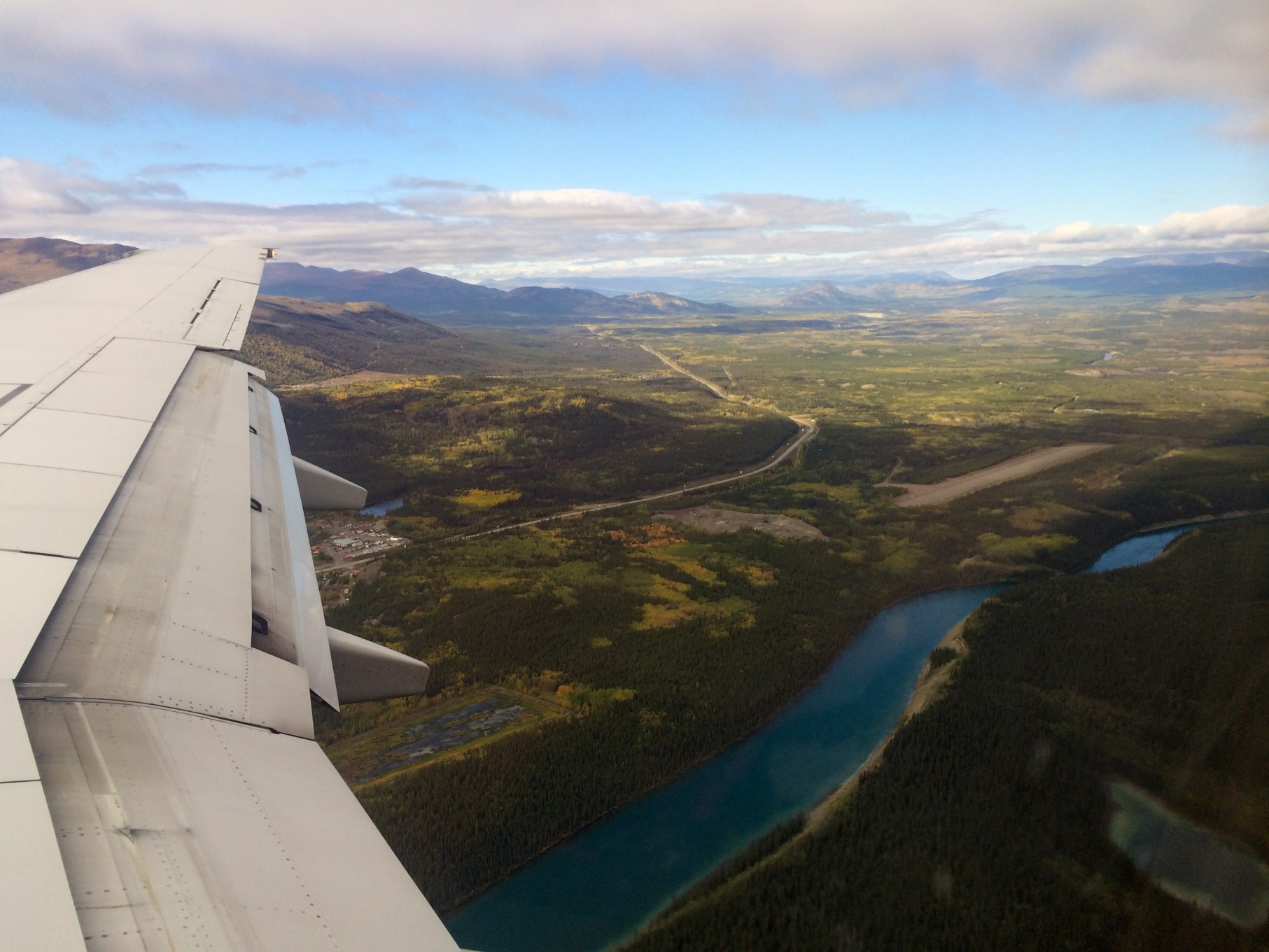 We've all experienced the tiresome, repeated searching when trying to book the cheapest possible flights to any given destination. With endless search engines and continually fluctuating prices, the approach to frugal flight booking is overwhelming. Here's some key tips that will save you time, frustration and most importantly money when booking your next flight.
Don't miss our other guides on How to Find Airline Mistake Fares, How to Get Free Extended Layovers to Hack One Trip Into Two, and Round the World Tickets: The Ultimate Guide!
1. Keep your searches top secret
You're not crazy for thinking that a flight price has changed after searching it a few times in your web browser. Based on the cookies in your browser, flight prices do increase when a particular route is repeatedly searched, as the site wants to scare you into booking the flight quickly before prices get even higher. Always search for flights in incognito or private browsing mode to see the lowest prices.
In Google Chrome or Safari, incognito is enabled by hitting Command (or "Control" if using PC), Shift, "N". For Mozilla Firefox or Internet Explorer, hit Command (or "Control" if using a PC), Shift, "P". This will open a new browser window where your information is not tracked, thus not inflating prices as you search. Note: if you're using an older version of OS X, open Safari then click "Safari" in the menu bar, and select "Private Browsing".
Your cookies are reset each time you re-open an incognito window. So if you want to start with a clean slate for each flight search (so your previous searches aren't "remembered", potentially inflating costs), close all your incognito windows, open a new one, and then perform your flight search.
2. Use the best flight search engines
All search engines have inflated flight costs as part of taking a cut from the airlines. Some search engines (e.g. Expedia) consistently inflate much higher than others (listed below). It pays to familiarise yourself with sites that offer the best prices.
Momondo (a broad search engine that sometimes shows cheaper fares than Skyscanner)
JetRadar (includes budget airlines, which many search engines don't)
Google Flights (good tool to quickly compare flight dates – but not always the best prices)
Most budget airlines will now appear in the broad search engines we are recommending (but NOT Southwest). If you want to be 100% sure though, you can do an additional search for regional budget airlines (we've listed as many we know of further below).
Finally, no single search engine is consistently perfect (though we typically find the cheapest price on Skyscanner or Momondo). As such, you may need to try a combination of search engines to ensure you're not missing any results. There doesn't seem to be one that gets the cheapest flight 100% of the time.
3. Identify the cheapest day to fly out
While many theories exist around booking specifically on a Tuesday to save money, the reality is there is no consistent truth to exactly which days are cheapest to fly. Most of the time it is cheaper to leave on a weekday, though this isn't always the case. Your best strategy is to get a quick visual of prices for a whole month to see what days are cheapest for your specific route. Here's how:
Step 1. Hop on the Skyscanner website or download the app
Step 2. Enter your departure & arrival cities
Step 3. Select "one-way" (even if flying round trip – you're just determining the cheapest days to fly out first)
Step 4. On a computer: click "Depart" but instead of entering a date, select "Whole Month", and then "Cheapest Month" so you can browse all dates to see which is cheapest. Hit "Search flights" to easily see which date is cheapest.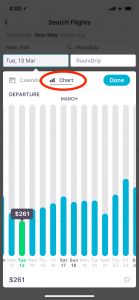 In the mobile app: Tap the departure date, then change the view to "Chart". You can easily swipe left and right to find the cheapest date, and tap on one of the bars to see the price.
Repeat these steps for your return flight if applicable. You can still book a round trip in one booking, but doing these steps first will let you see which dates are generally cheaper to fly in/out on for your round trip.
Kiwi.com and Google Flights work similarly to Skyscanner, plus they have map views as well, so you can see where the airport is. For tracking when and where is cheapest to fly, Hopper also offer price analysis and track fluctuations (i.e. when is best to fly).
4. Fly for free with points
The cheapest flight you can book is free, and the easiest way to do that is with points. If you don't have any, don't fret – signing up for just one travel rewards credit card and hitting the minimum spend can land you a major points bonus, often enough for a free flight!
You can sign up for an airline rewards card that earns points with a particular airline, or a more general travel rewards card that lets you redeem points across a variety of airlines. As a beginner card, we recommend the Chase Sapphire Preferred Card. You can earn up to 60,000 in bonus points after spending $4,000 in the first 3 months after your account opening. That's worth $750 when redeemed through Chase Ultimate Rewards, and more than enough for an international flight. And since it includes trip cancelation insurance, car rental collision damage waiver, lost luggage insurance, and no foreign transaction fees, it's the perfect all-rounder travel credit card. You can compare this card with other top credit cards.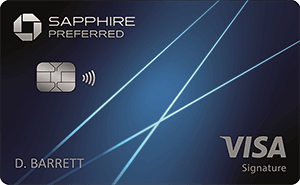 60,000 reward points (worth $750) after meeting the minimum spend of $4,000 in the first 3 months
$50 annual Ultimate Rewards Hotel Credit, 5x points for purchases on Chase Ultimate Rewards, 3x points on dining, and 2x points on all other travel purchases.
Points are worth 25% more on airfare, hotels, car rentals, and cruises when booking through Chase Ultimate Rewards (e.g. 60,000 points worth $750 toward travel)
Includes trip cancellation/interruption insurance, auto rental collision damage waiver, lost luggage insurance and more.

Can transfer your reward points to leading airline and hotel loyalty programs

No foreign transaction fees
Annual fee: $95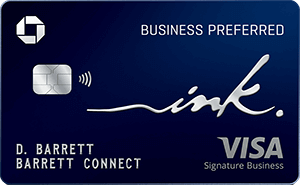 Do you have your own business? Then consider the
Chase Ink Business Preferred® Credit Card
instead, where you can earn a whopping 100,000 bonus points after you spend $8,000 in the first 3 months from the account opening. That's worth
$1250
through Chase Ultimate Rewards. You'll also earn 3 points per dollar on the first $150,000 spent in select business purchase categories per year, and 1 point per dollar on all other purchases.
Learn how to apply.
We recommend using your card for everyday purchases, and to treat it like cash, using only the money you have in the bank, and paying your balance off each month. That way, you won't be charged interest, and you'll effectively get your points for free!
For more tips on how to master points travel, check out our guide How to Get Free Flights with Travel Credit Cards and Points for everything you need to get started.
5. Befriend budget airlines
Budget airlines offer significantly cheaper tickets than their full-service counterparts. It should be obvious, but this comes with compromises such as less leg room and no "free" food/drink on-board (which by the way, is normally covered in your higher-priced ticket with full-service airlines).
If you are considering flying budget, which in our opinion is a great way to save, I'd highly recommend reading our guide on 7 must-know facts about budget airlines.
Below is a comprehensive list of budget airlines around the globe. Red indicates true budget airlines while blue implies the cheapest companies available where budget airlines don't exist or aren't plentiful.
But First… A NOTE ON BOOKING BUDGET AIRLINES. Always read the fine print and do the following:
Check where the airport location is (some budget airlines fly to airports further out of  town).
Ensure you've booked & paid for your luggage allowance. Adhere to restrictions on

weight

,

height

, and

# of bags allowed

. Some airlines (e.g. Ryanair) will charge hefty fee if you're over. Remember, paying only for the

exact

 luggage space/weight you need is how budget airlines keep their prices lower than traditional airlines!

Read the fine print

. The best example is that Ryanair WILL CHARGE AN AIRPORT CHECK-IN Fee €/£55 if you do not check-in online in advance and print your boarding pass, or use their mobile boarding pass. A warning of this fee is

clearly

stated in all capital letters in the first sentence of your e-confirmation. In a nutshell, always read and follow instructions!
Remember, if you want to book the cheapest flight possible (not service-of-the-year-award-winner), be adaptable, do your research, and know the budget airline's requirements & restrictions.
United States
Southwest (consider their credit card with Companion Pass – every time you fly, your friend flies too – and 75,000 bonus points after hitting the minimum spend of $3,000 in the first 3 months from account opening)
WOW Air (cheap flights to Europe)
If you're heading to any of these parts of the globe, start stalking these airlines. Use Twitter, Facebook or regularly check budget airline webpages to keep you in touch with specials before they sell out. Air Asia, Jetstar, Tiger Air and Ryanair are especially good at having regular deals.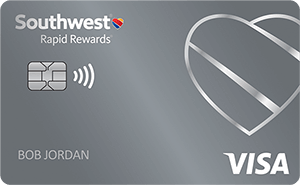 Many of these budget airlines have their own airline rewards credit cards, and most of them offer a major signup points bonus. For example, the Southwest Rapid Rewards® Plus card from Chase offers Companion Pass (every time you fly, your friend flies too) and 75,000 bonus points after hitting the minimum spend of $3,000 in the first 3 months from account opening. However, a general travel rewards credit card such as the Chase Sapphire Preferred Card is the best option for most people, as you have the flexibility to redeem your points towards a wide variety of airlines and hotels. You'll receive 60,000 bonus points worth $750 through the Chase Ultimate Rewards program after you spend $4,000 in the first 3 months of your account opening, and the card features no foreign transaction fees. Compare this card to other travel cards here.
On a side note, Wikipedia has a more detailed, comprehensive listing of low-cost airlines down to specific countries here, though what they consider "low-cost" is debatable. Still, if you're going to a specific country, it's worth checking so you know all your options.
6. Search for airline error and sale fares

Airlines sometimes make mistakes when posting their fares, leading to seriously discounted flights. This can happen for various reasons – currency conversion mishaps, technical glitches, or human error. If you're in the know-how on where to find airline error fares, you can save yourself hundreds of dollars on a ticket.
Two of the most popular sites for tracking sale and error fares are Going (U.S. only, previously Scott's Cheap Flights) and Dollar Flight Club (international). These websites have dedicated teams that scour the internet for flight deals every day. Just make an account and enter your departure airport, and you'll start getting flight deals sent to your inbox. Both sites offer premium plans, which are well worth the price. Going is only $49/year (but you can get 20% off with the coupon code TNOMADS20), and Dollar Flight Club is $69/year. Both give you access to even more flight deals with even deeper discounts. Considering members save an average of $550 per ticket, this is well worth the cost!
Other sites like Airfarewatchdog, Kiwi.com Deals, and Secret Flying are great resources to stalk for finding mistake and sale pricing, as they conglomerate slashed ticket rates all in one spot. You can also read our detailed how-to guide which spells out how to find mistake fares on your own. One great approach is to search for flights for an entire month using Skyscanner (Tip #3 in this article). This will allow you to easily spot a significantly reduced fare against what's displayed that month, and has twice helped us stumble on error fares ourselves.
7. Book connecting flights yourself for less
If you're flying somewhere that involves a transfer, say from Canada to Australia which typically involves Canada to LA, then LA to Australia, consider that it may be cheaper to book these two legs separately on your own by adding another destination to your trip. It should go without saying that in doing this, you should not book tight layovers. I repeat: do not book layovers that are hours apart! This approach is for those who want to create an additional destination of a few days or more, before catching their next flight. The one exception is when booking with Kiwi.com, who offer their own guarantee on making connecting flights even when not with the same partner airlines.
First, do your research: are there budget airlines unique to the country you're flying out of and where you're headed to? Booking with a budget Australian airline (Jetstar) from Sydney to Honolulu, then an American one from Honolulu to Montreal saved us over $400 each when flying back from Australia to Canada earlier this year. This allowed us to create a thrifty five-day stopover in Hawaii on our way back, which was less exhausting and a lot cheaper! Kiwi.com and Skyscanner are both great search engine for revealing cheaper routes like this that involve multiple airlines.


You can even book your own multi-day layovers, essentially allowing you to see 2 destinations for the price of 1. Rather than spend a day sitting in the airport, you can spend multiple days exploring the city you are laying over in. By using Skyscanner's multi-city search feature, you can book a multi-day stopover for essentially the same price as if you had connected directly. To learn how to do this, read our guide on How to Get Free Extended Layovers & Hack One Trip Into Two.
8. Find the cheapest place to fly
Whether you know exactly where you're going or you just want to find to the cheapest possible country to fly into, Kiwi.com is a great tool to get the wanderlust going and save some big bucks. Hop on their site and enter your departure city, then select a date range to fly. Approximate costs then appear over hundreds of countries around the globe from your departure point, while the list of destinations is sorted by price, allowing you to see the most cost-effective place you can fly.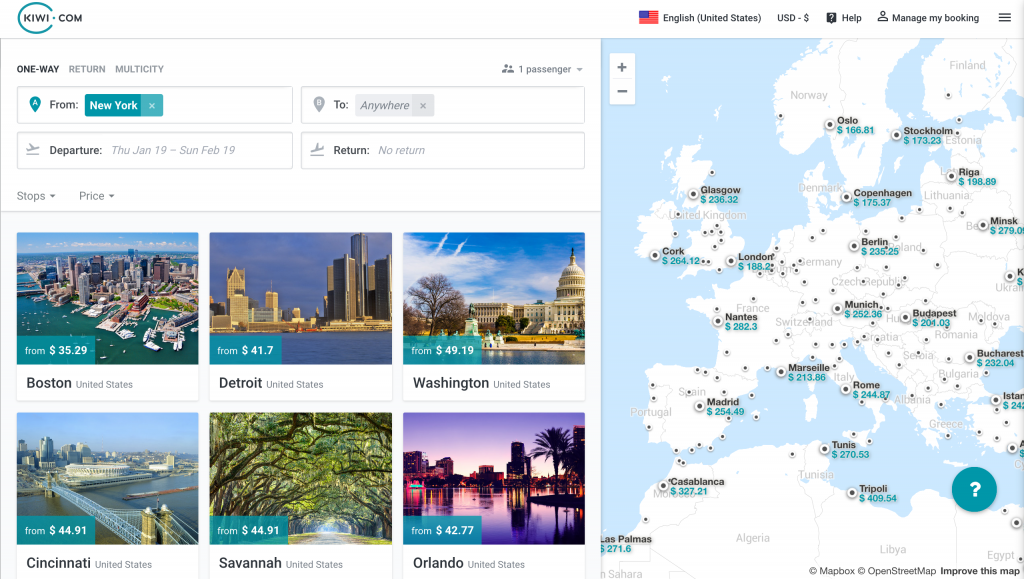 9. Mix and match airlines
Where Kiwi.com really shines is the way in which it mixes and matches airlines in order to find the cheapest price. For example, maybe you want to go to Rome, Italy from Washington, USA. A typical flight search engine will only suggest routes coming from a single airline and its partners. An example search on Expedia shows the cheapest route as $631.20 USD via TAP Portugal.
Kiwi.com, on the other hand, will mix and match airlines (including budget airlines) in order to find you the very cheapest route. For long-haul flights especially, this can make a huge difference. The same search on Kiwi.com returns a route at $459.80 USD via JetBlue, Norwegian Air, and Vueling. That's a savings of $171.40 USD, and the travel time is even shorter!

Typically, booking a whole trip with different airlines would be risky. For example, let's say your first flight with JetBlue was delayed, and you missed your connecting flight with Norwegian Air. Because the airlines have no association with each other, Norwegian Air has no obligation to reschedule your flight for free, so you would just lose your money. Kiwi.com instead offers their own guarantee, which covers schedule changes, flight delays, and cancellations. As long as you contact Kiwi.com as soon as you're aware of the delay, they will provide you with an alternate connecting flight, or a full refund, at your discretion. We haven't used this guarantee ourselves, but it certainly sounds like an appealing way to take the risk out of a thrifty flight hack!
10. Consider hidden city ticketing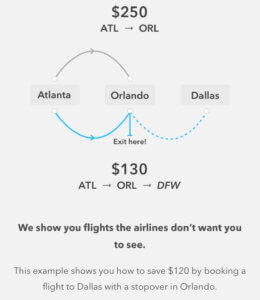 Travellers long ago discovered a trick known now as "hidden city" flights. In a nutshell, sometimes a flight that connects in a city you want to go to is cheaper than flying directly to it. So instead, you book that cheap flight which connects in your desired city and hop off there, not taking the ongoing connection.
It should go without saying this is risky for many reasons. Here are some factors to consider:
If your luggage is checked, it may go on to the final destination. For this reason, with hidden city ticketing it's best to have carry-on luggage only.
You may not be allowed off the plane (if the same plane is continuing onward to its final destination).
Airlines may detect that you did not take your connection. The consequences of this are hard to say, especially since people miss flights all the time.
There is now a web search engine which finds hidden city tickets for you. It's called Skiplagged and was even sued by United Airlines who were angry about this debatable hack. We have never used the hidden city approach, but I know several who have, and they've scored some thrifty savings. Use at your own risk!
11. Buy flights in bulk
As a general rule, you will get better value on your flight tickets if you buy more at the same time, but only if they are with the same airline, or airlines in the same alliance (e.g. Star Alliance). For example, flying a return ticket from New York City to London with United Airlines will be cheaper than 2 one-way tickets.
You can also take advantage of this on multi-city flights. For example, Virgin Atlantic has routes from New York City to London, London to Shanghai, and Shanghai to New York City. If you book all these at the same time using the multi-city search function on Skyscanner, you'll save some serious cash.
Another way to bulk buy flights for less is with round the world tickets and regional passes. These are special tickets offered by airline alliances that let you go around the world, a continent, or a country at a discounted rate. To learn how to book these, be sure to check out our ultimate guide to round the world tickets.
All this said, sometimes a few separately booked flights with budget airlines is still cheaper than what partner airlines can offer. The only way to be sure is to use a site like Skyscanner, punch in your destinations, search as multi-city or return vs multiple one-way bookings, and compare yourself.
12. Don't forget about local airlines
While the above search engines are great, they do not always include small airlines, especially in less popularly booked routes and/or in remote regions. If you're flying somewhere obscure, Google search and ask around if there exists a local airline. While in South America we learnt that the LADE Air in Argentina (run by the military) has cheap flights to Patagonia, which is of course not listed in mass search engines online.
When you do find small airlines, even if they are listed in a search engine results, it often pays to check the company site which may reveal exclusive online offers not found in a regular search engine. For example, when flying in Western Canada, I found that Hawk Air, a small and local company offers weekly deals on certain days. Be sure to double check!
13. If you know when and where you're going, don't wait to book
Rarely ever do airline tickets get cheaper as your departure date approaches, especially if you need to fly on a certain date. Budget airlines typically offer low rates as a baseline price, and as these tickets sell, the remaining ones increase in cost. This is very typical in Europe and Australia. If you know when and where you're going, don't wait on an unknown sale. More often than not, your biggest savings come from booking far ahead when you can.
14. Check if it's cheaper to pay in other currencies
Before booking a flight, consider if the rate is cheaper if paid in another currency. Often budget airlines will make you pay in the currency of the country you're departing from, but this isn't always the case. An important note when doing this: make sure you're using a credit card that is free of foreign-transaction fees, such as the Chase Sapphire Preferred Card, otherwise your attempts to save money doing this will be lost! Our article on money matters for world travellers can help steer you in the right direction for the best credit cards for travel.
The Thrifty Gist
Use the right search engine for booking flights – Skyscanner is our favourite and can help you stumble on error fares
A sale or error fare will save you the most money. Get these with a free Going membership.
Always search incognito for consistent pricing
Get enough points for a free flight just by signing up for a travel rewards credit card and using it for your everyday purchases. Our #1 choice is the Chase Sapphire Preferred Card, where the sign-up bonus alone is worth $750 after hitting the minimum spend.
Consider booking multiple legs of a long-haul flight individually to slash costs, or even extend your layover to visit 2 places for the price of flying to 1
Buy flights in bulk – return and multi-city tickets are usually cheaper than multiple one-way tickets
Don't wait on seat sales – your savings are generally bigger the further ahead you book
Do you have some sneaky techniques to save big on flights? Any budget airlines you see missing here? Share below to spread the thrifty love! And for more guides like this, like us on Facebook, Twitter, or subscribe to our newsletter!
Our website contains some affiliate links in relevant areas. This means we get a small commission, at no extra cost to you, for recommending a product we personally use, trust, and own.
Thrifty Nomads has partnered with CardRatings for our coverage of credit card products. Thrifty Nomads and CardRatings may receive a commission from card issuers. Opinions expressed here are author's alone. Responses are not provided or commissioned by the bank advertiser. Responses have not been reviewed, approved or otherwise endorsed by the bank advertiser. It is not the bank advertiser's responsibility to ensure all posts and/or questions are answered.