The Chase Sapphire Preferred Card is the first card I recommend to all travelers, and the best travel credit card for 2023.  It comes with a sweet sign-up bonus, ongoing opportunities to earn and redeem rewards, and extra benefits that almost all travelers can take advantage of.  In fact, it's one of the few travel reward cards I've held onto and use regularly ever since I first got it in 2013.
Highlights of the Chase Sapphire Preferred
The Chase Sapphire Preferred Card stands out as one of the best travel credit cards for 2023 by offering generous benefits for a low annual fee: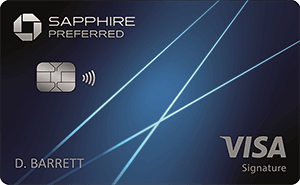 60,000 reward points (worth $750) after meeting the minimum spend of $4,000 in the first 3 months
$50 annual Ultimate Rewards Hotel Credit, 5x points for purchases on Chase Ultimate Rewards, 3x points on dining, and 2x points on all other travel purchases.
Points are worth 25% more on airfare, hotels, car rentals, and cruises when booking through Chase Ultimate Rewards (e.g. 60,000 points worth $750 toward travel)
Includes trip cancellation/interruption insurance, auto rental collision damage waiver, lost luggage insurance and more.

Can transfer your reward points to leading airline and hotel loyalty programs

No foreign transaction fees
Annual fee: $95
Unlike other Chase Sapphire Preferred reviews, I'll also share a few of the card's intangible perks: things don't necessarily hold a dollar value but still offer additional value.
Top Ways I've Used the Chase Sapphire Preferred
A few years ago, I transferred my welcome bonus to United MileagePlus to book a round-trip flight to Slovenia during peak summer travel, an ordinarily expensive route.  I even used the Chase Sapphire Preferred to cover my rental car CDW insurance for a roadtrip through Slovenia and Croatia!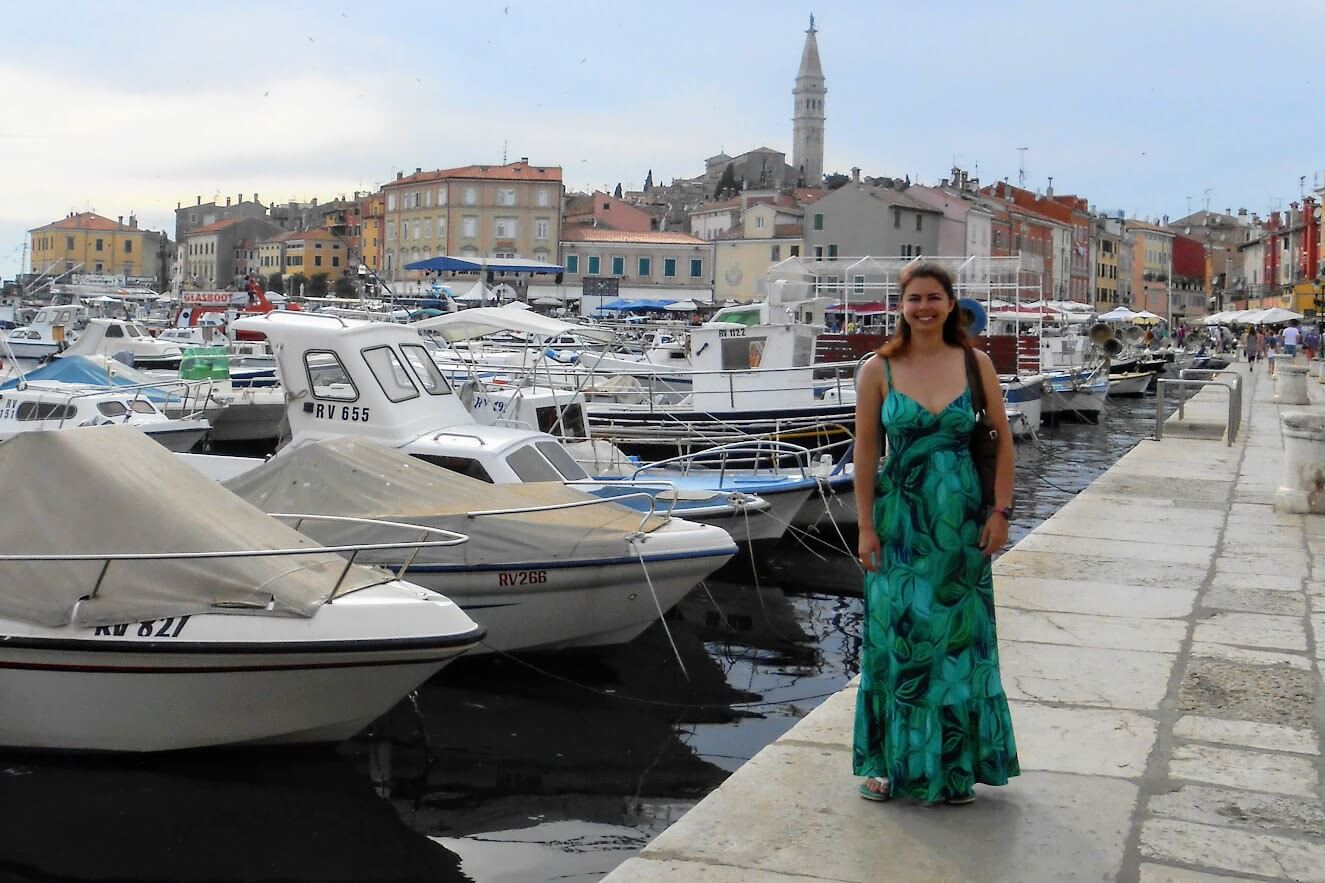 Over the years, I've earned thousands of Ultimate Rewards (UR) points which helped me take some amazing trips:
Round-trip flight Richmond, VA to Slovenia with one-way in business class valued at $3,000 — I only paid $140 in taxes
One-way first class flight Atlanta to Vietnam valued at $8,000 — I paid $65 in taxes
One-way economy flight from Nuremberg, Germany to Richmond for next day travel valued at $1000 — I paid $125 in taxes
One-way economy flight from Cairo, Egypt to Paris, France valued at $400 — paid $65 in taxes
One-way economy flight from London to Detroit valued at $700 — just $200 in taxes
One-way economy flight Lima to Cusco, Peru on New Year's valued at $175 — only $10 in taxes
The only hotel I've ever used Ultimate Rewards for: the Hyatt Regency Kathmandu, where I used 5,000 points to save on a $140 room
And coming soon: I'm flying Iberia Airlines in a few months, after converting 34,000 Ultimate Rewards into Iberia Avios for a one-way business class flight from San Sebastian to Boston.  That ticket is normally $2,000 but I only paid $125 in taxes.
Redeeming points earned with the Chase Sapphire Preferred helps me travel when I otherwise couldn't afford it!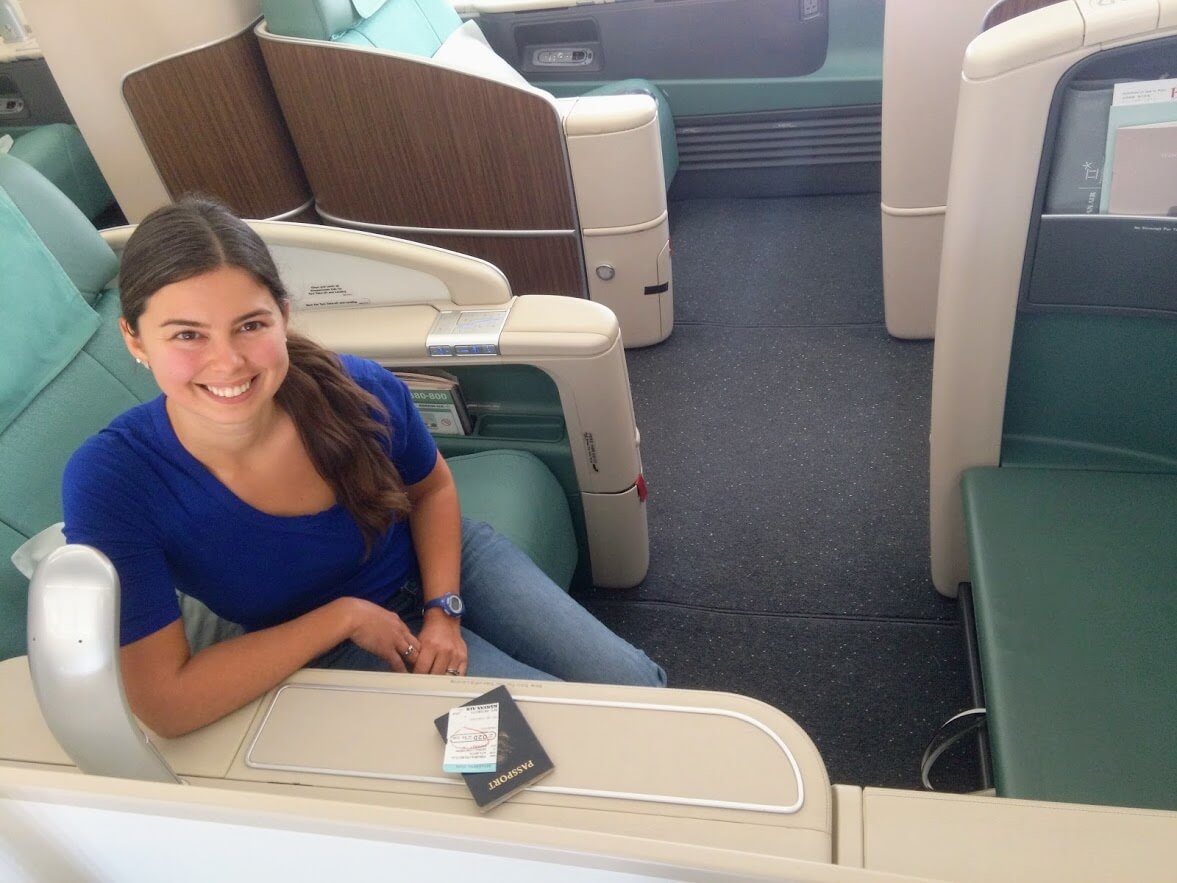 Where The Chase Sapphire Preferred Welcome Bonus Can Take You
The best part about the Chase Sapphire Preferred 60,000 point welcome bonus is that it's flexible and can be used for any type of travel.
If you're looking for some inspiration, here are a few of my favorite ideas:
1)   Book a Flying Blue Business Class Promo Award to Europe
Every month, Flying Blue releases a list of cities that are eligible for awards at 20-50% off their normal mileage rate when flying on Air France or KLM.  For example, we've recently seen tickets from Chicago to Budapest for 40,000 miles.  Pair this with an economy award in the other direction on airlines like Virgin Atlantic and you'll end up with a round-trip ticket for just the cost of taxes and fees.
2)   Book a Week in Bali
There are currently five properties on Bali that cost 12,000 Hyatt points per night or less and you can easily transfer Ultimate Rewards to World of Hyatt to make a reward booking.  Choose your hotels strategically and you could hop from one part of the island to another for up to 12 nights at high-end hotels just from using your welcome bonus!

3)   Book 4 Round-Trip Economy Tickets Within the USA
Finding award tickets for a family can be challenging since airlines limit the number of awards available, but you can redeem your points without limitations when you book on the Chase travel portal.  If you can find a ticket from your home to anywhere else for $187 or less, your welcome bonus covers the cost of four tickets.  Going somewhere more expensive?  Just pay the difference in cash.
4)   Book Two Round-Trip Tickets from New York to Costa Rica
By transferring your Ultimate Rewards to British Airways Avios, you'll have enough points for two round-trip tickets from New York to San Jose, Costa Rica; the tickets add up to 26,000 miles per person and about $50 in taxes.  If you're traveling on off-peak dates, you might even find flights for cheaper when using Southwest or JetBlue points (both programs have varying award costs based on cash prices) or by booking directly from the Chase portal.
Other Card Benefits Included With Your Annual Fee
For frequent travelers, the $95 annual fee on the Chase Sapphire Preferred pays for itself with the inclusion of extra benefits.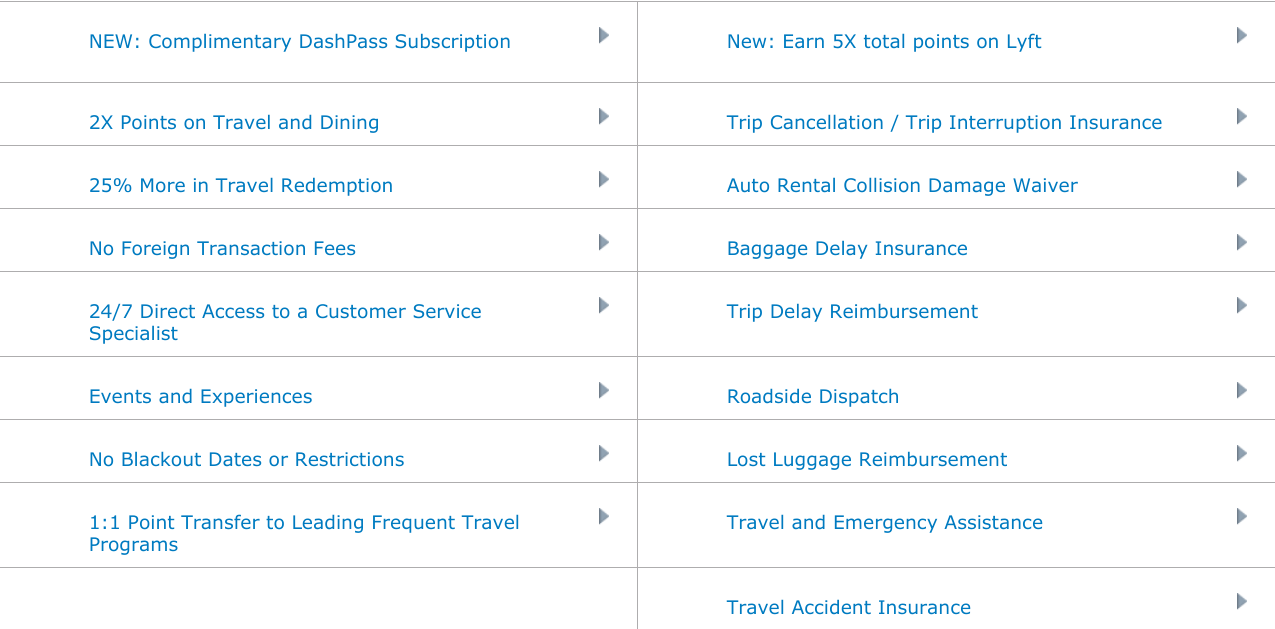 No Foreign Transaction Fees
Let's start with a simple but valuable benefit: there are no foreign transaction fees when you use your Chase Sapphire Preferred while traveling internationally.
Many cards, especially cards with no annual fee, add on a ~3% surcharge to all purchases made with a foreign currency.  That adds up quickly if you're traveling abroad and charging hotels, restaurants, tours, and transportation.  Spend $3200 or more and you're already money ahead.
Travel Insurance and Protection
The Chase Sapphire Preferred offers a generous travel insurance package compared to other cards with annual fees of $100 or less.  To qualify, you'll need to book and pay for your transportation ticket (flight, cruise, etc.) with the Sapphire Preferred.
Some of the protections include:
Baggage Delay Reimbursement (up to $100 per day toward purchases of essential items when your checked bag is not delivered on time)
Lost Luggage Reimbursement (up to $3,000 toward lost or damaged items)
Trip Cancellation/Interruption Insurance (up to $10,000 when you need to cancel or end a trip early due to death, injury, or documented illness of you or immediate family member)
Trip Delay Reimbursement (up to $500 toward unanticipated expenses when your trip is delayed by 12+ hours)
Travel Accident Insurance (up to $500,000 when you die during a travel accident — yikes!)
These are great perks for low-risk trips when you wouldn't otherwise buy travel insurance, like visiting grandma or a weekend getaway to a city in your own country.  I made a claim when a cancelled flight required me to spend the night in Charlotte; I was reimbursed for my hotel, Uber rides, and meals.
Notably, medical costs are not covered, so you might want to shop around for a medical and evacuation policy on international trips. For medical insurance, we recommend World Nomads. They're the "all inclusive" option known for honoring claims made through their simple online process. They cover almost all adventure and sports activities, and you can buy and extend coverage even while on your trip.
Primary Car Rental Insurance
The Chase Sapphire Preferred is one of the few cars that offers primary collision damage waiver coverage on rental cars.  This benefit is available in most countries and covers damage to all standard passenger vehicles (some "exotic" rentals, like Ferraris and Maseratis are explicitly excluded).
Remember, this is CDW coverage, so it will pay for damage to the rental vehicle, but you'll still need liability coverage through your auto insurer at home for injuries or medical expenses.
Three Intangible Benefits
I mentioned earlier that there are a few non-dollar reasons I love the Chase Sapphire Preferred as well:
First, the card always works.  The card is a Visa, which means it's widely accepted worldwide and it's been reliable for me even when cards from other banks were incorrectly flagged for fraud while traveling.
Next, they have awesome customer service.  When I call in, I talk to a human being instead of a phone tree.  Better yet, the associates I've spoken to are well-trained and able to assist in an appropriate manner so problems are solved quickly.
Lastly, the card is simple.  The Sapphire Preferred is designed for customers who want to set it and forget it.  The rewards are easy, so you don't have to spend dozens of hours learning how to redeem them, and the website is intuitive for general banking and reward redemptions.  It's a no-brainer to apply and hold onto the card long-term so you can spend your mental energy on other things.
How to Earn Chase Ultimate Rewards
Chase offers a generous welcome bonus for new cardholders: 60,000 Ultimate Rewards points when you spend $4,000 in the first 3 months of card approval.  That's a fast way to jumpstart your earning!
Thereafter, you'll earn Ultimate Rewards through normal everyday spending.  You'll get 2 Ultimate Rewards points per dollar spent on travel and dining and 1 point per dollar on everything else.
Chase defines travel as the things you'd expect (e.g. hotels, airfare, cruises, car rentals) but also includes less-obvious purchases like taxis, toll roads, paid parking, campgrounds, and more.  Dining is also broadly-defined, including restaurants, fast food, bars, coffeeshops, and even some food delivery services (like Grubhub).
Want to earn even faster?  Add an authorized user for no extra fee and their spending will earn Ultimate Rewards for the same account.
For additional earnings, you can start your online shopping purchase through the "Shop through Chase" portal.  A few extra clicks will help you earn an additional points for every dollar spent at participating online retailers like Best Buy or Macy's.com.
How to Redeem Chase Ultimate Rewards
There are two different ways to redeem Ultimate Rewards for travel.  That flexibility means you should get great value regardless of your goals and preferences.
Ultimate Rewards points can be transferred at a 1:1 ratio to partner airlines and hotels where you then redeem your points directly through those frequent flyer programs.  This is a great way to book high-value redemptions at a reduced rate, like first class flights and luxury hotels.  I'm flying business class this spring on Iberia Airlines from Spain for just 34,000 UR — a fabulous redemption compared to the cash price of $2,000.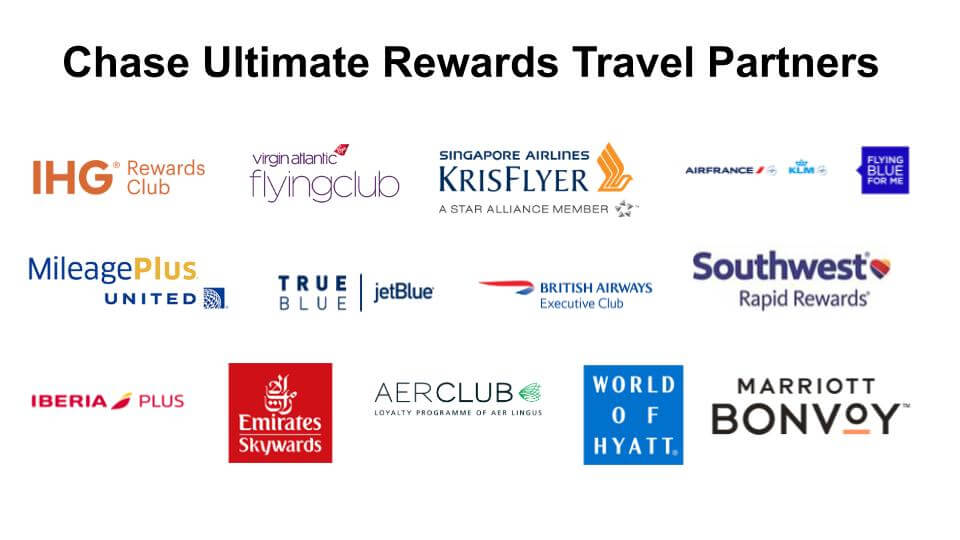 The downside to booking through partner programs is that rewards often come with blackout dates or capacity controls, which can be frustrating for travelers.  You can work around these restrictions by using your rewards to redeem points through the Chase portal instead of transferring directly to programs.
When you book through the Chase portal, Ultimate Rewards points are worth 1.25 cents per point (e.g. the welcome bonus of 60,000 points = $750).  You can book any flight or hotel that is normally available through an online travel agency like Expedia, so you can choose any airline or hotel of your preference with no blackout dates.
Since your points are worth a fixed value when redeeming this way, it is often a good option when flying in economy or staying at mid-range hotels.  For thrifty travelers that find airfare deals or hotel sales, you might actually use fewer points than transferring to an official frequent flyer program.
The Thrifty Gist
The Chase Sapphire Preferred is the best travel credit card, offering a welcome bonus of 60,000 Ultimate Rewards points (worth $750!)
You can transfer Chase Ultimate Rewards points you earn with the card to flight and hotel partner programs, or redeem them for any bookable travel with no blackout dates online for maximum flexibility
The card's annual fee pays for itself with the welcome bonus, no foreign transaction fees, and benefits like travel protections and CDW insurance
Looking for other options? Check out our list of the BEST travel credit cards of the year, and learn more about how to get free flights with travel credit cards & points.
Thrifty Nomads has partnered with CardRatings for our coverage of credit card products. Thrifty Nomads and CardRatings may receive a commission from card issuers. Opinions expressed here are author's alone. Responses are not provided or commissioned by the bank advertiser. Responses have not been reviewed, approved or otherwise endorsed by the bank advertiser. It is not the bank advertiser's responsibility to ensure all posts and/or questions are answered.