Words do it no justice. The seventh natural wonder of the world. The largest coral reef on Earth: 344,400 square kilometres of fish of all colors, playful sea turtles, giant clams, swaying anemones, darting eels, sea snarks and reef sharks.
You don't need to be a pro diver to experience the reef. I've visited twice. The first time in 2010, I drifted in my snorkel and fins and watched from a safe distance as a giant sea turtle feasted serenely on a transparent jellyfish. Holding the hand of an instructor, I tentatively attempted a night dive, and swam shoulder to shoulder with dozens of sleek white sharks in the eerie darkness.
Seven years later on my second visit, the reef seemed to have changed. Perhaps it was just reality failing to live up to memory, but I had read extensively about changes in sea temperature caused by climate change leading to massive death of coral. The so-called 'coral bleaching' wrecks the entire ecosystem, as each creature depends on the others for survival.
Still, the reef is exquisite beyond. But if you want to see it, do see responsibly, and do so soon!
How Much Does a Trip to the Great Barrier Reef Cost?
The reef proper lies a long way from the shore. To do it justice, you'll need to go out on a boat. Costs for this vary greatly depending on the length of time, the level of comfort, and the amount of activities you plan to participate in. You can browse tour options along with reviews on GetYourGuide and Viator.

Staying in a mid-range boat for a two-night "Liveaboard" trip will set you back around $400AUD per person including (basic) meals. The 'raw budget' experience of a one day trip out to the reef and back, with no extras and providing your own equipment, can be done for around $100AUD.
You'll also have to factor in accomodation in Cairns or another gateway city (search HotelsCombined and Airbnb to cover all your options of hotels, hostels, and homes), as reef tours tend to leave at the crack of dawn. Search Skyscanner by "entire month" to find the cheapest dates to fly from your origin. Not including flights, I would say a realistic budget to enjoy the reef and the Cairns experience starts at $600AUD, though it is possible to spend a lot more!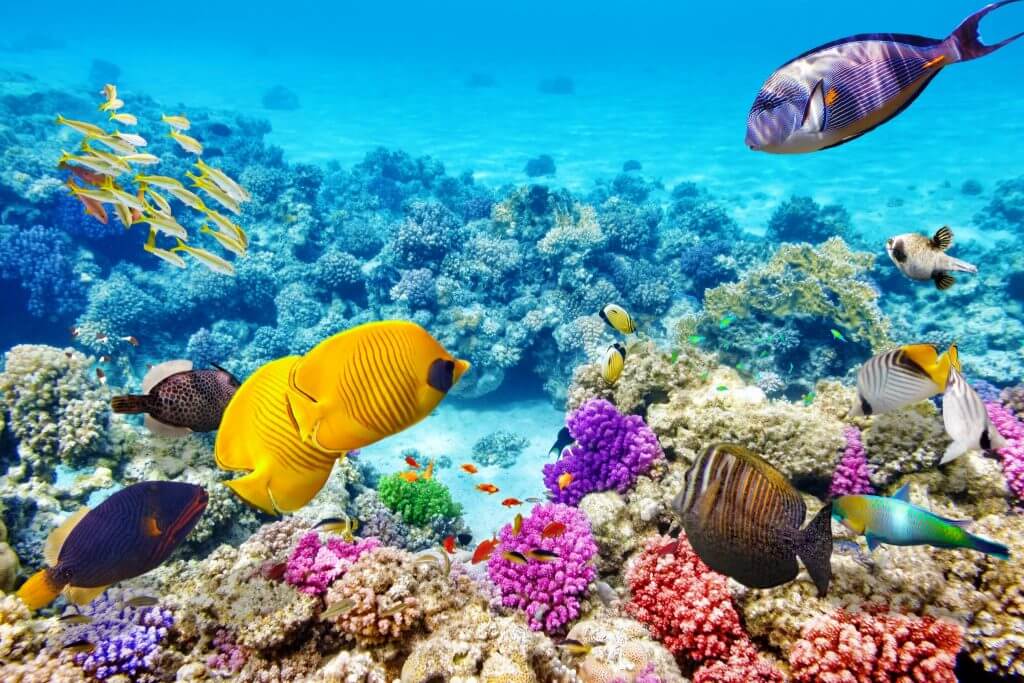 How to Choose a Great Barrier Reef Tour
With so many tour companies competing in such a popular region, it can be hard to know which company to go with. Here are a few factors to consider:
We recommend browsing the tours on GetYourGuide and Viator, which let you compare tours, read real reviews from travellers who have booked them, and book any tour with immediate confirmation. Most offer 24 hour free cancellation and allow you to show confirmation on your mobile device, no printer required.
Look beyond the rating and read a few of the actual reviews. These can also be useful to give you an idea of the type of person on each tour – for example if you're a young group of friends, you're probably looking for a different atmosphere than a couple traveling on their 50th wedding anniversary! More reviews are available on TripAdvisor too. With many tour companies seeming to offer more or less than same thing at the same rates from first glance, a little extra time in planning and research can help you make the most of your time and budget.
Here are a few of the top-rated tour options: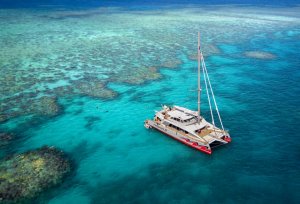 Goes to 2 outer reef locations, chef-prepared lunch, luxury catamaran, and options to snorkel, swim, or dive.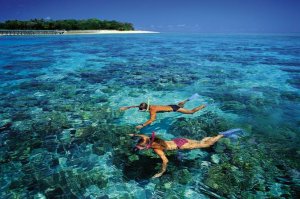 Goes to Green Island, catamaran tour, glass bottomed boats, upgrade options for lunch and semi-submarine tours.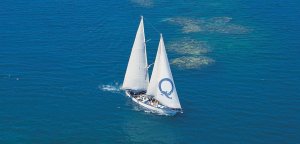 Goes to Green Island, travel by sail boat, max 25 ppl, onboard lunch, pastries, tea/coffee.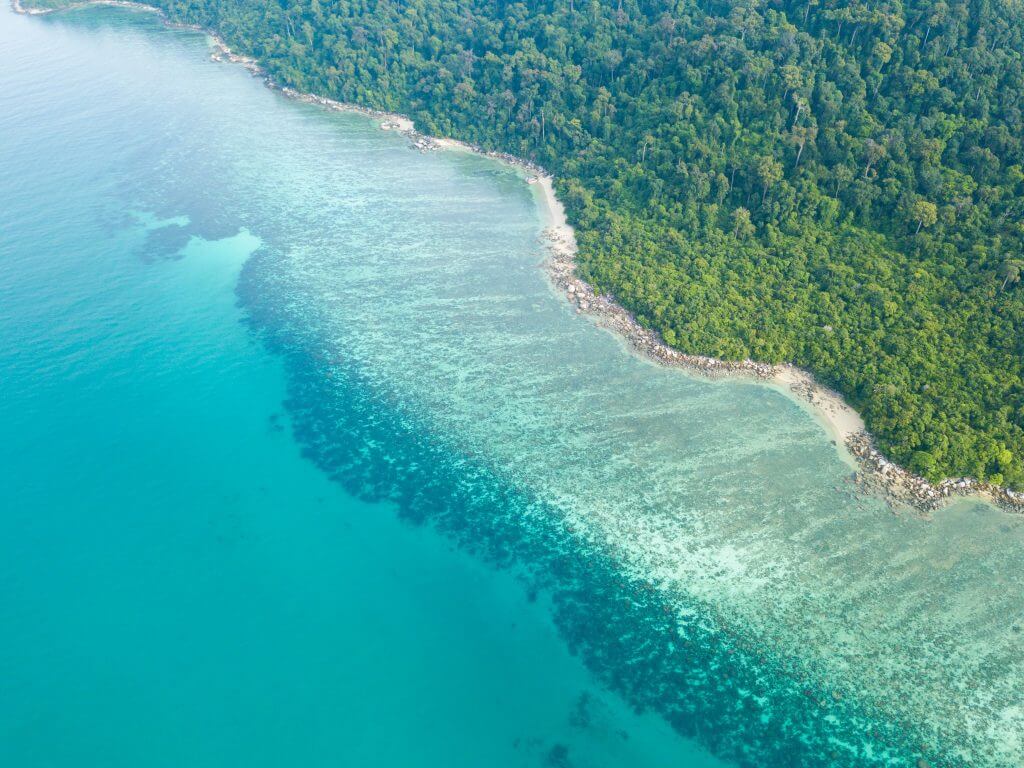 Beyond the Reef
The Great Barrier Reef is normally accessed from Cairns, a vibrant tourist city on the far north tip of Queensland. The reef is the biggest draw, but there's so much else that makes this region worth visiting in its own rights. Crocodiles, rainforests, aboriginal culture, and pioneering cuisine blend together with a wild nightlife and a youthful vibe.
As we explore the highlights below, we'll look beyond the reef itself to the neighbouring attractions and activities that will add value to your trip.
Far North Queensland Highlights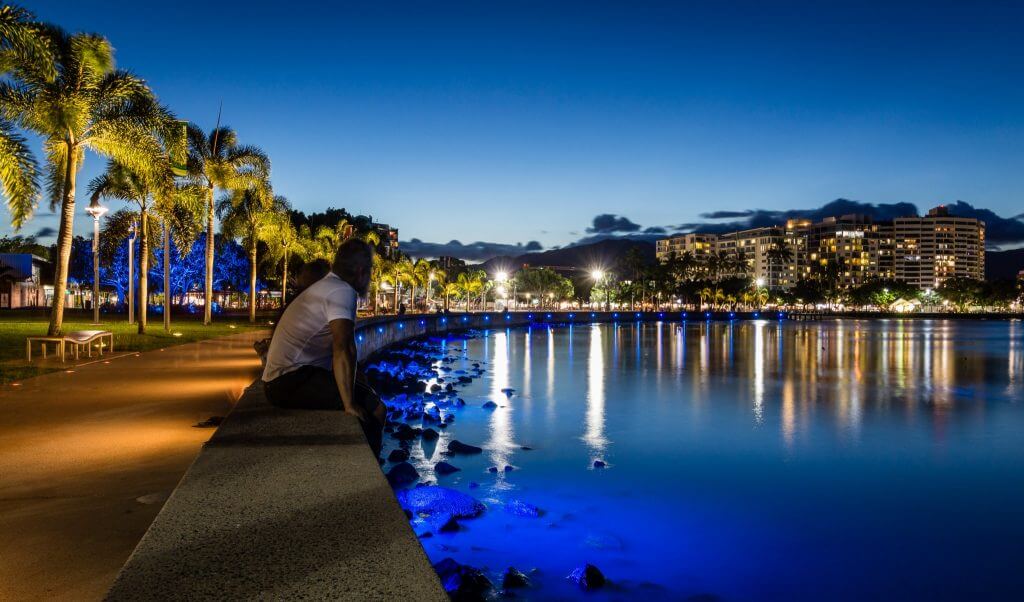 Cairns
The "capital" of the far North, Cairns is a dynamic tourist town. Walk down the esplanade during sunset and listen to the bats in the thick trees above you. You're closer to Papua New Guinea or Indonesia than you are to Sydney, and things are different here. A thumping nightlife and eclectic dining scene contrasts with the general wildness of the town – it's worth a couple of days. Your cheapest accommodation option is likely Airbnb, but you can compare hostels and hotels on HotelsCombined too.
Townsville
Often overlooked, Townsville is Cairn's quieter cousin. If you're averse to tour groups, it can make a cheaper and gentler waypoint to the reef, and there's plenty of good snorkelling around. The Reef HQ aquarium and Museum of Tropical Queensland make good educational antidotes to the hedonism of nearby Cairns (by Australian standards!).
The Daintree Rainforest
Want to experience an unspoilt tropical rainforest, or prefer to relax with a cocktail on the beach? At the Daintree, you can have both. The terrifying, ancient Cassowary birds still stalk the bushes, and in the water you're taught to be weary of crocodiles, jellyfish and venomous seashells, but the natural beauty more than compensates for the danger. Tours leave from Cairns, as well the most developed rainforest town, Port Arthur.
The Whitsundays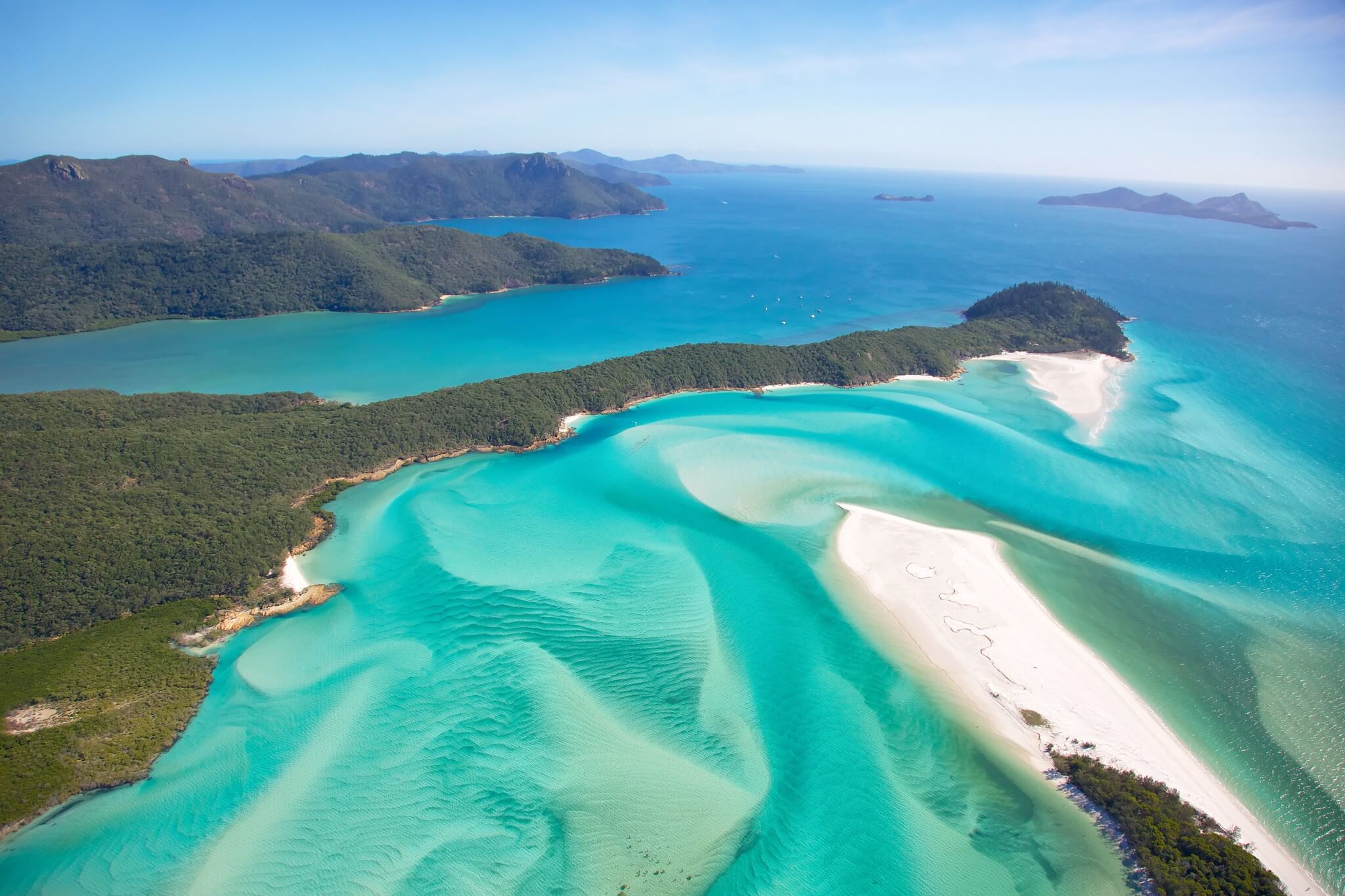 74 unspoilt islands lie between the mainland of Australia and the Great Barrier Reef. Mostly uninhabited, you don't go there for the bar scene or fine dining. Instead, white sand beaches lead you to never ending horizons and blood red sunsets. Leave only footprints along bush hiking trails, and feel yourself part of vast wilderness of the Reef. A variety of cruises, sails, snorkelling trips, and more can be booked on GetYourGuide and Viator for as little as $59 AUD.
Kuranda Village, Skyrail Cable Car, and Kuranda Scenic Railway
A gorgeous small town with friendly locals and comfortable hospitality, this popular day trip from Cairns has charming shops, restaurants, and markets to explore. But it is perhaps best known for the connecting Skyrail Cable Car and the Kuranda Scenic Railway. The cable car ride is 7.5 kilometers long, offering a bird's eye view of the dense, green rainforest as you sail gently over the tops of the trees. The railway was built over 120 years ago, winding through mountains and offering spectacular views of waterfalls and the Barron Gorge. It's a must-do when visiting Cairns!
There are a number of ticket options, which can be a bit confusing, but we recommend taking both the cable car and scenic railway. Here's how to choose your ticket type:
Booking on GetYourGuide gives you the advantage of instant confirmation and easy cancellation up to 24 hours in advance. If you're on a budget, you can also opt to just take a return trip on the Skyrail Cableway ($79 AUD), but it's a lot more interesting to combine with the train if you can afford it. You can also skip the cable car and railway entirely and just drive yourself to Kuranda Village. But the train and cable car are really the highlight here!
Paronella Park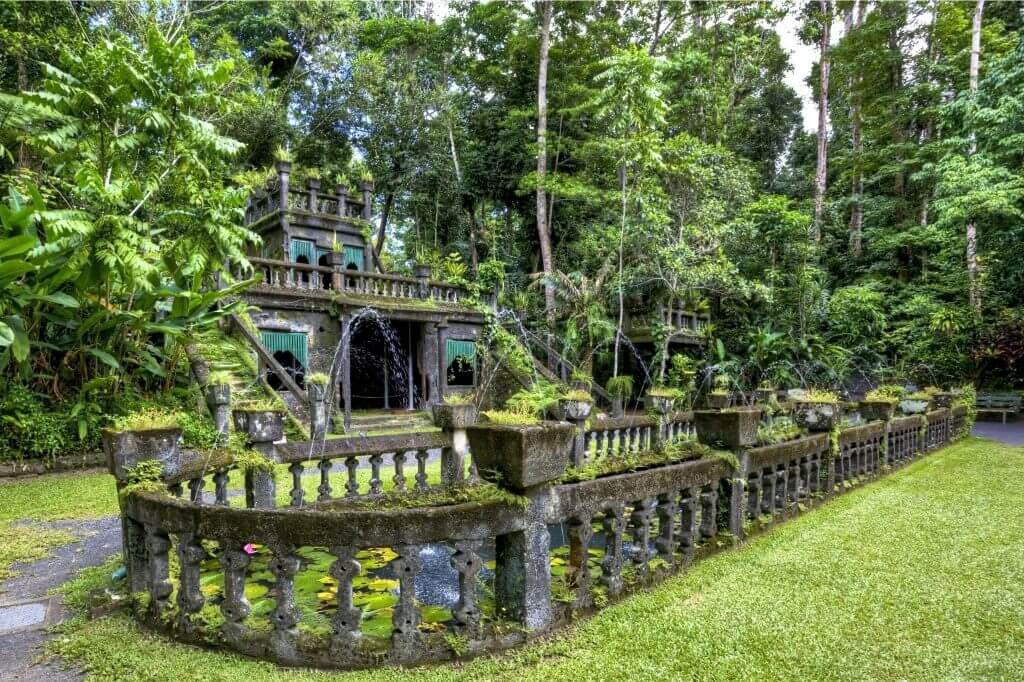 Treat yourself to a taste of luxury and experience eco-tourism at its best. This highly awarded Queensland highlight offers a skywalk, waterfalls, botanical gardens and more all located around a lovingly built castle within 5 hectares of ground containing 7,500 tropical plants and trees. Prices start from $46 AUD per adult. You can book on GetYourGuide to enjoy instant confirmation, skip the line with a mobile or printed ticket, and cancel up to 24 hours in advance for a full refund.
Sample Trip Itineraries
Reef Focus
If, like me, your main goal in hitting the Far North is to experience the Great Barrier reef, but you have time and budget to experience a bit of the region as well, here's a sample itinerary for you:
Great Barrier Reef Accommodation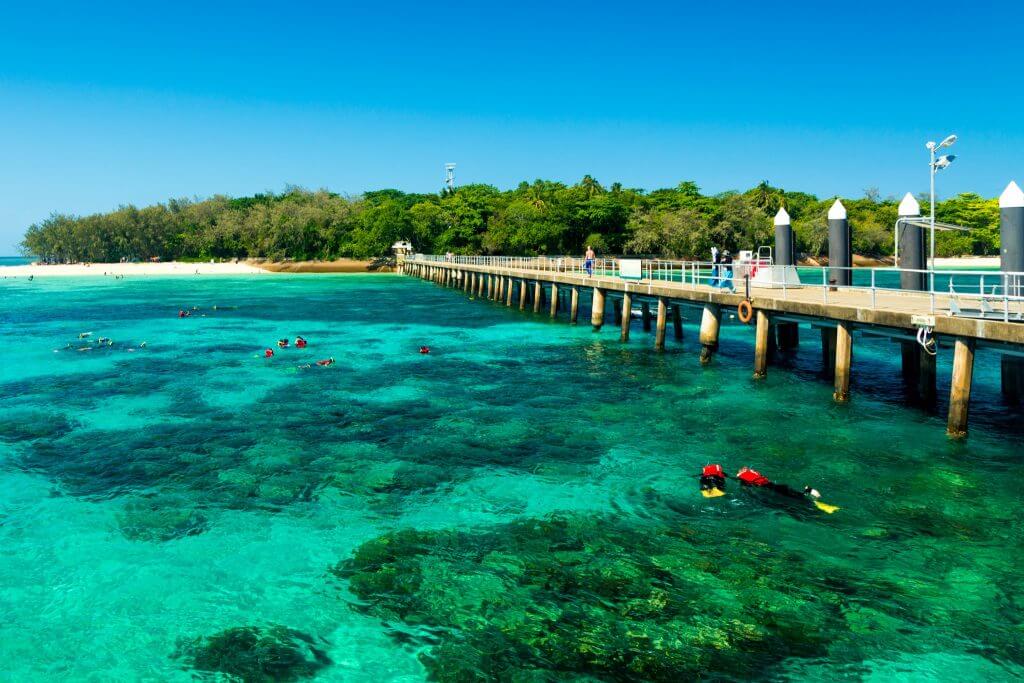 Options are available to suit most budgets. You can kill 2 birds with 1 stone and rent a Jucy campervan, driving and camping as you go (see more under transportation section below). Camping options are plentiful around Cairns and Townsville. Airbnb is also abundant and affordable (especially for 2 or more travellers), with a private room in Cairns as cheap as $25 AUD/night. Backpacker hostels are everywhere, with dorm rooms starting from around $20 AUD a night. You can compare across most hostel and hotel sites using HotelsCombined.
Private hotel accommodation is likely to set you back at least $70/night for even the most basic, though Townsville can offer cheaper options. Luxury lodges and "Bed and Breakfast" eco retreats are available in the Daintree rainforest.
Editors note: We had an unforgettable stay at Sanctuary Retreat in Mission Beach, halfway between Cairns and Townsville. You stay in private huts in the middle of the rainforest upon a steep hill, surrounded by nature, and delicious food at the restaurant. A truly unique experience, and extremely affordable! ~ Jen and Ted
When to go
Locals joke that Far North Queensland has two seasons: Bloody hot and dry (April to November) and bloody hot and wet (November to March). The weather is truly tropical, with high humidity, cyclones and typhoons. Mosquitoes and other lovely creepy crawlies can be killer, so stock up on high strength repellent before you go!
Eating & Drinking
Seafood was the culinary highlight of my trips to Cairns! Along the esplanade many fine restaurants compete with for the tourist dollar, and will set you back at least $30 AUD for a decent meal, easily twice this if you're drinking as well. Some of the boats along the harbour also sell seafood, including the exotic Moreton Bay Bug, a tasty but surreal looking crustacean. Aboriginal bush tucker (fancy a kangaroo stack or crocodile carpaccio?) is also served at some restaurants.
Luxury options are common throughout, with the price tags to match. If you're on a budget, you'll be relieved to learn that most hostels have comprehensive cooking facilities, and supermarkets (Woolworths and Coles are the big chains, and the less common Aldi can be cheaper) are easy enough to find in the big towns. For a cheap hot meal in Cairns, Townsville, and larger towns, hit up the RSL (Returned and Services League of Australia).
Transportation
Cairns and Townsville are major transport hubs, with frequent flight connections to each other (just over 1 hour) and other Australian cities (Jetstar and Tiger Air are typically the cheapest options). If coming from overseas, you'll most likely have to transit through Queensland's capital, Brisbane, a whopping 1,700 kilometers away! Use Skyscanner and search by entire month to see the cheapest dates and options to fly.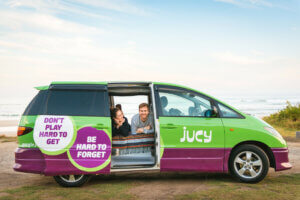 One of the most popular ways to explore Australia is with a Jucy car or campervan. You'll frequently see Jucy vans parked alongside beaches, with travellers gazing out at the sunset from their bedroom on wheels. Not only is this method of transport fun, but it's also thrifty – no hotels or hostels to book. Pickup is available in Cairns, Brisbane, and Gold Coast. Sometimes you can even score a thrifty relocation deal from one city to another – you can read our complete guide on relocations here. These are typically posted last minute (usually posted 2 weeks or less in advance). Just beware that distances can be huge, and the time allowances for the relocations can sometimes be tight!
The Greyhound bus makes a cheap but painfully slow way to get around. Tour companies will handle transportation for you between attractions themselves. If hiring a car, companies like Ace and Avis can offer deals as low as $20 AUD per day. You can compare many car rental sites at once using BookingBuddy.
Activities
Responsible Travel
As mentioned at the start, the Great Barrier Reef has been put through hell recently due to climate change and environmental hazards. And yet, even the most caring conservationists will tell you that's not a reason not to go. Better to see and experience nature up close and personal, and gain an appreciation for what we have, the better to fight hard so that we can keep it.
When you go on a tour of the reef, a certain percentage of your ticket fare will be used as a "reef tax" to help fund conservation efforts. There are other things you can to do help minimize your own impact on the environment. When staying in rural areas, be discerning about what you buy and take your rubbish away with you.
When in the water, use biodegradable sunscreen and cut down on skin products to avoid the toxic effects on the surrounding coral and sea life. And of course, never step on coral or attempt to touch sea life of any kind – for your own safety as well as theirs!
The Thrifty Gist