If you're planning on travelling to China, you're going to need a visa to do so (unless you're on the teeny list of countries that do not require one). But why get your visa in Hong Kong and not at home?
Besides being a convenient gateway to China, obtaining a Chinese visa in Hong Kong will save you some serious travel bucks. Agencies in Western countries charge outrageous fees for Chinese visas.  Take Toronto for example, where you can expect to pay a whopping $130+ USD for a Chinese visa. That's almost 7x the cost to do it via Hong Kong, where it is merely $25 USD!
That said, it's a big trade-off between convenience and cost. Getting the visa yourself in Hong Kong requires time and organization. If you're on a tight timeline, definitely consider getting your visa before you leave home. VisaHQ lets you order your visa online, upload your documents directly to their portal, and have your visa delivered within days.
However, if you can work it in your travel plans and want to make a stop in this neon-lit city, getting a Chinese visa in Hong Kong can be done. Here's a step-by-step guide to the cheapest, simplest way to get a Chinese visa in Hong Kong.
Please note: we cannot provide advice on your own visa situation, this is simply a guide on how to obtain a Chinese visa in Hong Kong. If you have specific questions, contact the Commissioner's office or travel agencies listed in this article.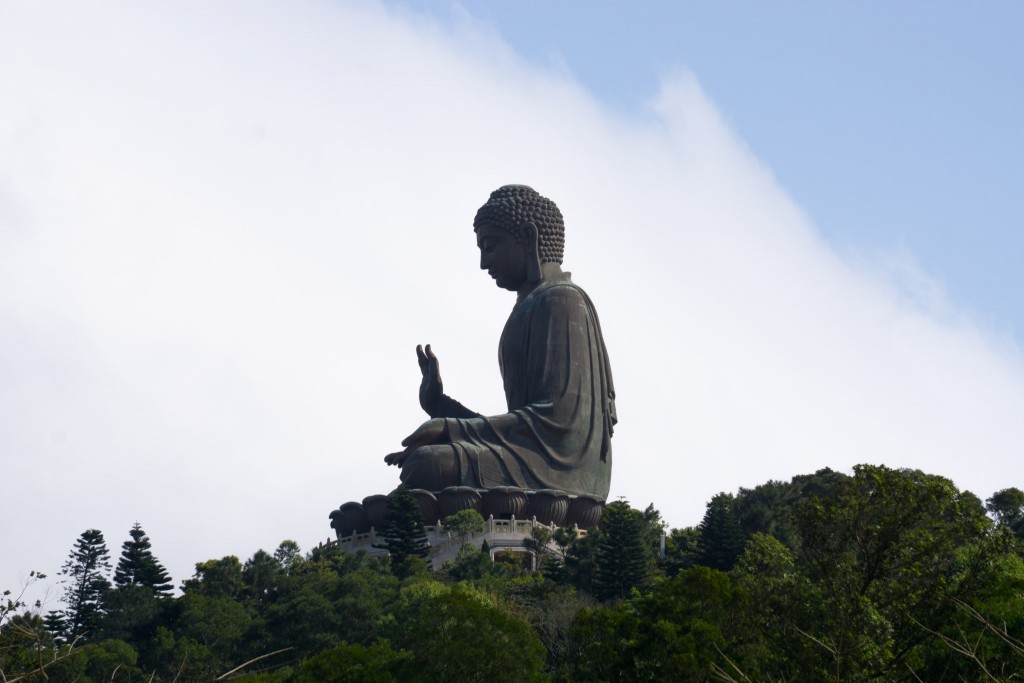 ---
Do I need a visa?
Residents of almost every country require a visa for travel in China with very few exceptions. The easiest way to find out is to select your citizenship in the following widget from
VisaHQ
. If you have the time and money, you can save yourself the hassle of running around Hong Kong and pre-order your visa from
VisaHQ
as well.
Step 1. Print your travel itinerary
You must provide printed documents of all your hotel bookings for China. If you don't, you'll very likely be asked to come back with them to prove your itinerary. You must in some way show an exit from China, in the form of a flight confirmation from Hong Kong or the mainland (which would imply you are leaving China). If you can't book an exit ticket yet, a new service called OneWayFly can provide you with proof of exit for only 19.00 €.
If you have no solid travel plans (which we didn't), you can make a series of reservations via Booking.com to produce an "itinerary" for the purpose of obtaining your visa. Booking.com has free cancellation unless stated otherwise, so you can modify or, if necessary, cancel after obtaining your visa. But if you can take the time to plan out your trip, Booking.com has some of the best accommodation prices online anyway, so you might as well make your bookings now and save big!
Printing your itinerary: the Visa office (described below) has a photocopier for 1HKD per copy, but

not

a printer, so you should print documents beforehand. We did this nearby at the suitably named, "Print Shop" for 5HKD (~.60 cents) per B&W copy. It is located beneath Hotel Victoria (pictured below with the yellow sign on the street corner – see map beneath photos). Bring on a USB or e-mail your documents to the shop at 

[email protected]

.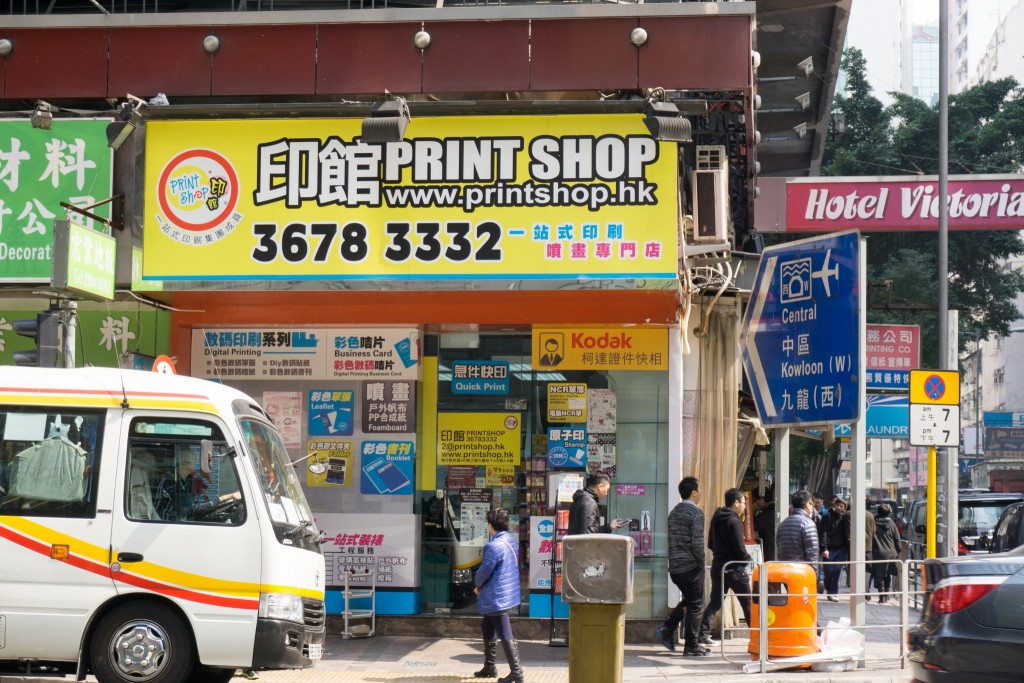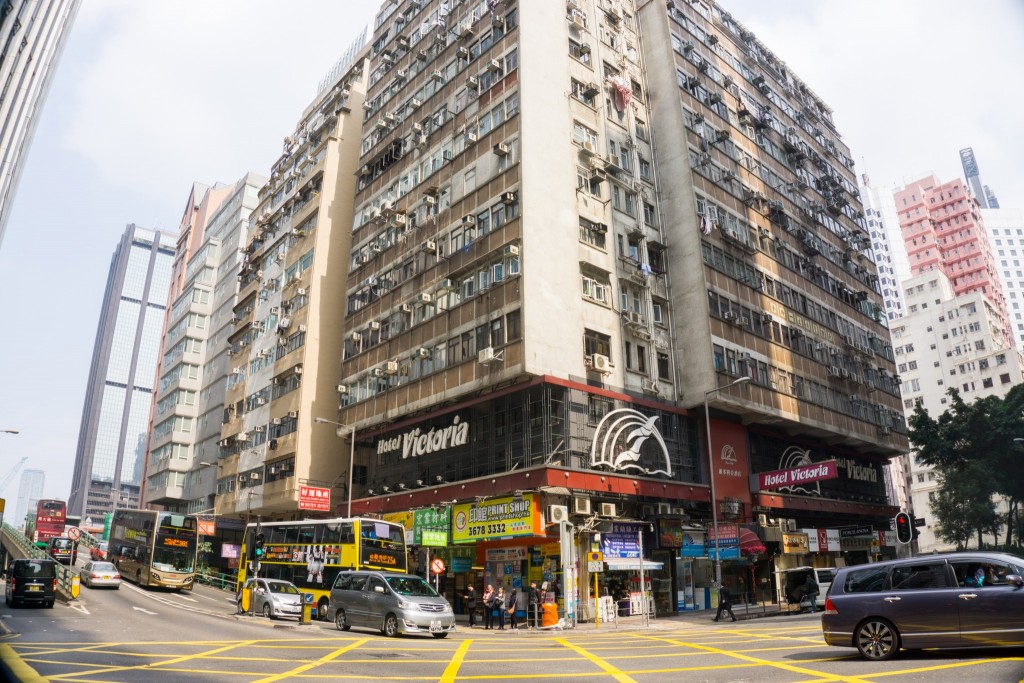 Step 2. Get passport photos
You can do this at the Visa office itself for 50HKD (~$6 USD) using their self-service photo booth. Alternatively, you can get it done while printing your itinerary if you don't have access to a printer. Passport photos at the Print Shop (pictured above) cost 40HKD (~$5 USD).
Step 3. Ensure you have all required documentation
A photocopy of your passport (first main pages only with your photo & info)
A passport photo
A photocopy of your arrival stamp/sticker to Hong Kong (small white slip of paper, see photo below)
A visa application form (obtained at the

visa office itself

, the online form is outdated so do not use it)
Photocopies of all of your hotel bookings for the duration of your stay in China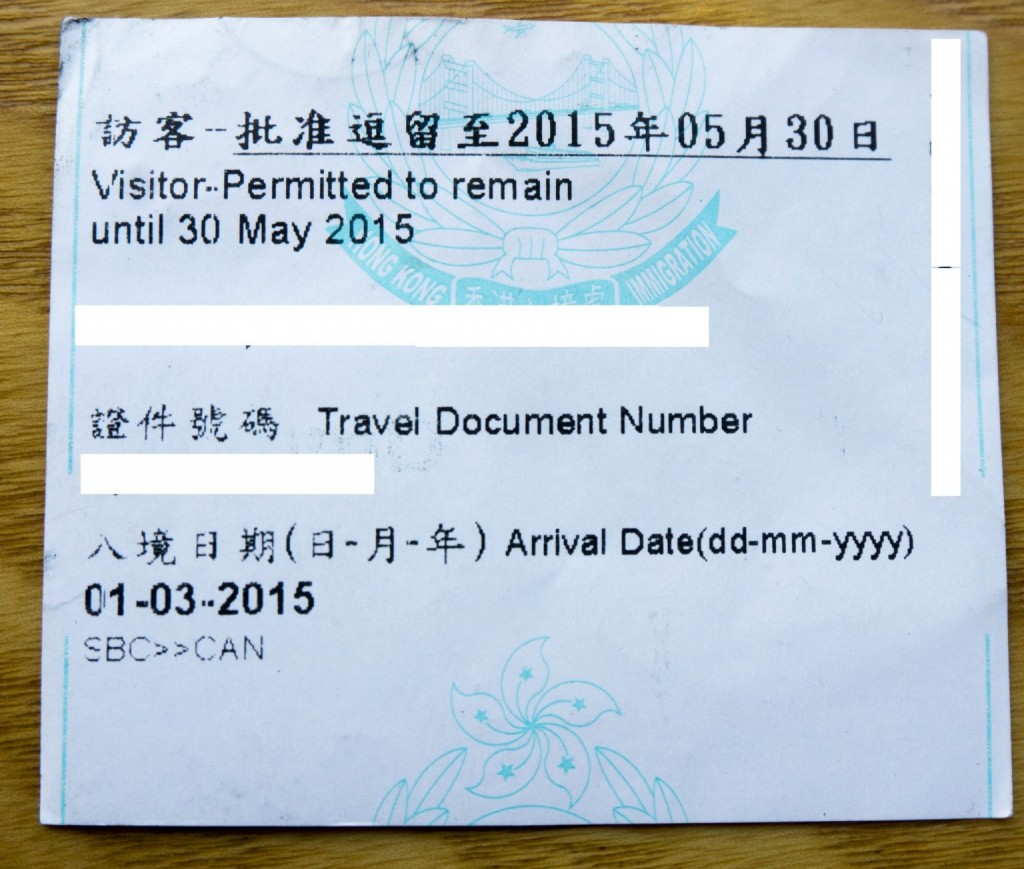 Step 4. Go to the visa office
There are several agencies through which you can obtain your visa in Hong Kong, but the cheapest way is to go straight to the source by visiting The Commissioner's Office of China's Foreign Ministry in Hong Kong SAR. If you won't be in Hong Kong for long, it might be worth using the China Travel Services agency, which has an office right in the airport. Info on other agencies are mentioned at the end of this article.
Location
The Commissioner's Office of China's Foreign Ministry
7th Floor, Lower Block, China Resources Building
26 Harbor Road, Wanchai, Hong Kong
Nearby transit station: Wan Chai Station (~8 minute walk)
Hours
Monday to Friday (except Hong Kong public holidays), 9:00AM-12:00PM then 2:00PM-5:00PM.
Note: the busiest times are Mondays, Tuesdays, first days after long public holidays, and peak hours (10:30-11:30AM and 2:00-3:30PM).
Fees
Single entry visa: 200HKD (~$25 USD)
Double entry: 300HKD (~$38 USD)
These prices are for regular service (4 working days). Faster service costs extra, and is outlined below.
Additional visa types and fees can be found here.
Processing Time
Visas are processed in 2-4 working days. As per the FMCOPRC website, processing details are as follows:
Regular service: 4 working days including submission day (e.g. Submission on Monday and collection on Thursday)
Express service (

extra 200HKD

per person): 3 working days including submission day (e.g. Submission on Monday and collection on Wednesday
Rush service (

extra 300HKD

per person): 2 working days (including the submission day. e.g. If visa application is submitted on the morning of Monday, collection time is on the morning of Tuesday; If visa application is submitted on the afternoon of Monday, collection time is on the afternoon of Tuesday)
Important Notes
The Commissioner's Office website states that foreigners must apply in their home country, but in our experience (and many others), this is

no longer

 the case.
Be sure to bring a pen as they are scarce in the visa office and are essential to completing the application form!
You do

not

need to provide a business card unless you are applying for a business visa.
Step 5. Obtain your visa
After handing over your passport (which will be held at the office while your visa is processed), you will be told what day and time to return to the office. Upon pick-up, you'll see the visa inserted onto a page in your passport. It will look something like this: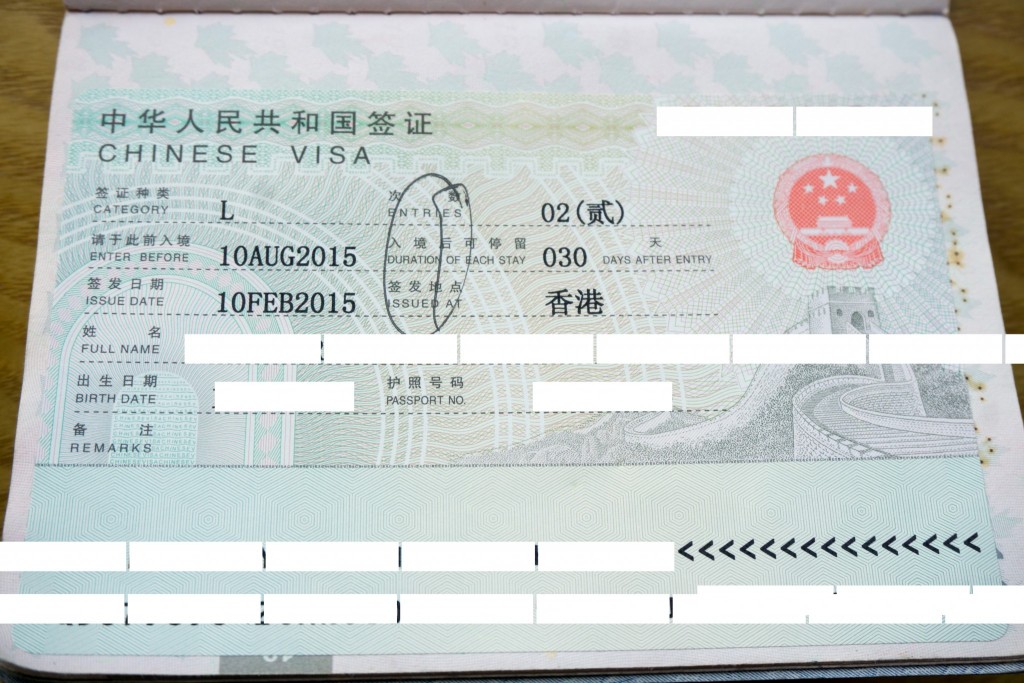 Alternative Chinese Visa Locations
The Commissioner's Office is the cheapest option, but if you don't have much time in Hong Kong, it may be worthwhile to use an agency service. Take note these can cost significantly higher:
China Travel Service
Fees: unverified, but Internet talk implies it's around 1000HKD
Processing times: 1-4 working days
Location: Hong Kong International Airport at Counter A04 in the Arrivals Hall, Terminal 1 (non-restricted area)
Forever Bright
Fees: 450HKD for single entry visa
Processing times: 2-4 days
Location: Kowloon in Hong Kong, here
Extra notes: passport photos can be taken at the centre for 30HKD
---
Note: this article was written and last updated March 2015. If you see any info here that is incorrect or outdated, please let us know so that we can provide the most current info to help fellow travellers. Please note that we cannot provide information specific to your visa situation/concerns, and your most accurate advice will come from the commissioners office or a travel agency.