A trip to Machu Picchu is something nearly every person dreams of in their lifetime. And why shouldn't it be? Perched high amongst the mist-soaked mountains of Peru, these centuries-old ruins are steeped in mystery. How were such massive boulders placed on the mountain tops? How were the structures carved to such perfection? And what was the true purpose of this eerie place?
Though one could stumble down the Google rabbit hole for hours over such questions, nothing is as invigorating as exploring it in person. Whether you want to embark on a multi-day trek, or meander the sites on your own without a tour, there's many ways to see Machu Picchu on the cheap. Here's our whopper of a guide to doing it!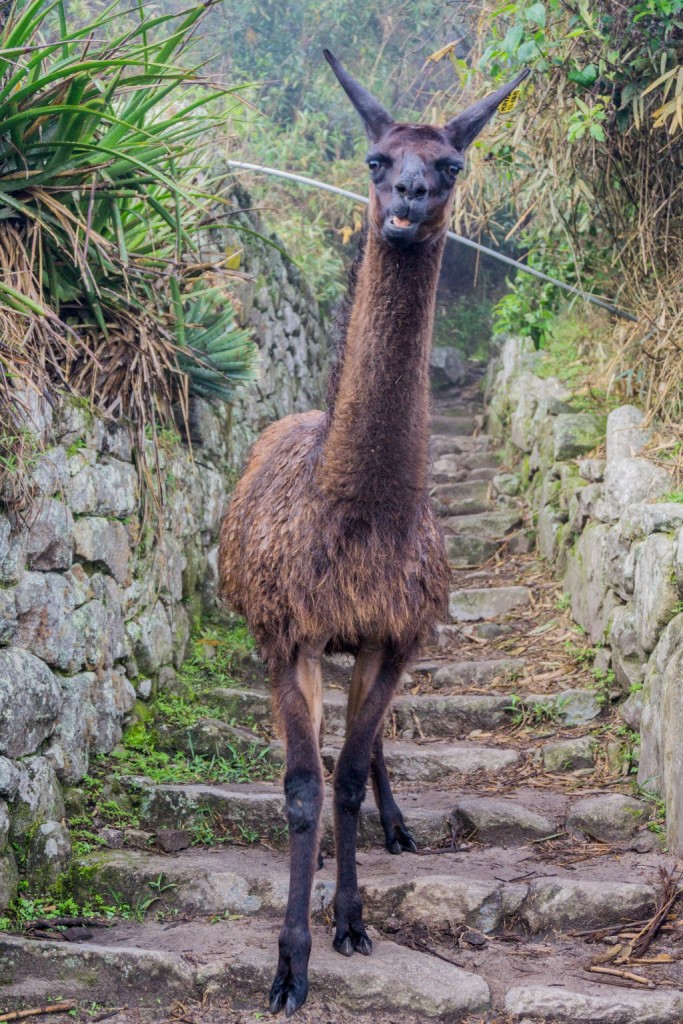 How much does a Machu Picchu trip cost?
The quick answer to this is it depends. If you want to hike your way to Machu Picchu, you must do it with a tour. However, it is also entirely possible (and quite easy) to visit Machu Picchu on your own, tour-free. This can either be done as a day trip from Cusco or by staying overnight in a neighbouring town and taking a bus or walking up to the ruins. Here's a rough estimates comparing all options. For a comprehensive breakdown and the how-to's of each, read on!
Inca Trail Hiking Tour Cost
Tour (incl accommodation, entry & meals): $650+ USD (depending on tour, duration, and group size)
Rental equipment, porter fees & tips: $211 USD
Other (snacks, money for paid toilets): $10 USD
TOTAL COST: $871 USD
Book on GetYourGuide
Book on Viator
Notes: This option typically includes all meals, but may exclude hiking equipment. Check beforehand to be sure. Prices vary hugely depending on the hiking route, duration, and company. See our hike breakdowns below.
Day Tour From Cusco Cost
Day Tour ($348 USD) including:
Local English or Spanish speaking guided tour of Machu Picchu
Roundtrip train tickets
Bus ticket from Aguas Calientes to the citadel of Machu Picchu
Entrance fee
Hotel drop-off and pick-up
Meals: $15+ USD with own food
Other (snacks, money for paid toilets): $10 USD
TOTAL COST: $373 USD (book here)
Day Tour From Aguas Calientes Cost
Day Tour ($115 USD) including:
Professional guide
Bus ticket from Aguas Calientes to Machu Picchu
Entrance fee
Accommodation (dorm 1-nt, Aguas Calientes): $12 USD
Meals: $15+ USD with own food
Train cost: $140+ USD return to Cusco
Other (snacks, money for paid toilets): $10
TOTAL COST: $292 USD (book here)
Costs Without Any Tour
Accommodation (dorm 1-nt, Aguas Calientes): $12 USD
Meals: $15+ USD with own food
Train cost: $140+ USD return to Cusco
Entrance fee: $47 USD
Bus ticket to Machu Picchu: $24 USD return to Aguas Calientes
Other (snacks, money for paid toilets): $10
TOTAL COST: $238 USD
Note: There are new rules stating that visitors require a guide for entry. As of 2019, reports of this continue to say (as they have for years) that this has not yet been enforced. From a logistics standpoint it would be difficult if not impossible to coordinate mandatory guides for every single visitor. That being said, a guide can be hired on arrival to Machu Picchu (they typically wait around the entrance), or you can pre-book a tour in advance. Just be sure to buy your entry tickets beforehand.
When to visit Machu Picchu
When is the best time to visit Machu Picchu? In theory, any time of year can be great (or not-so-great). Peruvian weather is notoriously unpredictable. Blaring sunshine can happen in the rainy season, and torrential downpours in the dry. We've only ever visited in the rainy season, but had very different weather on both visits. In December we had brilliant, blazing sun and heat. In February had a cool, rainy day and the mountains were doused in thick mist. Put simply, no particular month ensures certain weather!
Some points on planning the timing of your visit:
Rainy season is October to April. This is the low period for tourists but downpour and mist are a risk at any time. Dry season is May to September which offers increased likelihood (but no guarantee) of sunshine, thus meaning much greater crowds.
The least busy time of day at the ruins is early morning (6AM-8AM) and late afternoon (2PM-4PM).
Closures: The Inca Trail is closed all of February each year for maintenance.
Give time to acclimatize. When planning your visit, give your body at least a few days to adjust to the altitude – especially if hiking. Cusco is a great place to do this.
Where is Machu Picchu located?
Machu Picchu is about 50 miles (80km) northwest of Cusco, Peru. Whether you're arriving to Peru from overseas or are coming in from within South America, your first stop en route to Machu Picchu should be Cusco. This ancient city was once the capital of the Incan Empire and today is an eye-pleasing blend of old and new. Original Incan stones now lay fused with colonial-era bricks in cathedrals and historical buildings throughout the city. Here are some of the must-sees and do's in Cusco:
Wander the Plaza de Armas
Check out the Qorikancha – one of the most cherished temples of the Inca
Visit the Convento de Santo Domingo
Meander fruit stalls at the Mercado Central de San Pedro (be extra cautious of pickpockets here)
Drink lots of Pisco Sours, the national drink!
Explore Saksaywaman (walk or take a taxi up, you can hire a guide on-site)
Marvel over centuries-old masterpieces, including the "The Last Supper" painting in Cusco Cathedral which features a roast guinea pig
Stroll through the stunningly presented Museo de Arte PreColombio
Munch on free samples and learn how chocolate is made (or make some yourself!) at the ChocoMuseo.
Where to stay in Cusco
There's accommodation for nearly every budget in Cusco. That being said, most budget options are quite basic, even when spending a bit more on a "hotel". With most lodging you can expect to find a clean, basic room, hot water showers, free coca tea, and often a complimentary breakfast. An extra charge for heaters is not uncommon (these are often needed at night), so bring layers and/or anticipate that extra cost with your stay. HotelsCombined is what we use as it conducts a broad search. It's wise to check reviews (with a grain of salt) to comb out your options.
One place we can recommend from a recent stay is Mama Simona Hostel. The hostel was tidy, the duvets thick, the free Wifi great, and the breakfast fresh and varied including assorted breads, blended smoothies, coffee & tea, plus the option to add eggs. For those visiting Machu Picchu, you can even store your luggage for free in a camera-monitored locker room. The staff were beyond willing to help with anything, from calling taxis and finding cheap laundry, to cancelling a flight over the phone for us in Spanish. This was all without disclosure of us being bloggers (we don't do accommodation reviews), so I can say that this was an organically positive experience. We'd definitely go back!
Where to fly into for Machu Picchu
You will need to fly into Cusco via the Alejandro Velasco Astete (CUZ) airport where all international flights come in. If you're working out a South America itinerary, note that Bolivia will be cheapest to fly in from, followed by Ecuador (Guayaquil or Quito, with a likely layover in Lima), and then Chile (Santiago). Flights within South America aren't cheap, but Skyscanner will include budget airlines to show your cheapest options (choose "entire month" for the date to find the cheapest days to fly). We've also rounded up the continents budget airlines and air passes here. For general tips on snagging cheap flights anywhere every time, check our ultimate guide to cheap flights here.
Getting to Peru by bus or train
PeruRail has routes from Lake Titicaca, Bolivia to Puno, Peru, and vice versa. Buses are abundant throughout South America, with connections from virtually all over. There does exist an inter-country bus pass called Bolivia Hop, which provides bus travel between Peru and Bolivia. Otherwise, just Google search for bus companies respective to the country you're coming in from.
Visiting Machu Picchu With A Tour
Tours to Machu Picchu vary widely in cost and route. Most tours involve a 4-day trek with camping each night along the trail. The trek usually ends with a tour at Machu Picchu on arrival the last day. Here's a quick look at prices, but take note these are merely estimates based on tours leaving from Cusco and the surrounding area (i.e. not part of a bigger cross-Peru or South America tour). Costs will vary \based on the trail and company chosen.
Cost breakdown
Tour cost: $650+ USD (for a classic 4 day/3 night tour from Cusco)
Accommodation, entry ticket & meals: Typically all included
Rental equipment: Sleeping bag $30+ USD, walking pole $8+ USD, inflatable mattress $25+ USD, tent $35+ USD
Porter fees (if hiring someone to carry your bags): $75+ USD
Tips*: ~$38 USD for a typical 4 day/3 night tour.
Other: $10+ USD, Money for paid bathrooms, souvenirs, snacks to bring.
TOTAL COST: $871+ USD
*How much should you tip on a Machu Picchu tour? Recommendations vary by company and the tour duration (here's a detailed guide to tipping). As a rule of thumb, it's recommended to tip $19-$23 USD for the entire cooking staff and porters (this is shared amongst them), $6-$8 USD for the assistant guide, and $7-$10 USD for the main guide. If hesitant, you can ask your tour office/company when booking what is recommended.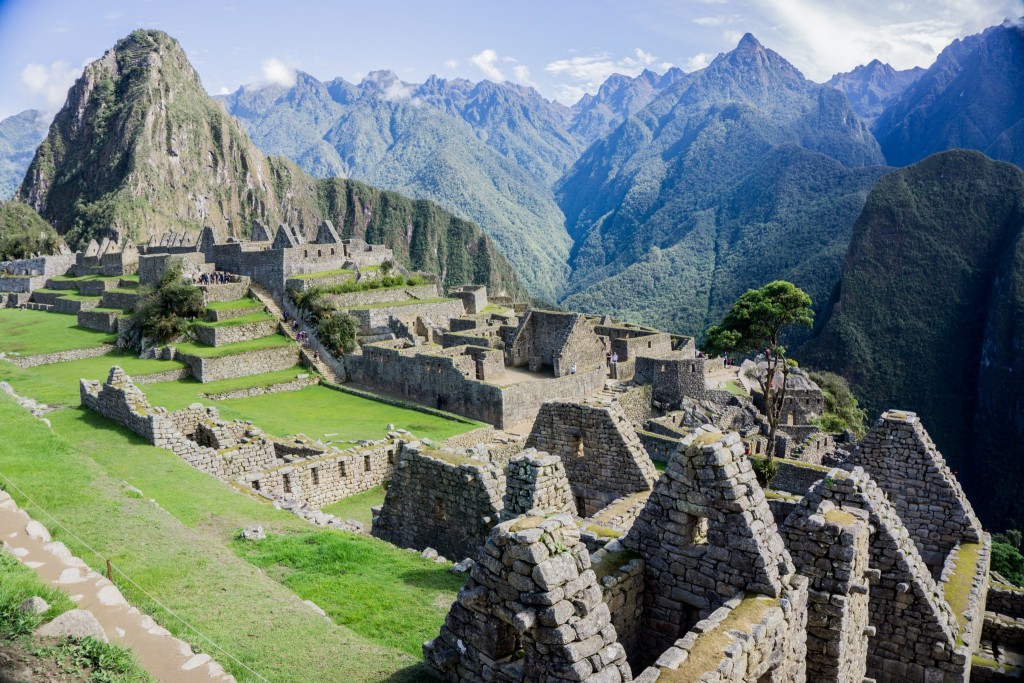 Booking a Machu Picchu tour
Choosing a company
On arrival to Cusco, you'll quickly find an infinite number of tour companies offering hikes to Machu Picchu. It's important to choose your tour wisely, as this is a strenuous multi-day hike. The last thing you want is subpar equipment or useless guides. Here's some important notes to consider:
Don't skimp out! A slightly pricier tour is far more likely to ensure functional equipment (i.e. non-leaky tents and hole-filled sleeping bags!) and decent, knowledgeable guides. You can save a bit of money renting your own hiking gear in town (Cusco or Aguas Calientes), but thoroughly inspect all equipment first.
Research companies & make an informed choice. As we haven't done the Inca Trail ourselves, we can't personally vouch for a tour company. Some recommended by other travellers include Llama Path (who we've used for day tours), G Adventures, and Intrepid Travel. It's wise to check recent reviews on forums like Tripadvisor.
Book ahead. As much as 6 months in advance is recommended as there is a maximum number of tickets allotted for entry each day. Once you know your dates, book!
Choosing a trail
Many people don't realize there are multiple hiking routes to Machu Picchu. The commonest one is the Classic Inca Trail, which takes 4 to 5 days to complete. While it is the busiest (and typically most expensive), there do exist lesser-visited, cheaper alternatives. Sometimes it's essential to do an alternate trek, as the Inca Trail slots fill up in high season (there is a maximum numbers of permits each day to keep the trail in functional condition). Here's a quick rundown of the various trails to Machu Picchu (besides the classic one).
CONDENSED INCA TRAIL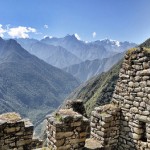 Duration: 2 days, 10km (6.3 miles)
Scenery: Includes the last part of the Inca trail. See panoramic views of the Andes, Wiñay Wayna (Incan ruins along the trail), cloud forest, sweeping valley landscapes
Difficulty: Easy to moderate
Highest altitude: 8,792ft (2730m)
Cost: ~$485+ USD (depending on group size)
CACHICATA TREK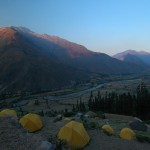 Duration & distance: 4 days, 15.5 miles (25 km)
Scenery: Lush farmland, ancient Incan sites and stone-age petroglyphs, waterfalls, Cachicata (quarry used by Incas), chullpas (burial houses) with mummies still in place
Difficulty: Easy to moderate
Highest altitude: 14,764ft (4500m)
Cost: ~$750+ USD (depending on group size and tour)
HUCHUY QOSQO TREK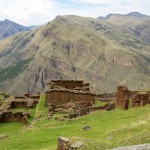 Duration: 3 days, 11 miles (8km)
Scenery: Lesser visited Incan ruins, water channels and quarries crowded landscapes of snow-capped peaks, subtropical cloud forest, stone Incan paths, sweeping valley views
Difficulty: Easy
Highest altitude: 14,107ft (4,300m)
Cost: ~$550+ USD (depending on group size and tour)
LARES TREK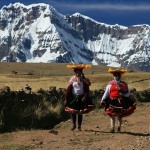 Duration & distance: 3-5 days (typically 4), 21 miles (34km)
Scenery: Mountain lakes, snow-capped peaks, wildlife such as Andean parrots, viscachas (a rabbit-like chinchilla), and Andean foxes, meet local people in traditional attire
Difficulty: Moderate
Highest altitude: 15,682ft (4780m)
Cost: ~$635+ USD (depending on group size and tour)
Book on Viator (min. 2 adults required)
VILCABAMBA TREK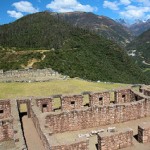 Duration: 5 days
Scenery: Some of the last places the Incas stayed, subtropical farms, snow-capped mountains, the White Rock which has elaborate carvings, Vitcos (summer residence of the Inca emperor)
Difficulty: Difficult
Highest altitude: 12,844ft (3915m)
Cost: ~$800+ USD (depending on group size and tour)
SALKANTAY TREK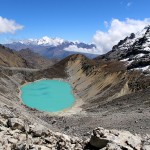 Duration & distance: 5-8 days (typically 5), 37.5 miles (60.5km)
Scenery: Snow-capped peaks, subtropical cloud forest, stone paths of the ancient Inca highway, sweeping valley views
Difficulty: Difficult
Highest altitude: 15,200ft (4650m)
Cost: ~$500+ USD (depending on group size and tour)
In addition to these, there are several other treks that visit Machu Picchu's sister city, Choquequirao (The Cradle of Gold). Towering over the Apurimac Valley, these impressive Incan ruins are set amongst epic, mountainous landscapes, similar to Machu Picchu. Treks to Choquequirao can be cheaper by as much as $200 USD, depending on tour size. Some of the longer tours (e.g. 8+ days) visit both Choquequirao and Machu Picchu so you can even see two incredible Incan ruins.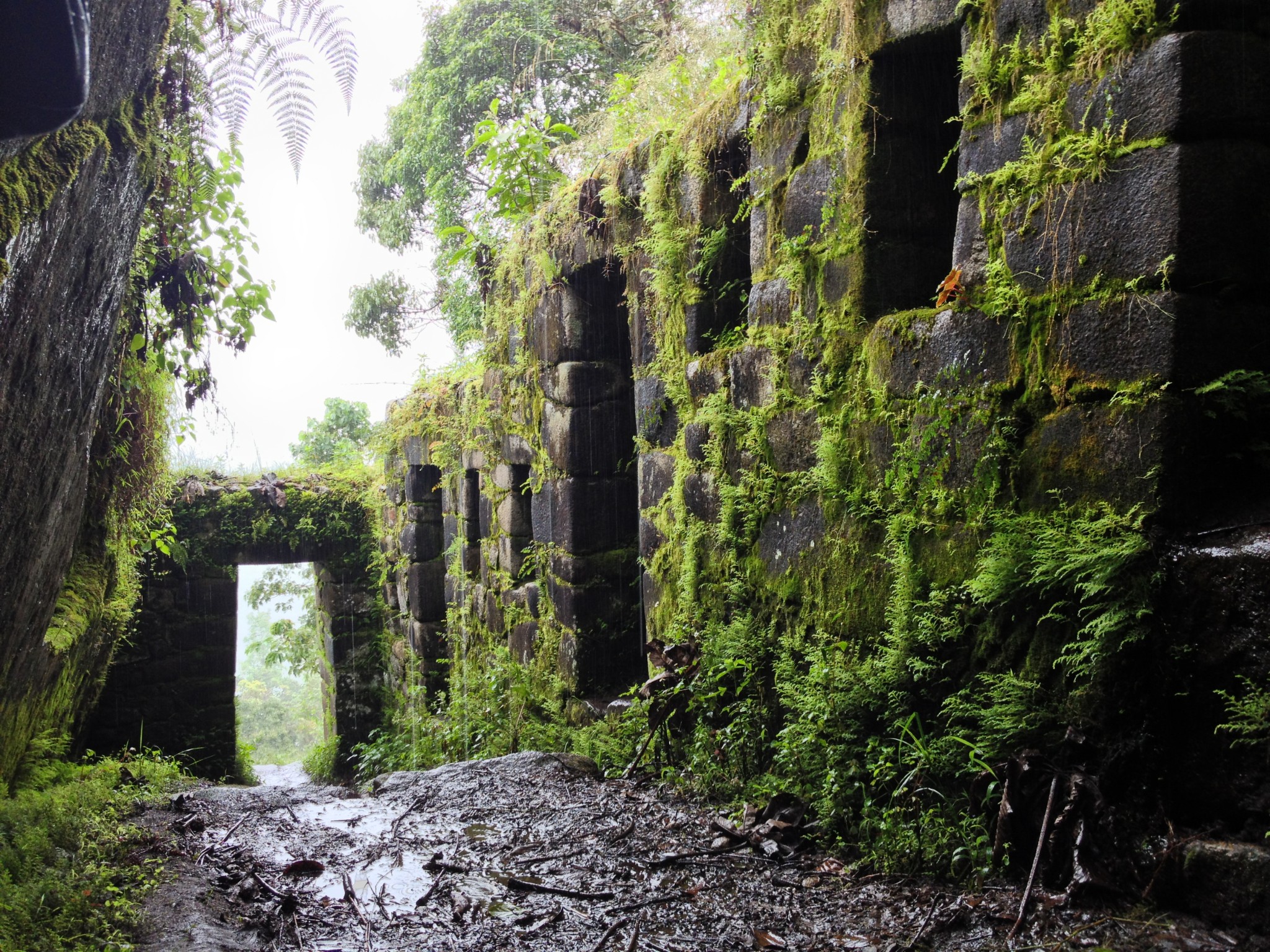 Visiting Machu Picchu Without A Tour
Can you go to Machu Picchu without a tour? Indeed you can, but you will not be hiking the Inca Trail to get there. You can see Machu Picchu via a rushed day trip from Cusco, or stay in one of the towns near Machu Picchu and walk or bus up to the ruins.
We've visited Machu Picchu twice now, and both times did so tour-free by staying in Aguas Calientes. We've done many great hikes around the world, but the busyness of the Inca Trail has never pulled us in. So, why else visit Machu Picchu without hiking? Here's a few of the benefits:
Significantly cheaper
Ideal for those with limited time and/or unable to acclimatize to the altitude
Feasible for those not wanting to hike or who have mobility issues
Provides more control over timing of arrival (i.e. can be easier to beat tourists)
Can spend as long as you want at the site
Cost breakdown
Accommodation: ~$12+ USD hostel dorm, $35+ USD private staying in Aguas Calientes (more on that below)
Meals: $15+ USD if packing own food, $8+ USD per meal in Aguas Calientes, $40+ USD at Machu Picchu restaurant (buffet – this is the only restaurant at Machu Picchu)
Train cost: $140+ USD return to Cusco
Machu Picchu entry tickets fee: $47 USD
Bus ticket to Machu Picchu: $24 USD
Other: Money for paid bathrooms (~30 cents), souvenirs, snacks to bring, museums, etc.
TOTAL COST: ~$238+ USD (based on 1-night dorm bed stay, bringing own food)
Now, in order to visit Machu Picchu on your own, you'll need to buy tickets for entry to Machu Picchu, plus your PeruRail train tickets to get there. Here's how to get those, plus your main options for seeing Machu Picchu tour-free!
Machu Picchu: Entrance tickets
In order to visit Machu Picchu, you need an entrance ticket and your passport. You cannot buy entrance tickets at Machu Picchu itself, so you must purchase your ticket beforehand. Keep in mind that there are a limited number of tickets available per day. In the high season (June to September) tickets can sell out, so booking in advance is advised. Here's this year's prices, followed by how to book them.
Ticket prices for 2021
MACHU PICCHU ENTRANCE TO MAIN GROUNDS
Adult (18+ years): $47 USD (152 Soles)
Students* (up to 25 years): $24 USD (77 Soles)
Child (<18 years)*: $24 USD (77 Soles)
This provides entry to Machu Picchu – that is, the main ruins, terraces, and temples, that you see in photos. It does not provide entry to either of the mountain peaks including Machu Picchu Mountain or Huayna Picchu.
MACHU PICCHU + MACHU PICCHU MOUNTAIN
Adult (18+ years): $62 USD (200 Soles)
Student* (up to 25 years): $38 USD (125 Soles)
Child (<18 years)*: $38 USD (125 Soles)
This provides entry to climb the taller mountain, Montaña Machu Picchu, which is 10,111ft/3,082m. This mountain is generally less busy but has no ruins. You must choose between 2 time slots to climb, either 7-8AM or 9-10AM.
MACHU PICCHU+ HUAYNA PICCHU & TEMPLE OF THE SUN
Adult (18+ years): $62 USD (200 Soles)
Student* (up to 25 years): $38 USD (125 Soles)
Child (<18 years)*: $38 USD (125 Soles)
This provides entry to the smaller, busier mountain peak, Huayna Picchu (8,923ft/2,720m). Here you'll have sweeping views and entry to the Temple of the Sun and ruins at the top. You must choose between 2 time slots to climb, 7-8AM or 10-11AM.
*Note: Children require a passport in-person for proof of age, including on arrival at Machu Picchu. As per the Ministry website, foreign undergraduate students must have a valid student ID card issued by the university that is valid within a year of the date of visit. 
So, which option to choose? If you're happy just exploring the main ruins of Machu Picchu, then a plain entry will suit you fine. You can still get beautiful photos of Machu Picchu without climbing any mountains. You can get the classic Machu Picchu shot from a vantage point just west of the House of the Guardians (#16 on the map here, the view is the first photo below). This has both Huayna Picchu (the shorter peak on the left) and Machu Picchu mountain (the taller one on the right) in the background.
If you'd like a challenging climb with some incredible bird's eye views, then consider visiting one of the mountains. In our opinion, if you're going to do this, you might as well go for Huaynu Picchu, as it actually has ruins along the way, and costs just slightly more. See the second photo below for that view. Take note the earlier time slot (7-8AM) will be less hot, but this is also a less busy time to explore the main ruins. Huayna Picchu still offers good views (see our third photo below), is overall less busy, but has no ruins.
Finally, when purchasing tickets, you'll also notice there is an option to buy entry to the Machu Picchu Museum (a.k.a. Museo de Sitio Manuel Chávez Ballon) located near Aguas Calientes. The museum is very small but has some great artefacts and descriptions. If you have the time, it's worth visiting prior to your trip to the ruins.
Where & how to buy entrance tickets
Entrance tickets can be bought in person in either Aguas Calientes or Cusco. You will need your passport for purchase. You can also buy tickets in any major Peruvian city with a Banco de Nacíon by reserving first online (check our how-to guide to reserving online tickets here), then picking them up in person (note: this requires some basic Spanish). If you are not conversational in Spanish, it's recommended to buy online or in-person at Aguas Calientes or Cusco which are more straightforward.
Buying in-person: Aguas Calientes
In Aguas Calientes, tickets can be bought at the Machu Picchu Cultural Centre (Direccion Regional de Cultura Aguas Calientes Office). The address is Av. Pachacutec (just off the main square), and hours are Mon-Sun, 5AM-10PM. Bring your passport and cash to purchase (note: the latest information says only cash is accepted here). The ATMs in Aguas Calientes charge higher fees, so try to withdraw extra cash beforehand if able.
Buying in-person: Cusco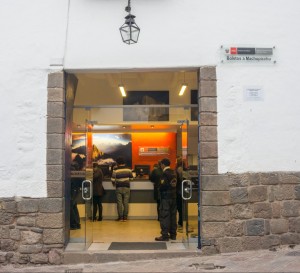 In Cusco, tickets can be bought at the Ministerio de Cultura which is open Mon-Sat, 7AM-8PM. The address is Casa Garcilaso on Calle Garcilaso, which is just before the Plaza Regocijo, near the Museo de Chocolate (see photo below – look for the unit with the glass doors). Bring your passport and a credit card or cash to pick up.
Buying tickets online
You can purchase tickets from the Ministerio de Cultura website or a third party website. For simplified step-by-step instructions on how to buy Machu Picchu tickets online, check our how-to guide here.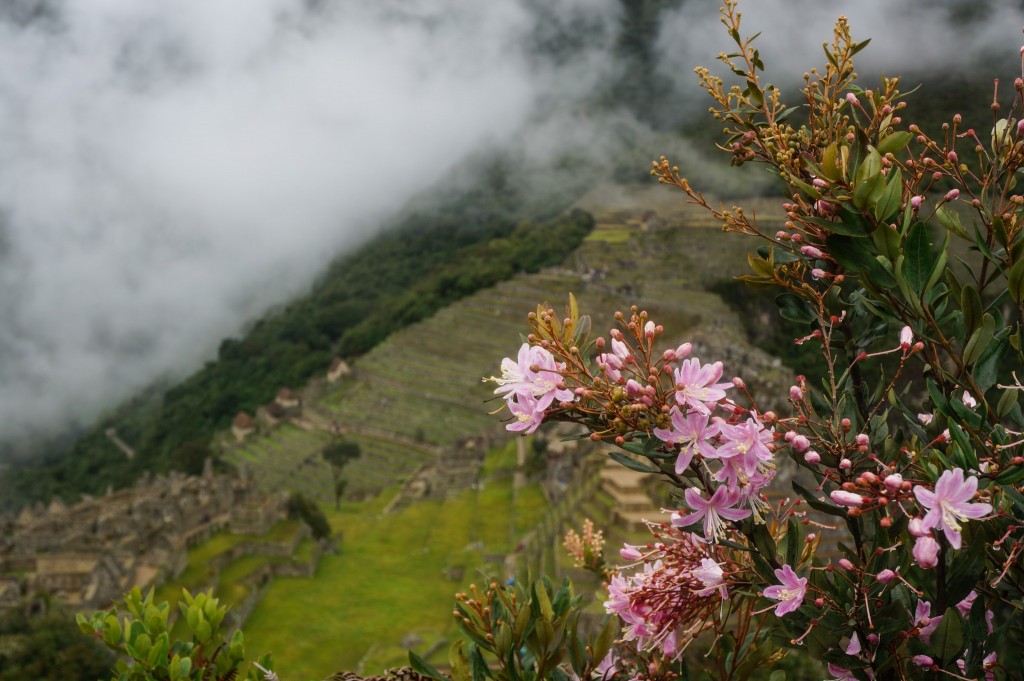 Buying tickets through a third party seller
You can purchase Machu Picchu entry tickets from a third party seller, but these will be marked up. While purchasing tickets yourself is the cheapest approach, a hassle-free (albeit pricier) alternative is to buy from a reseller such as GetYourGuide. This provides instant confirmation and tickets and is much more user friendly if you are encountering troubles on the government site. You can also consider an affordable guided tour from Aguas Calientes, which includes your bus and entrance ticket.
How to hire a tour guide at Machu Picchu
The abundant, crumbled ruins of Machu Picchu make much more sense with a knowledgeable guide. What many people don't know is that a pre-booked tour is not required to acquire a guide, and you can hire one on arrival. Guides will be eagerly waiting at the entrance, and are usually wearing a beige vest and a lanyard with their name and information.
Facts to consider when hiring a guide at Machu Picchu:
Cost: this is entirely negotiable and will vary depending on your group size. You can expect to pay roughly 140+ soles ($40 USD) for a 2.5-hour guide for 1-2 people. It's advantageous to find other travellers and form a group, as rates are generally better when you have more people.
Language: Some guides speak better English than others. Have a bit of conversation with the guide before committing to assess their level of English. Ask basic questions such as how long they've been guiding, where they're from, what the tour will cover, etc.
Duration: Most tours are 2+ hours but confirm before committing.
PeruRail train tickets to Machu Picchu
What's the difference between the various PeruRail trains? Truthfully, not much until you fork out the hundreds of dollars on the extravagant Hiram Bingham. Pictured above is the Expedition train (the cheapest), which has windows lining the ceiling and walls, and is clean and comfortable. We feel it's a good value and there isn't a huge difference between it and the Vistadome.
Whichever ticket you buy, be sure to arrive 30 minutes before departure and have your passport ready. The 2016 PeruRail train schedule can be found here. Here's a quick run-through of the various trains and ticket prices.
Train types & prices
EXPEDITION
Layout: Has windows along roof and walls, tables, and mostly seats of 4 in a cluster (pictured above)
Food: Complimentary small snacks (a pastry or bun) and non-alcoholic beverages like coffee, tea, and soda
Price: $140 USD return
Pros: Cheapest option, still has great window views
Cons: Smaller windows
VISTADOME
Layout: More modern cars with larger windows lining roof and walls
Food: Complimentary snack set (tray with pastry and fruit) and non-alcoholic beverages like coffee, tea, and soda
Price: $164 USD return
Pros: Slightly more spacious and has larger windows
Cons: Costs more money (questionable
HIRAM BINGHAM
Layout: Spacious, lavish set-up, big windows, and live onboard entertainment
Food: Gourmet meals, snacks, pisco sours and non-alcoholic beverages like coffee, tea, and soda. Includes afternoon tea at Sanctuary Lodge Hotel
Price: $578 USD return
Pros: Includes Machu Picchu entry, return bus, 2.5 hour tour of site, free Belmond Hiram Binham travel bag
Cons: Most expensive option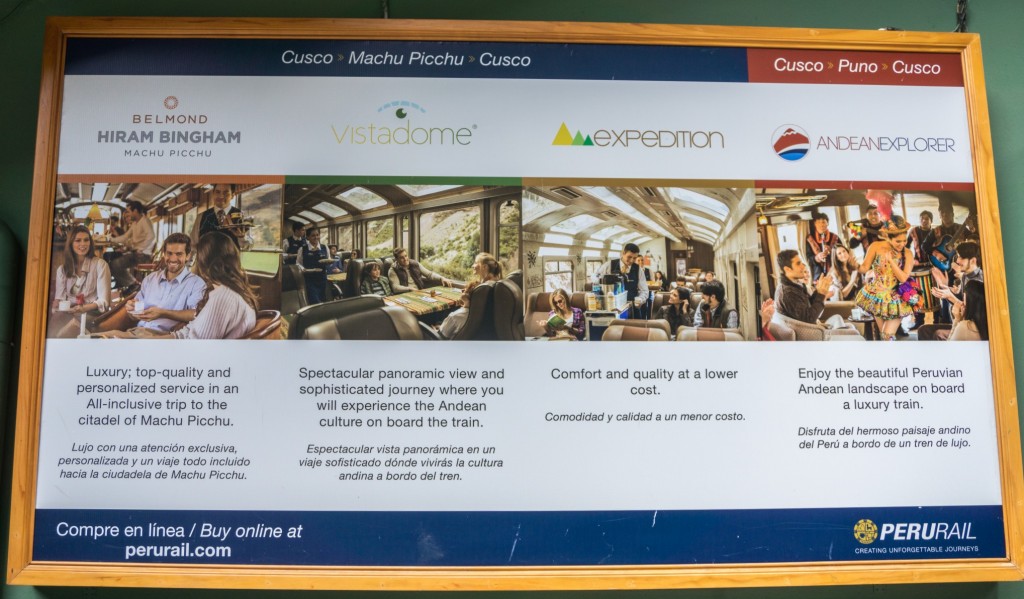 ***An important note on train service between Cusco and Machu Picchu***
Until 30 April 2016, the Expedition and Vistadome train service between Cusco (Poroy) and Machu Picchu is temporarily stopped due to the rainy season. Instead one must catch the train from Pachar to/from Machu Picchu (~1 hour 50 minute drive) as opposed to the usual departure from Poroy. This requires catching a bus or private taxi to/from Pachar, so plan accordingly. When booking on the PeruRail website, you must select "Pachar" as your starting destination, not Cusco (Poroy).
Where to buy train tickets
You can buy train tickets at any of the Peru Rail ticket offices in Peru. Take note that in order to reserve seats together, you must book in one transaction. Locations are as follows:
Lima
Lima – Centro Comercial Larcomar (Shopping Mall)
Address: Malecón de la Reserva 610, Plaza Centro, Miraflores.
Hours: Mon – Sun 11AM-10PM
Lima – Jorge Jávez International Airport
Address: National Flights, 2nd Floor, between Gates 13 and 14
Hours: Mon – Sun 4AM-10PM
Cusco
Cusco – Alejandro Velasco Astete International Airport
Address: Av. Velasco Astete s/n, Distrito de Wanchaq
Hours: Mon – Sun 7AM-7PM
Cusco – Plaza de Armas
Address: Portal de Carnes 214, Plaza de Armas
Hours: 7AM-10PM
Cusco – Plaza Regocijo
Address:Plazoleta Regocijo 202, Urb. Centro Histórico
Hours: 7AM-10PM
Booking online
You can buy your train tickets on the PeruRail website which is quite straightforward. Simply select your dates, train type, and purchase. If doing this, you'll need to print your ticket and bring it with you for boarding.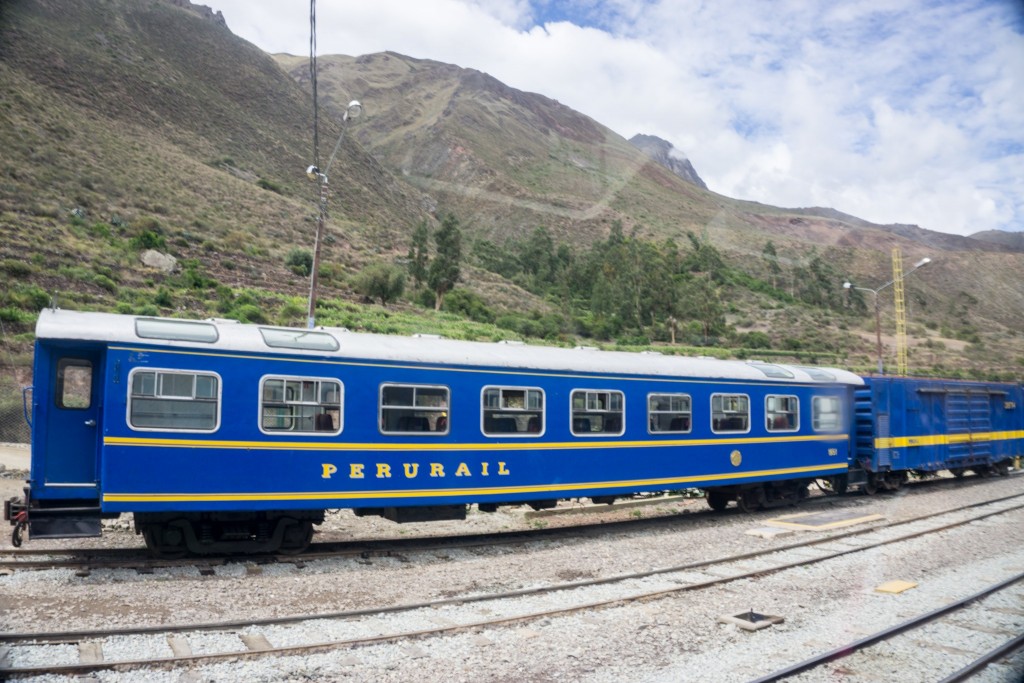 What to do with your luggage
You needn't bring all of your luggage on the train – in fact PeruRail has luggage restrictions of carry-on luggage only. They define carry on as "a bag or backpack with a maximum weight limit of 5.0 kg/11 lb and measuring no more than 157 cm (height + length + width)". Those riding the Andean Explorer have no luggage restrictions.
So, what to do with your luggage? It is common that accommodation in Cuzco or neighbouring cities can store your luggage in lockers whilst you visit the ruins whether for a day or several. Check reviews of your accommodation on this first for positive experiences of guests safely leaving their items stored. Take note that Peru Rail customers can store luggage for free at the Ollantaytambo or Machu Picchu station (really only useful once you've arrived there). Be sure to only pack what you need – lots of layers (pack for all weather!), hats, sunglasses, sunscreen, and good shoes.
Getting to Machu Picchu From Aguas Calientes
Though far from charming, this tourist trap-laden town is as close as one can sleep to Machu Picchu without hiking any trails. Aguas Calientes is the final stop of the PeruRail line, so it is easily accessible via train from Cusco, Ollantaytambo, and Urubumba.
To minimize rushing and to max your time at Machu Picchu, it's recommended to stay at least 1 night in Aguas Calientes (or another town – see additional suggestions below). It's advisable to book accommodation ahead in high season as hotels are quite marked up here compared to Cusco (HotelsCombined does a broad search).
To get here, first take the PeruRail train from Cusco. On arrival, wander the town and visit the Museo de Sitio Manuel Chavez Ballon to get a history of Machu Picchu before your visit. Purchase return bus tickets to Machu Picchu during day or evening to avoid lines the next morning. The next day, either board an early bus or walk up to the ruins (instructions for both of these options below).
Where to buy bus tickets for Machu Picchu
Anyone in town can point it out for you, but just over the bridge from the train station into town is a small booth with plants painted on the outside. You'll see a small sign on it that reads, "Venta Oficial de Ticket de Bus". The 2016 prices are $24 USD return for adults, and $12 USD return for children. Buses depart every 10 minutes starting at 5:30AM (though lines form before this for the first bus up, we recommend getting there as early as possible). The bus takes you right to the entrance of Machu Picchu.
How to walk to Machu Picchu from Aguas Calientes
Walking to Machu Picchu from Aguas Calientes takes about 60-80 minutes. This is a strenuous, uphill trek with a ~2,000 metre incline. The walk starts from town (begin by walking away from the train station/town). You'll trek alongside the road, passing a bus repair depot, and a campground, all while walking beside the river on the way. Keep walking until you reach a bridge over the river (pictured left below). Cross the bridge. After that you'll see signs on the road which indicates the path to follow (pictured right below). From there the route is a zig-zag up the hill which occasionally intersects with the road and bus route until you finally arrive at the site entrance.
Other overnight options for Machu Picchu
In addition to Aguas Calientes, you can stay in Ollantaytambo or Urumbumba and head to Machu Picchu the following morning by rail. These towns are both located on the PeruRail train line, closer than Cusco, but further out than Aguas Calientes. Aguas Calientes is 1 hour 50 minutes from Ollantaytambo, and 2 hours 35 minutes from Urubumba.
Ollantaytambo or Urubumba?
These towns offer fairly contrasting vibes. A small town in the countryside, Urubumba caters a bit more to the upscale crowd, with higher-end hotels, fancy restaurants, and not much else to do. Ollantaytambo is busier and has some spectacular Incan ruins (even if you don't stay here, the ruins are still worth a day trip). Ollantaytambo is also the starting point of the Classic Inca Trail, and consequently there is more choice for dining and accommodation here.
Machu Picchu as a day trip from Cusco
Yep, this is possible. But is it ideal? To be frank, not really. But if a get-in and get-out itinerary is what you need, it can be done – here's how.
Basically, you have two options. The first is booking a day tour which ensures everything is covered – your transport, guide, entrance tickets, etc. Always check inclusions as this can vary between tours.
Viator (owned by TripAdvisor) has a popular and highly-rated (over 500 reviews) day tour from Cusco. It includes round-trip hotel transport, the trip to Machu Picchu across both train and bus, as well as your entrance fee. Confirmation is immediate, and you can display your Viator voucher either by print, or on your phone. Considering you don't have to worry about obtaining bus tickets, train tickets, or entrance tickets, this is a pretty attractive option.
Alternatively, you can book all of this yourself and take the first train from Cusco to Aguas Calientes. The earliest train typically arrives around 10AM. Next, take the bus up to Machu Picchu and explore the ruins. Allocate enough time to take the bus down (which often has line-ups) and return to the train station 30 minutes before departure. Typically the last trains back to Cusco (or Pachar) leave around 5:23PM, check your ticket to be sure. This gives you a few hours at the site, albeit during the busiest time slot. You might save some money this way, but it requires a lot more planning and organization (especially since you only have a day), so we recommend saving yourself the pain and getting a day tour instead.
Packing for Machu Picchu
The key theme in packing for Machu Picchu is layers. The weather here is quite variant, with snow, rain, and blistering heat all being possible in a single day. Our guides on packing light guide for men and women may be of use, but here are the must-have basics:
Shoes: Waterproof or water resistant shoes with a sturdy gripped bottom are ideal. To be space-wise we wear running shoes for all of our hikes, but boots are fine too.
Pants: Wear something breathable. I wore Lulu Lemon capris which are fast-drying and wick away sweat.
Top: Fast-drying and light is ideal since this is your base – a tank or tee is fine, plus a long-sleeved light shirt for layering.
Vest: This is an easy way to pack warmth without taking much space.
Sweater: Something that can be layered so it's functional at different temperatures (simply add more layers if you're cold as opposed to bringing one giant coat which is useless if it warms up!).
Jacket: Waterproof is recommended (or water resistant at least), something light that can be layered.
Scarf & hat: Bring both to help block the sun and/or keep you warm if needed. And don't forget sun screen!
Final thrifty tips
Bring your own food & water. Most people don't think of food as a major expense here since Peru is inexpensive. In reality, it pays to to pack food from the grocery store/markets in Cusco as Aguas Calientes and Machu Picchu are hugely inflated. Orion is the biggest grocery store in Cusco and is well-stocked. Food is technically not allowed into Machu Picchu, but we've brought it both times and never had bags checked on entry.

Packable meal ideas: Grab foods that keep well at room temp. Tuna, peanut butter, wraps, avocado, apples, nuts, and granola bars.

Book ahead for bargain rates. This is especially true for accommodation. Services like HotelsCombined conduct a comprehensive search, and often have free cancellation so you can "hold" a good rate in advance without firm commitment.
---
Too often Machu Picchu is mistaken as pricier than it has to be. While there are many expenditures involved in a visit here, it can be done for much less, especially if you DIY explore it. Hopefully this guide has helped you learn how to see Machu Picchu on the cheap, because truly it is an absolute wonder of the world!
What are your tips for doing Machu Picchu affordably?
Thrifty Nomads has partnered with CardRatings for our coverage of credit card products. Thrifty Nomads and CardRatings may receive a commission from card issuers. Opinions expressed here are author's alone. Responses are not provided or commissioned by the bank advertiser. Responses have not been reviewed, approved or otherwise endorsed by the bank advertiser. It is not the bank advertiser's responsibility to ensure all posts and/or questions are answered.