The Great Wall is an attraction that is worthy of all its hype. While it can't actually be seen from space, it's a spectacular man-made wonder best seen in person.
Unfortunately, the concept of a serene visit here is somewhat of an illusion. With a national population of 1.3 billion people and millions of khaki-pant-laden tourists trotting through China each year, how can one see the Great Wall crowd-free?
A few simple factors affect the busyness of the Great Wall. Seasons, weekends, and holidays play some part, but above all the section you choose to visit is single-handedly the most important aspect affecting crowding. But before we launch into that, here's a quick Great Wall run-down.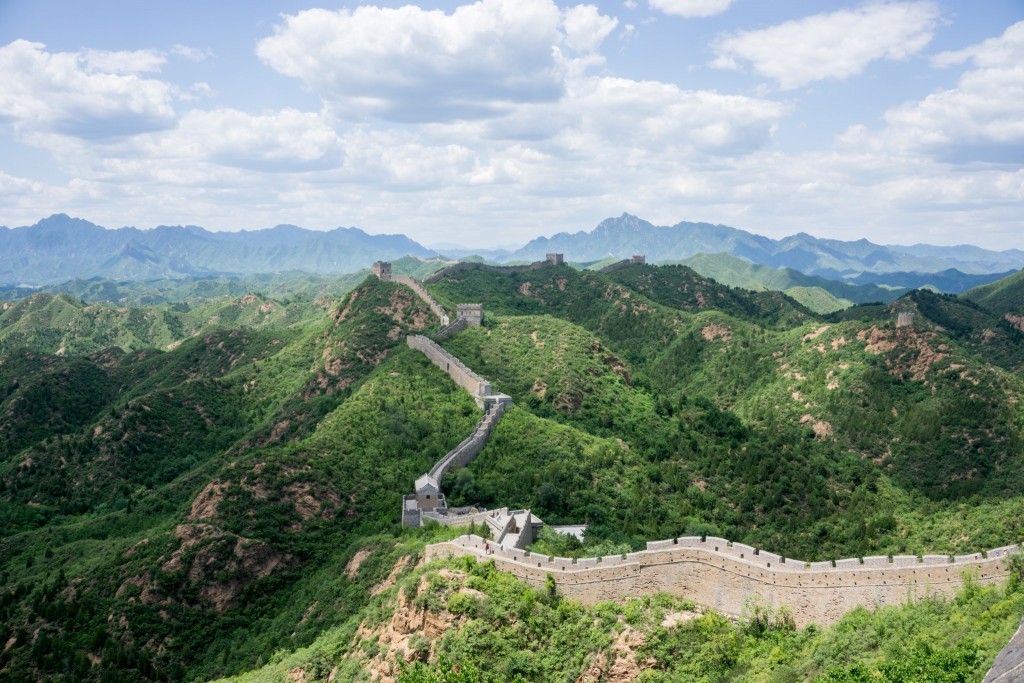 Great Wall 101: An Overview
The Great Wall is a whopping 21,196 kilometres long, spanning East to West across China. The winding stone walls are connected by watchtowers that rise and dip over the country's hilly mountainside. It was constructed 2,000 years ago to deter outside invasions, though today it's invaded by millions of tourists trampling its paths 365 days a year.
Many wall sections can be visited as a feasible day-trip from Beijing. It is also possible to stay in basic accommodation in villages near certain sections (recommended if visiting remote sections). Otherwise, just stay in Beijing. CTrip is best for finding cheap accommodation throughout China, often including listings not found on foreign search engines. It also provides a money-back program with each booking – bonus!
Weekends are the WORST time for crowds, period. The peak busy season in China is generally from May to August, though Chinese New Year in February sets the entire country into a traffic frenzy (as we learnt firsthand). That doesn't mean a visit during these periods will be frantic, as our trip to Jinshanling in June was nearly empty. Ultimately where you hike is more important than when you go.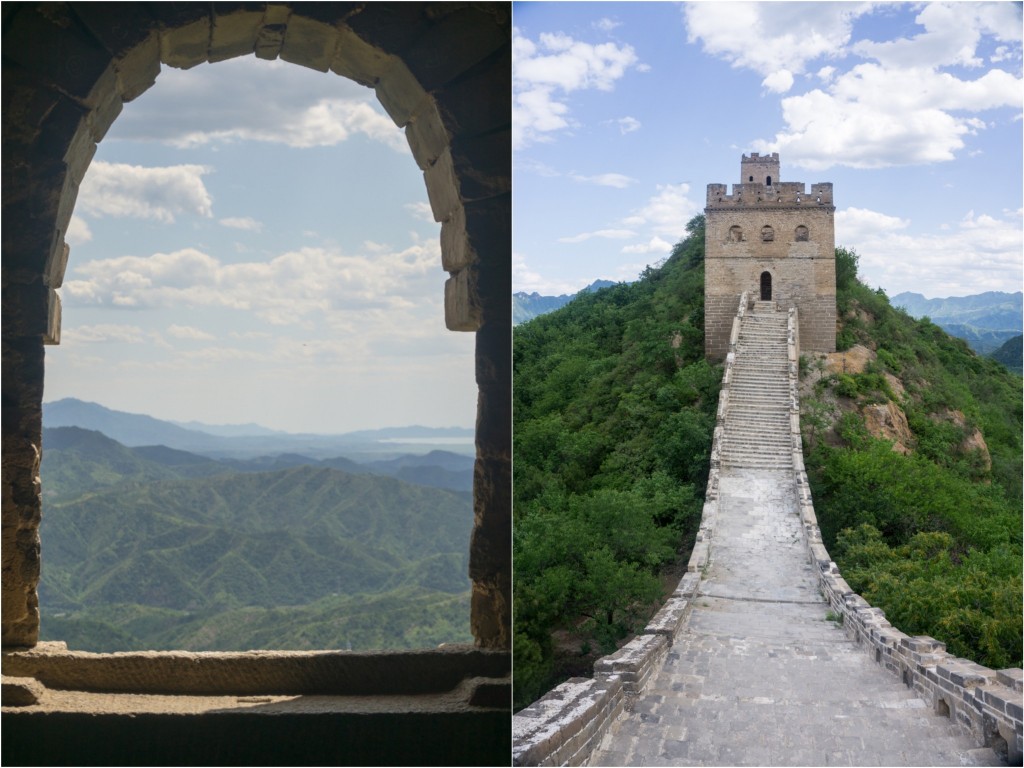 Sections of the Great Wall
Each of the sections of the Great Wall offers different sights and levels of accessibility. Take note, entrance fees are often waived if taking a tour.
No matter where you hike, bring lots of water, snacks, a hat, sunscreen and good shoes. There are farmers who will try to sell you overpriced water & souvenirs along your hike, but you'll save a lot buying those beforehand elsewhere. Provide a firm no to indicate your lack of interest, or expect an insistent "salesman" to join your hike.
Busy, accessible, easy, family/mobile friendly sections
The Badaling and Mutianyu sections are well restored, easy to access, and offer straightforward hiking. These options are quite mobile/family friendly. Because of this, they are the busiest sections of the wall. If you're short on time, Badaling is quickly reached by train from downtown Beijing.
Badaling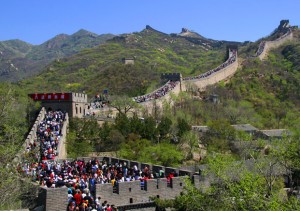 Accessibility: Closest/most accessible from Beijing
Busyness: Busiest section (

75% of visitors go here

)
Entrance Fee: 45 CNY (Apr 1 – Oct 31), 40 CNY (Nov 1 – Mar 31)
Wall restoration: Well restored, highly commercialized
Hike: 3-4 hours from Badaling North to Watchtower 1. Quite easy hike.
Scenery: vast views, stretches of wall, hilly landscapes
Other: family/mobility friendly, has cable car (40 CNY 1-way, 60 CNY return)
Tour: Book through GetYourGuide or Viator.
Mutianyu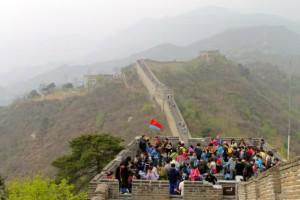 Accessibility: Quite accessible from Beijing
Busyness: Fairly touristy (less busy than Badaling)
Entrance fee: 45 CNY
Wall restoration: Well restored
Hike: 3-4 hours from Mutianyu to Jiankou, fairly easy
Scenery: impressive rolling hills, famed for its Ming-era guard towers
Other: Has cable car, chair lift & toboggan ride
Tour: Book through GetYourGuide or Viator.
Less busy but accessible sections with moderate hikes & great views
Jinshanling and Huanghua Cheng are a lot less crowded, though you'll still see souvenir shops & farmers trying to sell you bottled water along the way. These sections are only partly restored, so some parts are crumbling but still feasible to hike (wear sturdy shoes).
Jinshanling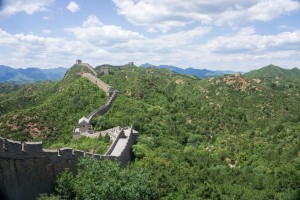 Accessibility: Further but fairly accessible
Busyness: Much less visited by tourists
Entrance fee: 65 CNY
Wall restoration: Semi-restored (not very crumbling)
Hike: 3-4 hours for Jinshanling to Simatai route, moderate (steep at times)
Scenery: hilly, mountainous landscapes with walls winding for miles
Other: Recommended tour makes it easy to get here (details below)
Tour: Book through GetYourGuide or Viator
Huanghuacheng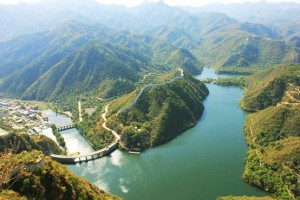 Accessibility: Trickier to get to from Beijing
Busyness: Very few visitors
Entrance fee: 45 CNY
Wall restoration: Fairly unrestored "wild" wall
Hike: 3-5 hours to Zhuangdaokou
Scenery: Lake views & hilly landscapes
Other: Can be a fairly challenging hike
Tour: Book through Viator
Remote, unrestored, highly under-visited sections with epic views
Jiankou and Zhuangdaokou are ideal for those who like to be REALLY off the beaten track. They are quite challenging and dangerous in sections. Parts of Jiankou have sketchy ladders, steep vertical wall climbs, crumbling stones, and are hugely claimed by bush (seriously, how do you walk through that?). Be adequately prepared (for Jiankou especially) and aware of what it entails. If anything, you will certainly enjoy serenity!
Jiankou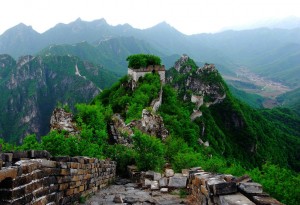 Accessibility: Trickier to get to from Beijing
Busyness: Few visitors
Entrance fee: 20 CNY
Wall restoration: Largely unrestored "wild" wall, crumbling & overgrown
Hike: 2 hours for Jiankou to Mitianyu route, very challenging & dangerous at times
Scenery: Vast stretches of wall in both directions, remote mountainous views
Other: Due to its unkempt state, this part is quite dangerous. It is technically illegal to climb but this is really not enforced
Tour: Book on Viator or GetYourGuide
Zhuangdaokou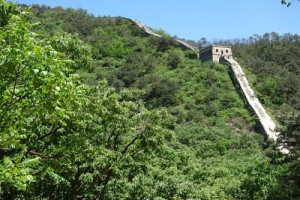 Accessibility: Trickier to get to
Busyness: Rarely visited by tourists
Entrance fee: Unsure (if on tour, likely included)
Wall restoration: Partially unrestored
Hike: 2 hours to Shui Changcheng, or 1 hour to Huanghua Cheng (steep)
Scenery: Lake views & hilly landscapes
Other: Camping tours are run here
Note: With the exception of Jinshanling, this info is based on extensive research. If you have firsthand experiences and more input to add to a certain part of the wall, please let us know so we can provide as accurate, useful info as possible! 🙂 
Choosing a Section: Factors to Consider
If dodging crowds is a key component in your visit to the Great Wall, then avoid Badaling like the plague. If you're pressed for time though, it's the most accessible option from Beijing. Mutianyu is less busy by comparison, but is still highly touristy given its ease of access, cable car, toboggan ride, and chair lift.
Jinshanling, Jiankou, Huanghua Cheng, Zhuangdaokou are far less visited, and will generally offer crowd-free experiences. From our own research it seemed that Jinshanling was the easiest "uncrowded" section to reach, and offered a challenging but not dangerous hike. Which leads me to the next factor that will affect your decision: transport.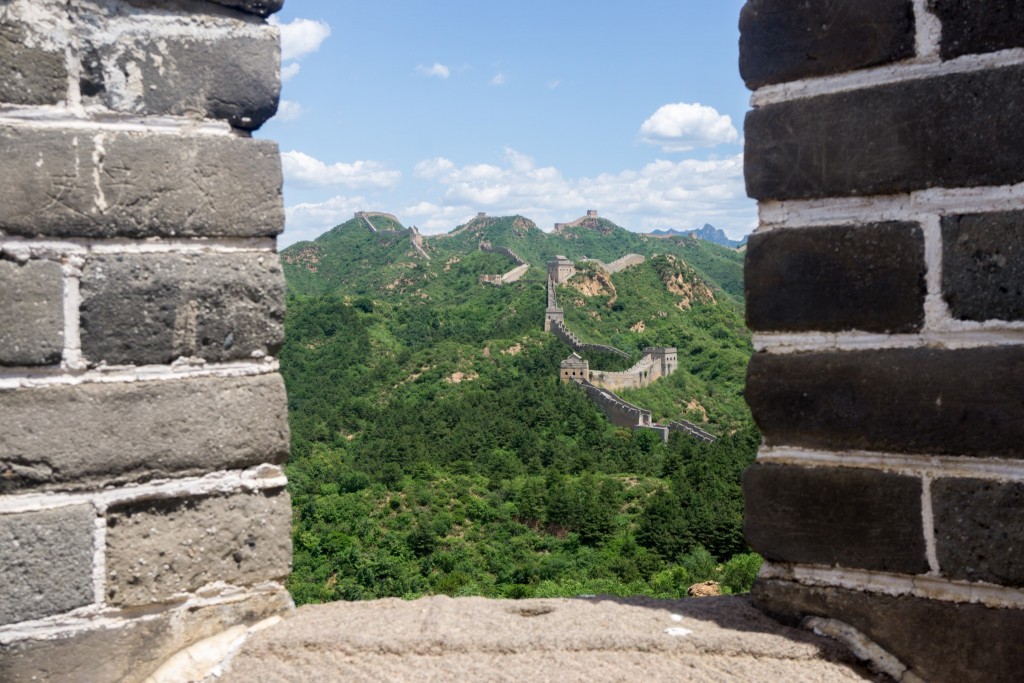 How to Get to the Great Wall from Beijing
Your options for getting to any of the sections include public bus, tour, taxi/private driver, or rental car. These range in price and effort, with DIY bus/taxi being the cheapest and most complicated, and tours being priciest but easy to execute.
Tours
A tour can be a great way to get a simple drop off and pick-up from the wall hassle-free. Alternatively, it can also be a day filled with stops at jade "museums" (i.e. stores), shopping, the lacklustre Ming Tombs, and plenty more add-ons. Put simply: choose tours wisely; do not book a tour for its cheap price alone. If hiking and adequate time at the wall are your priorities, you're best seeking a tour led by hostels or specialized tour companies.
Cost: Ranges depending on trip. 335-500 CNY ($55-$80 USD) for basic day tours, 1000CNY+ ($160) for overnight trips, 1800 CNY ($290 USD) for day biking tours, 2400 CNY+ ($386 USD) for motorbike tours.
Recommended tours
We did a Great Wall Tour to Jinshanling with Beijing Downtown Backpackers ($55 USD per person). It was a no-nonsense tour involving a pick-up and drop-off in downtown Beijing and no stops except for one bathroom break. Outside of the busride,there is no accompanying guide on this tour, so if pick up and drop off is what you're after so you can hike the wall "yourself", this is a good option.
You can also browse tours to virtually every part of the Great Wall on GetYourGuide and Viator. GetYourGuide and Viator work with local tour companies, so you pay the same prices as you would booking in-person. They also have images, descriptions, and reviews for all of the tours. You pre-pay online, so all you have to do is show up to the tour with your voucher (printed or on your phone). This is a lot more convenient than the back and forth e-mails and phone calls with all the different tour companies.
Other recommended companies:
Taxi or Private Driver
Cost: Ranges from 500–1000 CNY round trip ($80-$160 USD)
A taxi, shared minivan, or car hire can be less troublesome and more cost-efficient if you're 2 or more travellers. You can book a driver in advance who can drop you off at one end of the section and pick you up at the other. Take note that approaching a taxi on the street may get you exorbitant quotes. It is recommended to book ahead or at to know the expected rate in advance.
Private drivers can also be booked on Viator. Just scroll past the airport transfer services, and you will see plenty of affordable options for drivers to different parts of the wall.
Lonely Planet recommends the following drivers:
Mr Sun: only speaks Chinese but reliable, does round trips for 600 CNY. Phone: 136 5109 3753
Xin Lucheng: a local taxi company in Beijing, does round trips for 500 CNY. Phone: 6235 5003
Public Bus
Cost: Ranges by route, anywhere from 20-200 CNY ($4-$32 USD) for one way
With the exception of Badaling and Mutianyu, a bus trip to any of the Great Wall sections takes at least 2+ hours one way, and involves transfers. Put simply, it's not simple.
On routes with transfers, bloggers have reported drivers dropping them off prematurely, forcing them to take a cab (others have argued & then the driver kept going). Often though, bus trips involve an additional taxi regardless. This involves frivolous negotiation, so be sure to research average prices beforehand. Finally, it's recommend to have your destination names written in Chinese.
If you're still keen on bussing, here are links to bus directions for each route:
Zhuangdaokou bus directions (As per Lonely Planet, the directions are the same as Huanghua Cheng, except once you arrive at a bus stop in Huairou called Nanhuayan, board a bus to Shui Changcheng which stops at Zhuangdaokou).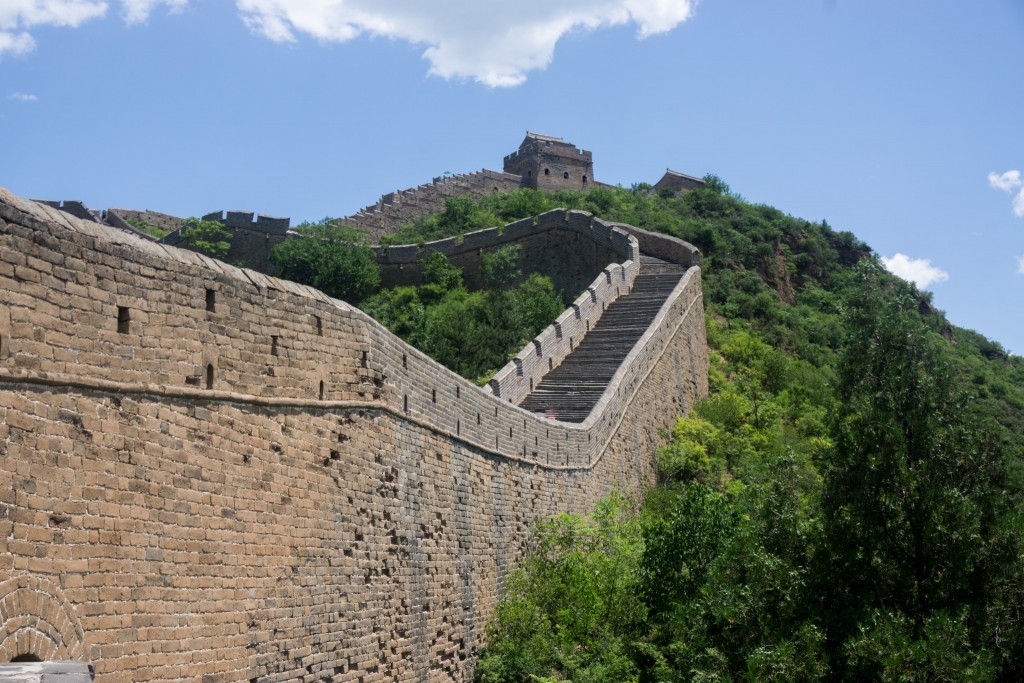 Car Rental
In order to drive in China, you need a temporary Chinese licence. An international driver's licence is not sufficient. You can obtain a temporary licence at the Vehicle Administration Office at the Beijing Airport (Open Mon-Sun 9AM-6PM, Phone: 010-6453 0010). You'll need to show your driver's licence and have an eye exam done.
If you do decide to drive to any section of the Great Wall, highways and routes in this region have standard English signage. I recommend reading the WikiTravel for more details. Take note, driving in China is chaotic, especially in the city where erratic driving is the norm.
Booking a car rental
Few car rental booking sites will give results, due to the licensing issue. From preliminary research, RentalCars.com is the only one that seems to allow foreign booking.
Accommodation
Staying overnight near the Great Wall can be a good option if you wish to do multiple hikes, catch the sunrise, or you simply don't want a lengthy day trip (which will happen if you are DIY-bussing). Hotels can range from 50 CNY to 100 CNY ($8-$16 USD) per night, though most are very basic and aren't listed online.
You can research names & reviews in advance so you know what to look for on arrival. CTrip is ideal for searching, but again in the remote areas you may get no results.
---
The Thrifty Gist
Timing is important, with weekends and holidays being busiest
The section you visit is important in determining busyness
There are many ways to visit, with tours being easiest and DIY bussing being the most complex
Most tours can be booked online with instant confirmation on GetYourGuide and Viator.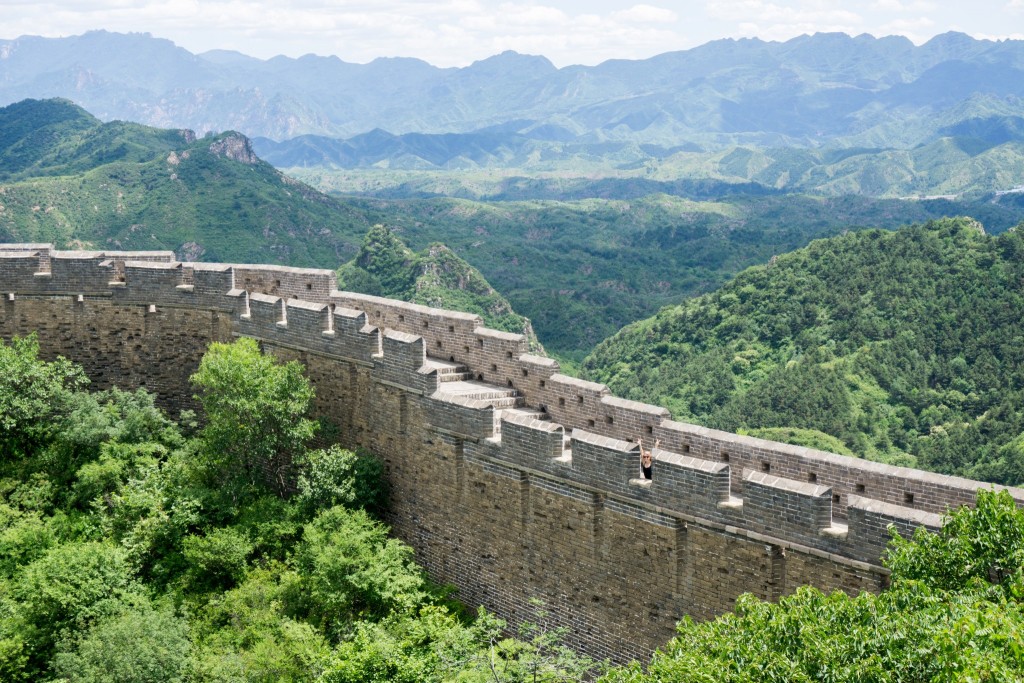 ---
Have you been to the Great Wall? What section did you visit, and how did you avoid the crowds?