Patagonia is not a cheap place. It is a region of glaciers, turquoise lakes, and mountains, where food, and just about everything else, is imported. It's far from major cities, has few airports and shipping in the area is notoriously difficult due to rough seas. Trekking across glaciers and remote mountains is not a walk in the park, so tourism in the area usually involves expensive boat rides or tours with the experts and equipment you need to navigate glacial crevasses.
However, there is one place where you can see spectacular mountain peaks, watch glaciers calve into milky blue lakes and spot rare Patagonian wildlife, all on about $20 USD per day: El Chaltén, Argentina.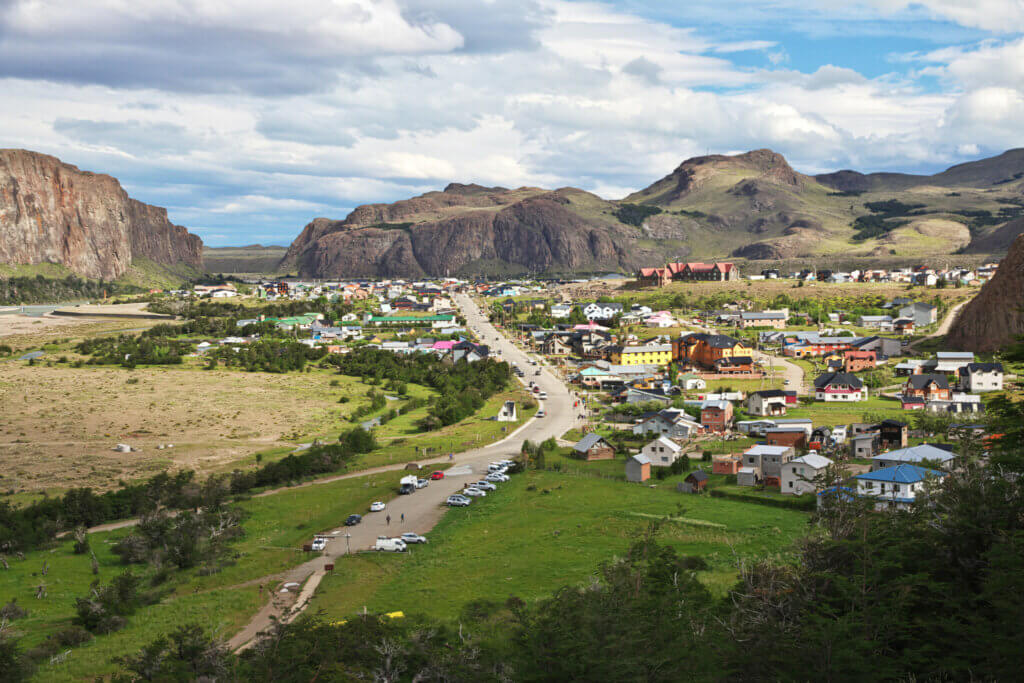 El Chaltén's Free Trails
El Chaltén is located inside Los Glaciares National Park, which means that you don't have to drive anywhere. The best trails that go to the most spectacular glaciers and lakes leave directly from town. Trails are well marked and easy to follow. It's hard to get lost but I still recommend picking up one of the free maps at the bus station. A ten-minute walk south of town takes you to the park ranger station, where you can get all the information you need about trails and campgrounds.
The first trail that I hiked was up to Laguna Torre. It's 8.8k (5.5mi) to the lake and another 2k (1.2mi) to Mirador Maestri, where you have a spectacular view down onto the end of the lake, and the icebergs that calve off Glacier Grande.
My second hike took me up to Laguna de Los Tres. It's 10.8k (6.7mi) but be aware that the last 1.8k (1.1mi) is up a steep glacial moraine of loose rocks. Once you get up to Laguna de Los Tres, it's only a ten-minute walk to a viewpoint above the startlingly turquoise Laguna Sucia.
I felt perfectly safe in el Chaltén as a woman traveling solo, but if you don't want to hike alone, there are guided day tours exploring Mount Fitzroy and the turquoise Laguna de los Tres.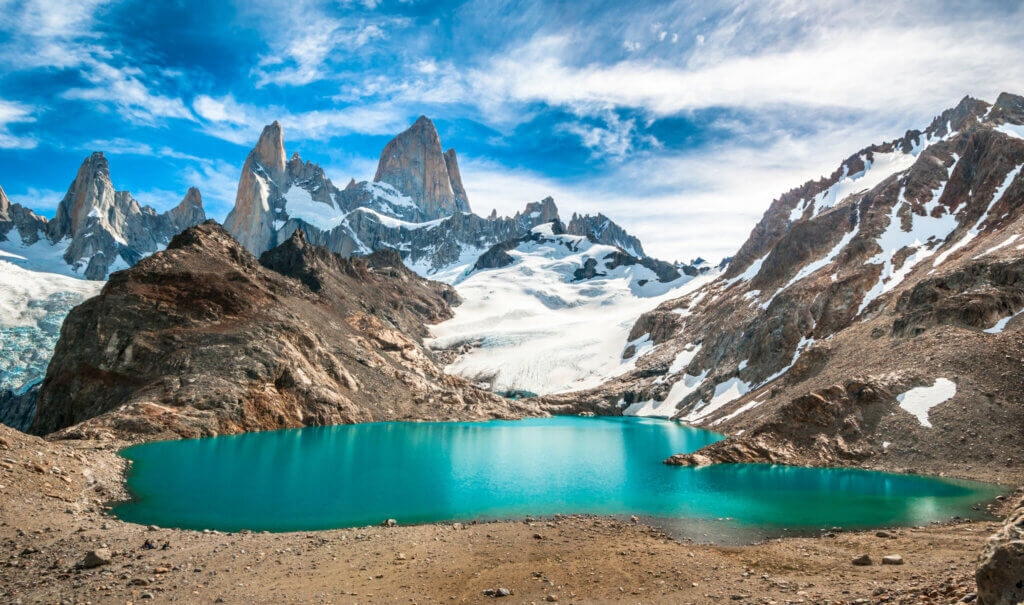 Most trails head east from town, up into the mountains towards the famous Fitz Roy. A valley stretches north from El Chaltén but note that the park boundary is only 10k (6.2mi) north of town. Past that, you are on private property. Some of those private property owners charge for trail access, but not all. I hiked up the southern bank of Río Eléctrico, which is owned by a non-profit collective that does not charge any fees. Just across the river, on the north bank, Reserva Natural los Huemules charges 1,500 ARS per person.
In addition to hiking, there are plenty of other immersive ways to experience El Chalten. You can go ice trekking on a glacier, or paddle the turquoise waters of Las Vueltas by kayak or raft. For some otherworldly TLC, cozy up to a fireplace in a specially designed eco dome, complete with views of snow-capped Mount Fitzroy.
Why Argentina?
I chose Argentina because in 2022 their currency is once again taking a dive. Argentina does this periodically, which is why every few years you'll see articles about why now is the time to travel on a shoestring in Argentina. Truth be told, it's always a cheap country to travel in if you have USD to spend.
I visited in January, which is the most expensive time of year and still traveled on 20 USD per day. (Argentina confusingly uses the same $ symbol for its peso as the US dollar, so I use the international currency code ARS for the Argentine peso and USD for the United States dollar. Make sure you read all the way to the end for my note about the exchange rate).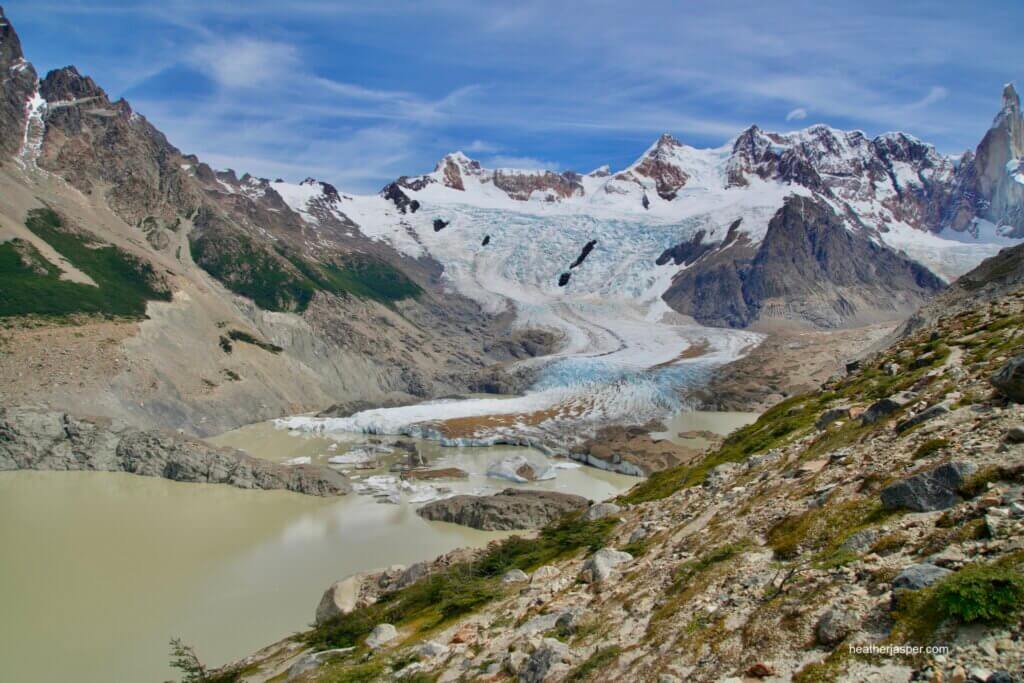 Getting There
Buenos Aires is a common starting point for any Argentina trip. Skyscanner does a broad search for cheap domestic and international flights. If flying from the U.S., it's worth signing up for Scotts Cheap Flights which provides hand-picked deals, including to South America.
Buenos Aires has regular flights to El Calafate, which is the nearest airport to El Chalten. Internal flights in Argentina are relatively inexpensive and the alternative from Buenos Aires is a 37-hour bus. From El Calafate there are five departure times for the 2-hour bus to El Chaltén. I bought my 5,000 ARS ticket the same day I traveled and there were plenty of seats, even in January at the height of tourist season.
When you arrive in El Chaltén, there is a tourist information desk in the bus station that can tell you which hostels have availability. Each morning hostels in town inform the tourist desk of their availability. This isn't updated in real time, so if you arrive in the evening, you may have fewer options. However, it's a unique service in El Chaltén and one that many travelers are happy to discover. Alternatively, you can secure a spot in advance on websites like HotelsCombined which lists both hostels and hotels.
Hostels vs. Camping
Most hostels charge around 2,000 ARS for a bed in a shared dorm room, which is the same price for renting a two-person tent. Sleeping bag rental is 1,000 ARS, so with two people you break even renting a tent and sleeping bags. Campsites in the national park are free.
Pro tip for food: do your grocery shopping in El Calafate. There are two small grocery stores in El Chaltén, but they're more expensive. It's a 15-minute walk from the cheapest grocery store in El Calafate (La Anónima) to the bus station. If you pay cash and bring food to cook in your hostel or camp, you can easily eat for 10 USD or less per day.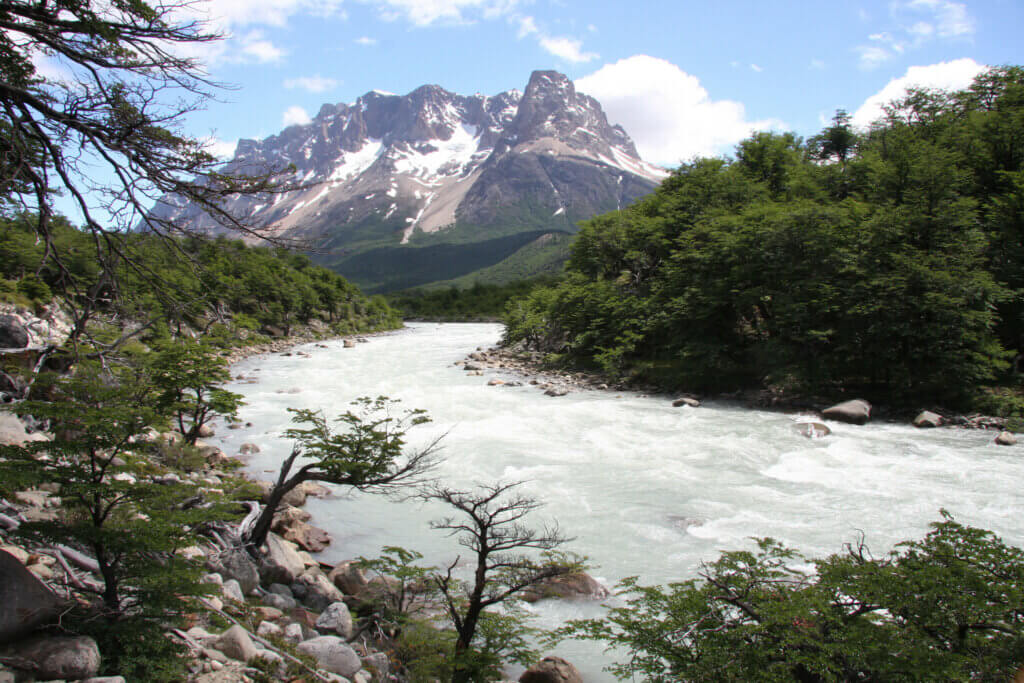 The Argentine Peso
There are two different exchange rates for ARS. The bank rate is what is posted in any official exchange offices and is what you'll get if you withdraw cash from an ATM or use your credit or debit card in Argentina. The cash rate is what you'll get if you exchange cash USD at unofficial exchange shops. This is technically illegal, but very common and safe. To find the cash rate, search for "Argentina dólar blue."
The difference between these two rates can make or break your trip budget. In January 2022, I got about 100 ARS per USD if I used my bank card. Many places in El Chaltén accepted USD at the rate of 200 ARS per USD. I exchanged cash in Buenos Aires for 213 ARS per USD. If you pay cash USD at your hostel in El Chaltén, a 2,000 ARS bed costs 10 USD per night. If you pay with your credit card, the cost doubles.
Most restaurants, hostels, and hotels in El Chaltén accept USD. However, if you have time in Buenos Aires I suggest going to Calle Florida and exchanging money there. There are dozens of antique and jewelry shops that post a person at the door who asks "¿cambio?" to everybody who walks by (they are asking to exchange money for you). This may sound sketchy to North Americans, but it's very common and accepted in Argentina.
The Thrifty Gist
Buenos Aires is the common entry point to Argentina, try Skyscanner for flight searching. From there, fly into El Calafate and take the bus to El Chaltén. Scott's Cheap Flights hand-picks flight deals to South America from the U.S. and selected countries.
There are several full day hikes that are free: Laguna de Los Tres, Laguna Torre, Laguna Túnel, Lagunas Madre & Hija and Lago Eléctrico, plus more half day hikes
A shared hostel dorm room or renting a tent costs about $10 USD if you pay cash. HotelsCombined searches hotels & hostels if you wish to book ahead.
You can buy food in El Chaltén but it's cheaper to shop in El Calafate
Bring cash and avoid using credit cards or ATMs