Hidden in Colombia's deliciously green jungles lies an enticing secret. A secret unknowingly swallowed up by forest for 1,200 years, speckled with gold, jewels, and human sacrificial sites. Its ruins are 650 years older than Machu Picchu, and have only been publicly accessible in the last few decades. Known as the Ciudad Perdida or the Lost City, this ancient site is one of Colombia's most remarkably concealed gems.
Reaching these epic ruins is no simple feat. River crossings, steep hills, and tropical heat make the four day hike here a gruelling one. Despite being accessible to tourists for the past 10+ years, the Lost City is still surprisingly under-visited. One thing is for certain, those who make it here are left in awe.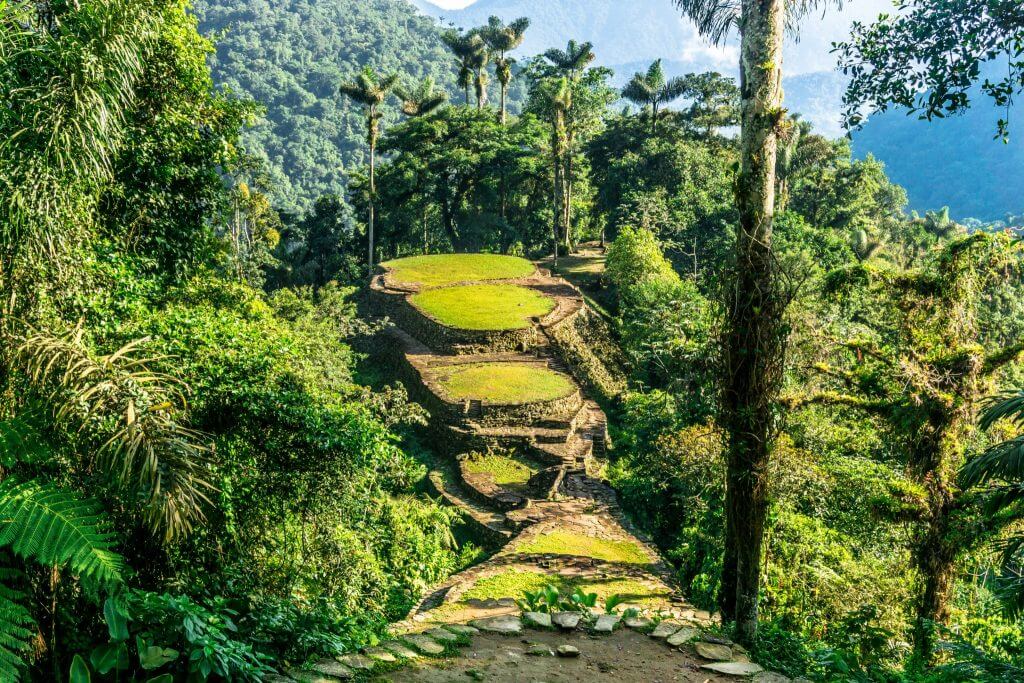 Colombia's Lost City: An Overview
The Lost City was built by the Tairona people who first created this settlement in 800 A.D. Spanning over 12,000 square meters (129,167 square feet), the city was once home to an estimated 2,000-4,000 people in its peak. This is thought to have been the Tairona's biggest city, and was the epicentre of economic and political activity.
The Tairona were an advanced civilization, with a political structure and impressive engineering skills. Evidence of the latter lies in the complex bridges and drainage systems built to ensure the city withstood heavy rains. Stone-lined paths and staircases snake about the terraces, storehouses, ceremonial and feasting areas. All of this is but a fraction of what we know existed here. Only about 10% of the Lost City has been uncovered, further cloaking these ancient grounds in mystery.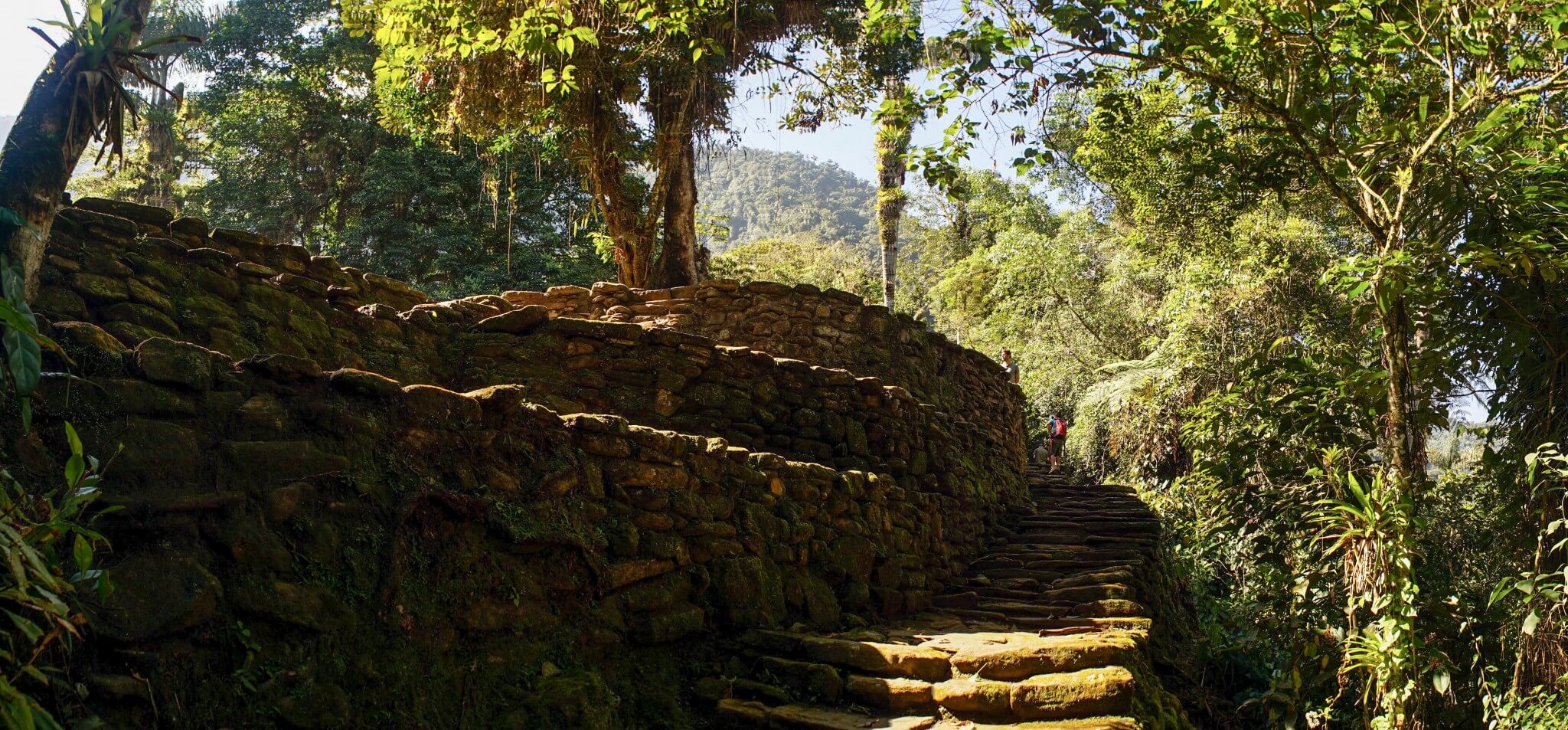 The Tairona were skilled craftsmen and spiritual people. They practiced meditation and made symbolic offerings. Shamans were important to maintain natural order, sometimes even making human sacrifices to do so.
Stunning gold jewellery, intricate gold idols, and colourful beadwork have all been uncovered throughout the ruins. The Tairona are said to have worn feathered headdresses, shawls, and jewelled chest ornaments. Today, much of these artefacts can be seen in museums throughout Colombia. I highly recommend doing this, as the detail and intricacy is astounding, further enriching one's understanding of the civilization behind the Lost City. The Museo del Oro (Gold Museum) in Santa Marta, as well as in Bogota, both have fantastic collections.
Like many indigenous South American populations, the Tairona were wiped out with the colonization of the Spaniards, most likely due to smallpox. Their disappearance left their entire city to be swallowed up by the forest for centuries. Today, their nearest descendants, known as the "Kogi", continue to live traditionally in huts without electricity or running water. You may encounter the Kogi people while entering the Lost City, as we did.
The Lost City trek: What to expect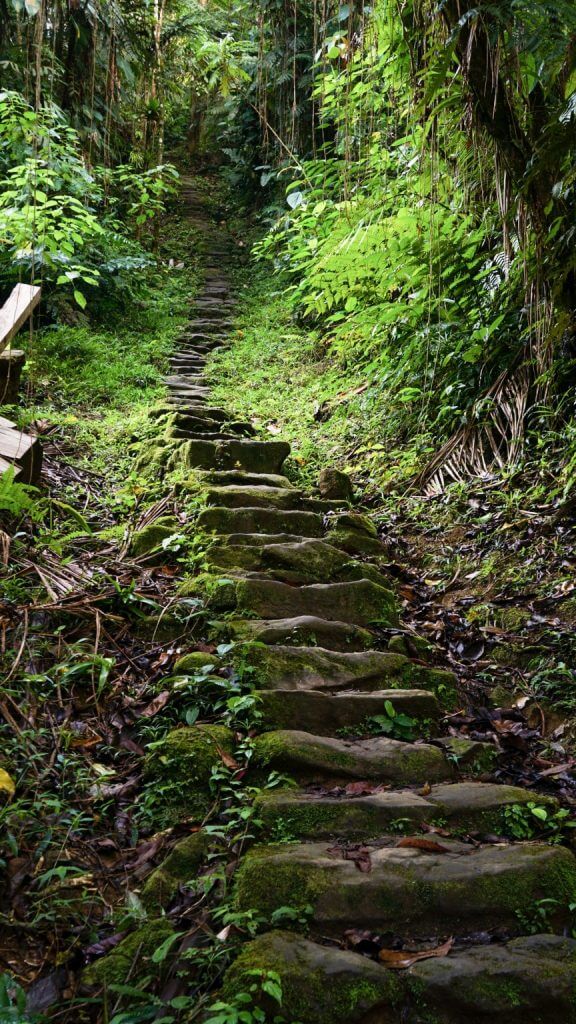 Swimming holes, thick and humid jungles, and breathtaking views are found throughout the hike. The grande finale – entering the Lost City – is an anticipation-filled experience in itself. After three days of steep trekking through humid forests, you reach its entry point – a steep stone stairway. It's comprised of 1,350 stones, built and once trodden on by the Tairona themselves. Farmers, potters, curious children, and even shaman would have once stepped foot here. It is magical to retrace their steps.
After a steep venture up, the lushness of the Lost City is revealed. Much of the hand-carved stone terraces, which once housed huts and structures, are engrossed in moss and plants. It is eery, beautiful, and reminiscent of other nature-engulfed ruins like Machu Picchu.
The Lost City is further explored on foot with your guide who will explain various areas of significance. That includes sacrificial sites, stones with engravings, and the various terraces and plazas. Besides the spectacular ruins, the scenery en route to the Lost City is majestic. Sweeping mountain views, colourful butterflies, sputtering waterfalls, and gorgeous rock pools (which you can dive into) are just some of what's in store.
Hike difficulty
The Lost City trek is a 44km hilly hike that takes 4-6 days to complete (round-trip). The journey begins with a bumpy 4WD up a mountain to the start of the hike. There is only one trail in and out to the Lost City, meaning that you will retrace the route. The first three days of the tour are generally inclining (approaching the Lost City), and the last two are declining as you return to the start. The only difference in tour duration is the amount of hiking completed each day. We did the 4-day (shortest) option and found it was fine, and this is a popular option for travellers.
In terms of difficulty, this is a challenging hike. General fitness is required, and there are steep hills throughout. Ultimately, an elevation of 1,100 metres (3,600 feet) is reached. Climate-wise, it is hot, humid, muddy, and buggy. There are several river crossings (i.e. you will literally walk through rivers), so you will get wet. If being hot, fatigued, sweaty, dirty, and bug-bitten is a suitable trade-off for you in exchange for incredible landscapes and ancient ruins, then you'll find this hike well worth it (we certainly did!).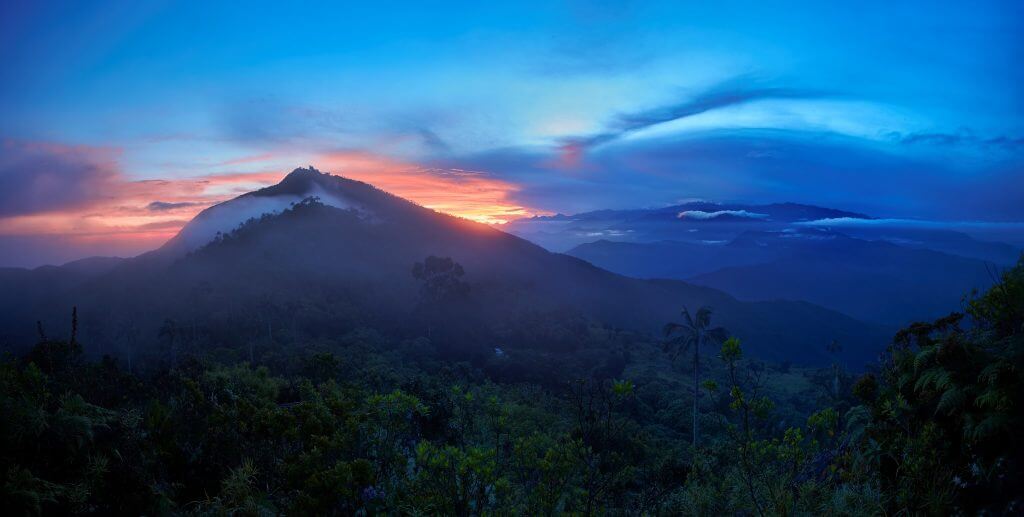 Accommodation, food & water
Accommodation throughout the hike is humble. There are small open-air huts with dirt floors, simple bunk beds, and hammocks inside, both of which have mosquito nets. Most tours have 10-12 people, so the sleeping area is small and quiet (imagine a rustic hostel dorm set in the jungle). Cold showers are available at the camp on the second day, though river swims are available on day 1 of the hike.
Food is provided on all tours, which is usually three meals and two snacks per day. It is home cooked Colombian food, such as stews with rice and salad. Filtered water is available at each of the camp sites, so you can refill at each station. You should carry 1.5-2L each day to be well hydrated.
When to go
Colombia has warm weather year-round, so the Lost City trek can technically be done anytime. The dry season runs between December and March. Temperatures are slightly lower during this time and there is less rain, making the hike's several river crossings easier. On the flip side, this is the busier season, increasing the number of tourists on the trail.
The rainy season (April to November) can involve anything from a light drizzle to torrential downpours. Rivers will be fuller, sometimes raising the water as high as one's chest, so keep this in mind.
Getting there
The closest city to the starting point of the Lost City trek is Santa Marta. It is accessible by bus or car transfer from nearby major cities like Barranquilla and Cartagena.
Bus
Colombia is well connected by bus. For example, you can get a bus ticket online from Medellin to Santa Marta from $38 USD, or from Bogota to Santa Marta from $27 USD. Bus prices can sometimes be negotiable outside of peak season. A gentle, "Hay discuento?" will reveal if you can get a better rate. To purchase tickets, go to the nearest bus station or buy ahead online on Busbud.
Flying
If flying into Colombia, the nearest major airport to the Lost City is Cartagena. Use Skyscanner and select "Whole Month" to visualize the cheapest dates to fly. From there you must transfer onwards to Santa Marta.
Where to stay
Santa Marta
Santa Marta is a small colonial city located along Colombia's northern coast. It is home to a small variety of bars, restaurants, and beaches. There are several hostel, hotel, and AirBNB (as low as $10 USD/night for a private room) options here suitable to various budgets and travel styles. We stayed at the bright and spacious Drop Bear Hostel (read reviews here).
Drop Bear Hostel
Owned by a friendly Aussie, this vibrant hostel is set in a rustic Colombian mansion. It has a swimming pool, games room, restaurant, bar, pool table, cinema room, large kitchen, and hammock lounge. Those wanting some screen time can make use its computers (there is also good Wifi throughout the hostel). It's slightly removed from town so that it is a quiet paradise, but still has proximity to the beaches and city.
Pricing: $9-$13 USD/night dorms (varying sizes), $20-$44 USD/night private
Book here – Read reviews here
Cartagena
A fairy-tale like city nestled on the sparkling waters of the Carribbean, Cartagena is not to be missed. Speckled with brightly coloured colonial buildings, even a wander through the streets here is stimulating. Cartagena's Old Town is a UNESCO World Heritage site, teeming with stone-brick walls and cobblestone roads. The city is a delight to explore at dusk into nightfall, as its street lamps romantically illuminate the colonial buildings and stone walls.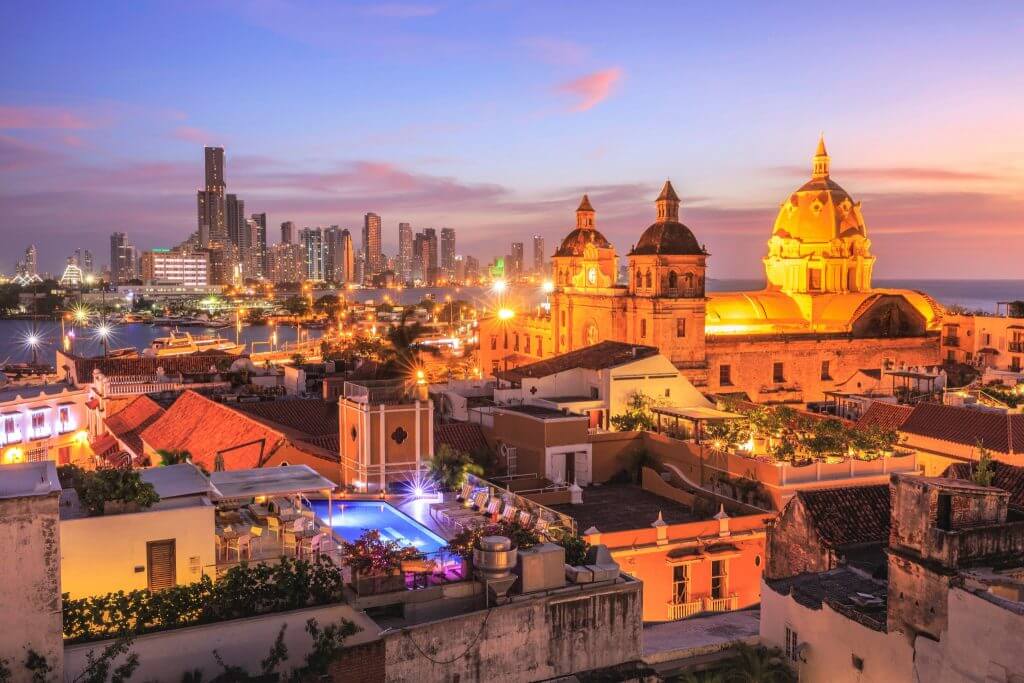 There are a dizzying number of hostel, hotel, and AirBNB (around $20 USD for a private room) options on hand here. We stayed at Hostel Mamallena (read reviews here), covered more below.
Hostel Mamallena
Quaint, vibrant, and clean, Hostel Mamallena is a great option for a central pad in Cartagena. Basic breakfast is provided and the staff are friendly to help with any queries you may have. Dorm and private rooms are tidy and have air conditioning too. The backyard chill area and bar are great for socializing with other travellers at nightfall.
Pricing: $14 USD/night (8-bed dorm), $41 USD/night private
Book here – Read reviews here
Booking a trek tour to Colombia's Lost City (Ciudad Perdida)
A guided trek to Colombia's Lost City is the only way to visit the site, as it is sacred indigenous land now protected by the Colombian government. You can book tours online in advance with instant confirmation on Viator or G Adventures, or in person at your accommodation or tour company.
When you do book, request an English speaking guide (if you don't speak Spanish), as this will majorly impact your overall experience and understanding of the site. If that's not possible, the guides will often ask a bi-lingual member of the tour to do the translating (this happened on our tour), so it's unlikely you'll miss too much.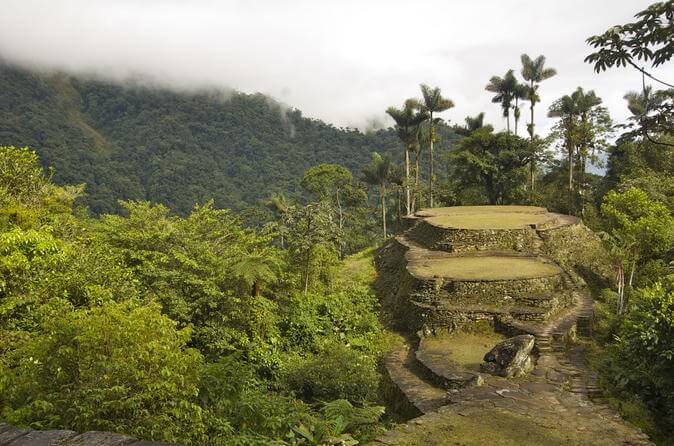 This is the standard Ciudad Perdida tour, with options for 4 or 5 days of hiking.
Both options offer similar experiences, but you move at a faster pace on the 4-day option (this is what we did).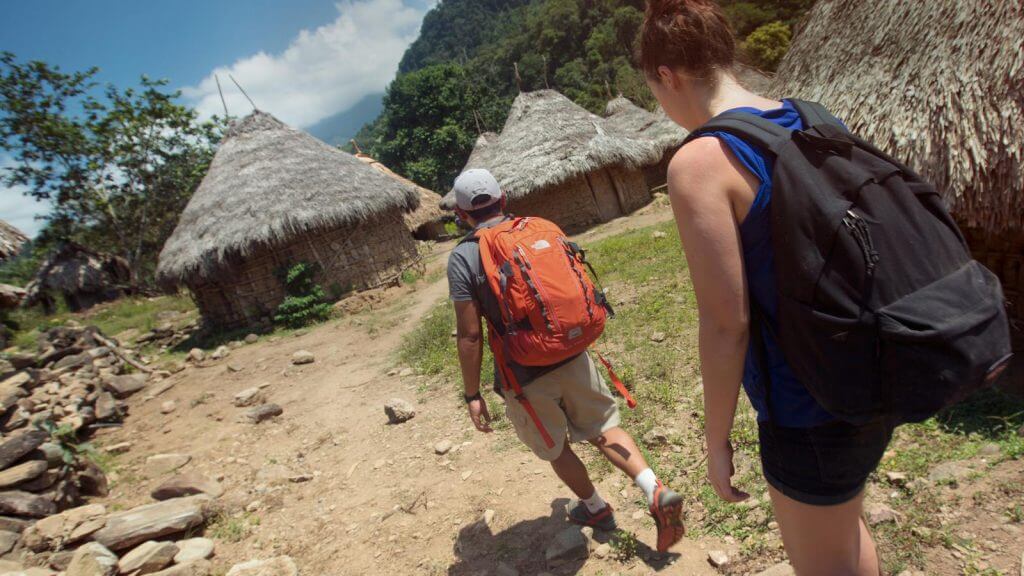 This tour is 5 days of hiking. Day 1 and day 7 have no planned activities.
Comparable to the Viator tour, but includes a community lunch at the Gotsezhi Village women's community (day 6) as well as exploring nearby waterfalls before returning to Santa Marta.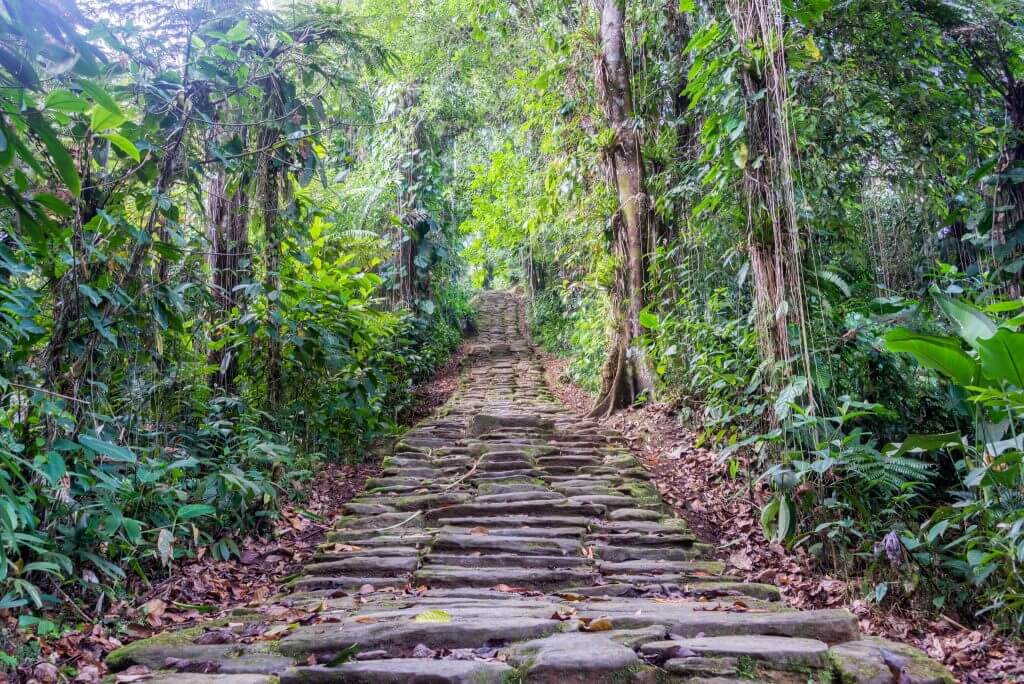 What to pack
Firstly, pack light. When you're hiking through humidity and heat that's as thick as pudding, every bit of weight adds strain. We packed 2 day hiking outfits each (plus nighttime wear) and alternated drying them. You will become dirty/sweaty within minutes of putting your clothes on each day, so it's up to you whether you want to add bulk for the sake of clean options. Some hikers wash their clothes in the river and hang them to dry in between (though with the humidity, items never fully dry). For tips on travelling light, be sure to check our men's and women's packing guides.
Note: if you're travelling with much bigger bags, it may be possible to store extra luggage/items at your Santa Marta accommodation if needed (check in advance – Drop Bear Hostel let us!).
Here is what we recommend to pack for the Lost City trek:
Clothing
2-3 quick-dry tops (tank top or t-shirt)
1 long sleeved shirt (for night)
1 pair pants or leggings (for night)
2-3 pairs of socks
2 sports bras
4 pairs of underwear
Hiking shoes (we used running shoes)
Sandals or flip flops (we wore flip flops)
1 bathing suit
Rain jacket (mainly for wet season; we didn't use ours as it was hot and dry)
Hat
Toiletries
Toothbrush & toothpaste
Deodorant (ESSENTIAL!!!)
1 fast-dry towel
Small first aid kit (Bandaids, hydrocortisone cream, Polysporin, Immodium)
Insect repellent (DEET-containing is most effective, you can buy a soap-like version in Colombia called Nopikex. Natural alternatives include citronella, eucalyptus, tea tree oil, etc.)
Sunscreen that is waterproof and sweat proof
Miscellaneous
Water bottle (we use the Platypus as it folds flat. Pack extra empty bottles if you don't have a large one already, you'll need 1.5-2L per day)
Camera
Portable charger
Sleeping bag liner (on our hike there were bed bugs in the bunk beds; a liner does reduce the risk of bites, otherwise wear at least 3 layers)
Rain jacket
Flashlight and/or headlamp
Waterproof backpack cover (we love our Deuter bags because they come with these!)
Dry bag (very important for keeping electronics etc. safe during heavy rains and river crossings)
Cash: the camps sell chocolate bars etc. in the evenings if you wish
The Thrifty Gist
The Lost City Trek in Colombia is an incredible trek. Booking a tour is required (check G Adventures or Viator for instant online confirmation, or book at your accommodation)
Pack as light as possible, as you will be carrying your luggage on the trek
A visit in dry season is advisable (Dec – March), but shoulder seasons are still okay
Pack all essentials (refer to packing list above), as you will have no stops at shops on this remote trek