In the year 79 AD, the wealthy ancient Roman city of Pompeii was encased with six meters of volcanic ash when nearby Mount Vesuvius erupted. The result was the rapid and horrific death of the city's residents, but also the miraculous preservation of a moment of Roman life, frozen in time. Protected from decay by ash, Pompeii now remains a window into how life looked like at one moment almost 2000 years ago. In this article, we'll explain exactly how to get to Pompeii from Rome so you can visit this UNESCO World Heritage Site yourself.
Pompeii: An Overview
Pompeii is a vast archaeological park that would take several days to thoroughly explore. Most visitors instead opt for one of several predetermined routes that take anywhere from two hours to the better part of the day, and take you through some of the key highlights that you're not going to want to miss.
Pompeii Site Highlights
The Antiquarium: That's basically a fancy word for museum. Housing relics found when excavating Pompeii, changing exhibits, and a permanent display about ancient Roman religion.

The Lupanar: The ancient Pompeiians liked to party. The Lupanar is the old brothel of the town – check out the so-called "cells" where the, um, deeds were done, and see well-preserved murals where the ladies advertise their talents.

The Forum: An outdoor stroll through the best of what ancient Rome is known for, passing pillars, a basilica, the old market and several temples and places of worship.

Teatro Grande: A huge open-air theatre (hence the name) where the people of Pompeii would gather to see suitably bloodthirsty plays.

The Odeon: A smaller theatre but with a neat trick of acoustics – you'll notice tourists standing in the middle of the stage area and speaking as if they were hooked up to the sound system at Coachella!
The Amphitheatre: Pompeii boasts the oldest surviving amphitheatre which may also be the oldest standing building in the world. And just when you thought it couldn't get any cooler, you learn that Pink Floyd played a concert here in the '70s!

The Garden of the Fugitives: Here you will see the contorted remains of thirteen people who perished in the volcanic explosions.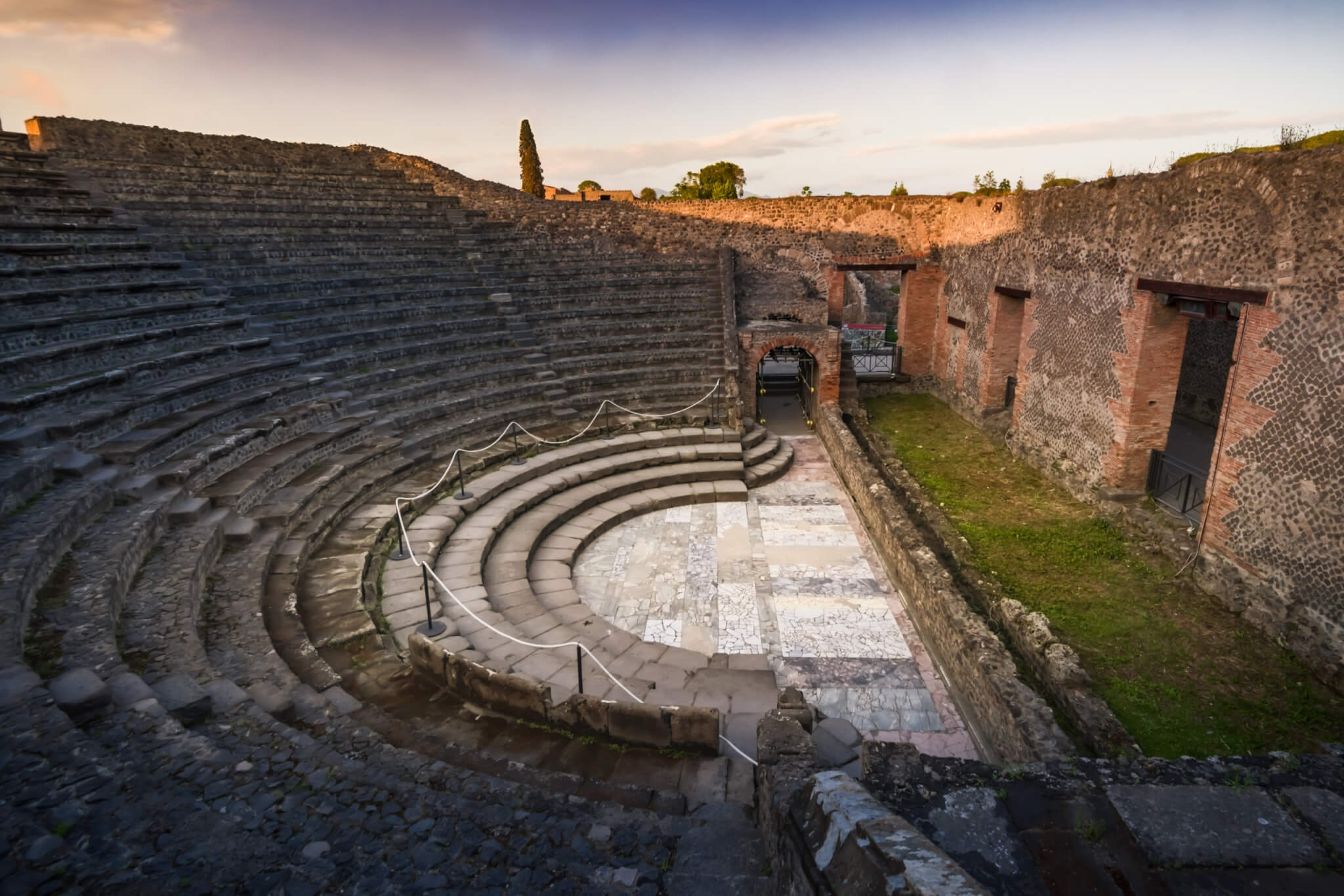 Where is Pompeii located?
Pompeii is 250 kilometers south of Rome and 25 kilometers south of Naples. Unsurprisingly, Mount Vesuvius – the volcano that erupted both destroying and preserving the city – is just a few kilometers away. The 1200 meter summit is a popular hike and affords spectacular views (don't worry, it's no longer spewing fire!).
The archaeological site of Herculaneum is also close and can be visited as part of the same trip. Even closer to Vesuvius, Herculaneum is significantly smaller than Pompeii but the ancient buildings are somewhat better preserved owing to the greater amount of ash that fell on the town. Owing to the significance of the city and the importance of the buildings that survive, Pompeii is easily the highlight of the region, which is why this article focuses mostly on this site.
How to Visit Pompeii from Rome
Pompeii tours from Rome
Choosing a Day Tour From Rome – Yep, it is perfectly possible to visit Pompeii as a part of a day tour from Rome, leaving and returning that same day. Make sure your chosen tour includes skip-the-line entrance to the Pompeii site. And given that you're going all that way, some extended tours also throw in a couple of hours in Naples or a visit to Herculaneum/Vesuvius as well. The round-trip is usually about 13 hours, tours provide air-conditioned bus transit.
Example Day Tour From Rome including Naples – The Get Your Guide "From Rome: Pompeii and Naples Full-Day Tour" takes thirteen hours round-trip and includes an air-conditioned bus transit from Rome, skip-the-line entrance to Pompeii, lunch and limoncello tasting, and a 1.5 hour bus tour of Naples. It is currently available for $141.56 USD.
Visit Pompeii with an Onsite Tour – If you prefer to make your own way to Pompeii from Rome (more details on how to do that below), then you may still want to book a tour to get the most out of your time at the site. Small-group tours can include skip-the-line entrance passes and a knowledgeable, English speaking guide.
Pompeii as DIY day trip from Rome
If you're in a "free bird" mood and want to tackle Pompeii under your own steam from Rome without a guide at any stage, it is possible, though you may miss out on placing some of the sites in the vast archaeological zone in context. At the very least, give yourself a full two hours to spend inside the archaeological park so you'll get to see some of the highlights. Even if you want to be left alone at the site (and explore solo or with an audio-guide), getting skip-the-line tickets online means you can skip the sweltering queue when you get there.
Transport to Pompeii from Rome
This section only applies if you're taking a tour that does not include transport e.g. an onsite tour, or if you're visiting under your own steam.
Rome to Pompeii by Bus – FlixBus runs services from Rome to Pompeii (on their Salerno route). The journey takes slightly over 3 hours each way, with prices starting from $14.99 USD.
Rome to Pompeii by Train – The easiest way to go from Rome to Pompeii by train to to first take a high speed train from Rome to Naples which takes about 2.5 hours and normally costs $25USD, and then hop on the regional Circumvesuviana train from Naples to Pompeii itself which costs aprx ~$4 USD. Book in advance at www.italiarail.com/ to avoid the pricier "on the day" fares. If you have a Eurail pass, you can use this to waive the ticket price, but seat reservations on the Rome to Naples leg are mandatory so you will still need to pay the ~$4 booking fee and plan in advance. If you're unsure whether a Eurail pass is worth the cost for your trip, check our comparison guide here.
Purchasing Your Pompeii Entrance Tickets
Buying Pompeii Entrance Tickets Online – You can get your ticket online through the official TicketOne.it website for 15 euro (~$17USD), or through a site like Get Your Guide which will allow you to show a mobile voucher and use the Fast-Track lane to save more time when you get there.
Buying Pompeii Entrance Tickets Onsite – Buying your ticket with the official vendors at the site costs the same as buying your ticket online but can involve long wait times, particularly during weekends and the busy summer months (June-August).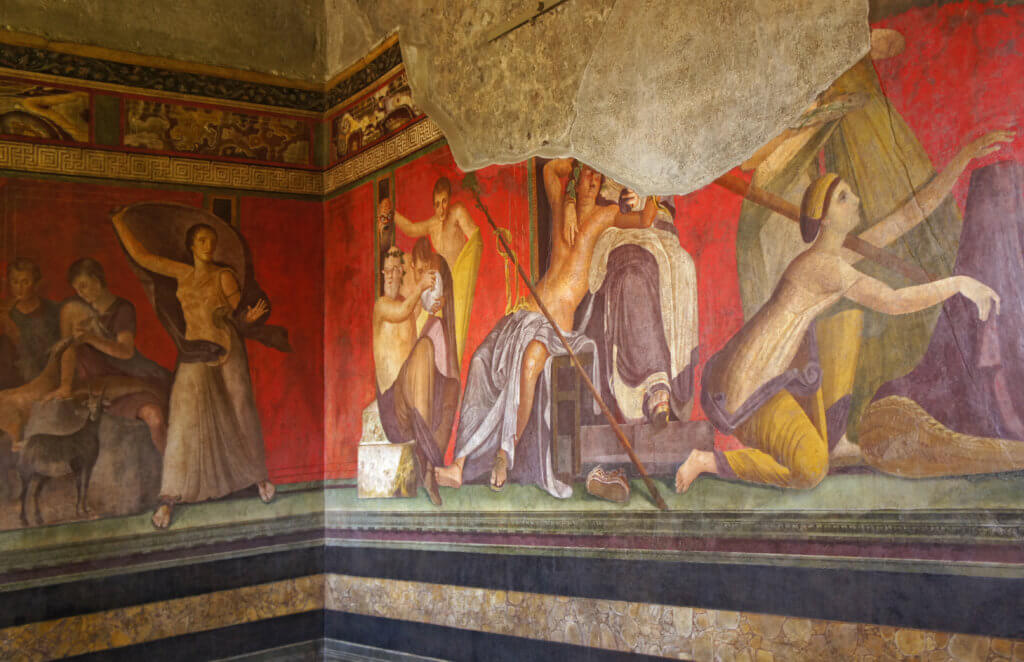 Preparing For Your Visit
What to Bring – Italy gets hot, so pack sun protection and water. Dining options near the site itself ares very limited and not great, so it's recommended that you bring a packed lunch if you're planning to spend several hours within the architectural site itself. Pompeii is walking only, so bring good shoes!
What to Read – You'll have a more meaningful experience if you do some reading in advance or on the way to help put what you're about to see in context. Robert Harris' thriller "Pompeii" will make the characters of ancient Rome feel alive once more, while Mary Beard's "Pompeii: The Life of a Roman Town" will give you the hard facts.
What to Watch – Did you know that Kit Harrington AKA Jon Snow starred in a 2014 film about Pompeii? The film is called, unsurprisingly, "Pompeii" and it got pretty mixed reviews, but still, Kit Harrington!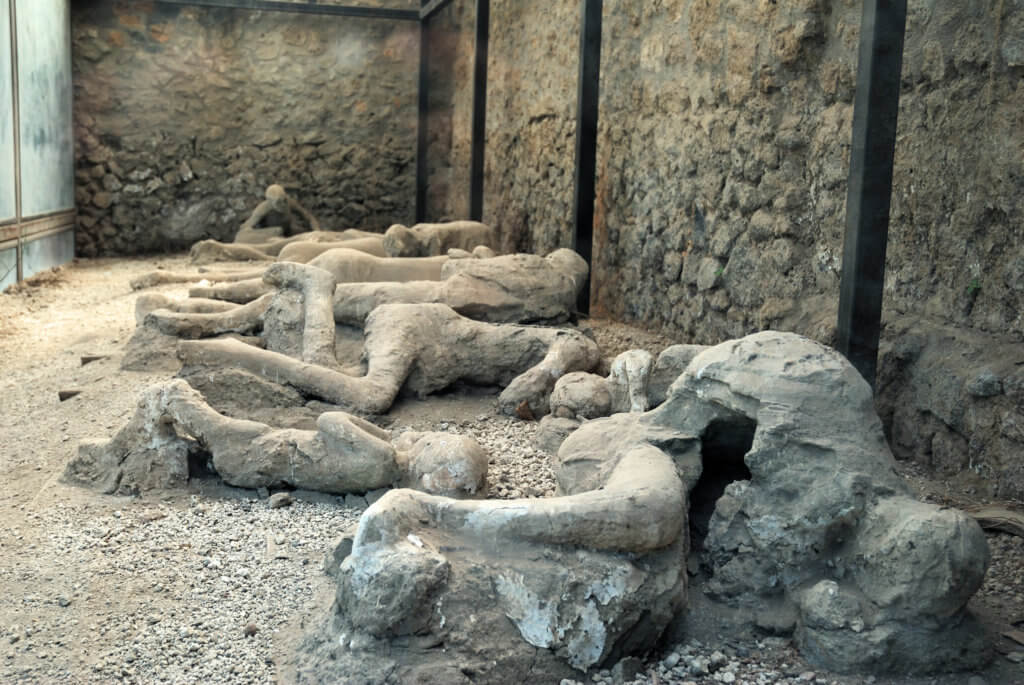 Pompeii Map & Walking Routes
Choose Your Walking Route – The Pompeii architectural area covers 170 acres so choosing your walking route is a very important decision – you won't be able to see it all! The route you choose depends on the amount of time you plan to spend on the site, and also if you have any particular preferences about highlights (see above for a taster) you want to see, or if you just want to soak it all up as it comes to you.
The official Pompeii Website recommends three paths:
Path One

: This can take from two to three hours and goes from the Marina Gate to the Villa Imperial via a number of sights including The Sanctuary of Apollo, the House of Faun and the Macellum.

Path Two:

This route takes three hours, it begins at Esedra Square and ends at the Antiquarium/Villa Imperiale. Unlike Path One, Path Two takes you via the famous Lupanar (cough, that's the ancient brothel).

Path Three

: This longer, five hour route is kind of a "Best Of," including the Lupanar, the Marcellum, the Sanctuary of Apollo and the Stabian Baths. It begins at Marina Gate and ends at Anfiteatro square.
Getting to Rome
By Air – Rome–Fiumicino International Airport is a major transport hub serviced by all the usual suspects (RyanAir, WizzAir, etc) with easy connections across Europe and beyond. SkyScanner is the best place for deals.
By Train – international connections come from across Europe with easy connections to Switzerland, France, and even London (if you're willing to change), and of course elsewhere in Italy, such as Florence, Naples and Venice. Train tickets can be purchased on ItaliaRail or Eurail.com.
By Bus – FlixBus has services and connections to and from Rome to destinations as close as Naples and as far afield as Budapest!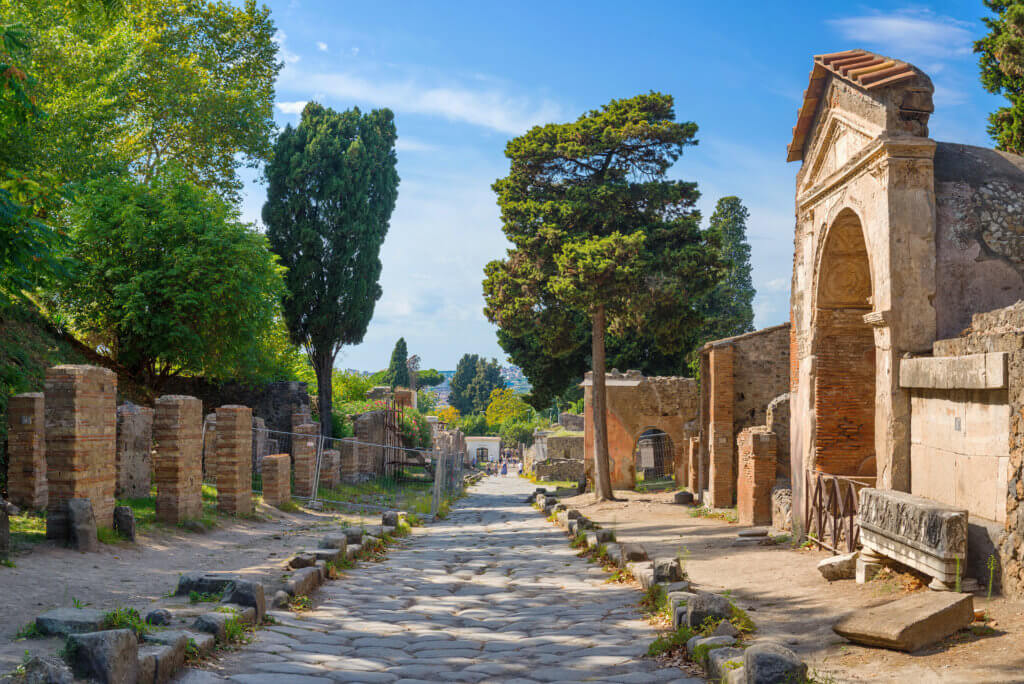 Where to stay
Rome is a vast city which also encompasses another city (wait, make that another country) within it – The Vatican. If you want to have a party experience in Rome, stay in lively Trastevere at a party hostel you can book on HostelWorld. If you want a more romantic time of it, consider quieter Aventine Hill for an AirBNB or Booking.com rental. Or if you just want Rome and you want it NOW, stay in the Historic Center where there are plenty of hotels available on HotelsCombined.
For a real Italian experience (and the best Pizza you will ever have in your life), consider staying a night in dense, loud and over-the-top Naples after your time in Pompeii.
The Thrifty Gist
Pompeii is Ancient Rome frozen in time thanks to the destructive effect of a volcanic eruption almost 2000 years ago

Pompeii is 250 kilometers from Rome and 25 kilometers from Naples.

A day tour from Rome to Pompeii will take approximately 13 hours round trip and may also include some time in Naples and/or Vesuvius or Herculaneum

Consider getting your ticket online in advance to obtain the Get Your Guide skip the queue ticket and enter on the Fast-Track lane with a mobile voucher

Choose your walking route based on how long you want to spend at the site (2 hours is the absolute minimum) and which buildings you are most interested in

Book on HostelWorld for a party experience in Rome, or AirBNB/HotelsCombined if you're in a couple or prefer a quieter stay