You've probably heard about round the world tickets, a one-stop shop approach to cross-continental flying. But let's be real: it's never been easier to book flight tickets yourself, and round the world tickets are pricey. So why do people book round the world tickets, and are they actually worth the cost?
The quick answer is, it depends. If you're pressed for time, have a seriously fixed itinerary with many international stops to make, it can be cost-wise. However, if you have a whimsical, budget-conscious trip in mind, or are focusing on just one part of the world, there are cheaper options out there that you should know about (like finding fares yourself on Skyscanner on Kiwi.com).
So, here's everything you need to know about round the world tickets, followed by our DIY approach that could save you even more money!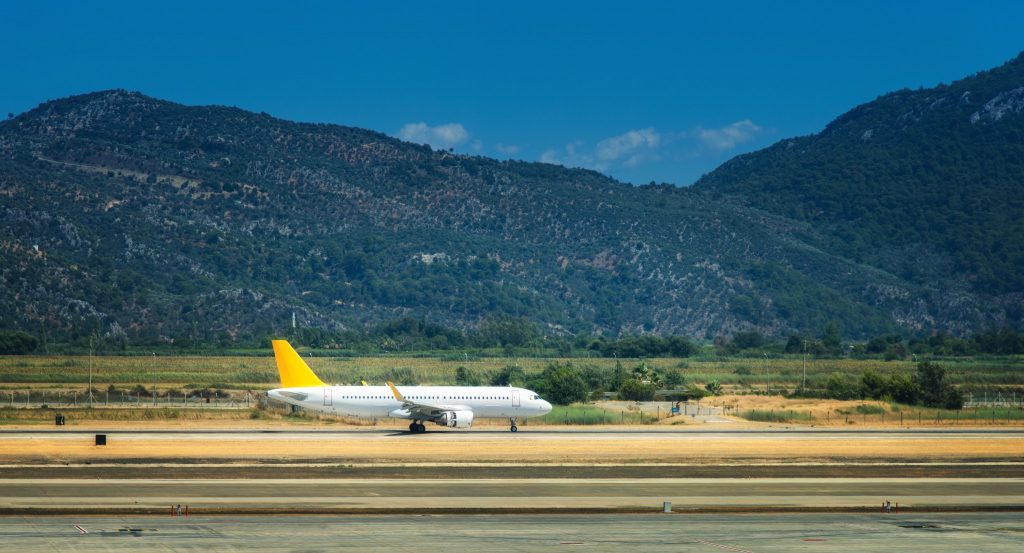 How do Round The World tickets work?
Round the world (RTW) tickets are flight packages that let you visit a number of destinations around the world for one price. These tickets are offered by airline alliances like SkyTeam, Oneworld, and Star Alliance. All the flights in your itinerary must be served by airlines within the chosen alliance.
RTW tickets require you to select your destinations and departure dates in advance. This means you prepay for the pass and book all of your flights before your trip. Note: you don't have to actually fly "around the world" with these tickets, they're also sold as multi-city flights, continent-based travel, or by miles.
The perk of RTW tickets is the ability to book all flights at once at a discounted price, plus ensures a mass accumulation of frequent flyer miles since you'll only be flying partner airlines. You can even purchase part or all of your RTW ticket with relevant miles, where permitted.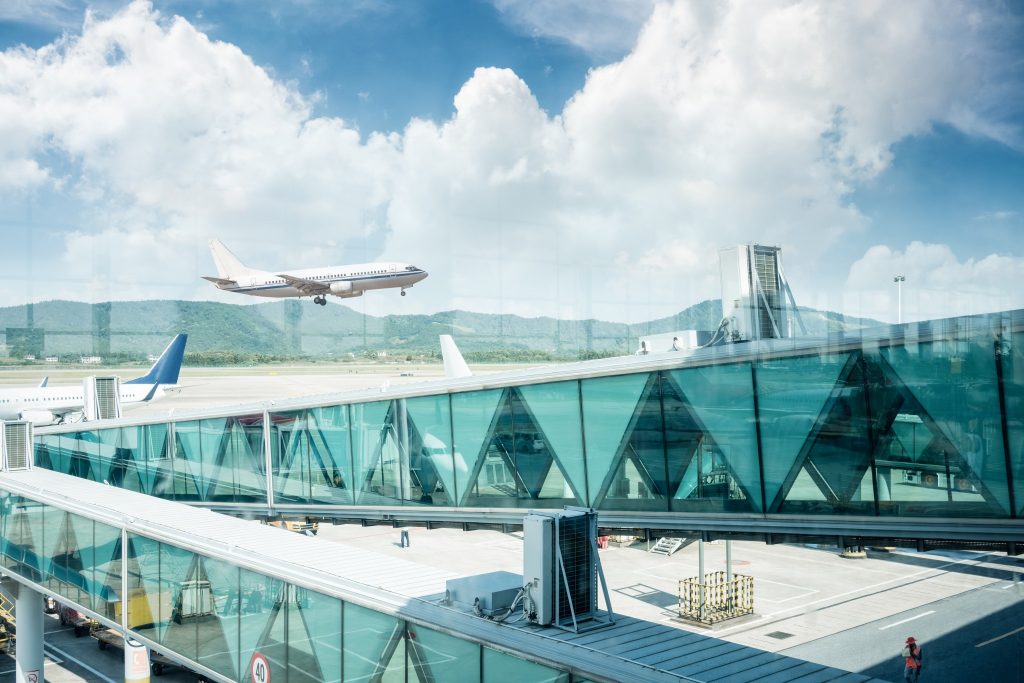 How to book a round the world ticket
Round the world tickets can be purchased directly with airline alliances or via travel agents.
Airline Alliances
Each alliance offers an online trip planner that allows you to put in every stop of your itinerary and get a price quote. It also makes it easy to work around the restrictions of round the world tickets, warning you when your planned route doesn't meet the requirements. All alliances offer online booking, or you can call one of the participating alliance airlines directly.
Travel Agents
Travel agents have exclusive access to flight deals, plus receive discounts accessible only via their IATA code. They also save a great deal of time and money whilst adhering to your budget and needs. Find an agency that specializes in round the world tickets, so they're aware of the restrictions and can secure the best price.
What are the restrictions and/or setbacks?
RTW tickets often more expensive than a DIY approach (covered later), especially given they exclude budget airlines. Furthermore, there are restrictions to follow, so ensure you've read the fine print. Such restrictions typically include:
A minimum number of flights to book (typically three), as well as a maximum
Flights usually must be within the same airline alliance. This can sometimes result in obscure stopovers to stay with partner alliances.
Restrictions on the direction of travel (e.g. East to West only) and/or requiring you to cross both the Atlantic and Pacific oceans at least once
All flights must end in the city you started from and connect from city-to-city (i.e. you can't fly into London, then take a train to fly out of Paris)
A minimum number of stopovers
Additional surcharges for itinerary changes and/or flying to certain destinations
Missing a flight in your itinerary could result in the remaining flights being cancelled, even if days or weeks away
Whew! Though there are many restrictions, most will come up when making your booking. Simply use the round the world ticket planners provided by each alliance, put in your desired destinations, and the options and costs will be presented automatically.
The alternative: book separate flights yourself
The value of a round the world ticket depends on the route you're taking and the flexibility needed. More often than not, you'll find it's cheaper, easier, and more flexible to book your own round the world trip online across several bookings using multi-destination flight search engines like Kiwi.com and Skyscanner. You also can mix and match airlines, and aren't confined by the restrictions that accompany an actual RTW ticket.
Credit card points programs also allow multi-city flight bookings, effectively allowing you to book your own round the world trip via points or a combination of cash and points. You can readily rack up a significant amount of miles just by hitting the minimum spend within a set time. The Chase Sapphire Preferred is our top pick as a beginner card. On hitting its minimum spend, you can earn up to 60,000 points worth $750 – more than enough for an international flight.
Flight deal subscriptions like Scotts Cheap Flights compile discounted airfare to your inbox, based on the desired departure airports. Whilst this doesn't include RTW flights, this could help you cover some of the legs of your trip, as it has majorly discounted international flights departing the U.S. For those outside America, similar services exist in the U.K. (Jack's Flight Club) and Canada (Next Departure).
The only major drawbacks with booking a RTW ticket yourself is the time and patience needed to make the booking. Additionally, you may end up with frequent flyer miles spread across a variety of programs, without enough miles in any program to use them. Most likely though, you'll come out ahead financially doing it yourself.
How to book your own round the world trip
Kiwi.com and Skyscanner are the two flight search engines we recommend for booking your own tickets for a round the world trip. They include budget airlines and let you search multi-destination flights, letting you see prices for your entire itinerary at once.
The key difference between the two is that Skyscanner prefers results from partner airlines, while Kiwi.com will always mix and match airlines (including budget airlines) for the cheapest price. Either booking site can be beneficial depending on your trip, so to get the best price, be sure to compare results and follow these tips:
Experiment with the order of your destinations for the best price. Just because a flight is shorter doesn't mean it will be cheaper.
Experiment with the dates of each flight. This can be time consuming, but if you're dedicated, you can shave hundreds of dollars off your total cost by simply finding the cheapest dates for each flight.
Multi-city and return flights are often better value than booking many one-way flights when they can all be fulfilled by the same airline/alliance. For example, Virgin Atlantic has routes from New York to London, London to Shanghai, and Shanghai to New York, so making one multi-city booking with this single airline will be cheaper than several individual bookings with different airlines.
Skyscanner prefers partner airlines that can fulfil the entire itinerary you submit, which doesn't always get you the best price on complex itineraries. So if you have a lot of destinations, split your searches into 3-4 destinations at a time. For example, instead of submitting New York > London  > Paris > Beijing > New York as a single search, try searching New York > London > Paris as one search, and Paris > Prague > Beijing > New York as a second search. You don't have to worry about this on Kiwi.com, which always mixes and matches airlines to get the best results.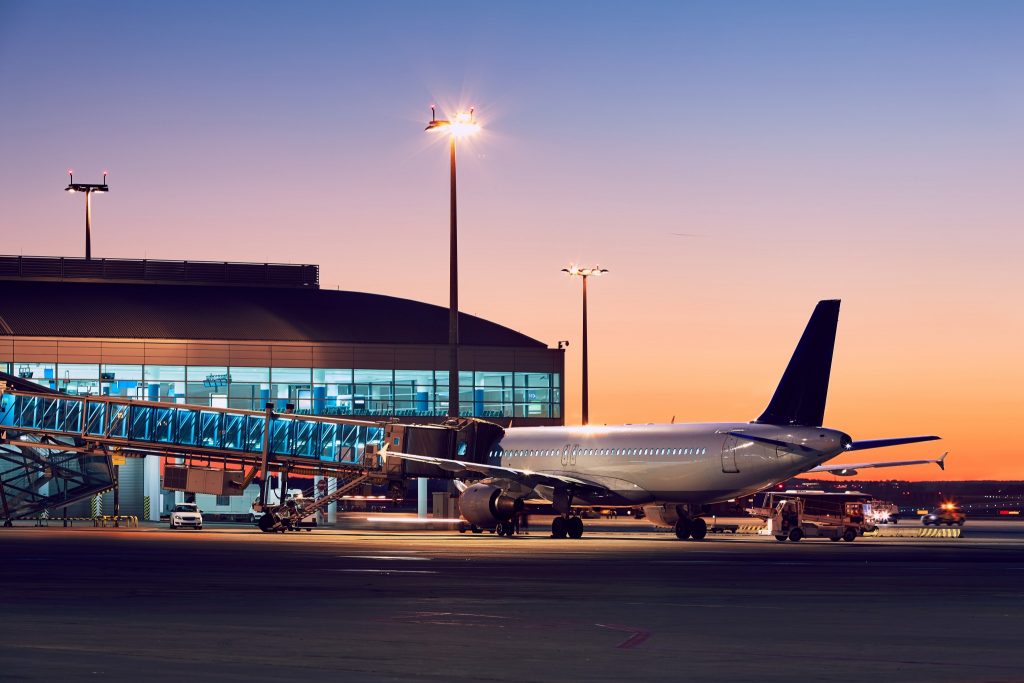 So, what's the cheapest option?
In our tests, the DIY approach is always cheaper, but it depends on the kind of trip you're taking. Round the world tickets can cost anywhere from $1,500 USD to $20,000 USD. The price varies greatly, and depends on your departure point, number of flights, distance flown, continents flown to, and flight class.
On the other hand, regular flight ticket prices are all over the map, dependent mostly on supply and demand. Sometimes a flight across continents can be even cheaper than a flight within your own country. Since regular flight tickets include budget airlines, sale and error fares, and you can still take advantage of discounts with partner airlines, booking your own flight tickets has always been cheaper for us.
The only way to know for sure is to compare. Use the links provided in this guide and see what gives you the best result!
A Thrifty Case Study: A Round the World Trip from New York City
As an example, let's find the best price for the following round the world trip: New York City > London > Paris > Prague > Beijing > Hong Kong > New York City. We want to go in April and May, and we are booking now in January. We'll start on Tuesday, April 10, and schedule each consecutive flight for the following Tuesday.
Option 1: A round the world travel agent
This is one of AirTreks' sample itineraries. It is advertised with a price range of $1,499 to $1,999 USD. Keep in mind there are no dates specified, so the exact price for this timeframe could be different.
Booking with AirTreks also gives you a team with over 32 years of experience in RTW planning, all your tickets in one spot (instead of many confusing separate bookings), 24/7 support, and better routes (less layover time, more baggage, etc.) If you do find a cheaper fare yourself, let them know – AirTreks tells us they're confident they could beat it!
Option 2: A round the world ticket booked directly with airline alliances
Putting in the same itinerary into each of the airline alliances' round the world trip planner gives us the following totals:
OneWorld: $3,738.86 USD
SkyTeam: $3,904.28 USD
Star Alliance: $4,543.84 USD
Not exactly thrifty, and up to 3x the advertised price of the travel agent! True round the world tickets require strategic planning, so using a travel agent's expertise can save you time and money. But let's take a look at booking regular airline tickets yourself…
Option 3: Book your own tickets using Kiwi.com and Skyscanner
Using the Kiwi.com multicity search feature, we enter our full itinerary, and within minutes, we have a variety of options from $1,390 – $1,434 USD.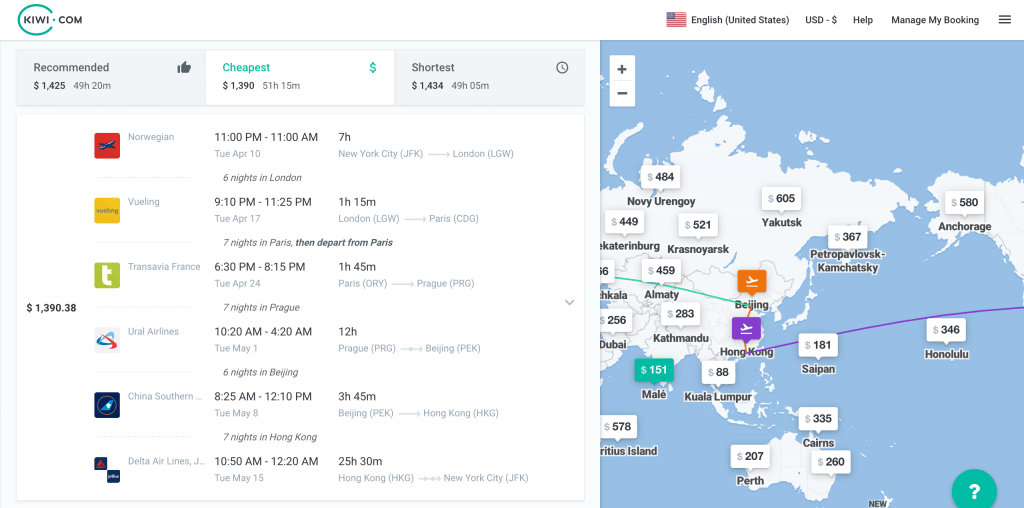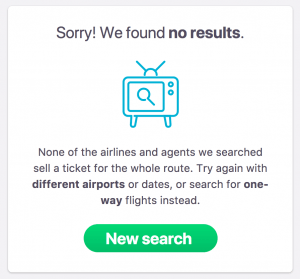 Finally, let's compare with Skyscanner. When we tried to put the entire itinerary into Skyscanner's multi-destination search, we get… no results!
As we mentioned, Skyscanner usually just shows results from partner airlines that can fulfill a ticket for the entire route. This route is pretty complex, and it's unlikely one airline alliance could fulfill it all, so let's break it up.
After half an hour of trying different combinations of multi-city and one-way searches, the cheapest combination I could find for these dates was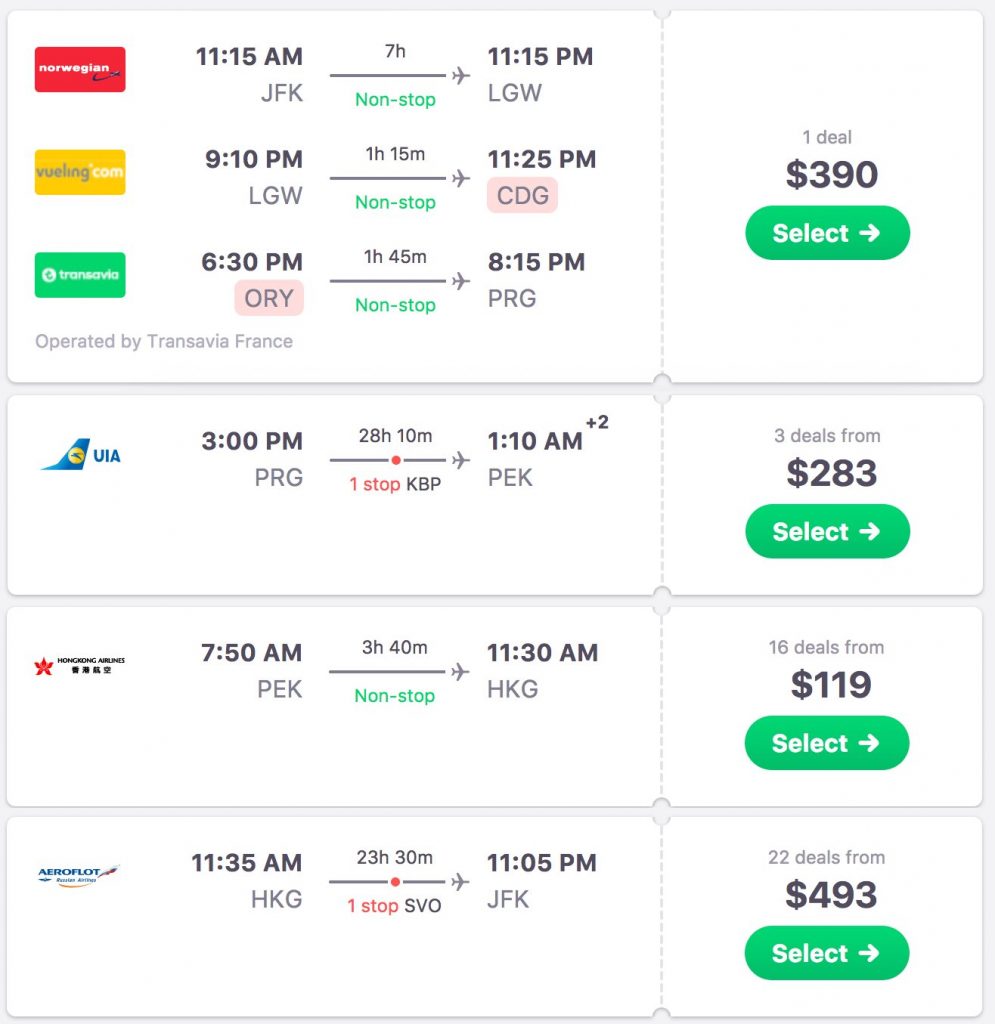 New York City > London > Paris > Prague: $390 USD
Prague > Beijing: $283 USD
Beijing > Hong Kong: $119 USD
Hong Kong > New York City: $493 USD
TOTAL TRIP COST: $1,285 USD
This is the cheapest option, beating Kiwi.com by only $105. What's going on here? In short, trial and error. The first batch of airlines aren't partners, but Skyscanner sometimes lets you mix and match airlines by using Kiwi.com for booking. And although there are partner airlines to fulfill the rest of the route, Hong Kong Airlines is an independent budget airline with competitive pricing, so it ended up being cheaper to book the flights separately in order to include their fares.
You can take this even further by testing different dates in your itinerary, as well as the order of your flights. As you can see, the process can be time consuming, but a little time rewards you with hundreds or thousands of dollars saved!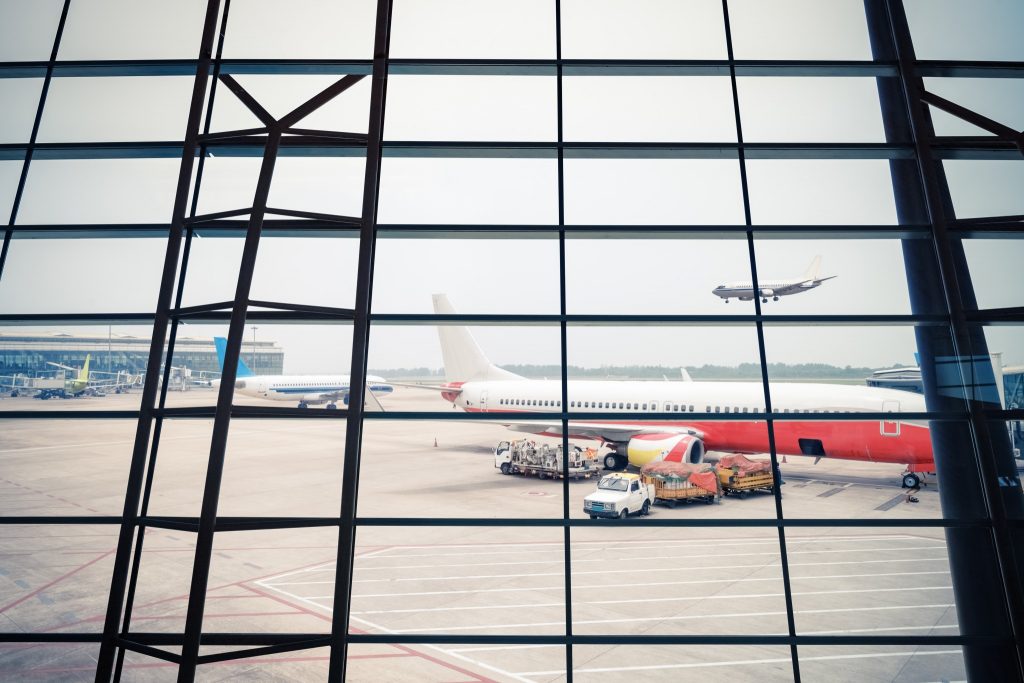 What are the alternatives?
Regional flight passes
While not a round the world ticket in itself, this type of flight pass might be more sensible for your trip, depending whether you'll be flying a lot in one region versus globally. For instance, if you are planning to take more flights around South America than across continents, then you may be better off investing in one of their regional passes (check our guide here).
Some examples of regional flight passes include:
Building your own stopover
A stopover – that is, an extended layover where you can actually leave the airport for 1 or more days or weeks – can be added for cheap or free to any trip, all by yourself. Our how-to guide here explains exactly how to do this.
Essentially, you find a flight fare that includes a layover, but instead of rushing to your connecting flight, you spend days or weeks in the layover destination, visiting 2 destinations for the price of 1. Whether you go round the world or not, it's a great way to squeeze more travel value out of your flight costs.
So, is a round the world ticket worth it?
In short, for most travellers, the answer is probably no. There are a certain set of criteria where it could be more cost-effective, and some travellers may prefer the ease of having all of their tickets booked in one pass anyway. However, the fixed timing, many restrictions, and high price are likely to be unappealing to those who are seeking a thriftier approach, especially when it's so easy to book yourself for less with Kiwi.com and Skyscanner.
The Thrifty Gist
Round the world tickets are usually pricier than self-booking, but offer peace of mind and a pre-set itinerary
A dedicated RTW agent such as AirTreks can save you a lot of time, with the added benefit of 24/7 support, having all of your flights in one place, established airlines with shorter routes, and over 32 years of experience in RTW planning. AirTreks tells us they're confident they could beat the other prices in this post, so if you find a cheaper fare yourself, let them know!
Round the world tickets can be booked with airline alliances or travel agents, while self-booking regular flight tickets can be booked using the multi-destination features of Skyscanner and Kiwi.com
Self-booking is usually the cheapest approach to a round the world trip, but can also be more tedious
Reasons to self-book include the abundance of available error/sale fares, budget airlines, the ease with which self-booking can be done, and that stopovers can easily be added to any trip
Our website contains some affiliate links in relevant areas. This means we get a small commission, at no extra cost to you, for recommending a product we personally use, trust, and own.