T
hink of discovering a new beach and having all of it to yourself as you ride a scooter or hop on a coastal bus. Imagine endless jungles with cascades and icy cold water. Envision ancient temples, stupas, quirky mountain hamlets, and abundant wildlife – all of this in one tiny island. Sri Lanka, the "pearl of the Indian Ocean" sits below its giant neighbour, India. It's also where I call home.
I grew up in Kandy, the country's hill capital. In the last three years, I've decided to explore the tiny corners of my island. I've peeped my head out of train windows uncountable times, solved riddles of an 8-year-old in a small mountain village in Nanu Oya, and have befriended dogs who have guided me to mountain tops. And now, I'm putting all of my "local knowledge" into this ultimate travel guide to Sri Lanka.
How much does a trip to Sri Lanka cost?
Let me cut to the chase. It depends on your traveling style. If you are the kind of traveler who wants to sip Ceylon tea while being pampered in a vintage tea bungalow in Nuwara Eliya (which we apparently named Little England) on a dime, then Sri Lanka is not the ultimate budget destination for you.
While Sri Lanka is comparatively a "cheaper" destination to travel to, it's not as cheap as neighboring India, Nepal, Tibet, or Southeast Asia.
If you are the kind of traveler who stays in homestays, hostels, mingles with locals, uses public transport and eats local food, then it's absolutely possible to travel in Sri Lanka with $30 a day. However, adding a bit more comfort (using taxis often and having your coffee fix at mid-range cafes) plus activity entrance prices, then a budget of $50 a day would be more realistic.

Highlights
Historical Sites and Temples
The cultural triangle – made of the three major historical cities of Anuradhapura, Polonnaruwa, and Kandy – are often frequented by history buffs. However, inside the triangle, there lies a plethora of lesser-known historical sites deserving of a visit.
Lion's Rock in Sigiriya is named as the 8th World Wonder, though the entrance fee of $30 USD is putting many budget travellers off. Lion's Rock is an architectural masterpiece, and if you are a history buff, you can't miss this place. Nearby Pidurangala Rock has become Instagram-famous over the years. Pidurangala offers stunning views with Lion's Rock as the backdrop, and the 1-hour hike to the top is totally worth it. A three-hour drive from Dambulla is Yapahuwa, the 4th kingdom of Sri Lanka. The citadel is built on a granite rock, rising about 100 meters from the surrounding lowlands in Kurunegala District. While rock inscriptions of Ritigala Monastery are quintessential storytellers of the bygone era, Jathika Namal Uyana is Sri Lanka's largest ironwood forest and pink quartz mountain in Asia. The rosy tones of the quartz are slowly fading away with time, so now is the time to go.
Ambekke, Lankatilake, and Gadaladeniya temples close to Kandy are slowly opening up to tourists. The gigantic Buddha statue of Aukana and Buduruwagala in Wellawaya are fascinating sites to behold. Easily reached by nearby towns of Dikwella and Tangalle, Mulkirigala is another ancient rock temple which has become popular over the years.
The island is also home to a few world-famous Hindu temples. Devotees from all around the world flock to Seetha Amman Temple in Nuwara Eliya and Nallur Kandaswamy Temple in Jaffna when Hindu festivals and ceremonies are taking place.
Wildlife Safaris
If seeing wildlife is on your list of things to do in Sri Lanka, avoid visiting unethical wildlife "conservation" centers such as Pinnawala Elephant Orphanage and unauthorized turtle hatcheries. Instead, consider visiting a national park to see wild animals in their natural habitats. Yala, Udawalawe, and Kaudulla have become insanely crowded over the years. But don't lose hope – Sri Lanka has 26 national parks to explore.
Kumana National Park, located south of Arugam Bay, offers an amazing safari experience. The park is home to elephants, wild boars, foxes, peacocks and many other species of birds. In Gal Oya National Park, you can go on a boat safari to spot wild elephants hang out in Senanayaka Samudraya, the largest tank in Sri Lanka. For an unforgettable marine life viewing experience, head to Pigeon Island in Trincomalee. Be warned though, during peak season (April – August), it does get crowded. While Bundala is a paradise for birdwatchers, Maduru Ganga National Park is one of the lesser-known wildlife destinations in Sri Lanka. The jungle-clad lowlands here offer stunning landscapes and a quieter place to see elephants in their natural habitats.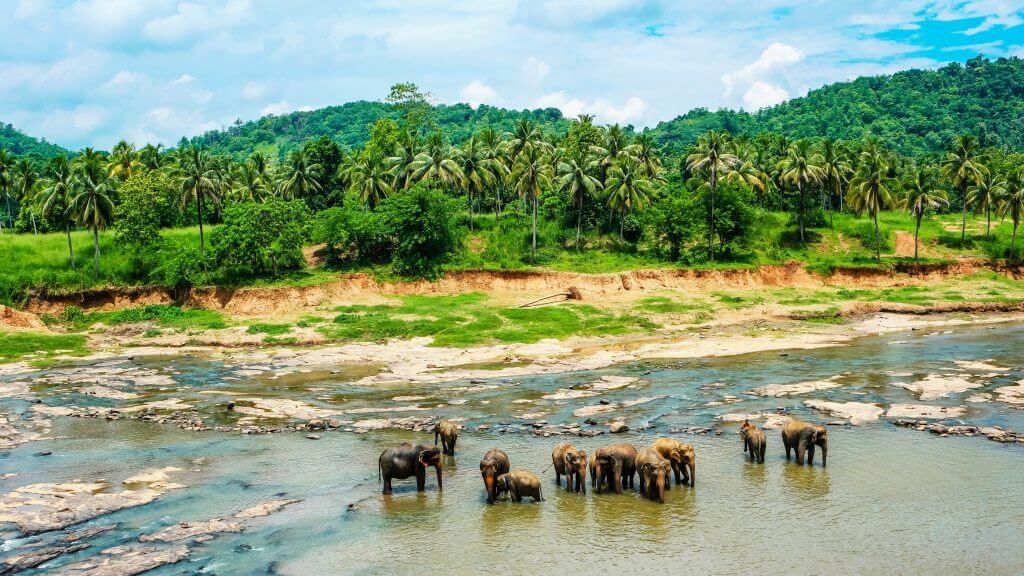 Beaches
Being an island nation, there are countless beautiful beaches to choose from, many of which you'll never find in a guidebook. Here are some top choices from a local:
South Coast
Mirissa, Weligama, Unawatuna Hikkaduwa: Immensely popular beaches, but very crowded, especially during the peak tourist season.
Hiriketiya, Thalalla, Dikwella, Tangalle: Secluded beach villages. Check out Goyambokka, Rekawa, and Gurupokuna beach.
North Coast
Aptly named for the Casuarina trees that decorate the beach, Casuarina Beach in Karainagar is a popular option among the Northerners
East Coast
Nilaveli, Uppuveli, and Arugam Bay are popular east coast options, however, Komari Beach (16 kilometers north of Potuvil) and beaches in Oluvil offer more authentic experiences
West Coast
South of Kalpitiya is a small fishing village named Kappalady, home to a long sandbank and turquoise blue waters. You'll likely see not a soul in sight.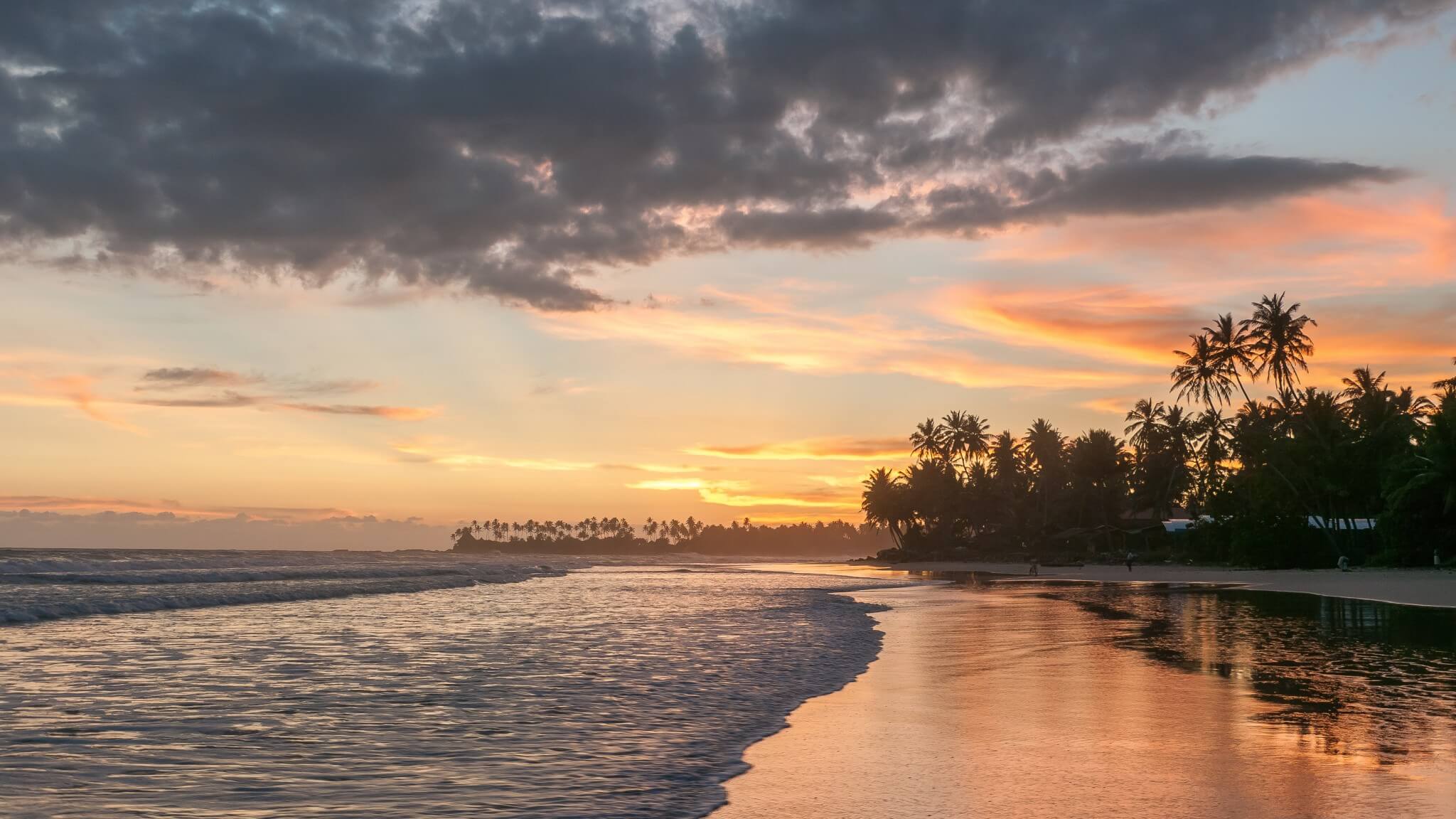 Flights to Sri Lanka
Most flights arrive in Bandaranaike International Airport (airport code CMB) in Katunayake, an hour's drive from Colombo if you use the expressway. When searching for flights, use Skyscanner to conduct a broad search (select "Entire Month" if you don't have fixed dates to visualize the cheapest dates to fly).
SriLankan Airlines offer flights to Colombo from many destinations across the world, including a direct journey from Melbourne. If you are in South East Asia, AirAsia offers cheap flights to Sri Lanka, and Kuala Lumpur to Colombo has been the cheapest option over the years. Flights from Southern Indian cities (Chennai, Madurai, Kochi, Coimbatore, Hyderabad, and Bangalore) are common travel routes to Sri Lanka. Currently, IndiGo Airlines offers the cheapest flights to Sri Lanka from a number of Indian cities.
Accommodation
Sri Lanka has a wide range of accommodation options from luxe hotels to local-run homestays. While many luxury boutique hotels are priced at $200-400 USD, a private room in a typical luxury hotel normally begins at $100. Cinnamon Hotels and Jetwing Hotels are two popular luxury accommodation options. Check HotelsCombined, which compares prices of both hotels and hostels across a variety of booking sites.
Hostels are priced anywhere between $8-20 USD. Backpack hostels are often found in major cities and touristy areas such as Colombo, Kandy, Galle, Unawatuna and Ella. Hangover Hostels is one of the popular hostel chains on the island with four hostels in Colombo, near Airport, Ella and in Mirissa. Clock Inn, a pioneer in Sri Lanka's backpack culture has a chic, modern hostel in the heart of Kandy. Pedlar's Inn is the go-to place for budget travelers in Galle. In far-less-touristy areas, budget travelers can opt for local-run homestays and expect to pay anything over $15 USD.
AirBNB is quite popular in Sri Lanka, but is usually pricier than hostels and homestays (you can get $40 USD off your first Airbnb trip with this coupon). Apart from these options, there are many beachside cabana style accommodation options and eco-friendly tree houses in the wild. Back of Beyond offers an amazing, eco-friendly experience in several offbeat locations in Sri Lanka and their properties usually begins at $100 USD a night.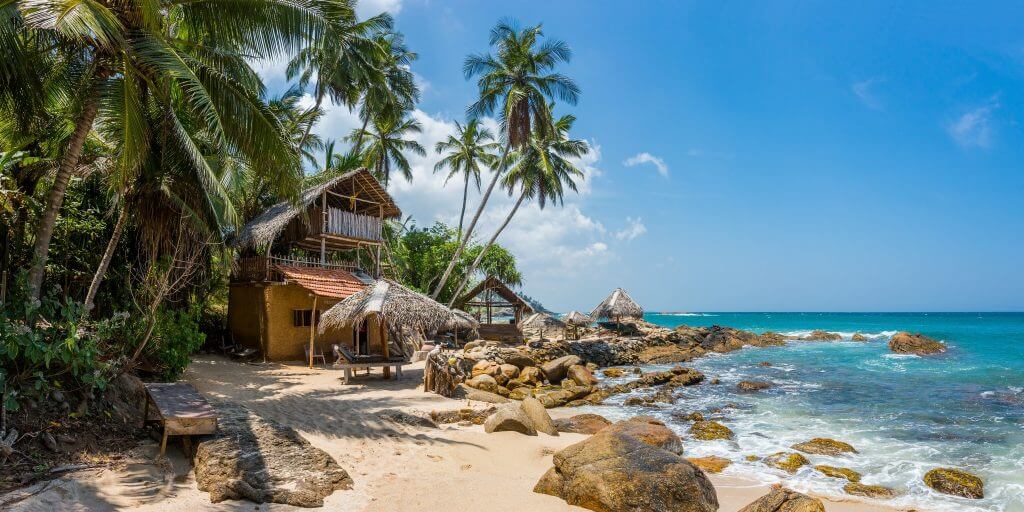 Sri Lanka Itinerary: 2 Weeks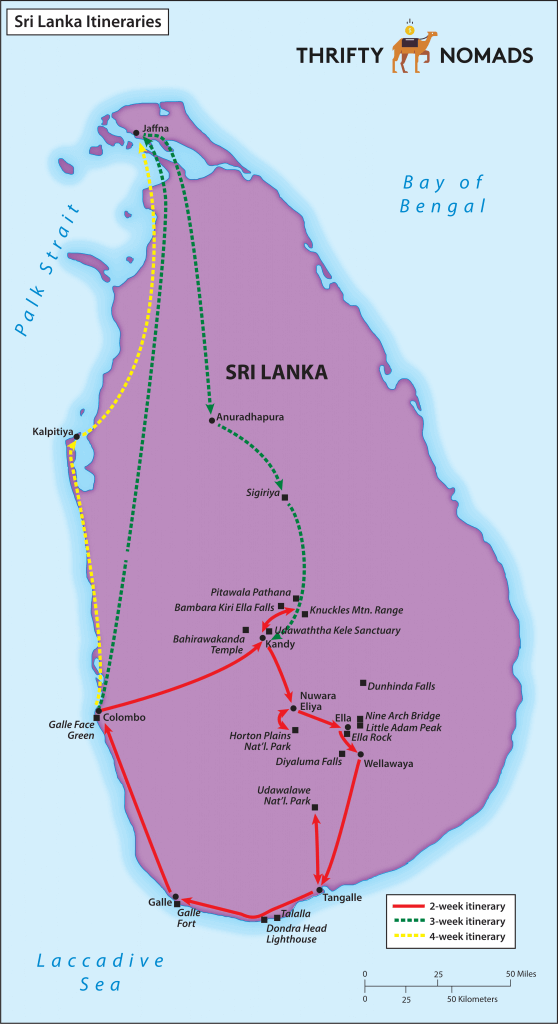 To get an overall feel of Sri Lanka, one month is a good time. While slow travelers love to stay for 2-3 months, those who don't have much time come for two weeks. This sample itinerary highlights what you can do and see in Sri Lanka in 2 weeks.
Day 1: Arrive in Colombo. Explore Colombo's street food scene at Galle Face Green.
Day 2: Board the early morning train to Kandy and spend the rest of the day exploring. Go off the tourist trail to Bahirawakanda Temple and Udawattakele Sanctuary.
Day 3: Day trip to the Knuckles Mountain Range and Pitawala Pathana. One needs to use private transport, and renting a car, tuk tuk, or a van costs 7000 LKR ($45 USD) from Kandy. You'll come across some of the most fascinating landscapes on the island. Along the way, stop by Bambara Kiri Ella Falls.
Day 4: Board the train to Nuwara Eliya. The train journey usually takes 3-4 hours. Nuwara Eliya has a relatively cooler, wet climate. Go for a walk in Nuwara Eliya town.
Day 5: Take a trek in Horton Plains National Park (you can instantly book a tour with transport on Viator). Start early morning and reach the park by 6.30 AM to avoid the crowds. The walking trail there usually takes 4 hours.
Day 6: Board the early morning train to Ella. Go to Nine Arch Bridge in the evening (this tour will take you there as well as Little Adam's Peak) and get a gist of the mountain town. Relax at one of the cafes.
Day 7-8: Explore Ella — Climb Little Adam's Peak (book a tour here), Ella Rock, and explore waterfalls (Diyaluma Falls, Ravana Falls, Dunhinda Falls).
Day 9: Ella-Wellawaya-Tangalle: Board the bus to Wellawaya town from Ella. From there, you can board the bus to Tangalle
Day 10: Beach day! Hire a scooter and explore hidden beaches. Talalla, Dikwella, and Hiriketiya are some of the most spectacular spots. Towards Matara is Dondra, where Dondra Head Lighthouse is located on the southernmost tip of Sri Lanka.
Day 11: Day trip to Udawalawe National Park.
Day 12: Beach day! Today is your day to soak up the tropical sun. Taste amazing local food, sip some arrack (the local spirit), and chill in seaside cafes.
Day 13: Bus to Galle. The journey usually takes 2-3 hours. Explore Galle Fort. Stay overnight in Galle.
Day 14: Board the train to Colombo. Take another train to Katunayake or the highway bus to the airport. Fly out.
Sri Lanka Itinerary: 3-4 Weeks
If you are coming to Sri Lanka for 3 weeks, consider heading to Jaffna (3 nights), Anuradhapura (2 nights) and Sigiriya (2 nights) before heading to Kandy and the highlands. Jaffna is relatively new to tourism. Northern Sri Lanka has a unique culture of their own and the cuisine is entirely different. Nallur Kandaswamy Temple, Point Pedro (the northernmost tip of Sri Lanka), Casuarina Beach, Jaffna Fort, Nainativu Island, Delft Island are some of the must-visit places in and around Jaffna. If you have 4 weeks, consider exploring the East Coast or Kalpitiya (if you love kitesurfing) for a week.  
When to Go
Sri Lanka is a year-round destination. December to April is considered the high season. December and January are the peak months with relatively pleasant weather throughout the island, but expect chilly mornings and nights in hill towns such as Nuwara Eliya. The end of March to April is hot. Unbearably hot. Sri Lankan weather, however, is unpredictable. You are likely to have downpours in April evenings.
December to May marks the Adam's Peak pilgrimage season. May arrives with monsoons, where several parts of the island are susceptible to frequent flooding every year. However, if you plan well, traveling in monsoons is a beautiful experience itself. While the northwest monsoons run from May-September, the beginning of April commences the east coast season, which runs till September. During this season, the east coast turns into a surfers' paradise. August sees a rise in tourists due to Kandyan Perehera (a local festival held annually in Kandy). October to November doesn't see many crowds, but it is in fact a perfect time to travel around the island.
Eating and Drinking
In Sri Lanka, eating out is cheap provided you stick to family-run restaurants, street food stalls, and hole-in-the-wall eateries. International cuisine such as Italian, French, or Bavarian will never have the authentic taste, but will be a Sri Lankan version. Your best bet is to stick to authentic Sri Lankan cuisine. 
While a few upscale restaurants serve authentic Sri Lankan cuisine in Colombo, I always find home-cooked meals in family-run restaurants to be the most delicious ones. Not only will you get a locals experience, but you'll also support the communities directly this way. Sri Lankan cuisine is punchy, red, and spicy. Most restaurant staff, even in rural areas, will ask you whether you like spice or not. In small places, a hearty meal will only cost you 200 LKR ($1.3 USD) but, the same meal will cost you $30 USD in an upscale restaurant.
If you are up for a drink, go for a Lion beer, the country's own. A beer is usually 2-3 American dollars. Arack – distilled from nectar drawn from the coconut flower – is the Sri Lankan specialty, and best-consumed as a sundowner mixed with lime juice and king coconut juice.
Rice & curry is Sri Lanka's staple meal. String hoppers (steamed rice flour in a noodle-like form) are widely available in family-run restaurants for breakfast and dinner. Koththu is Sri Lanka's heartbeat, a dish that perfectly reflects the ordinary middle-class man's lifestyle. Koththu is a mixture of flatbread, fresh vegetables, eggs and any meat of your choice – chicken, beef, mutton and seafood being most common. Making koththu is chaotic, noisy, and interesting to watch. All the ingredients are added to a heated metal sheet and further cut up using two metal blades. The chopping can be heard from miles afar. Snacks such as vadai (tiny fritters made of lentils) are often found in makeshift stalls and mobile carts on the roads. You'll also meet plenty of vadai and banda iringu (corn on the cob) vendors on long-distance buses and trains.
Transportation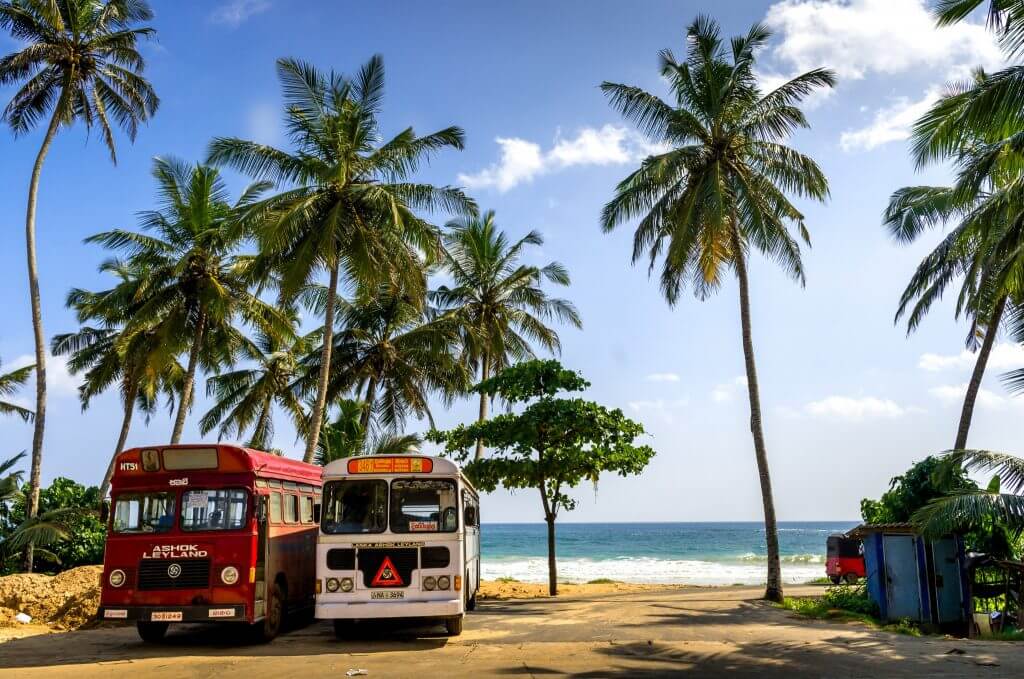 Public Buses
Although somewhat uncomfortable, Sri Lanka has an efficient bus network, and buses (and trains) are recommended for long distances. Ordinary buses can feel quite hectic to use. Private buses, while nicer, play loud music throughout the journey. Some routes are covered by more comfortable, air-conditioned Volvo services. If your journey takes more than 7 hours, board an overnight bus to save time and money spent on accommodation. Some Volvo and ordinary buses to outstations can be booked online via busbooking.lk and busseat.lk. 
Trains
Trains cannot be booked online apart from a few online travel agents who charge twice the price or more. Except for long weekends and school holidays which fall on April, August, and December, you will always find a seat on long distance trains. Just turn up the same day of your journey at the station and buy your tickets! If you want to pre-book your seats, go to Colombo Fort Railway Station on the day you arrive and reserve your seats.
Tuk Tuks
Tuk tuks are auto rickshaws. They are frequently used for shorter journeys (1km – 10km). In Colombo, most tuk tuks have meters. Make sure your tuk has a meter before you board it to avoid scams. Agree on the price before you start your journey in outstations. The current standard rate for 1 km is 60 LKR (40 American cents).
Use PickMe
As someone who lives in Colombo, I'm grateful to have PickMe. PickMe is a local alternative to Uber and functions better than Uber in Sri Lanka (yes, Uber is available here. Get a discount off of your first ride using our coupon). The great thing about PickMe is that they have tuk tuks in their platform. For journeys longer than 2 km, it always works out a lot cheaper than taking a random tuk tuk on the streets. PickMe is available as a downloadable App. They also have a very responsive Twitter profile, but unfortunately, PickMe is currently only available in Colombo, Negombo, Kandy, and Galle city limits.
Activities
Trails, Hiking, and Longer Treks
The entirety of Sri Lanka is green… for now. Sadly, much of the country is swiftly clear-cutting jungle tracts to build skyscrapers. Day hikes are quickly becoming popular amongst travelers, especially in mountain villages such as Ella and Haputale. Some of the most picture-worthy scenery requires a bit of trekking, and it's advised to hire a guide. Railway treks are quite popular, especially in the upcountry. Just keep an eye out for the occasional train.
Swimming and Surfing
Mirissa and Weligama in the South Coast and Arugam Bay in the East Coast are some of the world-class surf points of Sri Lanka. If you dream of having a whole beach to yourself, hire a scooter (usually only around 10 USD per day) and drive along the south coast. You will discover secluded beaches with soft, powdery sand and blue waters entirely to yourself.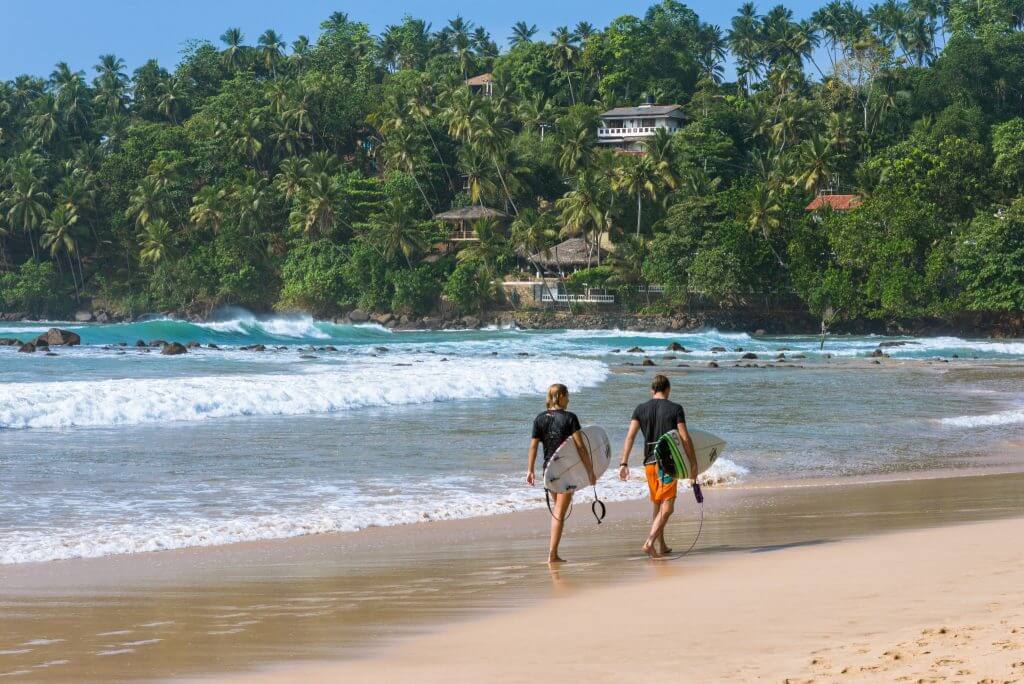 Kitesurfing
Did you know that Kalpitiya Peninsula and Mannar are some of the world's top kitesurfing spots? The peak season runs between the summer months of May – October while December – March is the shoulder season. Head to hidden villages such as Kappalady in Kalpitiya Peninsula to avoid the crowds. On the other hand, Mannar rarely gets any visitors. It's slowly opening up to tourism after the Civil War, which ended in 2009.
Wildlife Safaris
As mentioned earlier, safaris cost a few bucks, but the price is worth it in exchange for a fully immersive (and ethical) wildlife experience. The prices are usually for the whole jeep/vehicle, and if you are a couple or a single traveler, it might be wise to team up with fellow travelers to split costs. A jeep usually costs anywhere between 3000 – 4000 LKR ($19 – $25 USD) for a safari in a popular national park such as Kaudulla or Yala. Keep in mind that this is only the price for the vehicle. You have to buy separate tickets for each person at the entrance as well.
Alternatively, you can browse safaris with photos/reviews and book instantly online at Viator. This saves you the hassle of finding tours in person or making phone calls back and forth. Many of these tours include the entrance fees for the parks and pickup from your hotel/hostel, so read the fine print to be sure of what is included, as these tours can often be the best value.
Safari prices and entrance fees for major historical attractions in Sri Lanka can be a little expensive (40 – 70 USD) but beaches come at no cost. And they are mostly never labeled as "crowded."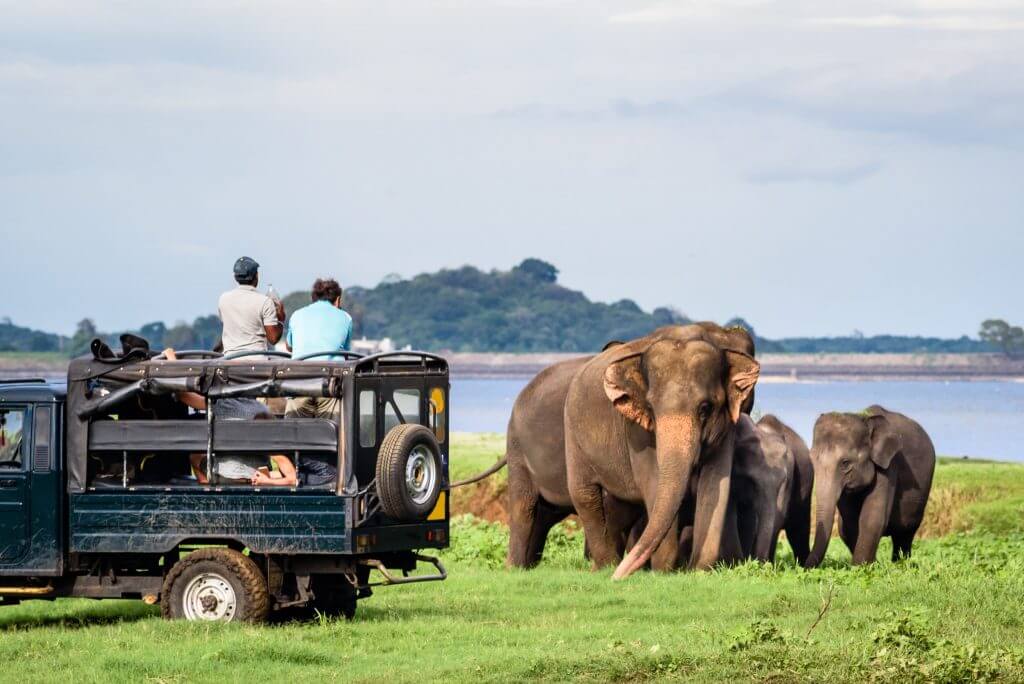 The Thrifty Gist
Based on your style of travel, Sri Lanka can be either a cheap or an expensive destination. If you travel like a local, there's a drastic reduction in the costs.

Use HotelsCombined to compare prices of both hotels and hostels, and Airbnb for homestays. Search "entire month" in the date field of Skyscanner to find the cheapest time to fly.
Use PickMe to book tuk tuks and taxis in Colombo, Negombo, Kandy, and Galle city limits.

Trains can be booked only at the station. Unless you board the train on weekends and during school holidays, which fall on the months of April, August, and December, booking ahead is not needed. Turn up at the station and buy your tickets.

The best local food is often found in local restaurants and homestays.

Sri Lanka's pristine beaches come at no price. Most hikes and treks cost nothing or just a small fee. Safaris and major tourist attractions can be a little expensive for budget travellers, but offer an unforgettable trip experience.

Many safaris and tours can be booked online instantly with Viator. Check the fine print on each tour, as often transport and park fees are included, making a tour better value and less hassle than going yourself.