Canada has been the spotlight of the travel community this year, and with good reason. Lonely Planet ranked it 2017's top country for travel, and Canada has been the word ever since. The icing on the cake? This year only, Canada is offering free admission to all national parks and historic sites. No better time to visit, eh!
Despite the recent hype, Canada's beauty has been long renowned. Our snow-smeared mountains resemble the cosiest of snow globe scenes, and the glacial lakes are as brightly emerald as photos portray. And our overly polite reputation? Well sorry, but I'm afraid that's true too.
As thrifty Canadians ourselves, a thorough guide to our home country is long overdue. We've driven across Canada via a 1-cent per day RV relocation, explored both sea-soaked coasts, and ventured the far North in search of the Yukon's aurora. Here's our ultimate travel guide to seeing Canada affordably!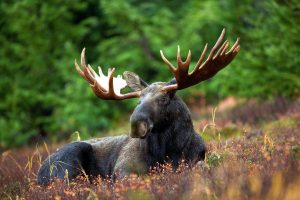 How much does a trip to Canada cost?
First things first, Canada isn't cheap. Food, accommodation, and activities are fairly comparable to Europe or Australia. Tax is not included for nearly all food and goods, so prices can be deceiving. In addition to tax, tipping 15-18% is expected for drinking, dining, and tours.
But don't be dismayed – there are plenty of ways to reduce your costs here. A conservative travel budget for Canada would be $80 USD per day to cover accommodation (e.g. dorms and humble AirBNBs), food, and potentially activities. This depends largely on how basic your accommodation is, and whether you choose free entertainment versus day tours. A mid-range amount would be $80-$200 USD, again, varying hugely based on your pace of travel, activities, mode of transport, and more.
When to Go
Most Canadians would tout that our country is beautiful year-round – and we can't argue with that. Ultimately, trip timing should be based on what you want to see. Each season has its own festivals, foods, and unique natural displays. Travellers are spoilt for choice here!
Winter (November – February)
Winter in Canada is snowy, other-worldly, and of course, cold. Our already incredulous landscapes of mountains, rivers, and forests become more majestic when draped in a fluffy layer of snow. Take note that the west coast tends to have milder, rainier winters. Top winter highlights include: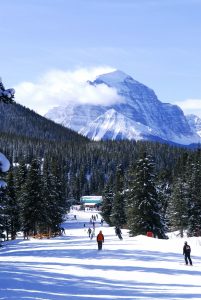 Snow-smothered mountains and landscapes (British Columbia, Alberta, Yukon, Northwest Territories are great for this). Winter sports are popular country-wide, including skiing, sledding, snow-shoeing, and ice skating.
A wonderfully winter-y Québec, the French-influenced province with delightful European vibes. Montréal and Quebec City are pure magic in the winter months – check our Montréal winter bucket list here.
A frozen Niagara Falls (if the temps are cold enough!), colourfully lit during the Fallsview Winter Festival of Lights.
Delectable winter eats like maple taffy (maple syrup drizzled on snow, twirled onto a popsicle stick). A cup of mulled wine is also great for frigid fingers!
Infinite winter festivals – a quick Google search will reveal local events. Popular ones include the Quebec Winter Carnival (Carnaval de Québec), Winterlude in Ottawa, and Montreal's Festival of Lights (Montréal en Lumière).
Spring (March to June)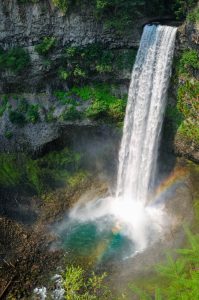 Springtime is bloom time, and is also the shoulder season of travel. This means less festivals and events, but far less tourists too. The snow has melted (or is melting), animals emerge from hibernation, and greenery reappears. Spring also brings lots of rain, so prep for wet days. Springtime highlights include:
Spotting 10,000 year old glaciers floating through the ocean. In April to late June, Newfoundland and Labrador providers optimal viewing in "Iceberg Alley". You can even kayak right up to them!
Outdoor activities like white water rafting gain popularity with increased river flow from snow melt-off in early spring.
Vancouver's Cherry Blossom Festival is one of Canada's few major spring festivals. This event celebrates the city's perfumed blossoms, which embellish the city in hues of pink.
Summer (June to September)
Summer is a favourite, albeit fleeting, season for Canadians. Temps average between 20 and 30 degrees depending on where you are (our weather is generally erratic). A hurried energy fills in the air as people squeeze in as much sunshine as possible. Summer highlights include: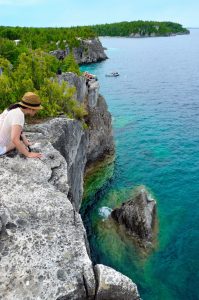 Wildlife spotting via hiking or camping. With our elusive animals being more active, the chance to spot moose, bears, deer, beavers, and other wildlife increases.
Festival season! Summer is packed with events across the country, from music and art, to food and wine. Some of the big ones include Calgary Stampede (Alberta), Celebration of Light (Vancouver), Montreal Jazz Festival (Québec), and Just for Laughs (nationwide, originates from Montréal).
Infinite backyard barbecues. Connect with some locals and experience a classic Canadian summer's night with BBQ'd food, bonfires, and good company.
Outdoor sports – kayaking, canoeing, and the ultra Canadian choice – portaging. Portaging is an alternation between canoeing and carrying your canoe overland for water and land-based exploring. Not for the weak-armed!
Fall (September to November)
Fall is another top contender for most-loved season. Canadian autumn is world famous for the spectacular leaf colour changes that occur as temperatures drop. This paints mountains and forests in rustic shades of orange, yellow, and red. Fall highlights include: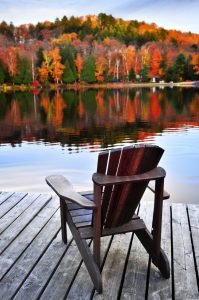 Where to Go
Canada is massive – in fact, it's the second biggest country on the planet! Even if you're long-term travelling, scratching its surface is an enormous task.
To start, choose one or two regions to cover. It's best to determine what kind of scenery and activities you want to narrow down your choices. If you're covering a few areas, it is likely you'll need to connect your trip with flights.
Need inspiration? We have a great roundup of some of Canada's best national parks here, and some epic driving routes here to get the Canadian wanderlust flowing.
West Coast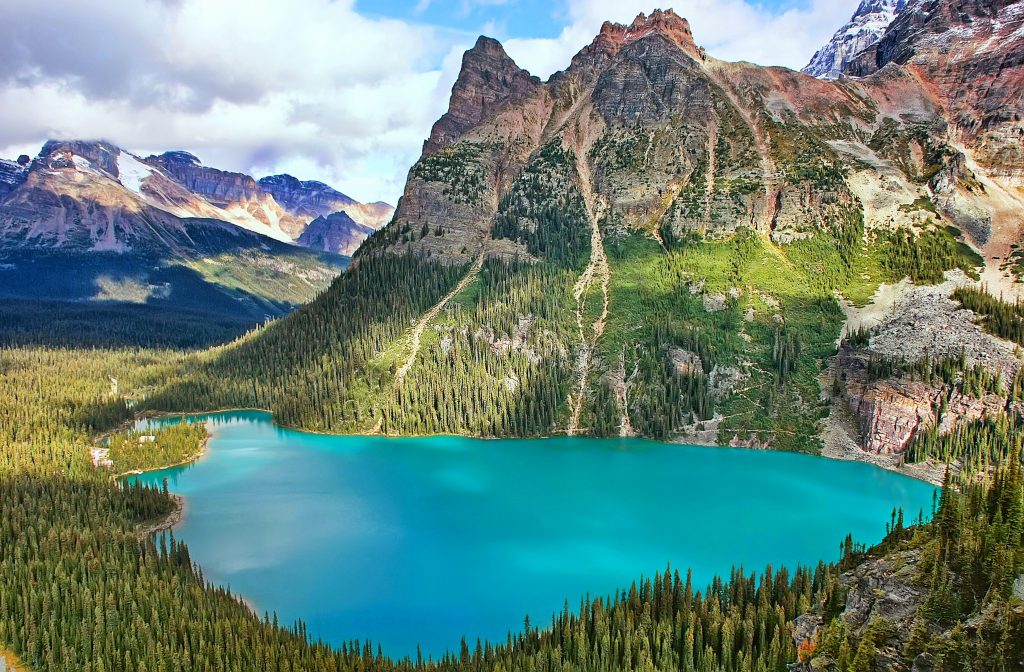 "West Coast, best coast" is a phrase touted by residents of Canada's westernmost province, British Columbia (B.C.). This province, along with its neighbour Alberta, are a popular combo for first-time visitors. Much of Canada's quintessential wildlife and scenery can be found here, amidst lots of other highlights including:
Mountainous scenery and mountain-based activities. The famous Canadian Rockies wind through both B.C. and Alberta. Many mountains here boast glacial lakes whose neon hue will suck the "wow" right out of you. Skiing and mountain sports are hugely popular here and Whistler – home to the 2010 winter Olympics – begs a visit in summer or winter, whether hitting the powder or hovering the mountains by gondola.
Beautiful and accessible nature.  If visiting Vancouver, Stanley Park is not to be skipped. Arguably the most beautiful city park in the world, Stanley has oceanside views, towering forestry, and the delectable scent of cedar, fir, and spruce trees hanging in the air.
Quintessential Canadian wildlife. Keen to see bears, moose, beavers, elk, and more? B.C. is one of the best places to view them. Whistler is perhaps the most accessible from Vancouver, but the province's parks are also a great place to search for wildlife.
An iconic city and skyline. Vancouver has an unbeatable skyline – its modern, shiny downtown sits perched along the Pacific Ocean, while a backdrop of snow-drizzled mountains tower behind. Trendy bars and restaurants abound, as well as plenty of nearby hikes and biking trails to escape the city bustle.
The Great White North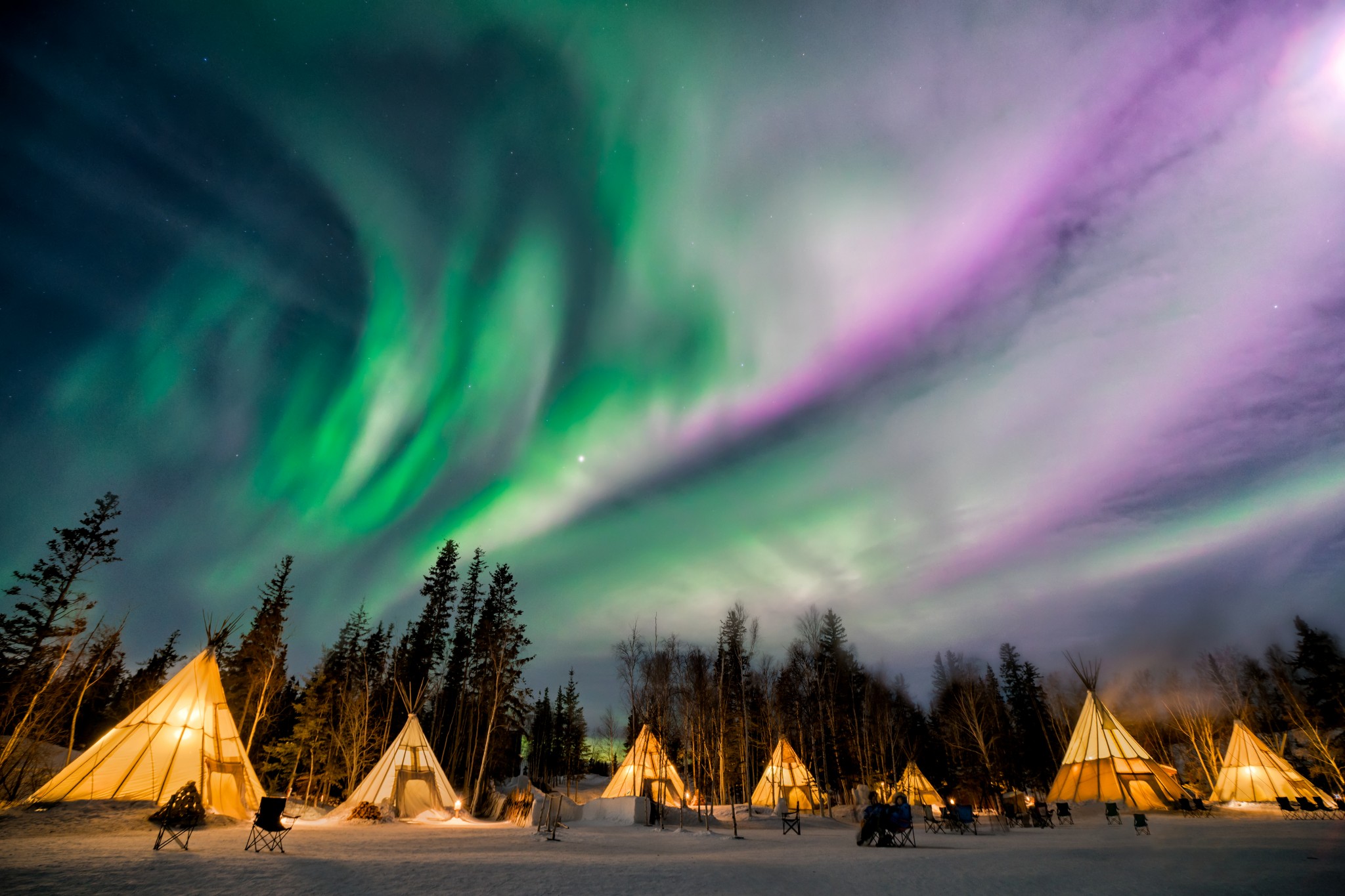 The true great North is a rugged venture to get to, but it is well worth every effort (and penny!) once you've made it. The "North" is comprised of Yukon, Northwest Territories, and Nunavut. Of the three, Yukon is perhaps most accessible as it can be most affordably combined with a visit to B.C. Here's what's the Great White North has in store for its visitors:
Aurora (Northern Lights) spotting. Whitehorse, Yukon and Yellowknife, Northwest Territories are the most accessible places for spotting the incredulous Northern Lights. September to March is the best time for viewing. To avoid the coldest months, Sept-Nov and Feb-March are best. The cheapest times are tourist shoulder season, around September and March. You can compare viewing tours along with reviews on Viator.
 Epic road tripping. The remote landscapes here feel that much more otherworldly when you jump in a car and explore them. A great drive is to do a figure-eight loop through the Yukon and Alaska (outlined in this post). You'll pretty much be guaranteed bear sightings and a visual feast of mountainous scenery.
Remote national parks. The North has several stunning national parks including Kluane National Park (Yukon), Auyuittuq National Park (Nunavut), and Nahanni National Park Reserve (Northwest Territories). Camping or cabin-hopping here is a must!
The Prairies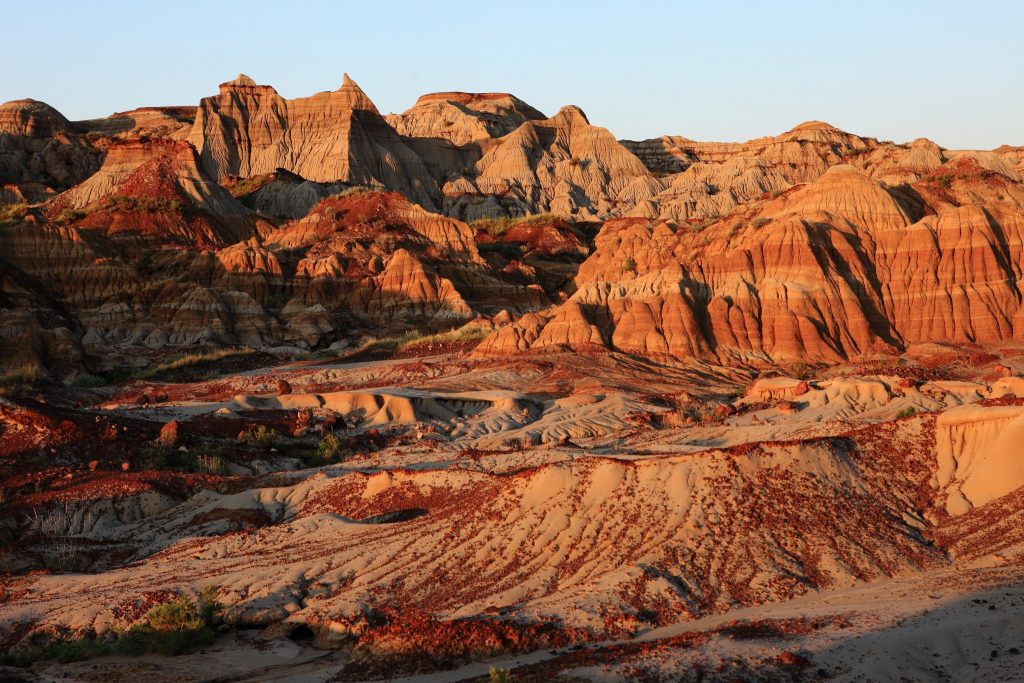 Besides Alberta, Canada's prairies are one of the nation's lesser visited regions. But don't be mistaken, this area is teaming with unexpected treasures. While much of this region is well, prairies, which harvest a large supply of the world's wheat, don't miss out on any of these gems:
Polar bear spotting. Churchill, Manitoba is remote and expensive to get to, but is one of the best places on earth to for polar bear watching. Tours are required (trust us, you wouldn't want to watch these notoriously aggressive beasts without one!).
The freshest steak in the country. Alberta produces nearly 3% of the world's beef – this is the place to sink your teeth into some! Calgary has many acclaimed steak restaurants – the best steak we ever had was at Model Milk. Be sure to try the "Fat Kid Cake 2.0" if you have room for dessert!
Cowboy culture and country livin'. The world famous Calgary Stampede displays Canada's "cowboy" culture in July each year. Featuring a rodeo, concerts, acrobatics shows, and more, there's plenty to see and do!
Spectacular mountain ranges and national parks. As mentioned in this post, Jasper and Banff National Park are some of Canada's most visited national parks, and justifiably so. Both parks offer prime opportunities for wildlife spotting and a breathtaking selection of mountains and lakes.
Visit the world's oldest, biggest dinosaur fossils. Dinos in Canada? Yep, we've got 'em (or their fossils at least!). The Alberta Badlands are home to tens of thousands of dinosaur fossils. You can view them in sediment at Dinosaur Provincial Park, or see the biggies on display at the Royal Tyrell Museum.
Central Canada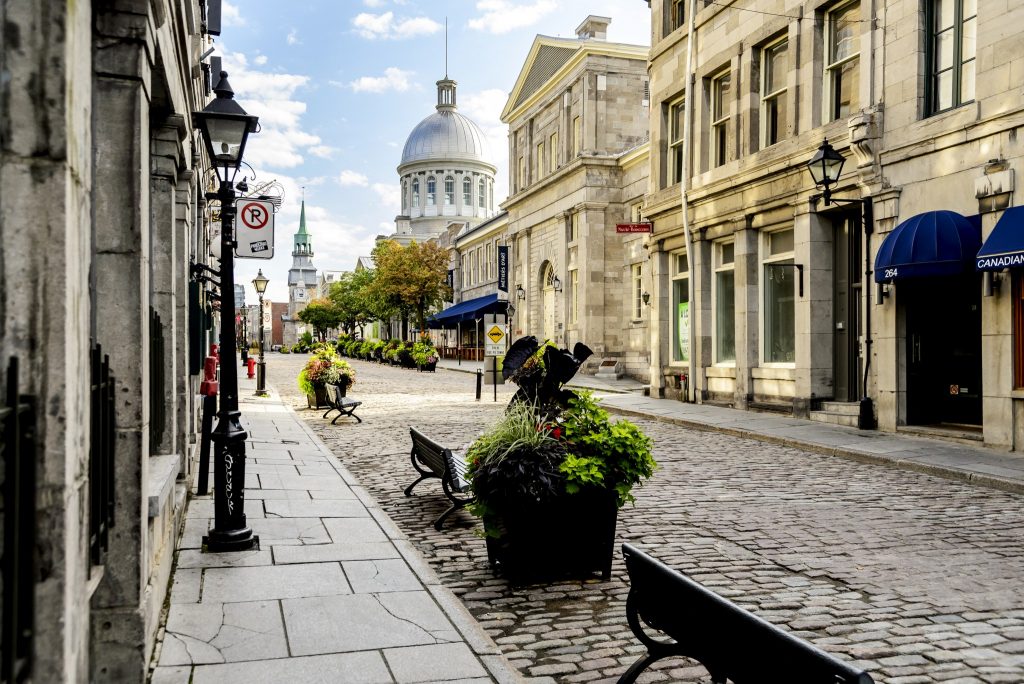 Central Canada is home to some of the nation's biggest cities, as well a delightful array of national and provincial parks. The terrain here is flatter (no towering mountains), but houses an abundance of gorgeous lakes and forests. Here's what the centre of the country has to offer:
Historic sites and parliamentary buildings. Ottawa is home to parliamentary buildings, quaint historic streets, and the picturesque Rideau Canal (which you can skate on in winter). Québec is teeming with historic sites and cobblestoned streets – Québec City and Montréal being the best to wander.
Trendy cities, eclectic art, and buzzing nightlife. Toronto and Montréal are rich in music, arts, and festivals. Both cities have plentiful bars and clubs for those seeking booze or a boogie. The Art Gallery of Ontario (AGO) in Toronto is a must for art lovers, as is Montréal's Museum of Fine Arts. Toronto's CityPASS and Montreal's Passporte MTL are great ways to see some of the top attractions in each city at a deep discount.
Visit the world-famous Niagara Falls. 1.5 hours north of Toronto lies  Niagara Falls. Each second, thousands of tonnes of turqouise water spills over Niagara's cliffs. Be warned, the entire immediate vicinity surrounding the falls is the epiphany of tourist tacky. Casinos, buffets, and the biggest selection of mini putt you've ever seen – you get the idea. That said, if you know what to expect, you can still have a tacky great time! A huge number of day tours from Toronto and within the Niagara region can be instantly booked on Viator and GetYourGuide.
Taste and explore Niagara wine region. Counteracting the tackiness that is Niagara Falls is the splendidly serene Niagara wine region. Niagara-on-the-lake is a quaint Canadian town speckled with fudge shops, homemade goods like quilts and scarves, and adorable cafes. It's also a great base for exploring the region's plentiful vineyards. We recommend exploring with a wine tour so that you can safely taste all the wine you want without worrying about driving or getting from one winery to the next. If visiting wineries independently, a car or bike is recommended – local buses exist, but are sporadic. Here is also one of the few places on earth producing ice wine – a sweet, syrupy dessert beverage made from frozen grapes. It is divine!
A taste of France in Canada. Québec was colonized by the French hundreds of years ago, and their influence has led to a uniquely French Canadian flair ever since. Montréal is a captivating city, and feels foreign even to resident Canadians with its cobblestoned streets and French cuisine (poutine and crepes are a must!). If visiting Montréal in winter, be sure to check our bucket list items here.
East Coast

Canada's East is made up of New Brunswick, P.E.I., Nova Scotia, and Newfoundland and Labrador (the latter two names being a single province). A bite-sized east coast trip would include New Brunswick, P.E.I., and Nova Scotia. Newfoundland and Labrador is stunning, but more remote and pricier to get to and explore. This side of Canada offers red sand beaches, fresh seafood, and classic Canadian wildlife like moose and deer. Other eastern must-do's are:
Witness the world's highest tidal change. The Bay of Fundy (in New Brunswick) is home to the world's highest change of tide – up to 17 metres (56 feet) tidal change takes place here. During each 12 hour tidal change, 115 billion tonnes of water flow in and out of the bay. This is also a good region for whale watching.
Wander genuine viking settlements. An unknown fact to many is that Canada was in fact a settlement place for vikings as far back as 1,000 A.D. These can be visited in L'Anse aux Meadows, Newfoundland.
Watch 10,000 year old icebergs bobble and crash. Newfoundland and Labrador are primely located south of the Arctic. Each spring, icebergs break off of ancient glaciers and hobble down what's known as "Iceberg Alley". One can take tours to see them up close by boat.
Visit fjord and waterfall filled national parks. Arguably reminiscent of Iceland, Newfoundland's Gros Morne National Park is a must-visit for this region. Endless stretches of fjords, fields, and stomach-churning cliffs are just some of the delights in this remote slice of Canada.
Embark on one of Canada's best coastal drives. Nova Scotia's Cabot Trail is one of Canada's most impressive drives. The trail winds through Cape Breton National Park, alternating between oceanside stretches and moose-ladenl forests.
Indulge in Canada's Gaelic culture. Having been inhabited by refugees from the Scottish Highlights centuries ago, Canada's east has a strong Gaelic influence that is still alive today. Watching a local Ceilidh (a show of string music and traditional dancing) is an absolute must.
Transportation
Flying In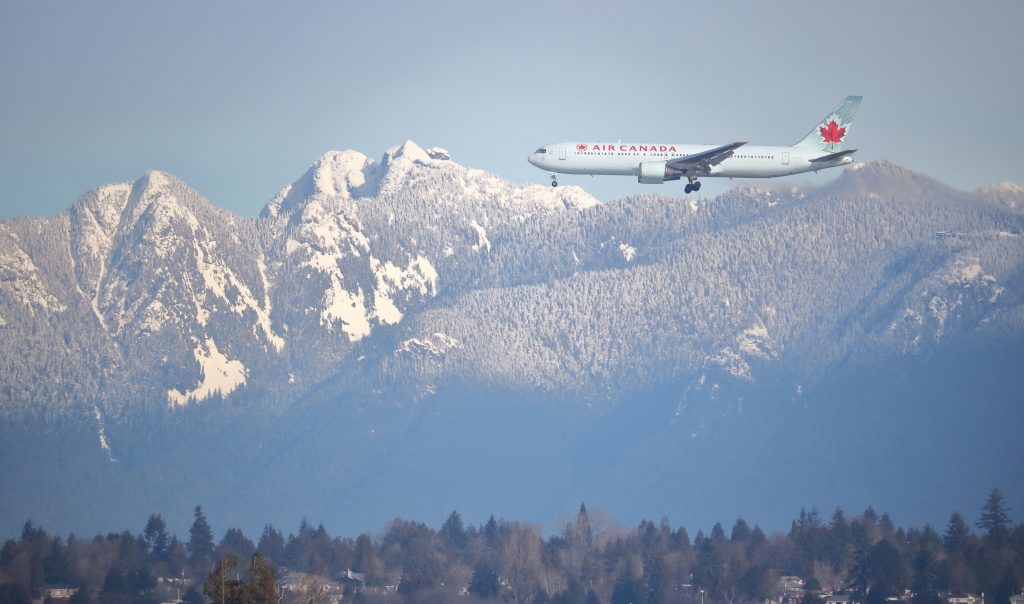 Flights to and within Canada are generally not cheap. We do not have budget airlines, and our airline taxes make tickets wildly expensive compared to other countries. Sale and error fares to/from Canada do exist – including to/from the United States – but this requires flexibility. Some international budget airlines, such as Spirit and WOW Air, are now offering international flights into Canada.
Where you fly into will depend on your route. Here's a quick breadown:
West coast (i.e. "mountainous" Pacific region): Start and end in Vancouver (British Columbia) or Calgary (Alberta).
The Prairies: either Calgary (Alberta), Saskatoon (Saskatchewan), or Winnipeg (Manitoba).
The North and Arctic Canada: Whitehorse (Yukon) is a great base for exploring both the Yukon and Alaska, as well as aurora spotting. Fly into Iqaluit (Nunavut) to explore the arctic. Yellowknife is best for explore the Northwest Territories and also aurora spotting, though most of these flights will require a connection via Calgary or Vancouver.
Central Canada: Fly into Toronto (Ontario), which is also a good base for visiting Niagara Falls (can be done as a 1-2 day trip). Toronto is also a departure point for driving or flying to Ottawa, the nation's capital. For Canada's "European" region of Quebec, fly into Montreal.
The East Coast (i.e. Atlantic): fly into  Charlottetown (P.E.I.), Halifax (Nova Scotia), or St. John's (Newfoundland and Labrador). These may require connections if flying internationally.
If you're doing a big Canada trip, it could be cost-effective to book an open-jaw flight. If making several stops, Kiwi is great for constructing complex, multi-leg itineraries. To identify the cheapest dates to fly, we recommend Skyscanner and selecting "whole month" to visualize the month's pricing. For more tips, check our other flight booking hacks here.
Domestic Flights
Canada is well connected by (overpriced) flights. The somewhat "budget" airlines include Porter, Flair, and Air Canada's Jazz, though true bargain fares are rare.
If you are visiting more remote regions (e.g. Northern British Columbia, Yukon, etc.), these areas often have smaller, regional airlines only. As such, these do not always show up in major airline search engines, so be sure to always Google search for local airlines (e.g. "Yukon local airline").
Car, Campervan, or RV Rental
Canada is one of the best places to explore by car. When planning a road trip, be generous with driving times and allocating days in your itinerary. The distances are long and the scenic stops plenty. If your days are too packed with no time for whimsical stops, you won't feel like you've really "seen" much of Canada at all!
Car rental pricing varies by season and demand. Upwards of $25 USD per day is standard for a compact vehicle. You're wise to book in advance (especially in summer) to at least "hold" a good rate if cancellation is free. We recommend BookingBuddy, which lets you compare many car rental sites in a single search. For more car rental hacks, check our other tips here.
An RV or campervan is an excellent mode of transport, given that it doubles as accommodation. This can be a major saver in tourist hotspots like Banff and Jasper (where many of Canada's famous glacial lakes and mountains are pictured).  Keep in mind that bigger, grander RVs guzzle gas quickly. If you can split an RV or camper with friends or fellow travellers, you'll reduce your costs.
Outdoorsy pitches itself as the Airbnb of RV and campervan rentals, letting you book an RV direct from an owner for a fraction of the cost of a standard RV rental (which can easily cost thousands in daily rates, add-ons, and mileage). Insurance and 24/7 roadside assistance is included in all bookings. If you want to book an RV, Outdoorsy is one of the best options.
RV and campervan relocation deals exist in Canada, but are typically posted last minute (~2-3 weeks before the required departure date). Peer-to-peer RV sharing is another great way to reduce costs. Sites like Wheel Estate connect RV/campervan owners with those wishing to rent them when not in use.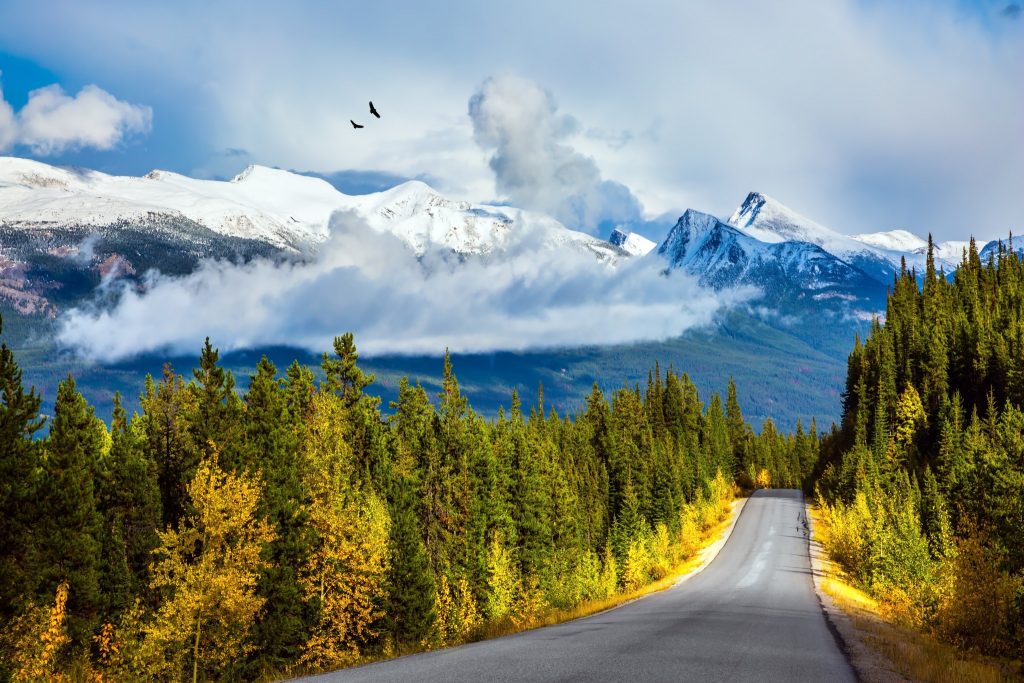 Bus
Regional buses connect much of Canada's small towns and cities. If you aren't renting a car, bus travel is typically your cheapest transport between cities and provinces.
Greyhound is the biggest bus operator in Canada, with routes in nearly every province and territory. Tickets purchased seven days in advance are reduced in price. Discounts for military, seniors, and students also apply.
STA Travel offers hop-on hop-off bus passes, providing greater flexibility at reduced cost. These include fixed small group tours, or a non-accommodated hop-on hop-off pass valid for 6 months.
Megabus is a low-cost bus carrier that is notorious for its low prices, but temperamental service. Arrival and departure times are spotty, and buses are sometimes overbooked. We highly recommend paying the small extra fee for reserved seating to ensure you get a spot. Megabus operates between Ontario, Quebec, and some U.S. cities. Coach Canada also runs routes around Ontario and select U.S. cities.
Trains
Canada's cross-country railway is one the most impressive train routes worldwide. Tourist and commuter routes are mainly operated by VIA Rail. VIA's most famed experience is the sleeper class trains, where the train cars' glass roofs provide full visibility to mountains, forests, and wildlife. This is a unique and breathtaking way to see Canada, with the hefty price tag to prove it.
Regular (non-sleeper class) trains are more affordable than domestic flights, but pricier than buses. Prices typically start at $31 USD for shorter one-way routes, upwards of $120 USD for longer ones. Tickets are sold in a tiered system, with basic economy as the lowest fare, up to business class. This means in order to get the best price, it's best to book in advance before cheap fares sell out. Concession rates exist for students with an ISIC card.
Every Tuesday, VIA Rail posts sale fares here (or sign up for their newsletter for a reminder). National and regional rail passes are also available, including 21-day and 60-day passes. These are pricey, but can be worthwhile for lengthier trips covering a lot of ground.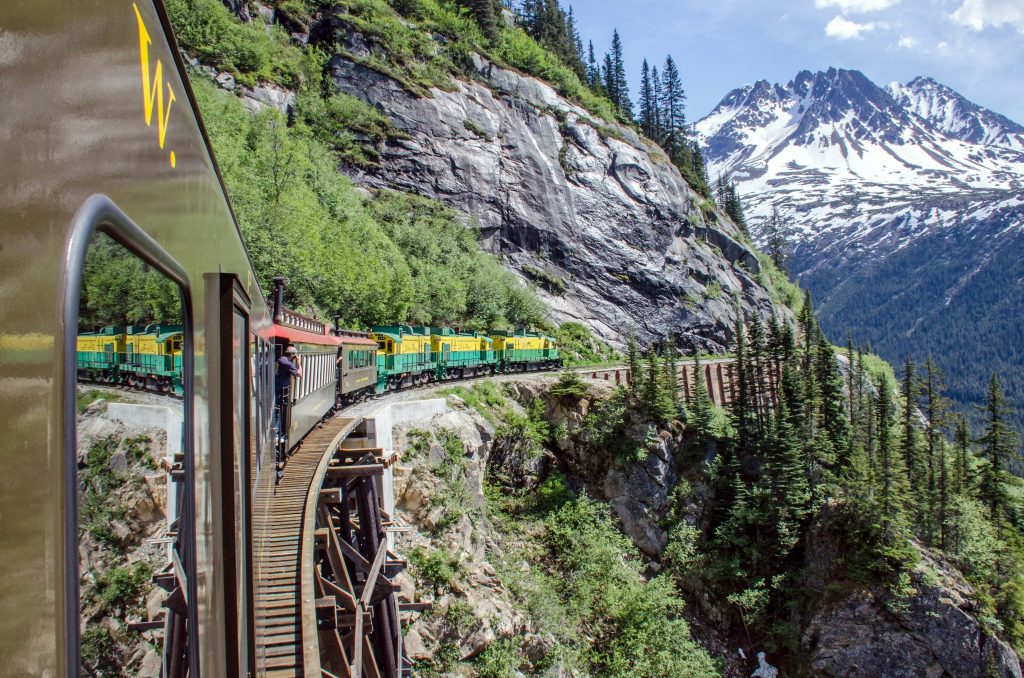 Public Transport
Public transit is available in most major cities and suburbs, with bus coverage at minimum. Major capital cities will have a more sophisticated network of subways or trains. Ride passes are often available and can provide better transit fares. For directions, Google Maps is linked up with public transport, or you can simply ask a transit worker for assistance and a map.
Taxis & Ride Sharing
Taxis are abundant in Canada, as is ride sharing. Ride share services like Uber are typically much cheaper, especially in cities with idling traffic like Toronto, Montréal, or Vancouver. Get $10 off your first ride with coupon code uberthriftynomads.
Bike Share
Bike sharing services are common in Canada's major cities, and can be a great way to create a DIY city tour. Simply pick up a bike from a docking station and return it to another one anywhere in the city.
Rental rates are around $4 USD per hour, though better fares apply for longer trips (e.g. 1-day use or a membership). The bike share services in Canada's major cities are:
Accommodation
Hotels
Accommodation options and prices in Canada are somewhat comparable to Europe or Australia. Dorm beds are $20-$40 USD, camp sites $20-$40 USD, budget hotels ~$60-$100 USD (depending on proximity to city centre), and mid-range and higher hotels $130+ USD. Last minute deals do exist, but touristy regions will sell out and drive up rates in peak season (e.g. summer and winter). Broad hotel search engines like HotelsCombined and TripAdvisor will reveal most options.
Ways to Save
Book last minute
If your schedule allows it and it isn't peak season, last minute hotel deals are a great way to save. These are often aggregated on apps and websites like HotelTonight or Hotwire. TravelZoo often does a nice roundup ("Top 20") of hot deals, sometimes including higher end hotels in touristy regions. Another clever service is Roomer, which allows you to take over a hotel reservation of someone who no longer wants it, at a discounted rate.
Use sharing economy services
Sharing economy services like AirBNB are a great way to slash sleeping costs. AirBNB is plentiful countrywide, and arguably provides the best bang for your buck for accommodation. Private rooms typically cost less than a dorm bed if you are two or more people. It can even be used to find places (i.e. backyards) to camp in.
Housesitting is common in Canada, as is house swapping (check our how-to guide on these here). This is a more feasible option for those with flexible travel plans, or if you can arrange a sit or swap before your trip date. Dog Vacay is a fairly new service which invites one to look after someone's pet in their own home, or the pet owner's home.
Many universities and colleges across the country will rent out dorm rooms when they are unoccupied in summer or during holidays. There are aggregate sites like University Rooms, or conduct a search via Google or TripAdvisor forums to check with locals' knowledge.
Craiglist and Kijiji are popular posting platforms for selling goods like sports equipment and clothing (perfect for picking up ski and camping gear for your trip), as well as listing rental accommodation and ridesharing. For a complete list of the types of sharing economy services out there, check out comprehensive post here.
Build meaningful connections
Canadians are famously friendly, and it's not uncommon for them to open their homes to travellers. Establishing a basic friendship is a good place to start. One can begin seek out connections via platforms like Twitter, Facebook groups, or websites like Reddit (look for sub-reddits in the city you're visiting, like Vancouver or Toronto). Hostel dorms are also a great place to meet travellers who may happen to have connections in your country of visit.
Work in exchange for accommodation
If you're travelling long term, you can easily combine travel with work to reduce or eliminate accommodation costs. Firstly, you can work in hostel dorms in exchange for your bed. One of the most common work exchange programs is WWOOF – Willing Workers on Organic Farms. This service usually provides accommodation for free in exchange for work on farms, vineyards, and more, with additional pay sometimes included as well.
For other tips on how to work abroad while travelling, read our detailed guide here.
Camping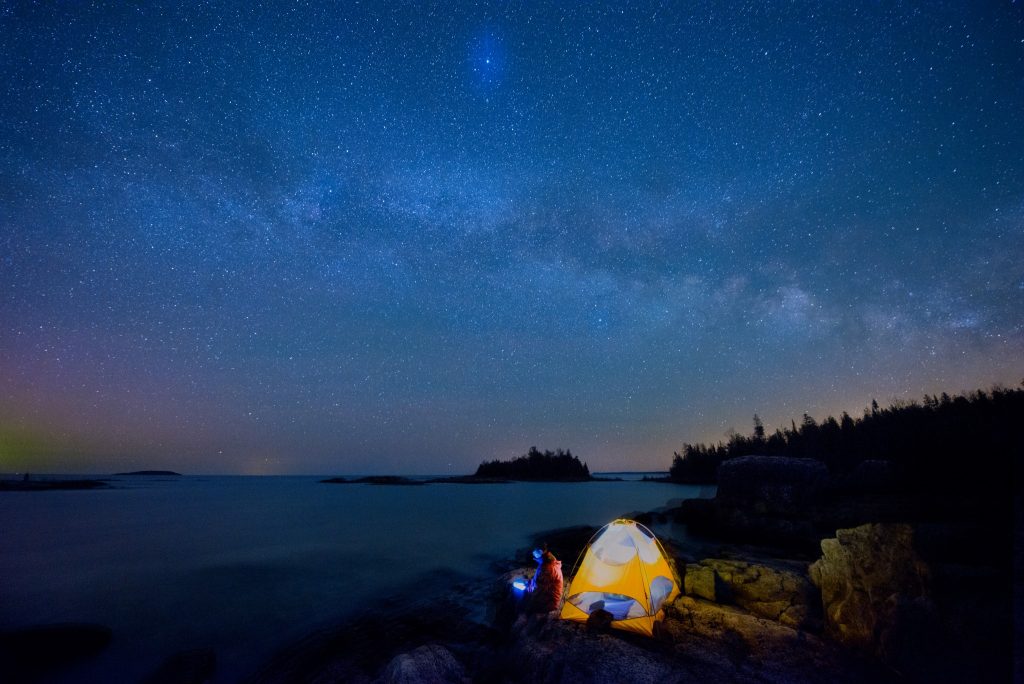 Camping in Canada is a rite of passage for any visitor. It's not only an easy way to sleep on a budget, but a great way to immerse yourself in our country's natural beauty. For 2017 only, all national parks have no admission charge, so this is the year to camp as much as you can!
If you want to reduce camping costs, there's a few ways to do so as park fees do add up. One option is to pay to camp at people's private properties via sites like Gamping. If driving an RV or campervan, it is an unwritten rule that Walmart allows travellers to park overnight in the back of their parking lots. You can also obtain a camping membership to get reduced rates across several sites. For a list of camping memberships, check this post here.
Activities & Tours
Canada has a wealth of cheap and free activities on offer. Sites like Groupon and TravelZoo can be useful for discounted activities, particularly touristy ones. In any city you visit, be sure to check for national parks, walking trails, and city parks as these are often cheap or free. Vancouver's Stanley Park is perhaps one of the most impressive city parks in the world, and it doesn't cost a dime!
Group tours can be a great for both day venturing or longer trips. Organized tours are often essential to visit particular sites, such as glaciers, boat tours, or historic sites.
Below is a list of some of the more popular tours to do in Canada. All these links allow you to book online with immediate confirmation:
Food & Drink
Like America, fast food chains are the cheapest eats here. Tim Hortons is our national coffee chain, which serves up healthy-ish mediocre food. Bagels and cream cheese, light salads, sandwiches, and soups can all be bought for $2-$8 USD, while hot drinks range from upwards of $1.60+ USD.
Mid-range restaurants vary from $10-$20 USD per meal, and upwards of $20 USD for a nicer venue. Breakfast is often the best bang for your buck, especially at diners where small hot meals can range from $4 USD upwards. Lunch specials are common at restaurants, sometimes around the $8 USD mark. Dinner is most expensive to dine out for. Food trucks are common in some cities (e.g. Toronto, Vancouver, Calgary) and can offer quick cheap food options.
Keep in mind that menu prices do not include the provincial sales tax (8-13%) and a tip (15-18%, but only expected at sit-down restaurants). Groupon can be good for finding reduced restaurant prices, but cross-check reviews on TripAdvisor or Yelp before buying.
Prepping your own food is always cheapest, whether that means packing simple eats for breakfast (e.g. fruit and granola bars), or tortilla wraps with your simple choice of filling such as tuna or peanut butter. Farmers markets exist in most major cities, and can be great for stocking up on fresh produce and locally farmed eats.
The Thrifty Gist
Canada is a big place. Choose only one or a few regions for your trip to cut costs (and flights). The less you fly, the more you'll save.
Exploration by car (combined with camping) is a cheap, scenic alternative to flying.
Visiting regions that are rich in natural beauty (e.g. West Coast) is a great way to reduce paid activities since free ones like hikes and parks are plentiful.
Travelling in off season such as spring or fall can reduce prices, but also means more unpredictable weather.
Dining out is not cheap – alternating between DIY meals and making breakfast or lunch your big meals out will slash costs.