I once read a book that practically convinced me I needed nothing more to travel than one outfit and a toothbrush snapped in half. While that book (Life Nomadic) ultimately didn't sell me on bringing one outfit to backpack, it did persuade me to pack a heck of a lot lighter than most. 
Packing light is a no-brainer for us. It's not only easier for keeping track of items (we hardly ever have to check our bags), but it saves big bucks when flying budget airlines, which often charge baggage by weight. It's also MUCH more comfortable on crammed bus, plane & train rides – which inevitably there's no shortage of when you travel!
For the past two years we've each used the 28 Litre Futura Deuter backpack, plus a smaller Nike day backpack that we share. The day bag holds our electronics when in transit (for accessibility/safety), and food & water when we're exploring (note: it also meets airline's size limits for a "personal item"). We've trialled travelling with suitcases and backpacks big (40+ litre) and small, and have reverted to this original combo for both short and long (8+ month trips).
Psssst: for our how-to guide on packing light for guys, check out Ted's article & see what's in his 28 litre bag!
Update: this year we upgraded from our Eco-City day backpack to this Nike backpack we found in Seoul (above). We'd replaced the old day bag three times (the straps kept snapping since we store our two Mac laptops, camera and gadgets in our day bag when we're in transit), so it was time to upgrade. The Nike backpack is definitely ideal for those carrying for greater weight/items.
---
12 Tips to Packing Light
So just how do you cram your life into a small zippered "closet"? Here's 12 tips we live by:
Roll your clothes! Folding leaves lots of air & wasted space. Roll & wrap with an elastic for ultra compactness.
Whatever you might be missing, it can be bought on the road. Just wait and see if you really need it (chances are, you won't)!
If you fear you'll tire of your few options, know that you can donate and replace as you go.
Remind yourself: you can do laundry or wash by hand almost anytime, so you'll never be truly short on clothing.
Do not pack things "just in case". Every last item is a weight burden!
Give yourself time to ditch & decide what's going in your bag. Ideally, pack over a few days, so you can revisit with fresh eyes each time.
Pack a few favourites, not oodles of meh ones. I can't tell you the pain of sorting through an endless mess of clothes in a backpack, all for the sake of options!
Lay your options out & try them on before committing. You'll see how versatile (or not) a piece is & feel better about what you're bringing.
Pack clothes that can be worn with multiple items. Avoid packing things that don't match common items, like a jacket or sweater.
Pack fast-drying, compact clothes (especially for underwear/socks). Nylon, polyester, and spandex are light & dry quickly.
Pack layers, not bulk. If you may be somewhere cold, bring layers over thick items (e.g. a light jacket, sweater, a long-sleeved shirt instead of one honkin' fleece-lined coat). This is more versatile & the individual items can be worn with other clothes, not just in cold weather.
Mail items home. If travelling a long time, it can be cost-efficient to mail stuff home if you need to upgrade/swap and not toss items out. We did this on our last 8-month trip and it was surprisingly cheap to mail home some warmer items we no longer needed but wanted to keep.
Alright, now let's go diggin'. Here's what I bring for long-term trips (e..g 6-8 months at a time), though it could definitely work for shorter trips too, in climates hot and cool!
Women's Packing List: What's In My Bag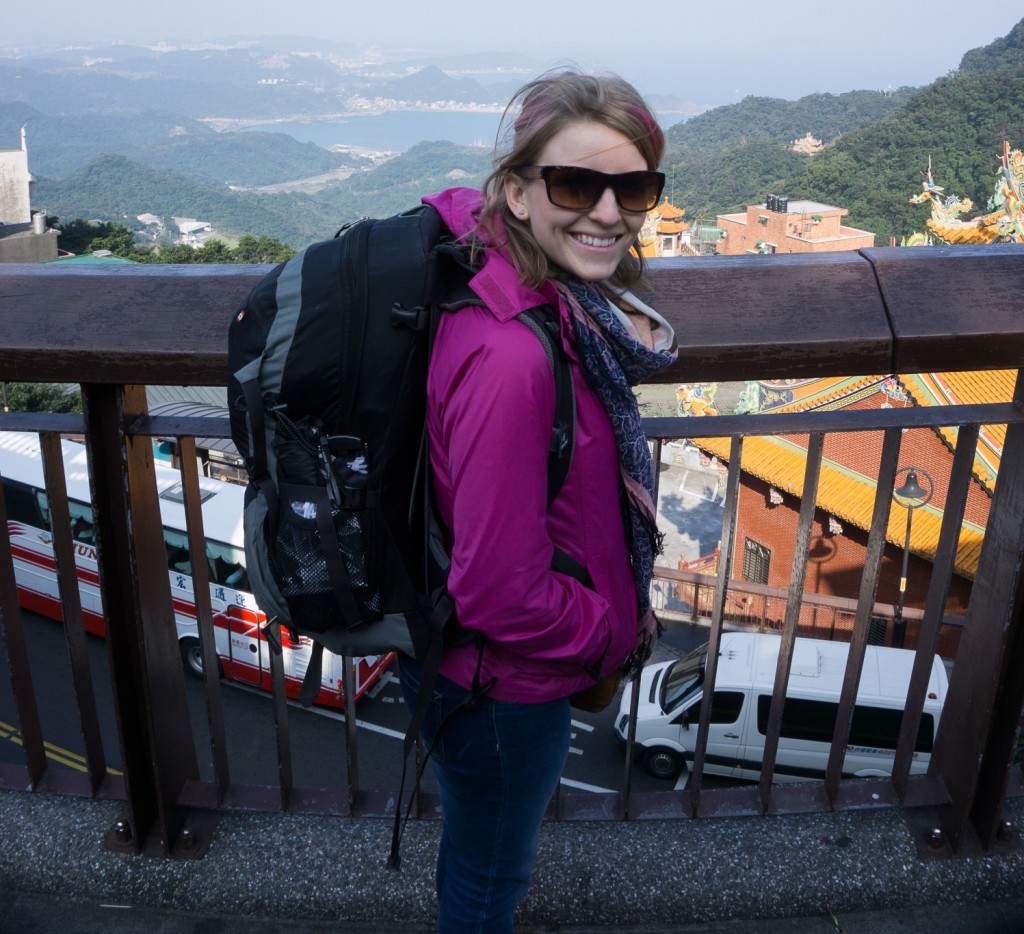 Now, the exact what's & why's!
My shoe triad
A light, well-supported pair of runners (Nike)
Comfy, walkable sandals (Aldo)
A neutral pair of closed toed shoes (TOMS)
TOMS
 for a trendier closed-toed option, and sandals for warm weather. I've done it with more, I've done it with less, and these are my fav 3 to have on hand!
TOMS: why have I used these for two years?  They're light as air and compress as thin as flip flops in my bag. I've only had to replace them twice, they're ridiculously comfy, and are a trendy alternative to wearing running shoes with a dress or pants!
A note on choosing runners: aim for ones that are light, ideally with a cloth/non-stiff material top so that they can compress flat. When not wearing your running shoes, pack your socks inside them to conserve space.
Bottoms
2 pairs of jeggings: 1 dark, 1 light (Bluenotes) 

1 maxi skirt (optional – I swapped this later for one of my very worn jeggings)
1 pair of comfy beach shorts beach shorts (Hurley)

1 pair of black stretchy capris (Lulu Lemon)

1 pair of blue jean shorts (Aeropostale)
actually
need), try the wait & see approach.
I suggest jeggings over jeans simply because they're comfy, compact, and dry fast. My main outfits are a top with jeggings, a dress, or a maxi skirt combo. On the rare occasion that we do a really strenuous hike I wear my black capris, which can also be worn with normal tops. For hot weather shorts are great, I like to have 1 comfy and 1 jean short.
Take note you should have conservative options for temples and religious sites (e.g. something to cover elbows/knees). At one reader's suggestion I ended up swapping one of my jeggings for a maxi skirt. I'll definitely continue to do this unless travelling in colder parts where I'd more often needing pants.
Tops
1 black versatile tank

3 light tees
6 tank tops (2 plain, 4 patterned)

1 3/4 sleeve black shirt
this is where you can max out on clothing options.
Rolled up shirts hardly take any space at all. Just don't go shirt cray cray. I bring a mix of patterned & plain, flowy and fitted. Pack items that can be worn with
most
of your bottoms & sweaters!
Sweaters, Jacket, Scarves & Umbrella
1 long-sleeved knit sweater, beige (Pull & Bear)

1 3/4 sleeve sweater, navy (Victoria's Secret)

1 pink waterproof windbreaker, thin (Sail)

1 lightweight scarf
1 compact umbrella (H&M)
Rarely do we travel through cold places (that is why we left Canada after all!), but if we need warm clothing, we buy it when we get there. When hiking & camping for 5 days in Patagonia, we bought second-hand items like fleece sweaters, hats and gloves and donated it all when we were done. It cost us hardly anything and was worth not occupying the space before and after that trek!
A note on jackets: of all the things to be choosey over, select a travel jacket carefully, as it can be a serious space waster. Aim for something super light (e.g. a windbreaker) so it can be worn in hot, rainy/tropical environments, or thickened up with sweaters & a scarf in chilly temps. Be sure to get waterproof, not water-resistant (which will still soak through your layers), and definitely buy one with a hood (you'll thank me later)!
Dresses, Swimsuits & Towels
1 black/white striped bikini (Victoria's Secret)

1 navy/white striped cotton dress (Cotton On)

1 black lacy dress (H&M)

1 fast-drying travel towel (PackTowl, size large)
Dresses:
I like to have dress options so I can feel a less like a backpacker and more like a rugged beauty queen now & then. I bring one casual, and one that can be dressed up or down – that way when someone declares that we're hitting up a bar in the city, all I needs is a quick hair, and make-up fix and I'm good to go.
Swimsuit: One is enough! After globetrotting with 2 swimsuits the first time round, I realise it was a waste of space. I never needed a second one, since mine always dried overnight. Bring one you love. I splurged on my first ever Victoria's Secret purchase two years ago and still use that bikini today!
Towel: I can't emphasise the importance of a fast-drying, compact towel. We've used these PackTowls ones for two years, they are extremely durable, don't get stinky (just always make sure they fully dry before packing), and dry quickly. It could just be my favourite travel item!
Accessories
A pillbox of a few simple stud earrings

Hair elastics & bobby pins

1 versatile but simple necklace

3 stretchy thin headbands

1 flimsy/foldable beach hat
Underwear, PJs, & Socks
9 pairs of underwear – half thongs, half boy-short style (La Senza & Victoria's Secret)

3 pairs of ankle socks (H&M)
1 pair of thin, light cotton PJ pants (Uniqlo)
2 fast-dry bras & 1 sports bra (I recommend at least one that has removable/interchangeable straps so you can wear a variety of shirt/dress types)
Make-up
No matter what product you use, I'd highly recommend getting ones with SPF, especially for your foundation. You're going to be spending a lot more time outdoors than you typically would, so it's wise to protect your skin & face!
Toiletries
*Nursing PSA*: bring sanitizer, people! My family's been getting me these Bath & Body Works mini sanitizer as stocking stuffers for years and they all smell like pocket-sized heaven. Hand-washing is the #1 way to preventing infectious diseases, and more often than not in foreign places, you'll be without soap (especially public bathrooms). Do not leave home without!
Electronics
Admittedly, this part of the list will be longer than most who are simply taking a quick trip somewhere. We work while we travel so these items are essentially our "office in a bag". For more on the what's and why's of our must-pack electronics, check out our other article here. For a shorter trip, an iPad, smartphone, or similar device could replace a laptop (or none at all) if keeping in touch is your main objective.
All of the electronics usually stay in our accommodation or on our bodies, but when moving from one place to another, we throw them all into the day bag. Everything else on this list stays in our larger 28-litre bags.
Eating Utensils
These are simple essentials that majorly cut our costs on the road in simple ways. We brew our own ground coffee, eat our own breakfast (oatmeal), and drink tap water just about everyday. The MSR filter (steeps ground coffee in a cup) is a godsend for those tired of instant coffee. As for water, the Platypus bottles can fold into a tiny ball when empty, while still holding as much as a regular bottle. The reusable utensils are a must-have as we DIY breakfast every day and picnic frequently.
First Aid Kit
Pain & fever: ibuprofen (Advil) or acetaminophen (Tylenol). As they both treat pain and fever, only one of these is needed.
Nausea/motion sickness & indigestion: anti-nauseants like diphenhydrimate (Gravol) or ginger tablets, and Pepto Bismol tablets for upset stomach/diarrhea.
Dehydration: rehydration/electrolyte tablets (we've used Nuun), or be thrifty and 

make your own

 salt/sugar solution (equally as effective).
Infections: broad-spectrum oral antibiotic*.
Allergies & skin: oral antihistamine (e.g. Reactine, Allegra), Polysporin (for scrapes & skin infections), hydrocortisone cream (for rashes), a few bandaids for blisters.
*Note: you may have trouble getting a doctor to give you antibiotics to bring "just in case" and truly, not everyone needs this. If you have a tendency to get certain infections and can tell when you need antibiotics (e.g. kidney or bladder infections), then you may want to inquire.
 Notes from a Nurse: A Pre-Departure Checklist for Healthy Travel
. Basically, everyone's bag will be different but you really don't need much. I recommend carrying meds for pain, fever, and any other relevant ailments that afflict you such as allergies or frequent infections (e.g. UTIs – bringing "just in case" antibiotics is something you should speak to your doctor about).
---
If you want to pack ultra light, decide what size bag you want to carry, ideally a small-sized one that doesn't weigh much (like our 28 Litre "Futura" Deuter backpack). Consider that in order to meet carry-on requirements, you need to aim at around 23-30kg, depending on which airlines you will fly. Be sure to check the dimensions, too!
I'll be the first to say that my exact packing list would not work for everyone, but the tips provided here should help you to reduce your bulk the next time you travel. Remember, less items = less to keep track of, less to lose, and less stress over choosing what to wear!
Bottom line: keep it simple, and keep it light. Happy packing!