Just because you're frugal doesn't mean you can't appreciate gilded rooms and swanky decor: the kind of over-the-top elegance that makes a Neuschwanstein or Versailles so compelling. Fortunately, you needn't a plane ticket to Europe to get your castle fix. For $10 or less, why not spend the day browsing ballrooms, gardens, and castle corridors — a king's entertainment on a commoner's budget?! The U.S. boasts many a stunning castle and villa – so don't miss these 9 castles you can visit for cheap, or even free!
1. Villa Montezuma (San Diego, California)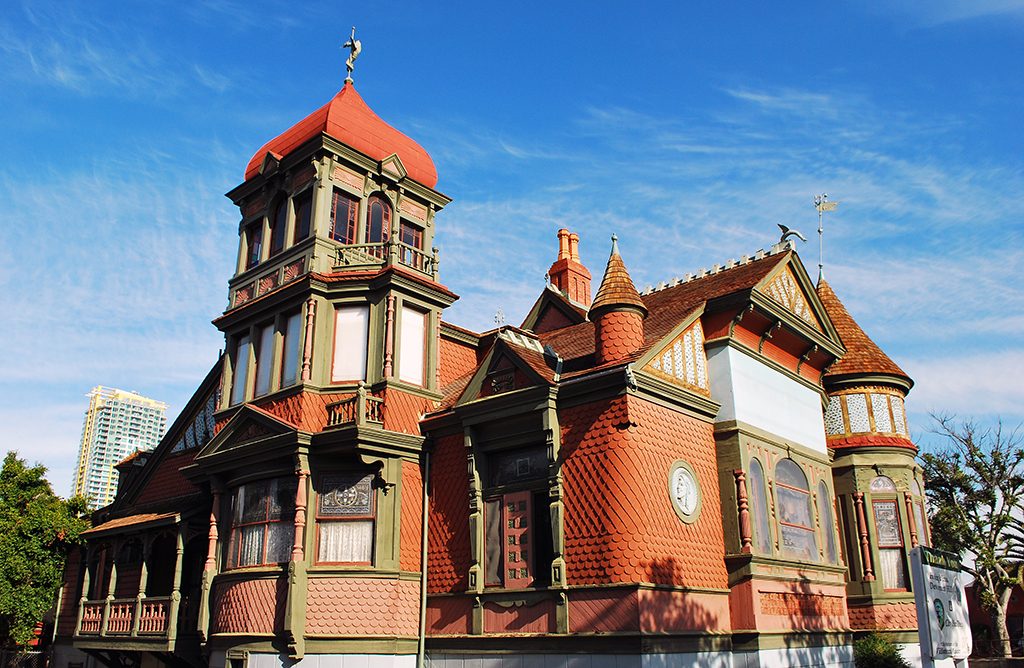 On a modest corner lot next door to working class homes, the Villa Montezuma is conspicuous. Built from California redwood in 1887 for artist Jesse Shepard, the magnificent Queen Anne structure towers over its neighbors. The gingerbread exterior is decked with scalloped edges, domes, and stained glass windows. A dragon twists around one turret. If the villa seems faintly Russian, that's because Shepard, who once performed for the czar, crowned his home with an onion dome that has views to the ocean and mountains.
The interior is as extravagant as the outside and thoroughly Victorian. There's rich walnut paneling and intricate, embossed patterns on the ceiling. Each wall of stained glass has a different theme: music, poetry, literature, and so on.
While the villa is being restored, only four guided tours are offered each year, so plan ahead if you want to see inside.
Entry fee: Free
Where to stay: Accommodations in San Diego are pricey. AirBNB is popular here, and often cheaper than hotels (though it's worth checking HotelTonight for last minute deals). Stay on the bay or in the Gaslamp Quarter to be closest to the attractions, and economize elsewhere. Or you can try north of downtown near Balboa Park where some hotels have a free area shuttle.
Getting there: The museum is located in the Sherman Heights neighborhood. If you're staying downtown, the cheapest route is 20 to 30 minutes by foot. You pass some spots that are a trifle seedy, but the daytime is fine. There's also a bus stop three blocks away.
2. Rhodes Hall (Atlanta, Georgia)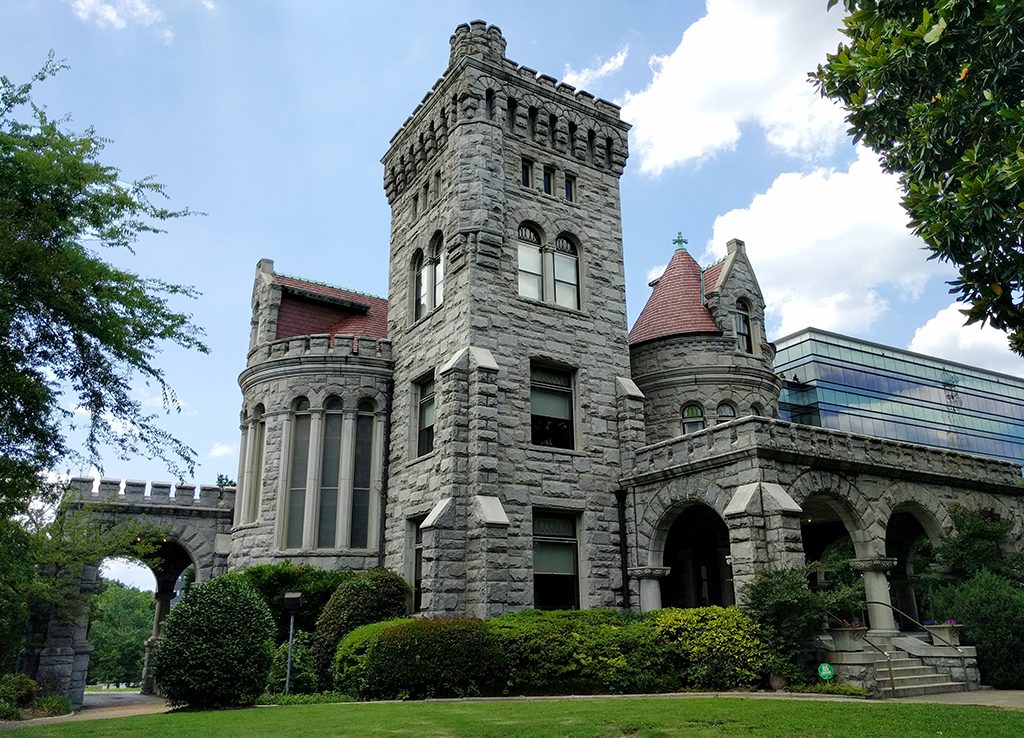 Known locally as the Castle on Peachtree, Rhodes Hall looks every bit the part — wide arches, a tower, and an imposing facade, all carried off with Romanesque Revival flair. It's not what you'd expect to find in modern Midtown Atlanta. Furniture entrepreneur A. G. Rhodes and his wife fell in love with German castles during a Rhine River cruise. So why not bring one home?
The ground floor is opulent with chandeliers, murals, and those fancy new electric lights coming into fashion around the turn of the century. In the dining room, a massive Bavarian clock carved from a single block of walnut adorns the mantle. The parlor is outfitted with gold Louis XV furniture.
That said, Rhodes was thrifty, too. Check out the expensive-looking embossed doors that lead to the private half of the house. They're plain Georgia pine, painted on one side to look like mahogany.
Entry fee: Free for self-guided first-floor tours; $5 for guided first-floor tours; $7 for all three floors
Where to stay: Tourists typically opt to stay in Midtown or near Centennial Olympic Park, but the outskirts of the sprawling metro area can be even better. Rooms on AirBNB start upwards of $40USD per night, while downtown hotels run at $110+USD. Rent a car, and you'll see more and nearly make up the difference in hotel cost.
Getting there: Atlanta doesn't have the best public transit. A MARTA train stop is about 15 minutes from Rhodes Hall. Driving is more convenient, though. Park for free in the lot behind the castle.
3. Pittock Mansion (Portland, Oregon)
Styled after a French chateau, Pittock Mansion overlooks downtown Portland on 46 flawlessly manicured acres. Tourists flock there for the view from 1,000 feet above the city, magnificent on clear days.
It was a choice spot for Henry Pittock to build his home in 1914, over 60 years after he crossed the Oregon Trail without a penny to his name. He furnished the 23-room Beaux Arts mansion with the best money could buy, including innovations like a dumbwaiter and intercom system. From the grand marble staircase to the Jacobean library, the design is formal, but historic photos and memorabilia tell a story of a warm-hearted family and a blossoming early 20th-century Portland.
Entry fee: $10 adults, $9 seniors, $7 youth
Where to stay: Downtown Portland is a great location near the city's main sights, and the streets are pedestrian and biker friendly. AirBNB is quite popular here, with private rooms starting around $50 USD. Hotels range upwards of ~$100 USD per night.
Getting there: Portland's robust TriMet system can take you anywhere you need, including Pittock Mansion. Be forewarned: the bus drops you off at the foot of the road leading up the hill, which is particularly steep in the summer.
4. Squire's Castle (Willoughby Hills, Ohio)
Squire's Castle was originally planned as the gatehouse to a 525-acre country estate called River Farm. Oil executive Feargus Squire started building his estate in the 1890s, but he never finished for reasons that aren't altogether clear. The untimely death of his wife seems to have something to do with it. Soon after, Squire abandoned the project, and the building fell into disrepair.
Little more than a shell of Euclid bluestone today, it's popular with brides, picnickers, and photographers. A sign describes what was once there, including several bedrooms, a breakfast porch, and library. Now, the exposed brick interior is nostalgic if not glamorous. Go in the fall for a stunning multicolor backdrop.
Entry fee: Free
Where to stay: The North Chagrin Reservation is just outside Cleveland city limits. Spend the day exploring the park, which also has a small waterfall and nature center, and relax at night at one of the many hotels along Lake Erie. There are many quaint AirBNB options (including gorgeous lake houses), starting around $50 USD for a private room.
Getting there: You'll need a car to reach the park. It's perfect for roadtrippers, just a hop off I-271 as you head south through the Buckeye State.
5. Warner Castle (Rochester, New York)
An unassuming turreted building in western New York, Warner Castle is one American's take on an ancient Scottish estate. Made of 22-inch hand-hewn limestone, the 1850s castle has been converted to office and classroom space for the local garden center.
Touches of history peek through: barrel arches, decorative cornices, Vermont marble, and elaborate French wood-block wallpaper called "El Dorado." Visitors can learn more with the free self-guided tour brochure. Don't miss the sunken garden in the backyard, a stone and iron landscape studded with greenery.
Entry fee: Free
Where to stay: Set up your home base in Rochester to explore not only city attractions like Warner Castle but also the greater area, which includes the scenic Finger Lakes. AirBNB is popular here, with private rooms starting around $40 USD/night. Hotels are plentiful. If you fancy higher-star digs at a discounted rate, check HotelTonight for last minute deals.
Getting there: The address, 5 Castle Park, Rochester, NY, takes you right to the front door. If you're renting a car, parking is free, or you can walk if you're visiting the adjacent Highland Park.
6. Smithsonian Castle (Washington D.C.)
A mix of Romanesque and Gothic architecture, the Smithsonian Institution Building is an icon of the National Mall. Red sandstone harvested from Maryland gives the castle its familiar hue while towers and tall windows lend it a dignified, cathedral-like air.
In a way, it was built by a Duke's son. James Smithson was a British scientist, the illegitimate scion of English nobility. His bequest funded the Smithsonian Institution, and the castle was finished in 1855 to house administrative offices. Don't expect ornate period furniture inside. There's a visitor's center, a few exhibits, and a cafe that does bang-up business. A small crypt contains Smithson's remains. The maps and free WiFi are impeccable.
Entry fee: Free
Where to stay: There are plenty of options in DC if you want to be near the action. You can also try the suburbs and possibly save, though it depends on the time of year. The town of Tysons Corner is just a 30-minute Metrorail ride away. AirBNB is plentiful – prices range widely but start around $40USD for private room. Hotels are also abundant with discounted higher-end options sometimes available on HotelTonight.
Getting there: The nearest public transit stop, Smithsonian Station, is a short five-minute walk. If you drive, you'll be a few blocks away and pay generously for parking. The best rate I found was a garage with a $14 all-day price.
7. Loveland Castle (Loveland, Ohio)
Loveland Castle, also known as Chateau Laroche, takes home the prize for "most castle-like" on this list. It's the complete package: four towers, a dungeon, dry moat, swords, and suits of armor. Sir Harry Andrews, an admirer of the knights of old, started his castle in the 1920s, carrying stones from the nearby river. On his death, he willed it to the Knights of the Golden Trail who manage it to this day.
The decor is a hodgepodge: rural America meets European medieval. You can climb the narrow staircase to the tower for views of the garden below. The dungeon, accessible by an equally narrow staircase, has a skeleton. (It's not real, though.) Save time to wander the terraced gardens, especially scenic in spring.
Entry fee: $5
Where to stay: Loveland, Ohio, is just 30 minutes outside Cincinnati. Chic options abound on AirBNB (~$50+ USD/night), as well as hotel and last minute options.  The Queen City has everything a traveler could want, from fabulous local cuisine to museums, sports, parks, and a world-class zoo.
Getting there: A car is essential. The castle is off a steep gravel road in a residential neighborhood. GPS gets you there just fine.
8. Gillette Castle (East Haddam, Connecticut)
If you happen to love Sherlock Holmes and castles, book your ticket to Connecticut. The man who made the deerstalker cap and calabash pipe famous lived there a century ago, and his erstwhile home, Gillette Castle, is as medieval as you please.
Made of New England fieldstone, the fortress sits on a hill overlooking the river. Now a 184-acre state park, it was once the private estate of William Gillette. Popular — and well paid — for his portrayal of the Victorian detective, he amassed a small fortune, which he used to create Gillette Castle. The interior has 47 doors (no two alike), several built-in couches, and various puzzle locks designed by Gillette. There's no moat encircling the castle, but there is a meandering three-mile rail line, complete with tunnel and bridges. Gillette built it for his miniature train which he used to ride. You can see the engine in the visitor center.
Entry fee: $6 for adults, $2 for children. Admission to the park is free.
Where to stay: For coastal living, head to Long Island Sound. The beach town of Old Saybrook is just 30 minutes south, and New Haven, a much bigger city, has free museums, parks, and more only an hour west. Quaint and colourful AirBNB options abound – hotels are plentiful (and slightly pricier).
Getting there: By car, Gillette Castle State Park is right off Highway 431 by the Connecticut River. As you get close, you can follow the signs. Or take the Chester-Hadlyme Ferry, which drops you off at the foot of the hill leading to the castle. The fare is $2.
9. Dungeness (Cumberland Island, Georgia)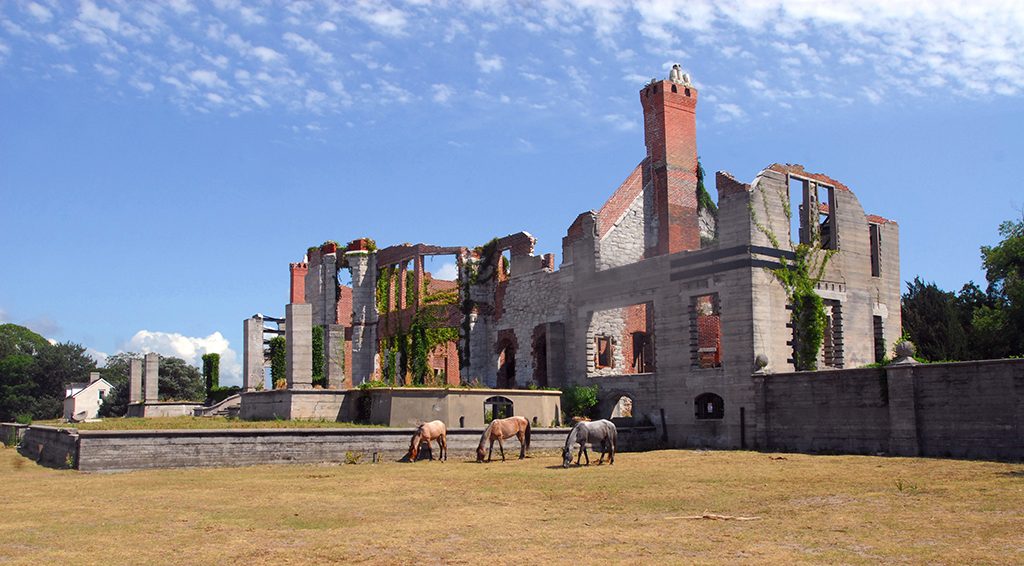 Wild horses roam outside the ruins of this Gilded Age castle built on a secluded Georgia island. It's a fairytale setting made all the better for a poignant sense of decay.
Dungeness came to life in 1884 as a summer home for the wealthy Carnegies, built — not without irony, perhaps — on the foundation of a former estate, also called Dungeness. The Carnegie mansion burned down in 1959, but shadows of its former grandeur remain. The entrance gate is topped with a swirling, lace-like wrought iron arch. The broad lawn boasts a long-since empty fountain. Elsewhere, nature has reclaimed the moldering structure, now a vibrant ecosystem for flora and fauna. Birds perch on crumbled chimneys. Vines climb into vacant windows. Even in ruin, Dungeness doesn't fail to impress.
Entry fee: $7 for the park; $28 roundtrip for the ferry
Where to stay: You'll want to stay nearby to maximize your time on the island. The closest town, St Marys, has plenty of standard AirBNB and hotel lodging options as well as a state park with fully equipped cottages.
Getting there: There's one ferry in St Marys that does multiple trips out and back. Reservations are recommended. The island is undeveloped, so be sure to bring water, food, sunscreen and any other necessities.