Train travel in China is best summed up in three words: comfy, convenient, and at times, confusing. At least, that's compared to the country's budget airlines and buses, both of which offer a rickety, hair-rising adventure in itself. If you're happy to fork out a little extra cash and get the China train experience, here's some tips to make the process a little bit smoother!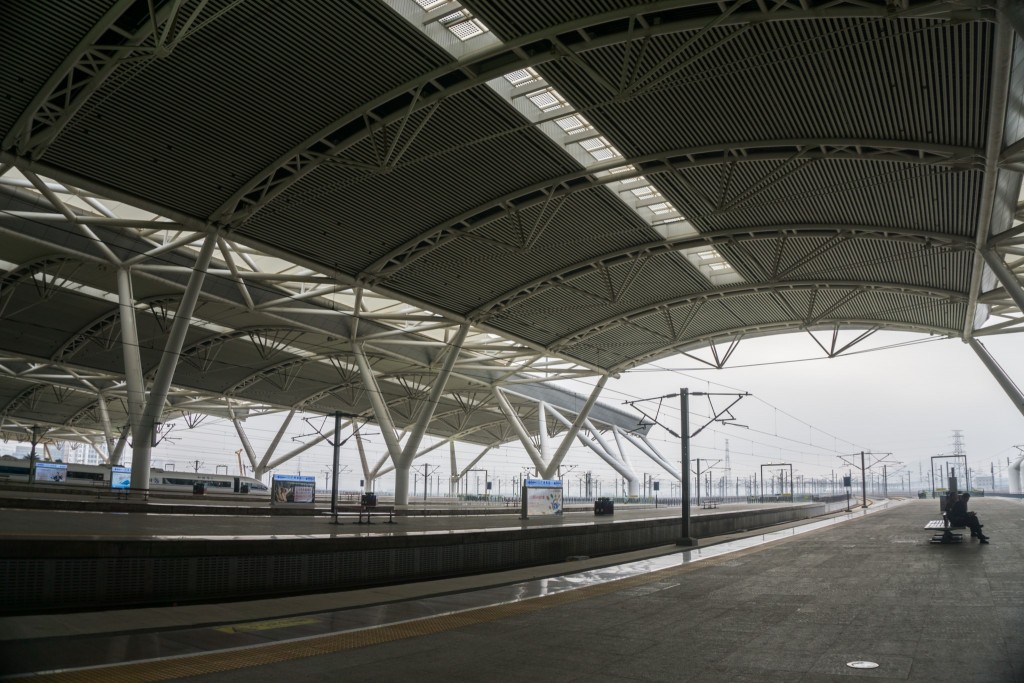 Train Types
There are a few classes of trains in China, each ranging in seat type, services offered, speed, and overall cleanliness. Here's a quick run-down of your options:
High-speed Rail
Modern & clean
Cover large distances
Are fast (up to 300km/hr!)
Non-smoking in entire train (enforced)
Assigned seating (enforced)
"Regular" trains
Cheaper than high-speed (often the older version of current high-speed trains)
Fairly clean
Non-smoking except between cars
Assigned seating (enforced)
Overnight/ Sleeper Trains
Provides a "free" night of accommodation
Fairly comfortable & affordable
Non-smoking except between cars
Assigned seating (enforced)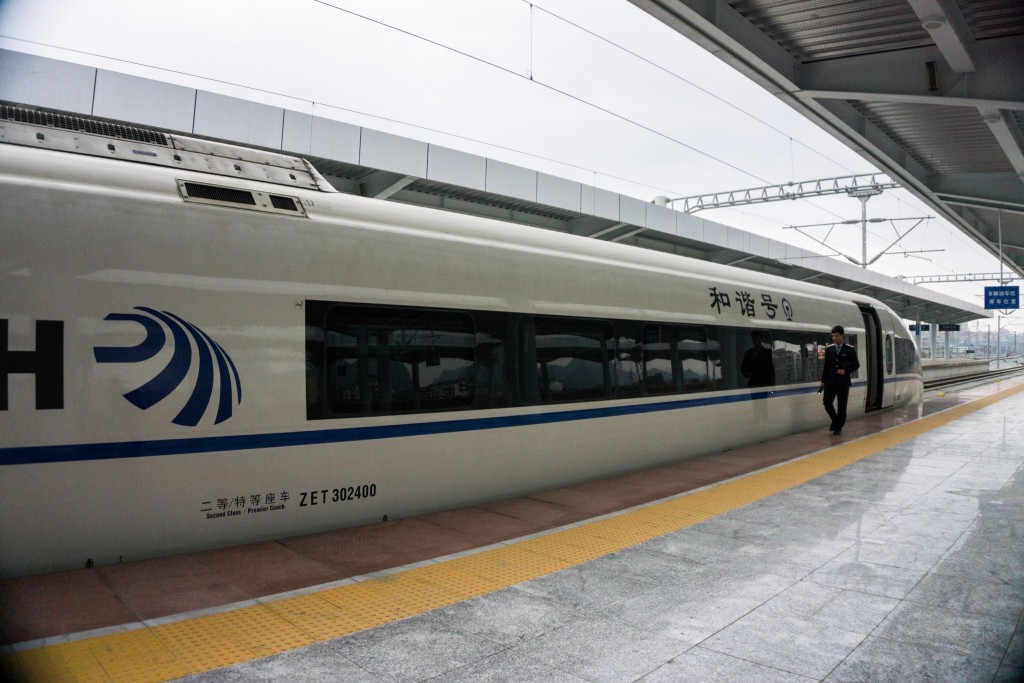 Routes
China is well serviced by trains, with connections between major cities and even remote locations including Mongolia. Simply search your Point A to B via sites like C-Trip (more on that below), and you'll very likely find a number of trains servicing that route.
How to Buy China Train Tickets
Online
Several websites offer online ticket purchase, though it can be challenging to find reliable sites with reasonable English.
China Highlights
 is one of the most trustworthy options for ticket booking in China. They have solid 5-star reviews on TripAdvisor and attentive customer service.
C-Trip is another user-friendly option that we mostly used throughout our travels in China. The website's English is decent, it has competitive pricing, plus a rewards program that earned us ~$40 USD back which we used on accommodation. Tickets can be bought with credit or Paypal, then pick up at the train station ticket office
In person
You can buy tickets at the train station ticket counters. Take note, the self-service "English" machines won't accept non-Chinese cards, and often aren't fully English anyway, so just approach any of the ticket counters. It's helpful to have the name of your destination in Chinese in case of potential language barriers. As always in China, bring your passport. 
You could also buy train tickets from a travel agency (they are abundant in China), simply ask your hotel or Tourist Information Centre.
Train Classes
Once you look to buy tickets, you'll notice there's several classes to choose from, indicated by letters. Here's what those letters mean:
C, D & G trains: China's best high-speed trains. They're modern, air-conditioned, and most run at 200-300km/hr. Most overnight D-trains are older versions of the high-speed train.
Z trains: now second best, these were previously China's greatest quality high-speed sleeper trains. Fairly modern with air conditioning.
T trains: these are the next best after Z trains. Much older models but still functional.
K trains: these aren't as quick as high-speed trains but are still "fast", and as such are higher-priced.
Overnight Sleeper Train Types: A Comparison
Upon booking an overnight train, you'll notice there are several seat options. Here's a quick breakdown of what each entails.
Hard Sleeper
Cheapest ticket type (and despite the name, isn't actually hard)
Has thinner sleeping mattresses than the "soft" ones
Shared compartment/room without doors
6 bunks per compartment
Soft Sleeper
Cheaper ticket type
Thicker sleeping mattresses
Shared compartment/room without doors
4 bunks per compartment
Private Rooms
Priciest ticket type
2 bunk compartment
Some have a private toilet (which sells out FAST)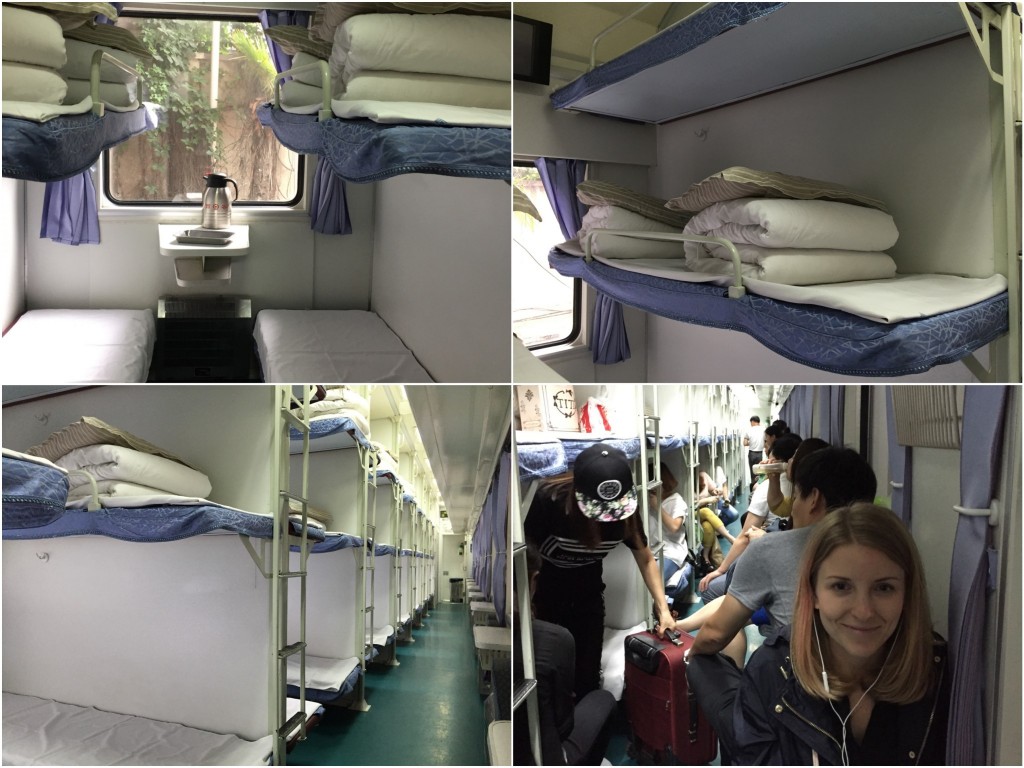 We've taken all of China's train types – overnight, regular, and high-speed. We were pleasantly surprised by the overnight train experience in the "hard" sleeper class (see above photo). It was quieter and cleaner than expected, and felt like sleeping in a hostel dorm. Some points worth noting:
There are no seats (besides your bed), except for 2 tiny hard seats per aisle for the 6 bunks (see photo at end of article). If you're lucky enough to have the bottom bunk (which is the only one tall enough to sit upright in), it also has its own mini table.
There isn't anywhere to lock your belongings but there is a shelf where everyone puts their bags. Theft seems to not be a concern, but we did sleep with our valuables (phone etc) in our beds to be safe.
There are no doors to the compartments, but there are curtains on the windows.
Lights are turned off automatically at 10PM & people generally are quiet after this time
The bottom bunk has the most space (you can actually sit up in it), whereas the top two above it you cannot sit upright
Toilets
China's trains mostly have squat toilets, but are fairly clean with a washing station outside the bathroom. Be sure to bring toilet paper & soap or sanitizer (as you should everywhere in China!).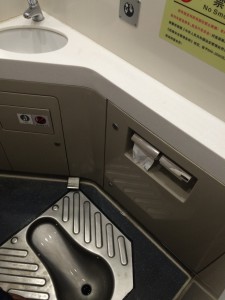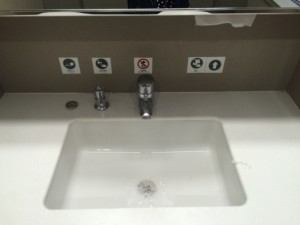 Food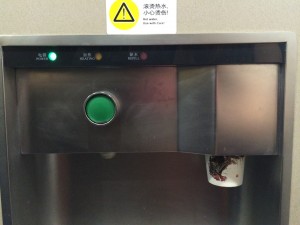 Some overnight trains have a restaurant car, it depends on the class. Snack carts regularly go by with overpriced food, snacks and bottled drinks. No coffee though except instant on high-speed trains, at a hefty 40 RMB/cup (~$6 USD!).
Nearly all Chinese trains have free water dispensers that dispense hot water only. So if instant coffee, tea, or instant noodles are your thing, bring 'em along!
Note: free bottles of mineral water are offered at train stations for certain train classes. Simply show your ticket and see if you're eligible (or if you speak Chinese, just ask!).
Reading Your Train Ticket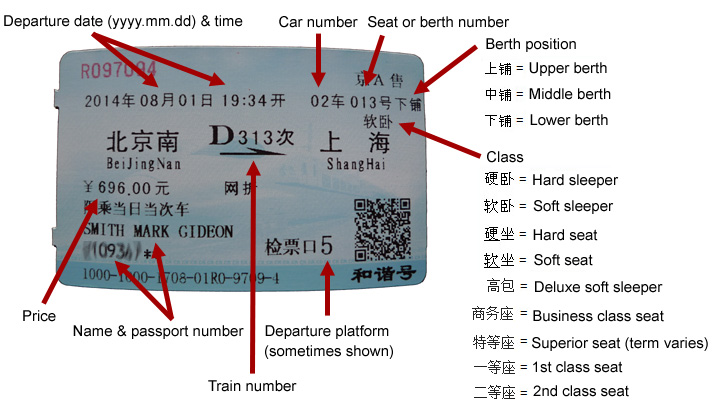 Seat61 has made this great translation picture to help you decipher your ticket. That being said, even without this you'll still be able to ask staff to help you figure your seat and platform out.
Avoiding Headaches & Mishaps
Give lots of buffer time for train ticket pick-up/boarding – Chinese train stations are HUGE.
Always bring your passport.
Check ticket availability online in advance to avoid disappointment. Tickets can sell out in high season (July/Aug).
All train stations in China involve a security check. Yep, even public subway stations, too. Give yourself LOTS of buffer time to put your bags through x-ray machines, possibly be patted down and maybe have your bags pried through – much like airport security. If you're carrying bottled drinks, you'll be asked to drink them to prove they don't contain harmful contents.
Eat before boarding & pack snacks. Food is quite inflated on Chinese trains, so it pays to pack food if you can. Convenience/grocery stores have pre-made sandwiches, noodle boxes, or salads. Most train stations have noodle restaurants inside if you want to eat pre-boarding.
Pack headphones and/or ear plugs. You'll likely need it to block out the movies people watch without headphones and general noisy conversation (though our overnight experience was surprisingly tranquil).
Bring layers of clothing. You never know if a train will be overly air-conditioned or stiflingly hot. I always wear loose layers for long rides, with easy options to add on if I'm too cold.
---
And there you have it, (just about) everything you need to know for train travel in China. Having done China's long-distance buses and budget airlines, I'd definitely say train travel is our preference. If you've got a long trip, have the extra pocket cash, or are low on travel sanity, the trains are absolutely worth it.
---
Questions, comments or info to add? Don't be shy, ask away!