Spain's biggest tourist draw for a reason, Barcelona appeals equally to the staggering stag-doers and the art aficionados. As the capital of Spain's linguistically distinct Catalonia region, a visit to Barcelona is a stark contrast to the more measured capital, Madrid. Whether you're hitting the city for a wild weekend, a leisurely stroll through history, a Gaudi/Picasso pilgrimage, or a romantic getaway, here are 11 epic things to do in Barcelona:
La Sagrada Familia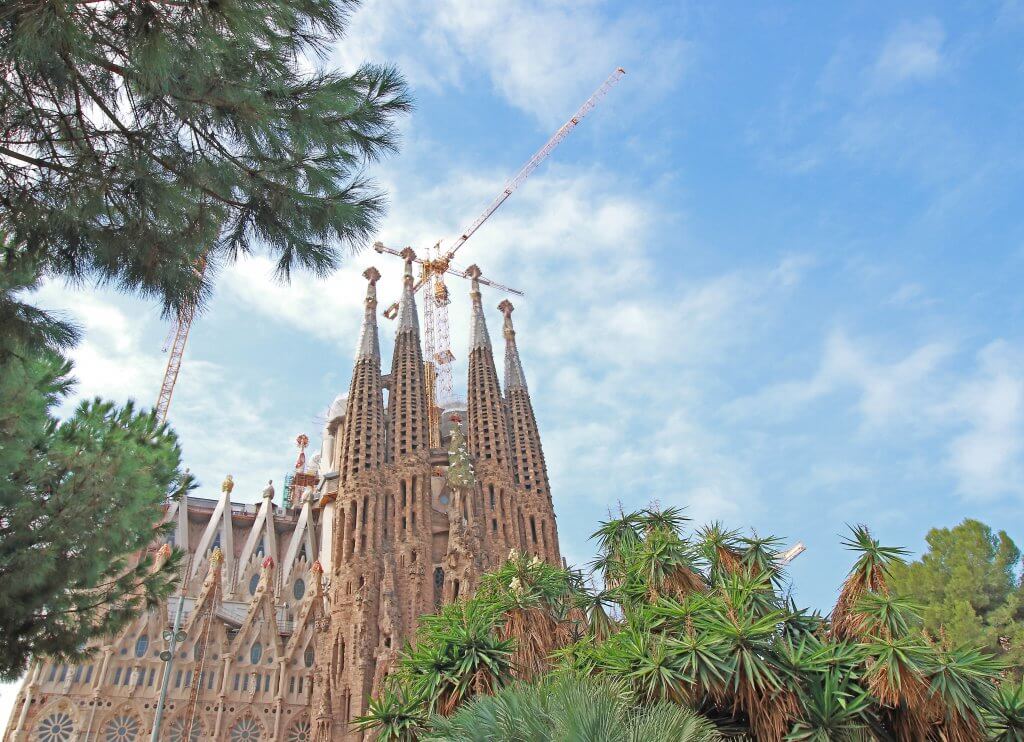 Construction began on this Roman Catholic Church in 1882, and they still haven't finished it! But don't let the fact that the building is incomplete put you off – an icon of the city created by famed Catalan architect Gaudi, this Basilica is worth admiring both from the outside and from within. A Fast-Track ticket (available on Viator as a mobile ticket with immediate confirmation, or included in the iVenture Card) can help you skip the queue, which can be frustratingly long during peak season. Don't worry, once you get inside you'll understand why, even unfinished, this temple has drawn visitors for over 100 years.
Park Güell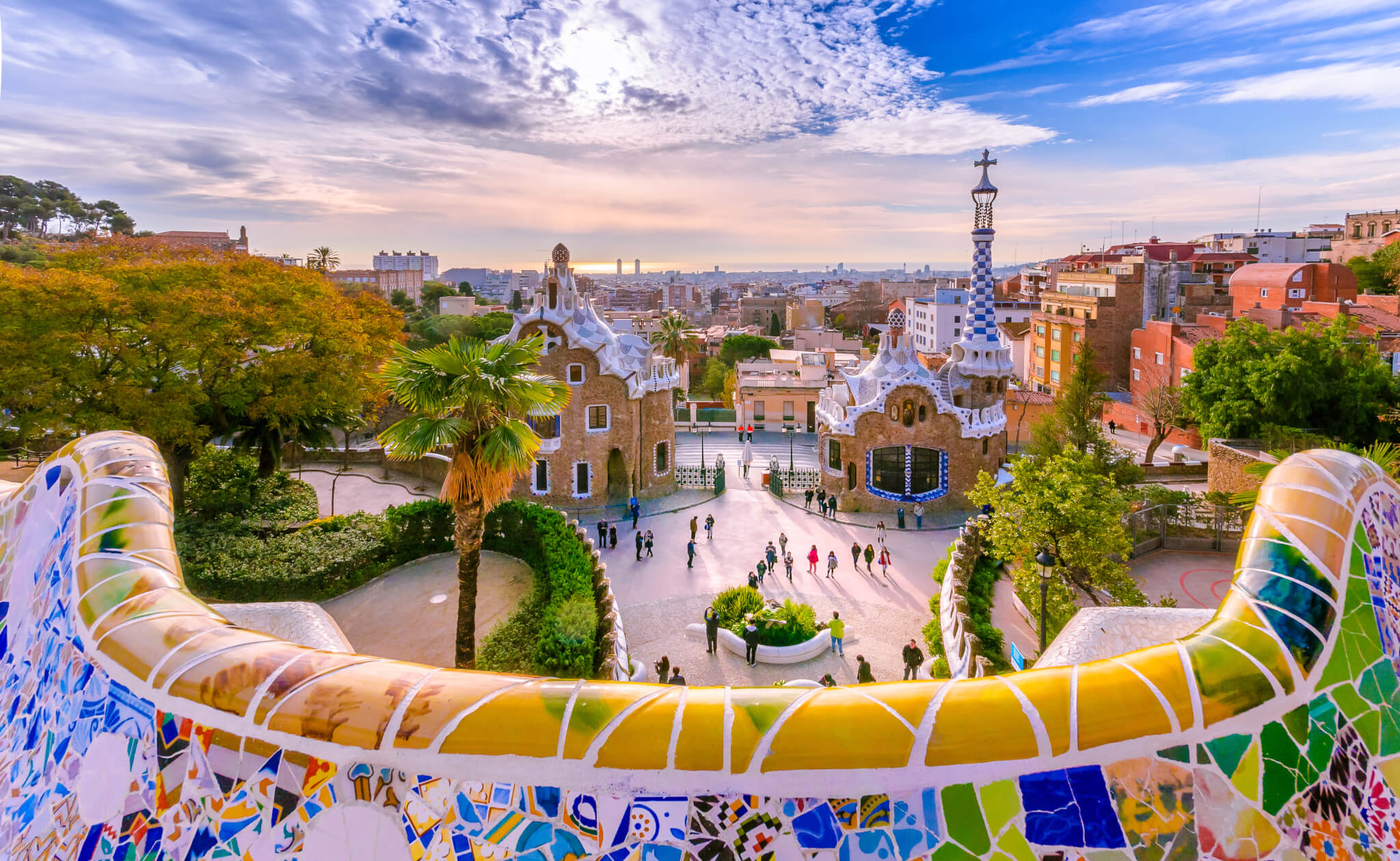 While we're talking Gaudi, this World Heritage Site should be near the top of your list (and we're assuming it is, since it's near the top of this one!). An artistic park within a natural park, Gaudi's delightful Baroque inspired structures are designed to engage in a dialogue with the surrounding gardens, blurring the line between the art of nature and the art of man. But don't think too much, just wander and soak up the wonderful feeling of the place. Tickets available in advance on GetYourGuide, the official website, or included in the iVenture Card.
Casa Batlló
Yes, we're still on Gaudi! Standing in the center of Barcelona, Casa Batlló is enchanting, bewitching, garish, distracting, brilliant, fabulous… but beautiful? Well, that depends on your tastes. If you try and spot a straight line, you'll get dizzy. You need a ticket to enter (skip-the-line ticket available on Viator or included in the iVenture Card), but it's worth it to experience this modernist masterpiece from the inside. Technology enhances the experience, the audio guide actually works, and visitors are armed with iPhones that show media of how the house used to look in grander days. Love it even more than you expected? The casa is taking bookings from private events, so you can even get married here!
Casa Milà
The final private building Gaudi designed, and his final appearance on this list, is possibly the most iconic creation of a man who seemed only to create icons. Referred to by locals as "the stone quarry" due to its rough and rocky appearance, this UNESCO World Heritage Site was built for wealthy colonist Roser Segimon, and is replete with subtle catholic symbols reflecting the architect's faith. Skip-the-line mobile/printed tickets with audio guide are available on GetYourGuide or as a discount in the Barcelona Card.
Picasso Museum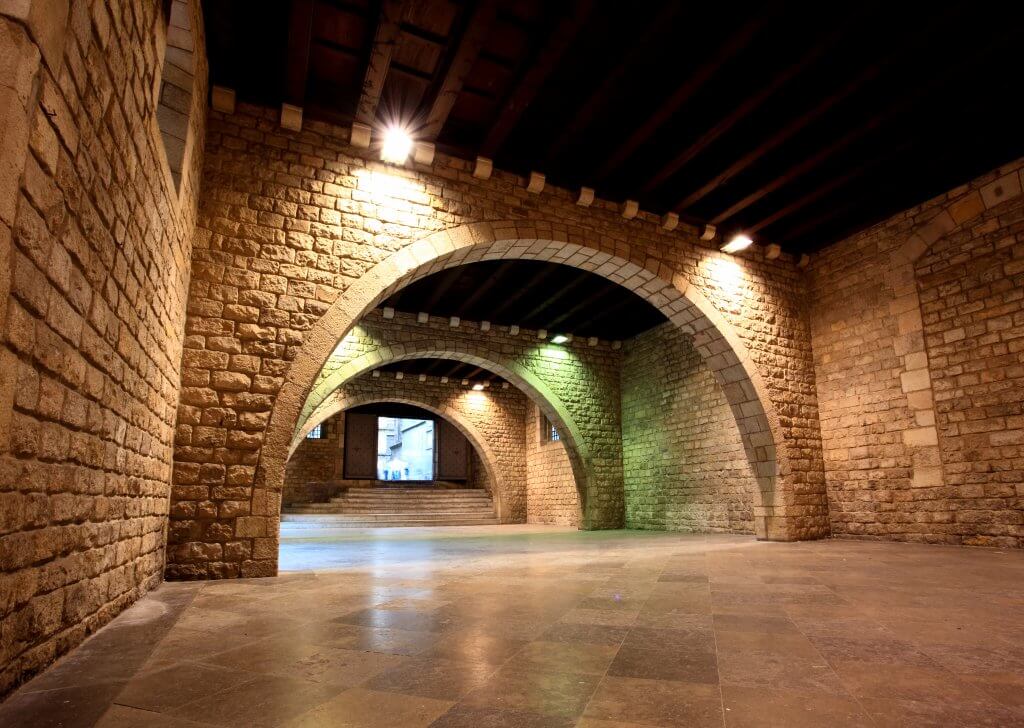 Now you've had your fill of Gaudi, you can move on to an even more widely know Spanish creative genius. The Picasso Museum houses a whopping 4251 pieces of the artist's work, including earlier, perhaps more accessible, pieces that may appeal to those for who whom cubism is as impenetrable as quantum physics. Tickets available on the official site, or as part of the iVenture Card and the Barcelona Card, which also give unlimited transit access and entry to many other attractions.
Montjuïc Cable Car Ride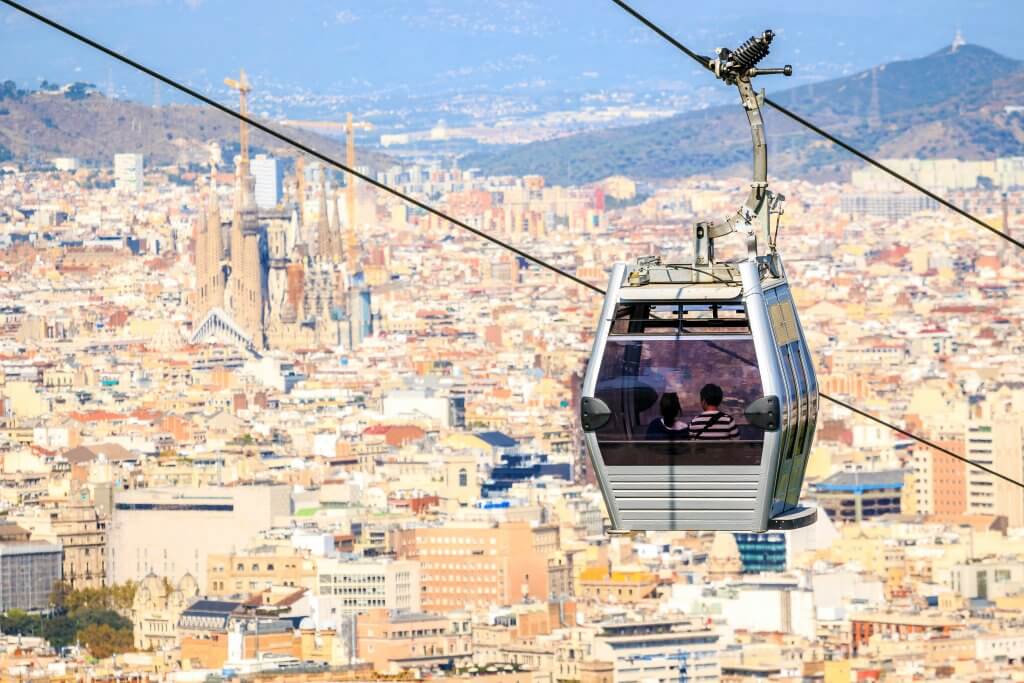 Visit the classic Montjuïc neighborhood in style on this 750 meter long funicular ride that takes you high about Barcelona. When you arrive a top at this 180 meter high hill and begin exploring the neighborhood, you'll discover more than enough to while away packed day, including a visit to Catalonia's National Art Museum, a stroll through the open-air museum Poble Espanyol, exploring a 17th century castle, and, to top it off, a glorious evening light show at the Magic Fountain! Tickets are available with immediate confirmation at GetYourGuide.
Barri Gotic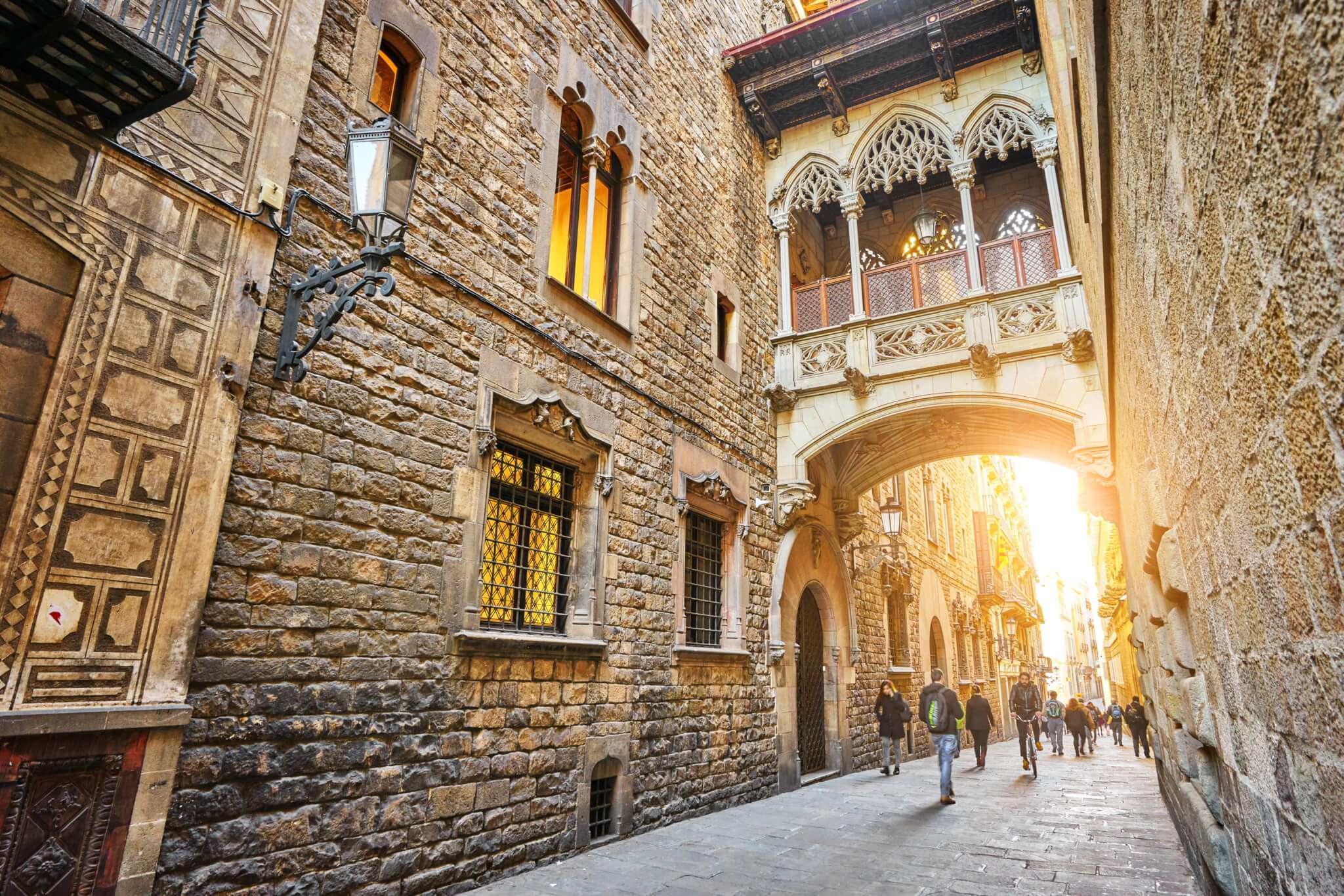 This ancient, atmospheric neighborhood in the heart of old Barcelona contains almost too much history for one person to absorb on a single visit. A short walk through the Gothic Quarter will take you past the remains of a Roman Temple, Medieval Walls, dozens of Neo Gothic structures, Barcelona Cathedral, and two palaces (Pignatelli and Aguilar). If you get bored in this district, then you have achieved the impossible!
Las Ramblas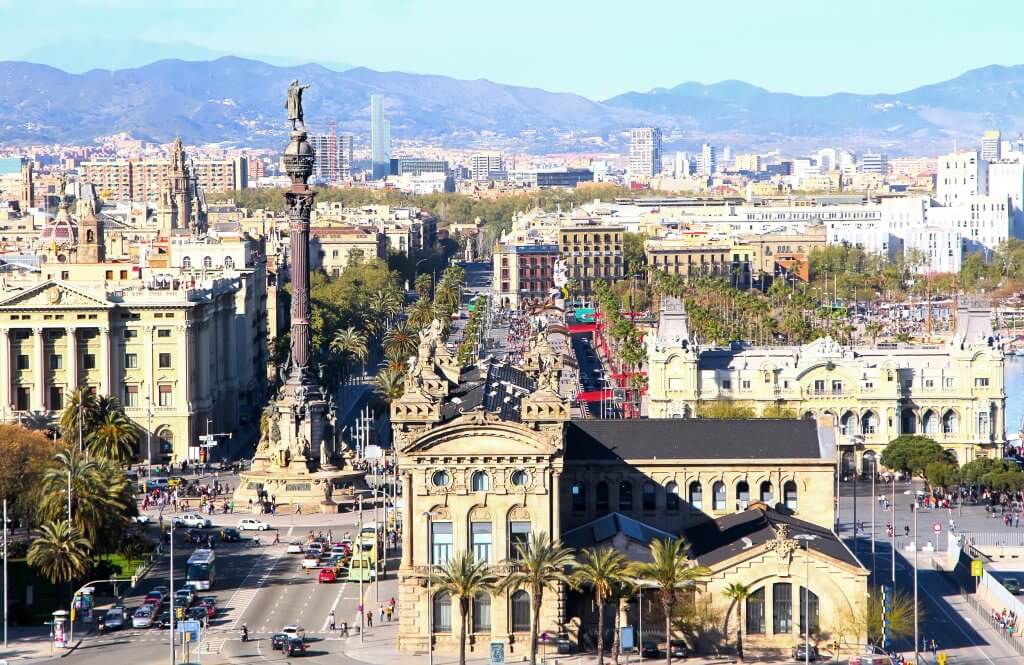 Let the momentum from your wandering in Bari Gotic carry you to this 1.2 kilometer stretch that joins Plaça de Catalunya, Barcelona's largest public square, with the Christopher Columbus Monument. With a slightly unfair reputation for seediness at night, by day this tree lined street is an attraction in its own right. The paving stones are said to ripple like water – just don't let your eyes stay on the ground for too long, this street can get crowded and many of the souvenir kiosks are worth a second glance (if not a reach into your wallet!).
La Barceloneta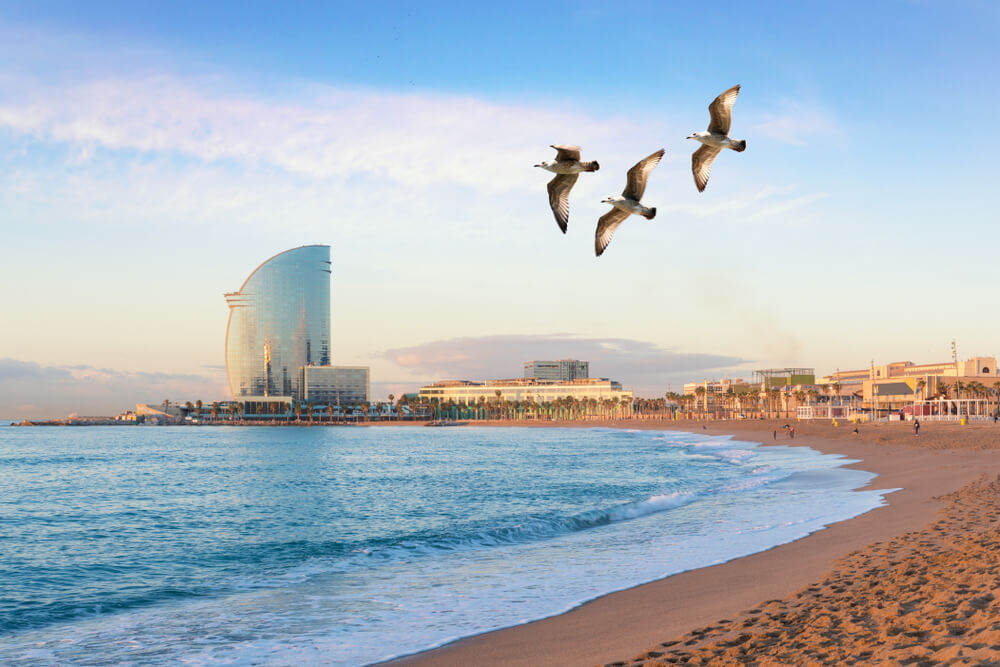 Miles of golden sand illuminated by the sun, the lapping waves of the Mediterranean sea, and a boardwalk boasting rowdy nightclubs and fine restaurants – this neighborhood in Barcelona metro line 4 will make an ideal break from the crowded, touristic center. Bring a book,pack a picnic if you're feeling frugal, and unwind amidst the sand, sun and fiercely proud locals – the 15,000 residents of this district even boast their own flag!
Santa Caterina Market
When you see the wavy rooftops, you know you have arrived. As locals young and old jostle for fresh product among the myriad stalls, head to the food vendors to sample dozens of varieties of olives, cones of Iberico ham, and seafood still wet from the ocean, all washed down with local cerveza – an ideal reward for a hard day's sightseeing.
Figueres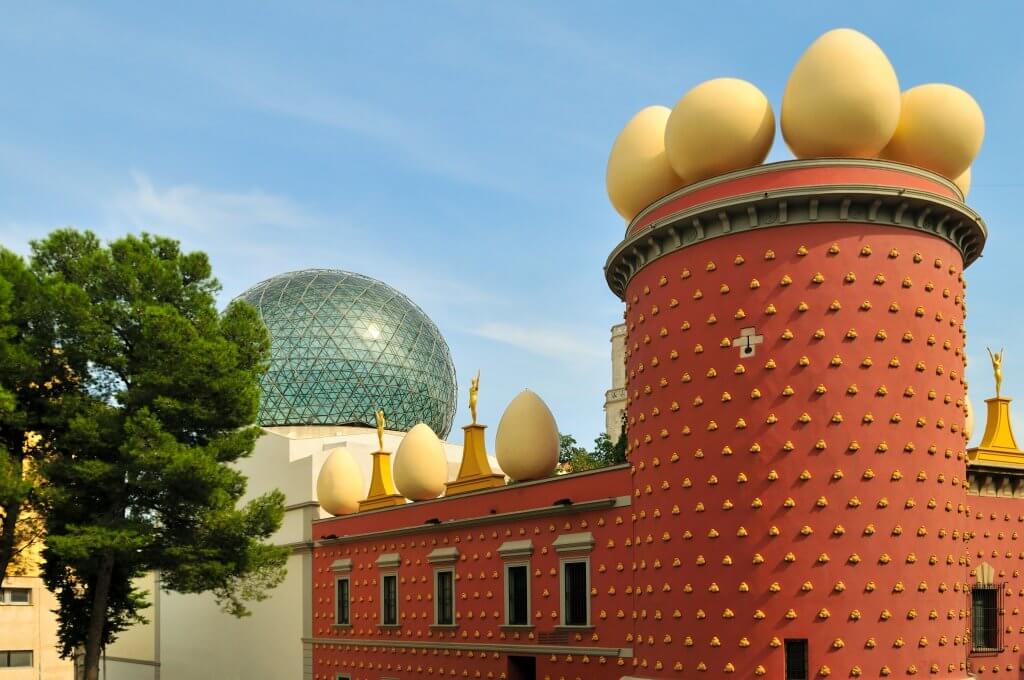 If Picasso and Gaudi haven't sated your appetite for Spanish art, hop a train to the nearby town of Figueres, birthplace of Salvador Dali. You can get there from Barcelona in a nudge over an hour. Charming enough in its own right, most tourists visit for the Teatre-Museu Gala Salvador Dalí, a museum of the artist's work designed by the man himself – it's both an art gallery and a work of art itself.
Thrifty Travel Tips
Barcelona is not a particularly cheap destination, but with some forward planning it's easy enough to get the most out of the city without breaking the bank. Here are a few things you can do to ease the strain on your purse strings:
Consider the iVenture Card or the Barcelona Card. Offering you free travel in the city, free entrance to museums, the ability to skip the queue at a number of attractions, and dozens of additional discounts, if you're planning on doing a lot of sightseeing while you're there, either of these cards will help you save. In our opinion, more major attractions are included in the iVenture Card, but it's worth comparing both.

Eat in Tapas Bars. You go in for a quick beer, and before you know it your table is laden with delicious Spanish dishes, all on the house. Tapas bars are a great way to get full and enjoy local food at rock bottom prices – check the menu first, but usually you only pay for the drinks. Lolita Taperia and Palosanto are well known options – some bars will be open all day, others only in the evening.

Stay in Airbnb, hostels or chain hotels. Barcelona is known for its rowdy tourist hostels which are great fun if you're in a party mood. For a quieter vibe, explore Airbnb options out of the city center. If you want to be in the center, budget hotel chains like Ibis can provide a bland but comfortable and affordable place to lay your head. HotelsCombined compares hostel and hotel options from a variety of websites, ensuring you see the cheapest possible price.