Travel insurance. Well, let's be honest: it's one of those inconvenient, money-sucking "do I HAVE to?!" problems. That bummer of a question is one I get asked a lot.
Now, don't get me wrong, I'm a shamelessly cheap gal. I've been known to sell perfectly good furniture from our condo's garbage room, and painstakingly price every last item we own to grow our travel funds.
But when it comes to insurance, we never cheap out. Here's why.
Travel insurance: why bother?
I'll start off with the fact that as a prior Emergency Room nurse, patients have never greeted me with, "I was TOTALLY planning on being here today!"
Accidents, are just that – accidents. False assurances like feeling smart, educated, young, and healthy have never secured people from getting sick or injured. Which leads me to my first point to bust:
Myth #1: I won't need it.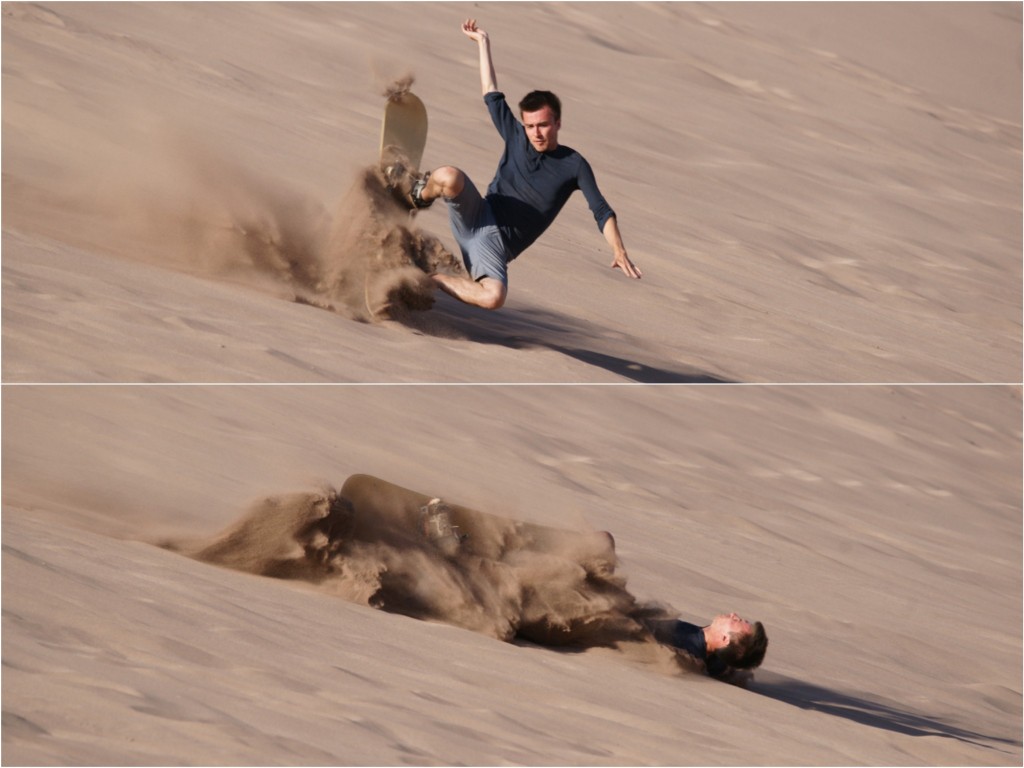 Nothing – NOTHING – can assure you won't need medical care on a trip. Is it unlikely? Possibly. But most urgent and life-threatening events happen from simple ailments in everyday people – not rare and unexpected medical mysteries.
Diarrhea, vomiting, infection, and severe dehydration are the commonest conditions that afflict travellers. And even the healthiest of people can get very sick, very quickly, from any of these. (Psst, check our tips on how to prevent food poisoning!)
Still think insurance is just for bandana-rocking adrenaline junkies? Let's look at Exhibit A: me.
That time I stayed in a foreign hospital for $2,000+/night
Overconfident nurse Jen decided last year to self-manage a bladder infection while living overseas on Australia. Hear me out: I already had everything I needed – the prophylactic ("just in case") antibiotics prescribed for our backpacking trip 6 months prior. I took the meds, dodged a doctor's visit, and my symptoms disappeared.
Five days later I had paralyzing abdominal pain out of nowhere. That quickly progressed to dizziness, blacking out, and finally the moment every nurse dreads: oh s***, I have to go to the hospital.
On arrival I collapsed on the pile of chairs triage in the ER (no nurse ever willingly touches those). I was swiftly jabbed, hooked up, and pumped with IV fluids. Later I was diagnosed with severe bilateral pyelonephritis – an infection in both my kidneys.
Though I'd done all the right things, like being healthy, fit, even having the right medication (which had probably become ineffective sitting in a warm backpack), I got very sick, very quickly. As I signed my agreement to stay $2,000+/night (not including treatment), I prayed our insurance company would accept our claim (they did – phew!).
---
As many other bloggers have touted, there are plenty of other travel horror stories that happen. Breaking backs on rafting tours, having life-threatening asthma attacks in a foreign bar, and being in tuk-tuk accidents on what you think is just a trip from Point A to B. No one ever expects such events to happen and ultimately, there's no good reason it can't happen to you.
Myth #2: It's cheaper to get medical services abroad than buy insurance.
Medical services abroad can be significantly cheaper than home. But will they always trump the cost of insurance? Definitely not.
Is a dental cleaning in Thailand cheaper than Canada? I can tell you firsthand, yep it is. But what about the price of a clinic visit, or a hospital admission? Aren't those cheaper than the cost of insurance? I really can't say. It depends why you're admitted, where the hospital is, if it's public vs private, if you're being flown or transferred to a specialty centre, what procedures you need done, and so on.
Put simply: it's impossible to know just what you'll need that insurance for, and what the costs will rack up to. And let's be real – those can be seriously high.
Myth #3: Claims are often rejected anyway.
Reputable companies are that way for a reason; they become well-known for accepting claims from travellers. Are there companies that reject claims? You bet. But do good ones exist out there that do as they should? Thankfully, yes.
Before choosing a company, read up on customer experiences. Be smart, thorough, and don't ever pick a company solely for its cheap rates – it could burn you big time should you actually need it.
Choosing insurance: Questions to ask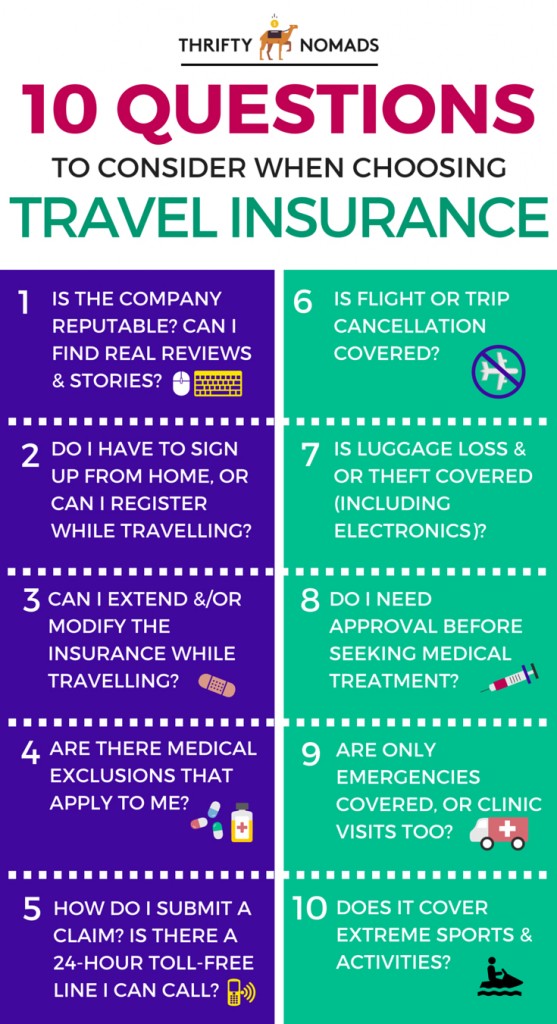 You need to decide which of these points are relevant to you, and find a company that ticks all the boxes you want. Also check to see if you have any pre-existing travel insurance from your credit cards or work (some employment insurance plans could cover this too). In these cases, be absolutely sure of what is and isn't covered.
Insurance types & coverage
1. The "all-inclusive" broad option for travellers: World Nomads
Arguably most popular and reputable, recommended by travellers and travel companies, including Lonely Planet & Rough Guides
Has many reviews & successful reimbursements for claims
Includes health coverage and electronics theft and/or loss
Vast destination coverage, including travel to over 140 countries
Coverage for nearly all activities, from adventure sports, white water rafting, to scuba diving. What isn't covered is clearly stated on their site
You can sign up and extend your policy while travelling (few insurers allow this)
Claims are made by simply filling them out online 
World Nomads is basically the "all you can eat" of travel insurance. It costs more, but you're getting vast coverage on just about everything, and a solid reputation to boot.
We most recently used World Nomads for our 8-month global travels. While we didn't have to make any claims during that time, we've personally had a friend who successfully had the costs of her stolen iPhone reimbursed through World Nomads.
2. Short term, less broad coverage for health insurance only
If you're on a budget, don't have piles of electronics to cover, and know that health is all you want covered on a trip, then this may be the option for you. The price tag will be much smaller, but so too will the extent of coverage, which is healthcare only.
Companies that offer short-term health coverage:
We used April on our first long-term backpacking trip years ago, as we had hardly any electronics then and wanted health coverage . So if healthcare is all you want, this is it. Take note though, reputation and popularity-wise, these companies aren't as big as World Nomads and it will be harder to find reviews.
3. Expat insurance: for nomads & those living abroad
Expat insurance is different from travel insurance in its coverage, and may be right for you if:
You're travelling indefinitely or living abroad
You want coverage for routine health check-ups and tests, and not just emergencies
You want basic coverage as opposed to broad (e.g. insurance on lost luggage or stolen items is not essential for you)
Companies that offer expat insurance include:
Since we're occasionally in a semi-stationary status (as we are currently indefinitely in Australia), we've made the switch to expat insurance. It's cheaper but covers the basics that we need, including routine check-ups or non-emergent care.
Travel insurance: The final verdict
It shouldn't come as a surprise that an Emergency Room nurse would recommend travel insurance. Healthiness and even trip duration offer no guarantee against illness or injury (I've personally been stung by a scorpion on just a 2-week trip to Nicaragua!).
Whether you obtain coverage is up to you. No matter what you do, make an informed decision. Assess the risks at hand, research thoroughly, and choose wisely.
For us, the safety cushion of insurance will always be worth it. Bad things happen, and there's no good reason they can't happen to you. It's always better to be prepared.