Separated by the flowing Danube, the flat streets of Pest and the towering hills of Buda combine to form one of the most seductive budget travel destinations Europe has to offer. Budapest will inspire you with visions of Habsburg royalty, terrify you with scenes of communist dystopia, get you drunk for pennies in atmospheric ruin bars, and soothe your soul in its 16th century thermal baths.
Alongside Prague and Krakow, Budapest firmly asserts itself among Eastern and Central Europe's biggest tourist magnets. Yet despite the crowds at the big attractions, it's easy to get lost among the crumbling 19th century streets, dart down a side road, and find yourself immersed in the authentic atmosphere of the place.
If Hungary's capital isn't already at the top of your list, then it definitely should be! To inspire your trip, here are nine epic things to do in Budapest:
1. Take a walk to Buda castle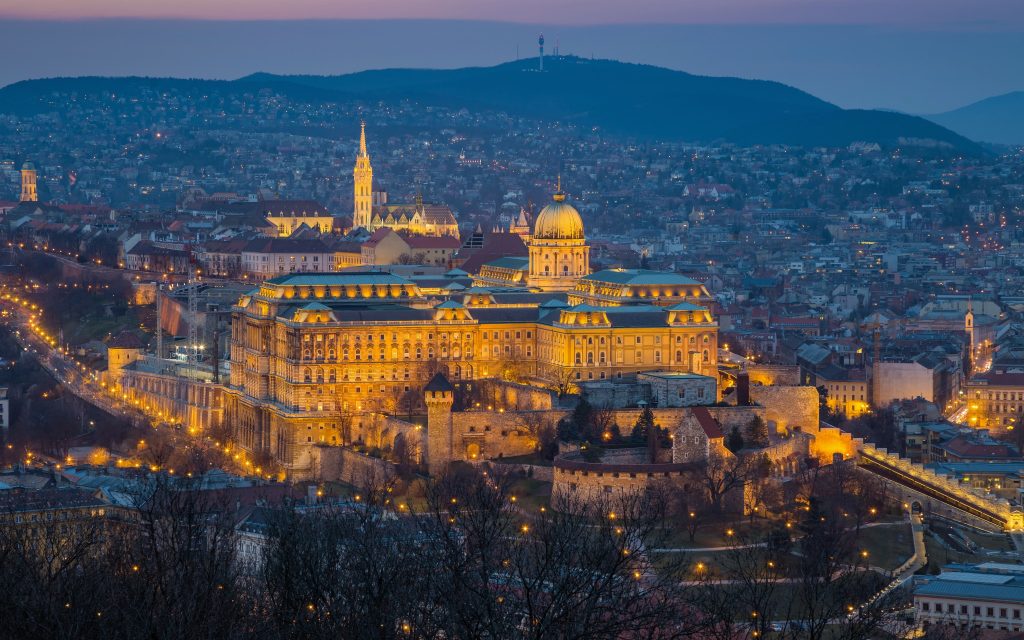 With history stretching back to 1265, you could marvel at the incredible story of this epic building for days… but first, you're going to need to catch your breath! Located at the top of Castle Hill on the Buda side of the river, this royal palace will stun you with its size and presence. If you can bare to turn your head away and wander to the edge of the platform, you'll be able to gaze down and see the entire modern city of Budapest on the other side of the river.
The castle is surrounded by 19th century dwellings and fine examples of baroque architecture. Lose yourself in the atmospheric Clark Ádám Square after the climb to enjoy a well earned glass of Hungarian Tokaji (more on this below). Those keen for a slightly darker exploration of the castle may enjoy an evening history and myths walking tour of the castle.
Location: Budapest, Szent György tér 2, 1014 Hungary
Price: Admission to the castle is free. Surrounding museums require entrance fees, which vary, but are usually around 2000 HUF ($8 USD) or less.
Tips: Don't think you can make the climb? You can take the historic 1870s funicular  (1700 HUF return) and save yourself the hike.
2. Soak yourself in a thermal bath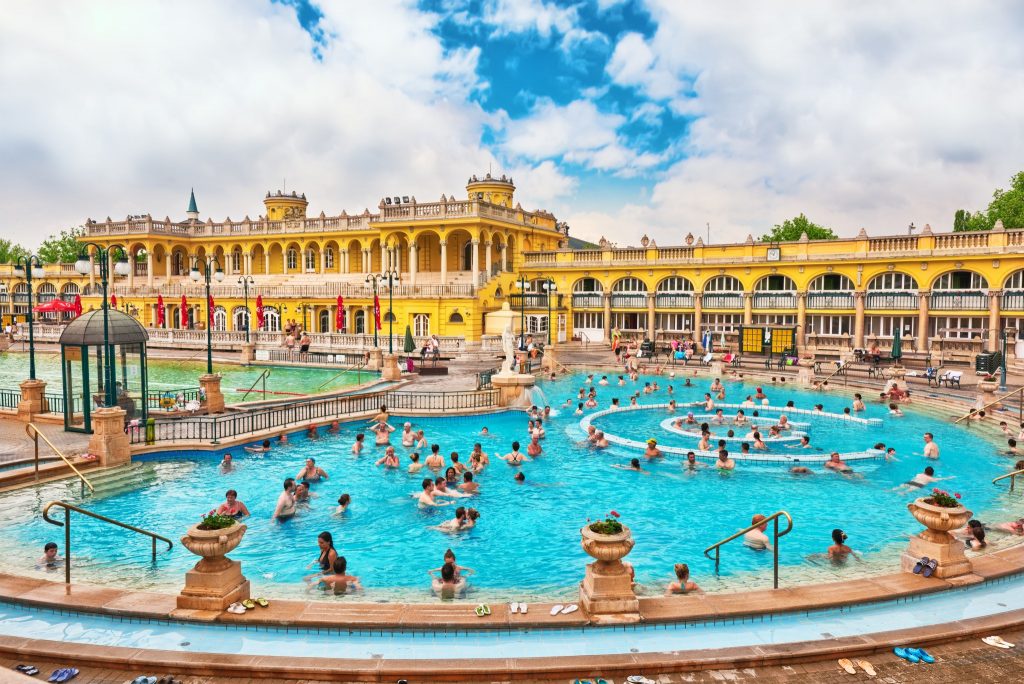 Head back to before the time of the Hapsburgs and immerse yourself in the legacy of the Ottoman empire. Or should that be submerse? Dating back to the 16th century when the city was still in the grips of Ottoman rule, Budapest's many thermal baths are an integral part of the city's culture. They're also great fun. And guess what; in a few of them, you're allowed to drink! Doesn't get much more relaxing than that.

Arguably the most famous of the city's active baths is the Széchenyi Medicinal Bath. A relatively new installation, it 'only' dates back to 1913, but the vastness of the complex, the warmth of the water, and the enchanting atmosphere will soon erase all thoughts of the past. It's the perfect place to just sit and enjoy the moment. 
Note: Of all the things to do in Budapest, these baths can be one of the busiest activities in peak times; it is often worthwhile to purchase a skip the line entrance pass so you can spend more time relaxing, and less time queuing. 
Location: Széchenyi Thermal Bath, Budapest, Állatkerti krt. 9-11, 1146 Hungary
Price: Full day bath ticket with locker usage: 4 900 HUF ($19 USD), skip the line entrance pass 5,630 HUF ($28 USD) – more pricing details here.
Tips: Get a locker and keep hold of the wrist band! Explore the giant complex for pools of different temperatures and styles.
3. Take a walking tour with a local guide
All this lazing around in hot water got you feeling restless? Come on, get back on your feet, there's so much more of the city to see! Budapest has more walking tours than Paris has croissants.
Often free, walking tours are an excellent way to see the city and get to know a bit of the backstory behind the buildings and monuments. Many tours offer a range of focuses, for example if you want to zoom in on communist history, Jewish heritage, street art… or if you just want to hit the pubs. 
But maybe after conquering Castle Hill, the last thing you feel like doing is more walking! In which case, like many European cities, Big Bus can come to the rescue. The 'hop on, hop off' model means you can explore at your own pace, and bounce from site to site in (somewhat) style and comfort. Those feeling slightly more exercise-inclined may consider a bike tour around the city instead.
Tips: Location, price and length vary depending on the option you choose and the company you go with. Note that so-called "free tours" nearly always expect a tip at the end. If checking out multiple attractions while in Budapest, the city pass can be an excellent cost-saver as it provides free access to public transport and discounts on attraction entries, food, and more.
4. Discover the largest synagogue in Europe
One of the most moving things to do in Budapest is to pay a visit to the Dohany Street Synagogue. Built in the mid 19th century and also known as the Great Synagogue, it is a magnificent oriental style building intimately connected with Hungary's traumatic 20th century history.
Enjoy the architecture from the inside and out, and think back to time when almost one in four inhabitants of Budapest were Jewish. Afterwards, visit the cemetery next door to pay your respects to those who perished in the Jewish ghetto during the holocaust. It's a powerful glimpse at the city's past, and well worth the visit. For a more in-depth understanding of the chilling history that happened here, take a Jewish heritage tour (which includes entry to the synagogue).
Location: Budapest, Dohány u. 2, 1074 Hungary
Price: Standard visit including group tour in English, Italian, German, French, or Spanish: 4000 HUF ($15)
Tips: A skull-cap or head covering is required for entrance, you should be able to borrow one free of charge at the site. After your visit, take the time to wander the leafy Dohany Street which lends the Synagogue its name for cafes, restaurants and other Jewish sites of interest.
5. Feast on Hungarian cuisine at the Great Market Hall
It's hard to miss this enormous building towering over nearby apartment blocks on the edge of the Danube – just look out of the giant clock. On the ground floor, you'll find merchants selling fresh produce from Hungary, including meats and fish, as well as spices like paprika, processed meats and preserves.
Upstairs, sit down for a hearty Hungarian meal. Rich, spicy Goulash, sweet strudel, poppy seed rolls, sour cherry soup and, if you still have room, hot plum dumplings. When your belly is full, you can wander the endless stalls, perhaps pausing to pick up a few souvenirs to take home, or maybe a bottle of distilled Hungarian fruit liqueur to kick off the evening's celebrations.
Craving a more comprehensive food experience? Check out a guided food tour to learn about the history of Hungarian cuisine, award-winning chocolate, and other infamous favourites.
Location: Budapest, Vámház krt. 1-3, 1093 Hungary
Tips: If you're hungry, head straight upstairs for a hot meal at one of the many stands serving traditional Hungarian fare so you can browse the myriad other stalls without the hunger pangs. The market hall closes at 5PM, so go for lunch, not dinner.
6. Shake the hand of history at St. Stephen's Basilica
Feel you like need to fill up on a bit more culture before heading out on the town for a taste of the nightlife? Standing a whopping 96 meters high, this huge religious monument was completed in 1905 and honors Stephen, the first king of Hungary (975–1038), whose withered right hand apparently still lies in the reliquary!
302 steps or a short ride in an elevator will take you to the very top of the Basilica. With no taller building in Budapest – 96 meters is the maximum building height allowed by the city government – the views are exceptional!
For a unique and moving musical experience, consider attending an organ concert, held regularly within the cathedral.
Location: Budapest, Szent István tér 1, 1051 Hungary
Price: Entry to the main church is free or a small donation, access to the top is 600 HUF ($2.30 USD)
7. Sample a bottle of Tokaji – Hungarian wine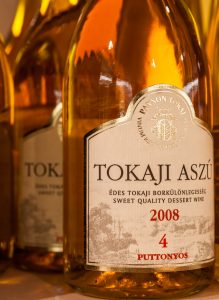 Ok, congratulations. You've earned a drink! While you're in Budapest, you owe yourself at least a glass of the rich, sweet white wine from Hungary's Tokaji region. Smooth and refreshing, this wine has been the drink of kings and the Hungarian nobility since the 17th century – it was even reportedly served at France's Versailles Palace during the reign of Louis XIV.
These days, you can pick up a bottle for a couple of dollars at a local supermarket, or go upmarket and visit one of the city's many wine bars. Bottles are sold at the Great Market Hall – see above – and many rich varieties are served at the Borbiróság "Wine Court" restaurant, just down the road (Budapest, Csarnok tér 5, 1093 Hungary, from 2000 HUF $8 / bottle).
Those seeking a more in-depth experience of Hungarian wine may indulge the senses in a wine tour, led by an expert sommelier.
8. Have another drink (or several) in a Ruin Bar
Budapest's ruin bars are a key attraction for a "certain demographic" (you know who you are!), but the young backpacker crowd havesn't yet driven the locals awayre from these numerous atmospheric watering holes. Converted from tumble-down buildings left over from communist times and before, these enormous bars are designed with creativity and flair. Many feature live bands and several different floors filled with people dancing to their favorite tunes well into the small hours.
The oldest and most famous of the ruin bars is Szimpla, located in old Jewish quarter. It makes an ideal place both to start and end your night among the bizarre decoration and furiously drinking local hipsters, travelers and eccentrics.
Location: Szimpla Kert, Budapest, Kazinczy u. 14, 1075 Hungary
Pricing: Drinks from around 500 HUF ($2 USD) , hot meals from 1500 HUF ($6 USD)
Tips: This place is huge, but it's not the only ruin bar in Budapest! See RuinPubs.com for other destinations
9. Take a night cruise on the Danube River

You haven't lived until you've seen the Hungarian Parliament Building lit up orange at night, its reflection glistening on the still waters below. Perhaps your head's a little light from champagne, the cool breeze off the Danube keeping you alert as you make friends and mingle with other travelers from all over the world.
Some nights, fireworks explode over the city, eliciting cheers from your fellow revellers. But even on the quietest night, an evening cruise is a relaxing, yet thrilling way to wrap up the perfect day in Budapest. You'll typically be picked up and dropped off near the town center on the Pest side of the river, with the cruise lasting about one hour.
Tips: Price and location will depend on which provider you go with, but start from around $25 USD. Some include free drinks (#RussianChampagne)! Go when the weather is good to enjoy the view and atmosphere from the top deck.
---
Regardless of whether you travel for the views, the history, the food or the parties, the abundant things to do in Budapest are sure to sweep you off your feet. Hopefully these activities will inspire you to make the trip!