Almost 1000 years ago, William the Conqueror wanted to construct an imposing stone tower that would remind the people of London who was now in charge. The resulting building would become known as the Tower of London, a name that conjures images of tourture racks, executions, royal feuds and ghostly mysteries.
In the millennium that followed its construction, the Tower would have many lives and be put to multiple uses. It served as the residence of kings and queens, a Mint for producing coins, an armory, a zoo, and, infamously, as a notorious prison, house of torture and place of execution. From the Middle Ages right through to the Second World War, enemies of the Crown have lived out their last days in one the Tower's many dungeons.
Today, however, your chances of getting tortured, imprisoned or executed at the Tower of London are fairly slim. That's probably why as many as three million tourists visit each year to see the armour displays in the White Tower, gaze with envy at the Crown Jewels, learn about the rich and grim history, and meet the many ravens who call this ancient castle home.
In this article, we'll look at how to visit the Tower of London today. If you're hunkered down in the UK and looking for something to explore in your own backyard, traveling in England, or just in the mood for some living history, then this needs to be near the top of your list. Let's start with the basics, afterall, they're not gonna let you in if you don't have your ticket! Here goes:
Where to get Tower of London Tickets
The official price for Tower of London tickets is £25.00 for an adult and £12.50 for a child. You can purchase tickets at these prices from the official booths at the Tower site.
If you want to skip the ticket queues and also save money, consider getting your ticket online through GetYourGuide. A ticket there costs at least 10% less than the official rate, and gives you instant confirmation, the ability to cancel if your travel plans change, and a mobile voucher you can use to enter the exhibition when you arrive.
If you plan to visit a few attractions while in London, you'll find better value purchasing a London Pass. This single pass grants you access to over 80 attractions, as well as a 1-day hop-on-hop-off bus tour. The pass is valid for 1 to 10 days depending on which pass you buy, and it's instantly accessible from your mobile device.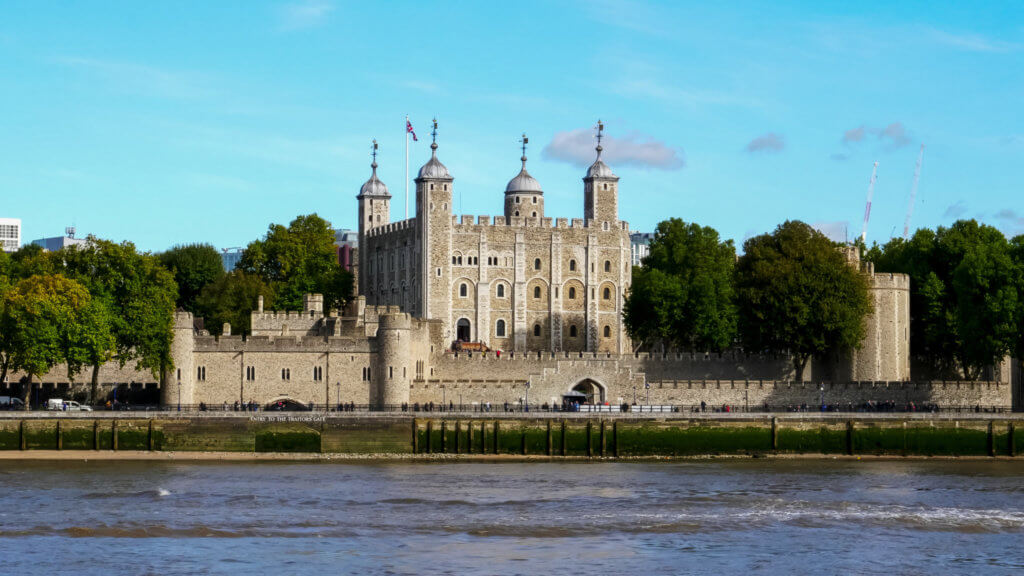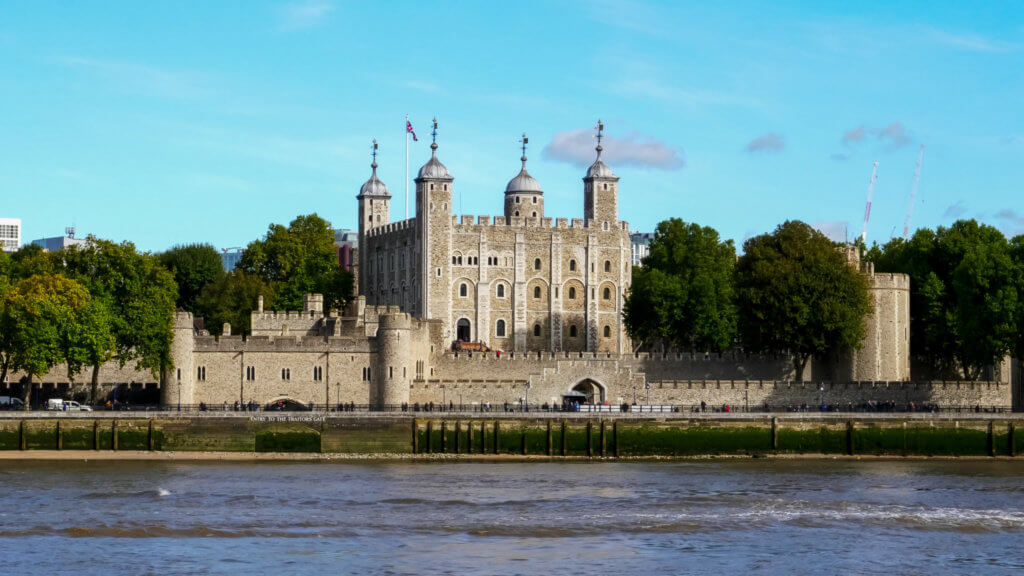 Tower of London Hours
Because of the coronavirus situation, the hours of the Tower of London may be subject to change, so please check the official Tower of London Opening Hours webpage on the Historic Royal Palaces website before your visit.
At the time of writing, the Tower of London is open from Wednesday to Sunday, between 10am and 6pm (last admission at 5pm).
From November 1, 2020, the plan is for the Tower to be open every day, with slightly different hours. From November, the Tower will be open from Tuesday to Sunday between 9am and 4.30pm, and on Mondays and Sundays between 10am and 4.30pm.
Tower of London Tours
Some visitors choose to visit the Tower of London under their own steam. This gives you the freedom to explore the grounds at your own pace. Others choose to take advantage of a tour-guide who can place the buildings and artefacts in context, and help you get a sense of the history and significance of this infamous landmark.
Your entrance ticket, whether purchased at the site or with a discount through GetYourGuide, includes the option to take a free tour with a Beefeater – these eccentrically dressed guards are unfailingly entertaining and will tell your stories sure to make the blood curdle! Beefeater tours start every 30 minutes during opening hours, groups can be large.
If you'd prefer to dodge the crowds, check out a VIP Early Access Tour – this will get you in at 8.15AM, well before most visitors are even allowed to enter. If you want to appreciate the history without the risk of photobombing someone's selfie, this may be the answer!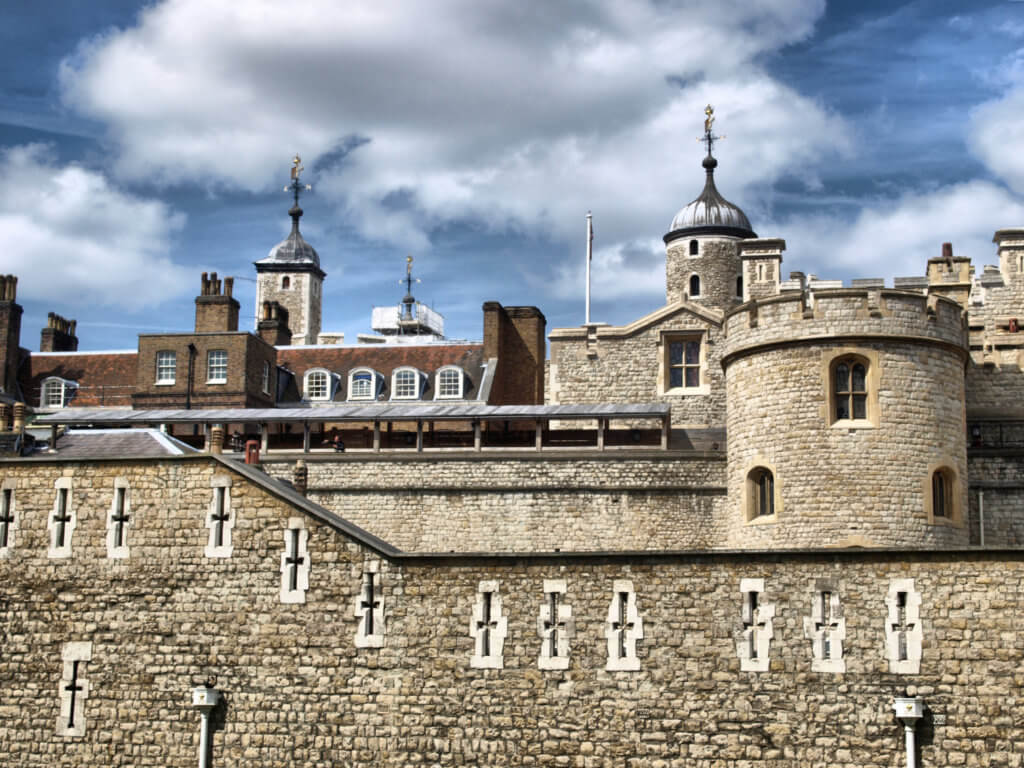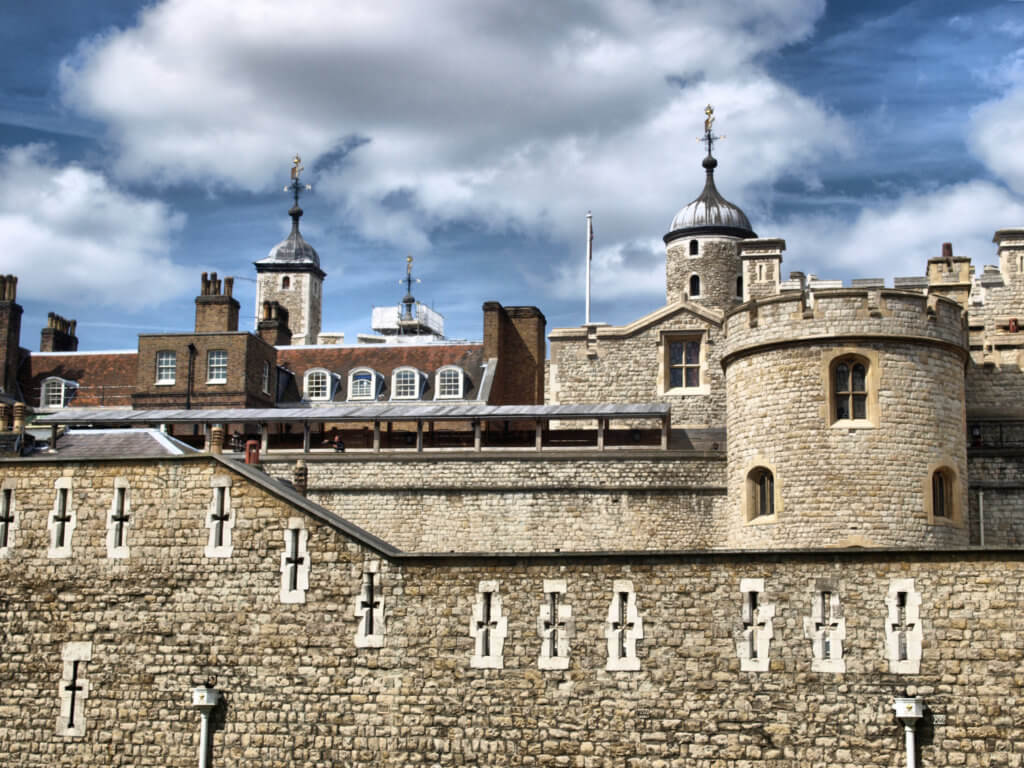 History of the Tower of London
Where to begin! There's enough history at the Tower of London to fill a library! And indeed, books are still being written to introduce modern readers to the story of one of the most fabled castles in Europe.
The Tower of London: The Biography by Stephen Porter introduces the Tower as an "Icon of England's history." Tower: An Epic History of the Tower of London by Nigel H. Jones claims "No building in Britain has been more intimately involved in our island's story than this mighty, brooding stronghold in the very heart of the capital."
There is no way we can do justice to this mighty story in a wee article! However, here are a few fun facts to whet your appetite…
Built to Intimidate: William of Normandy AKA William the Conqueror built the Tower in the 1070s shortly after invading and conquering England. At the time, his hold on power in England was established but not secure, so he decided to build an imposing tower to strike awe into the hearts of the people of London. A thousand years later, the Tower still has that effect on many visitors!
Protector of the Crown Jewels. One of the main tourist draws to the Tower today (and something you will most definitely want to see on your visit) is the Crown Jewels. Containing 142 ceremonial objects, the Crown Jewels span the latest 900 years of British history, dating back to the 12th century. The crowns and scepters get all of the attention, but the oldest object in the collection is actually a Coronation Spoon! The official owner of the crown jewels is Queen Elizabeth II, but she won't mind you taking a peek.

Home to the Bones of Princes. The Tower is not exactly short on ghoulish myths and legends, but one of the more chilling stories is true: During the War of the Roses in the 15th century, two boys aged 10 and 12 were imprisoned in the Tower and later vanished. The boys were princes, the children of Edward IV and potential claimants to the throne. Rumor had it that they were murdered. Nothing was proven until much later: In the late 17th century, two childlike skeletons were discovered hidden in the Tower. In the 1930s, scientific analysis of those two skeletons showed them to belong to boys aged 10 and 12 respectively, the exact age of the princes when they disappeared!

Scene of Anne Boleyn's Execution. It's now widely understood that marrying Henry VIII was not a good career move. No one told Anne Boleyn this, however. Sure enough, her "failure" to produce a son led her to be executed on fabricated charges of adultery. The grim event happened on May 19, 1536. As was customary back then, huge crowds gathered to see the spectacle of the execution. Being a Queen, Anne was afforded the "privilege" of being beheaded by a skilled swordsman specially imported for this purpose from France. After her head was separated from her shoulders, onlookers claim they saw her eyes wide open… and her lips move!
These stories may have made you eager to visit the Tower, but perhaps not so eager to sleep there overnight. Don't worry, if you're visiting from elsewhere, London has plenty of accommodation options to suit any budget, and most are absolutely ghost free!
Where to Stay
A visit to the Tower of London can easily take up the better part of the day. And if you're traveling to London, chances are you want to stay a bit longer and take in some of the many other sights that England's capital has to offer.
Here are some options that will help you find a cosy place to stay near the Tower:
Doubletree by Hilton Hotel – Tower of London. Located barely one minute's walk from the Tower itself, this hotel from the venerable Hilton chain has good reviews from travelers and will certainly make your visit convenient! Rates vary depending on demand but will typically set you back around £95 per night. You can compare the rates with other hotels on HotelsCombined.

Airbnb – Options abound throughout London ranging from glamorous penthouse suites to shared rooms in student hovels. If you're planning your trip around a visit to the Tower, look for something near London Bridge Station, Liverpool Street Station, London Charring Cross Station, or Tower Hill underground station, all of which are within walking distance to the Tower.
HostelWorld – if you're visiting on a budget, check our Hostel World. There are several hostels located in the area of London Bridge which is walking distance to the Tower, including Wombat's City Hostel (around £23/night for a dorm room). Hostels are, of course, at high risk of temporary closure due to Covid-19, which is why the website now offers free cancellation for bookings within 14 days. Though currently unavailable due to Covid, St Christopher's Inn London Bridge is another budget friendly hostel option worth checking out when it opens again.
Tower of London Map
If you're thinking that the Tower of London is just one building, then you're in for a surprise. While it started out as one imposing tower, over the centuries it has been steadfastly expanded into the whopping complex that it is today.
At the time of writing, Covid-19 restrictions have forced the temporary closure of many of the buildings, however the main attractions remain open. Those include all public outdoor areas, the Crown Jewels, and several floors of the White Tower itself.
A map will help you find your way to the sites you most want to see, and will make sure you know what is what when you can't find a handy Beefeater to ask!
Here's one courtesy of Thomas Romer: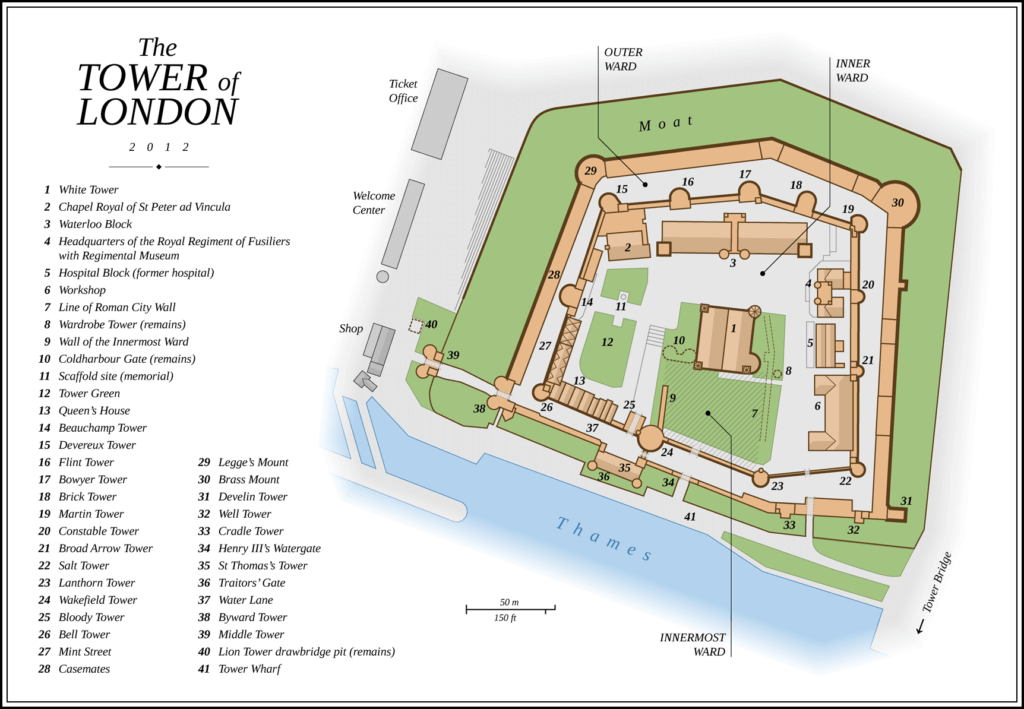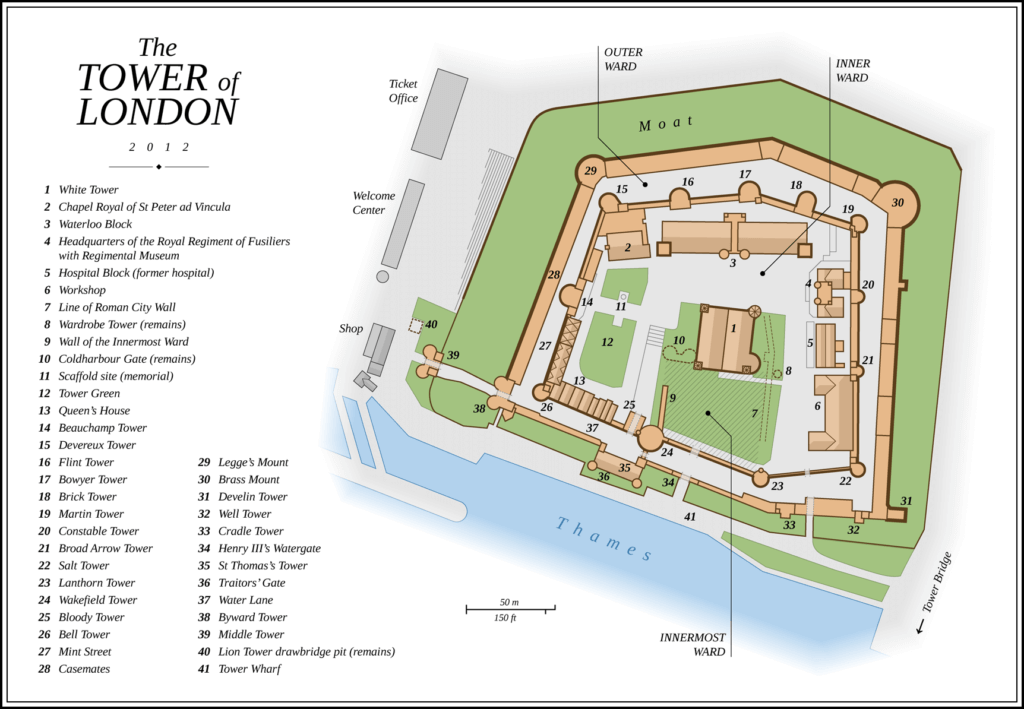 The Thrifty Gist
Built almost 1000 years ago, the Tower of London is as popular now as it has ever been! If you're from the UK and want to rediscover parts of your own backyard, or traveling from overseas and want to see the full force of English history up-close and personal, then visiting the Tower is a must!
Tickets purchased at the official ticket booths cost £25.00 for an adult and £12.50 for a child. Consider getting your ticket online in advance through GetYourGuide for a discounted rate and instant confirmation. If you're visiting a few attractions in London, consider a London Pass.
Opening hours vary based on the season and also depending on what Covid-19 restrictions may be in place. At the time of writing, it is open for visitors Wednesday-Sunday from 10:00 -18.00. From November 1, this will change to Tuesday-Saturday: 09:00-16:30, Sunday-Monday: 10:00-16:30
Your ticket includes a free tour with a Tower guard known as a Beefeater. These tours start every 30 minutes during opening hours, and can attract large crowds. For a more private experience, you can book a VIP Early Access Tour to get in before official opening time.
The Tower of London's history is as rich as it is infamous! Here, child princes have been murdered, Ann Boleyn and countless others were executed, and enemies suspected of treason were tortured into confession. On a cheerier note, it's also the home to the Crown Jewels, which you'll be able to see on your visit!
The Tower complex is a vast site, containing several spots worth visiting indoors and outdoors including the White Tower, the Tower's Mint, and the Crown Jewels. Consider downloading a map to plan your trip in advance.