Flight pricing errors are a godsend for wanderlusters with big dreams, but small wallets. It's like opening that crinkly take-out bag, and realizing you got an extra set of fries with your order.
….Only way better.
Like, hundreds of dollars better.
Believe it or not, airline pricing mistakes happen all the time. Here's some pretty epic ones:
2007: San Francisco to Auckland, New Zealand return, business class – $1,500 USD instead of $15,000 USD. The cause? Human error resulted in a missed zero – oops.
2012: Myanmar to the US, return – $300 USD. How come? A mistake when converting the price between currencies.
2013: Various US cities to Hawaii, return – $7 USD. Why? A computer glitch that lasted 2 hours messed up the price.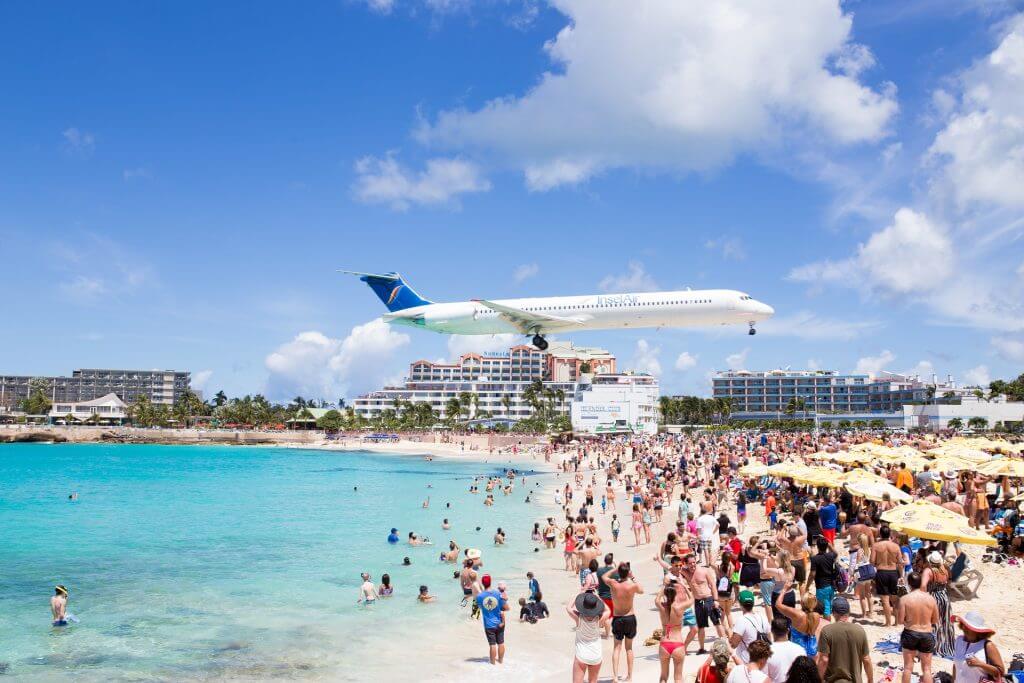 What are mistake fares, and why do they happen?
Flight mistake fares, otherwise known as error fares or airline price glitches, are a HUGELY reduced flight ticket due to a mistake. Various botch-ups can create a mistake fare – here's a few!
Human error
Laziness, fatigue, or a case of stubby fingers and a small keyboard can cause numbers to be omitted or added in error when entering a flight price, resulting in a seriously reduced ticket.
Currency conversion mishaps
Calculating a rate from one currency to another poses a huge risk for miscalculations. A famous example is a $4,000 United Airlines ticket that was listed for just $79 – allegedly due to a mishap when converting the Danish Kroner to the British Pound.
Omitting fuel surcharges & fees
Fuel surcharges were first created in the 70's during the oil crisis to accommodate fluctuating prices. Annoyingly, they were kept ever since – supposedly partly to prevent frequent flyer programs from allowing people to book 100% free tickets using miles (you must always still pay these additional fees). Every now and then though, these charges may be dropped by mistake. Fuel surcharges make up a surprising percentage of an airline ticket, so if left out, it equates to big savings!
It's too darn hard to find and correct every error
Statistically speaking, error fares are inevitable. With the abundance of flights and archaic flight booking systems out there, mistakes will happen and they will be overlooked. It is far too time-consuming and costly for airlines to continually snope out and correct every single price mishap.
How can I find mistake fares?

The simplest, easiest approach is to stalk the experts. Going (previously known as Scott's Cheap Flights) is one of the best flight deal websites in the U.S. (if you're based in the U.K., check out Jack's Flight Club for the same idea, or Next Departure in Canada). They have a dedicated team that searches the web all day long for flight deals. Just create a free account, enter your departure airport, and start receiving deals directly to your inbox! They also have a premium membership that we've personally used, which is $49/year (a free trial is available, and you can save 20% with the coupon code TNOMADS20). The premium membership includes far more deals, including domestic flights, and is well worth the cost, considering that the average member saves $550 per ticket!
Want to know more about subscription flight deals like Going and how they work? Check out our full comprehensive guide!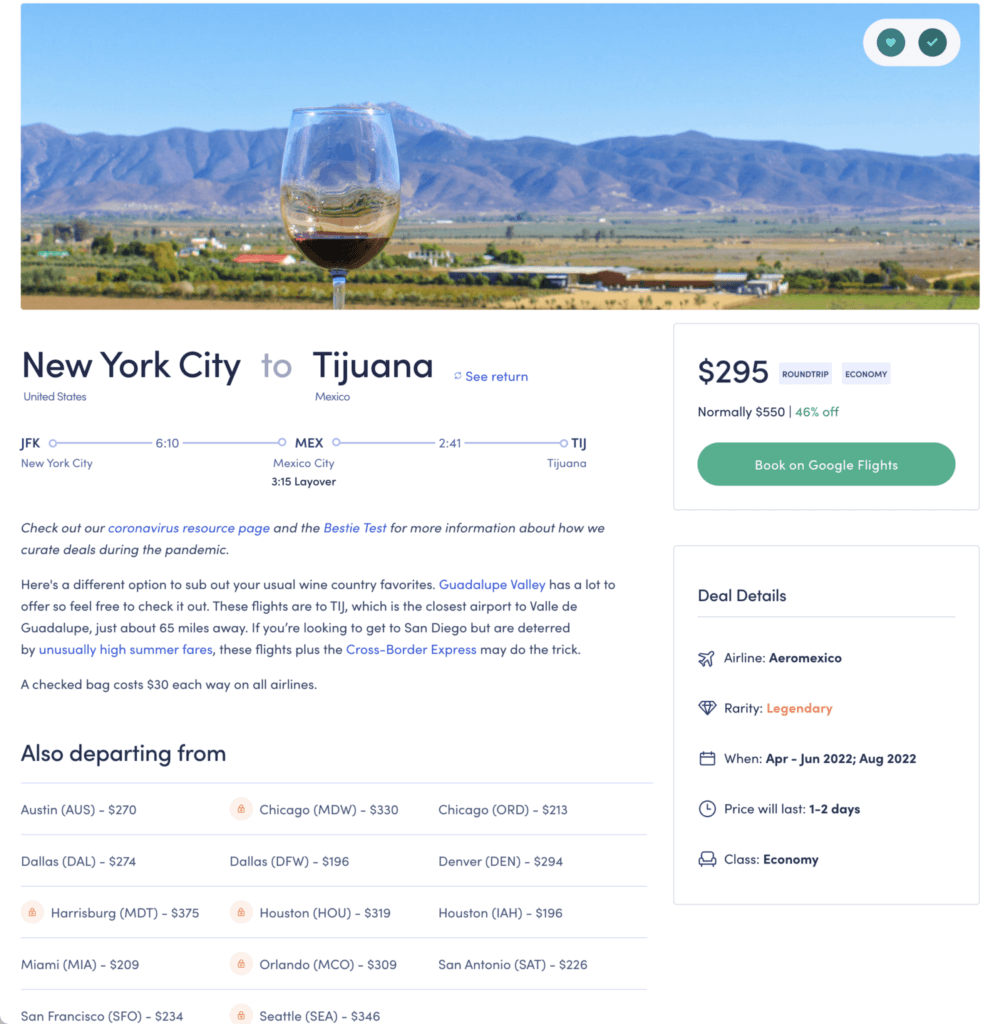 Our other favorite sites are Airfarewatchdog, Kiwi.com Deals, and Secret Flying. You can browse deals by origin and destination on their blog, and they're prompt with updating when tickets sell out or become defunct. You can also subscribe via e-mail, or follow on Facebook or Twitter to keep hot deals on your radar.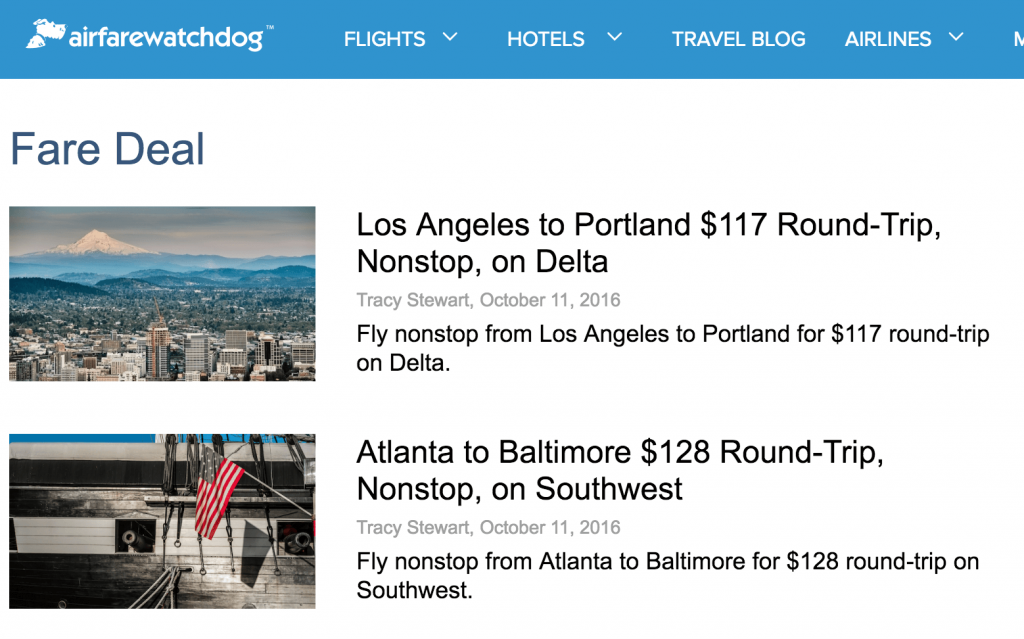 Some other great resources for finding mistake fares include The Flight Deal, I Want That Flight (Australia), Fly4Free, FlyerTalk Mileage Run forums, FareCompare, and Skyscanner.
The top 50 fares on Airfarewatchdog updates daily with some of the best flight deals of the day. Best of all, you can swap the departure and arrival cities, and the price will still be the same!
Now, if you want to seriously boost your odds of finding an error fare though, here's 4 more ways to improve your odds and become an error-fare booking wizard:
1. Conduct broad searches to spot abnormal price drops
This is best done via platforms like Skyscanner, where you can select "Entire Month" for your departure date. This visualizes the entire month's prices on one screen, making it easy to spot an abnormally low price.
In August, this strategy snagged us our very own last-minute error fare flying from Amsterdam to Toronto for just $280 USD direct, comfort class. Going rates for that month were upwards of $600 USD, so we were shocked. Most recently, this approach of seeing an entire month's prices helped me find a MUCH cheaper fare (possibly a mistake price) for a flight between Santiago and Buenos Aires in December (see below).
Put simply, when you're "zoomed out" looking at figures across an entire month, it becomes pretty easy to spot a major price drop all on your own!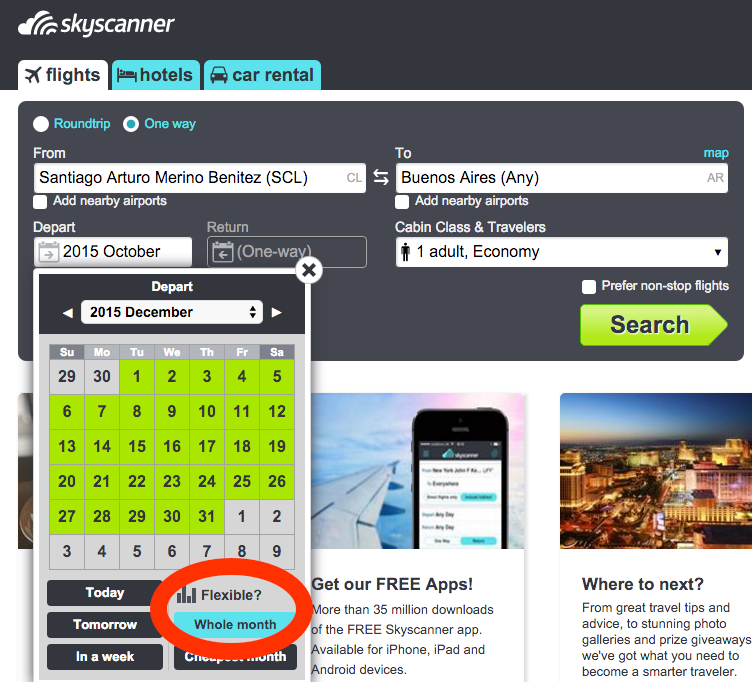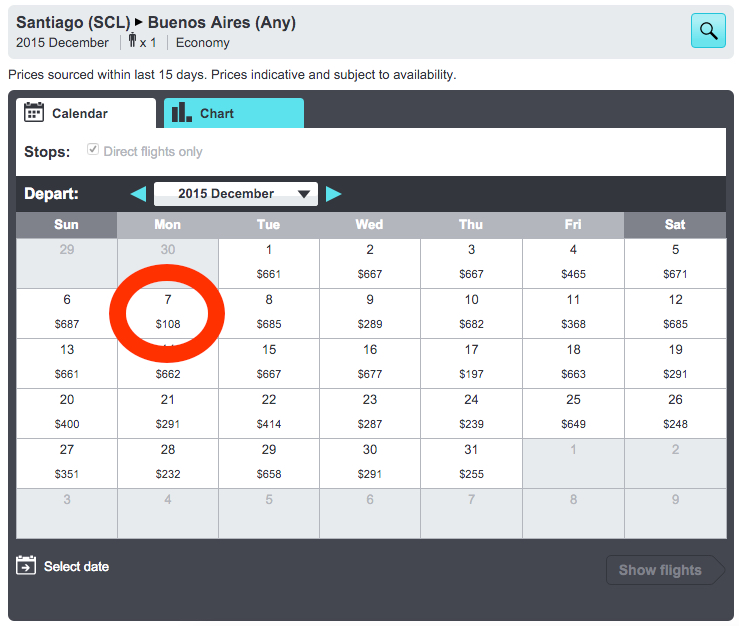 2. Stalk discussion forums to hear about hot deals.
Discussion forums are a popular place to share mistake fares. Some good ones include Flyertalk Mileage Run discussion (U.S.), Red Flag Deals hot deals flight section (Canada), Hot UK Deals thread (UK), and OzBargain travel deals section (Australia). Contributors share hot flight deals as they come up and fellow posters often chime in on whether they've had success with booking.
3. Fill your social media feeds with deal detectives.
I've said it before and I'll say it again – one of the best ways to hear about flight deals (or any travel deal for that matter) is to actively have them in your newsfeed. This is primarily how we keep in the thrifty know-how for all travel deal types. Follow resources like Secret Flying on Twitter and Facebook, plus any major airline or airfare watcher so you're aware of hot fares as they come up.
4. Sign up for e-mail alerts on flights.
Scott's Cheap Flights is the best-of-the-best when it comes to flight deals (including mistake fares), and they will e-mail you immediately on each deal with a link for booking. Skyscanner and Airfare Watchdog also offer price-tracking systems, sending an e-mail alert as soon as a flight you're watching changes in price. You're not as likely to find an error fare this way, but in theory you would be notified if a major price drop happened on your specific date and route.
Are there risks to booking mistake fares? Do tickets ever get cancelled?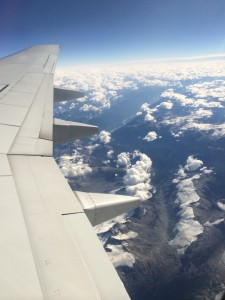 Yes and yes, but the odds are minimal. The primary risk of booking an error fare is that if an airline decides to amend it, your ticket will be refunded and cancelled. Usually though, error fares are honoured.
When you book an error fare, you need to await your confirmation. Just because you've bought a ticket, does not mean an airline will keep that price. If you want to book the rest of your trip (e.g. car rentals & hotels), use fee-free cancellation sites like TripAdvisor and Kayak. It can take up to a few days to receive a flight confirmation after purchasing, so do be patient.
If you're getting antsy about your purchased ticket, you can ask around on places like FlyerTalk or Secret Flying if others have received their confirmation. Secret Flying has a comment section below each error posting on their site, where people promptly post successes or flops after buying. Whatever you do – DO NOT contact an airline about your ticket (see next point!).
What should I do if I find a mistake fare?
FIRST… BOOK IT!
As a rule of thumb you should buy ASAP if you find an airline mistake fare that appeals to you. Selfishly, you should book it before sharing with anyone if you really want that ticket. Most airlines have a 24-hour penalty-free cancellation period, so you're wise to book even if unsure of your dates. In the United States it's actually the law for airlines to offer a refund penalty-free within 24-hours after booking. So be smart and book fast!
How fast is fast? Pricing errors can last several days, but the hottest ones disappear in just hours. If you're not 100% confident on committing, I strongly recommend booking to "hold" an awesome price during the penalty-free cancellation period. Note: always check cancellation terms and conditions before booking, as the timeframes do vary from one airline to the next.
THEN… ZIP IT!
As in, do NOT call an airline to notify them or ask about whether your error fare will be honoured. I repeat: DO NOT TELL AN AIRLINE ABOUT A MISTAKE FARE! They will eventually resolve an incorrect price, and alerting them to an error risks putting that hot deal to the grave. DO NOT be that person!
Finding Airline Mistake Fares: The Thrifty Gist
Stalk error fare experts like Going, Airfare Watchdog, Secret Flying and discussion boards to find hot flight deals
Use broad searching tools like Skyscanner to easily visualize errors across a month's worth of prices all at once
Book error fares ASAP, but always check cancellation policies first
The risks are minimal – while your error fare may not be honoured, you'll typically find out within days of booking
Do not ever call an airline to notify or ask about an error fare
---
And there you have it, the basics of finding a flight price glitch. With thrifty knowledge and a smidgen of luck, you can definitely stumble on an error fare to somewhere exotic. Happy flying!
Pssst: you needn't wait around for an error fare to book cheap flights. Check out our other flight-booking hacks to never over-pay for a flight again!