The adage, "you gotta spend money, to make money" isn't one you'd usually apply to trip planning. Forking out dollars to curb holiday costs seems completely counterintuitive. But when it comes to the priciest part of any vacation – flights – this way of thinking can pay off hugely.
This is where the concept of flight deal subscriptions comes in. You probably already pay for subscription services like Netflix or Spotify for entertainment. But there's a lesser known subscription service that focuses solely on scraping up cheap flights. It's arguably the only subscription service that puts money back in your pocket. Introducing: flight deal subscriptions.
What is a flight deal subscription service?
A flight deal subscription sends e-mail alerts about discounted flights from your chosen airport. Simply create an account, choose the airport you want deal alerts from, and wait for the e-mails to roll in!
While there are many ways to find cheap flights (we've got an extensive guide here!), subscriptions services have real live humans finding the deals. These companies have access to insider deal-scraping technology that can readily spot huge drops. Think of it as having a travel agent, only you're getting an entire team, focused solely on the most expensive aspect of your trip.
To be clear, this service isn't a travel agency. Rather, it's a human-tailored feed that relieves you from the mind-numbing task of repeated flight searching. Ultimately you make the booking on whichever site is identified as having the best fare – sometimes directly, or on a third party site like Skyscanner.
Skeptical? We were too, until we signed up in 2019 and saved $578 USD per person on flights. These were routes where we knew the baseline price well, so we were impressed by the slashed prices. More on that below (with screenshots!).
What's the best flight deal subscription service?
The two leaders in flight deal subscriptions are Going (U.S. only, previously known as Scott's Cheap Flights) and Dollar Flight Club. In fact, Going practically coined the concept. The founder, Scott Keyes, has a natural love for finding flight deals – a Thrifty Nomad at heart! He initially started an e-mail list to share deals he found with family and friends, which today has grown to a website of over 2 million members.
We've used them since their early days (it's one of our hot flight deal tips), and it's great to see the idea expanding. Here's a few reasons why Going is a cut above the rest:
Most flight deals are 40-90% off
Members save an average of $550 per ticket
All deals feature highly-rated airlines with non-stop or short layover flights. No bargain bin flights sleeping overnight in the airport terminal!
The premium membership includes mistake fares – flights sold at a fraction of their usual price due to glitches in the pricing system
A dedicated team of deal hunters and support staff
Track deals from multiple departure airports across multiple fare classes (economy, first class, or business)
Unfortunately, Going only sends deals departing from the U.S. right now, but other global departure points will be added soon. In the meantime, we'd recommend Dollar Flight Club, which offers deals departing around the world. Even if you're in the U.S., it can be worth having both for the huge savings you get from a single flight sale. Similar services exist in Canada (Next Departure) and the U.K. (Jack's Flight Club).
What's the cost?
With both Going and Dollar Flight Club, it's free to get started. A free account gives you access to a limited number of international economy class deals every month.
However, a premium membership gives you a far greater variety of deals, including international and domestic economy deals, weekend getaway deals, and mistake fares. A premium membership is usually $49/year, but you can save 20% with the coupon code TNOMADS20. Considering members save an average of $550 per ticket, it pays itself off.
Finally, there is the elite membership for $199/year. This includes all the benefits of premium, but also includes deals on first class, business, and premium economy. If you're a frequent business flyer (or aspire to be!), this is a no-brainer.
Dollar Flight Club offers 2 levels of premium membership with similar benefits to Going, at $69/year for Premium and $169/year for Premium Plus (offering premium economy and business class deals).
A Thrifty Case Study
As customers of Going ourselves, we've saved hundreds of dollars on two separate flights. Just note that these were deals departing Australia, which unfortunately is no longer covered, but may potentially return soon.
Case Study #1: Sydney to San Francisco
The first time our Going premium membership saved us money was on a flight from Sydney to San Francisco in order to attend Burning Man, the legendary celebration of art, self-expression, and self-reliance held in the Nevada desert – a trip that has long been on our list to write a guide about!
Return flights from Sydney to San Francisco average around $1200 AUD. This flight alert came in for prices starting at $725 AUD – a whopping $475 in savings, per person! That's $950 in savings for two people on a single deal – covering the annual membership fee nearly tenfold!
Here's what the deal e-mail looked like:

And here we are at Burning Man – one of the wildest, larger-than-life gatherings on the planet.
Case Study #2: Sydney to Vietnam
One sunny day in Sydney, a flight deal came in that sounded too good to be true. Return for FREE!
Going alerted us that Jetstar (an Australian budget airline) was offering return flights around Southeast Asia for the price of a one-way. With an open year ahead of us, this deal inspired us to fly to Ho Chi Minh City, Vietnam for less than half the usual price.
Even with fares, taxes, and baggage fees, we spent only $303 AUD ($223 USD) per person round-trip. Considering these return flights can cost between $700-$800 AUD, that's a rough savings of $900 ($450 per person) – again for a mere $49 annual membership.
Here's what the deal e-mail looked:

And here we are finally enjoying the temples and landscapes of Vietnam – every backpackers rite of passage!
So, convinced? Here's how to get started!
How to Use Going (previously known as Scott's Cheap Flights)
1. Create an account
Create a free account at Going. If you decide to upgrade to premium later, you can get a 20% discount with coupon code TNOMADS20.
2. Set up your departure airport(s)
The beauty of Going is that you can receive alerts for multiple airports, and decide whether you want domestic and/or international deals from each. Maybe there are multiple airports within driving distance of your home, or maybe you want to look out for deals for a friend or family member. Simply set this up in the Departure Airports section.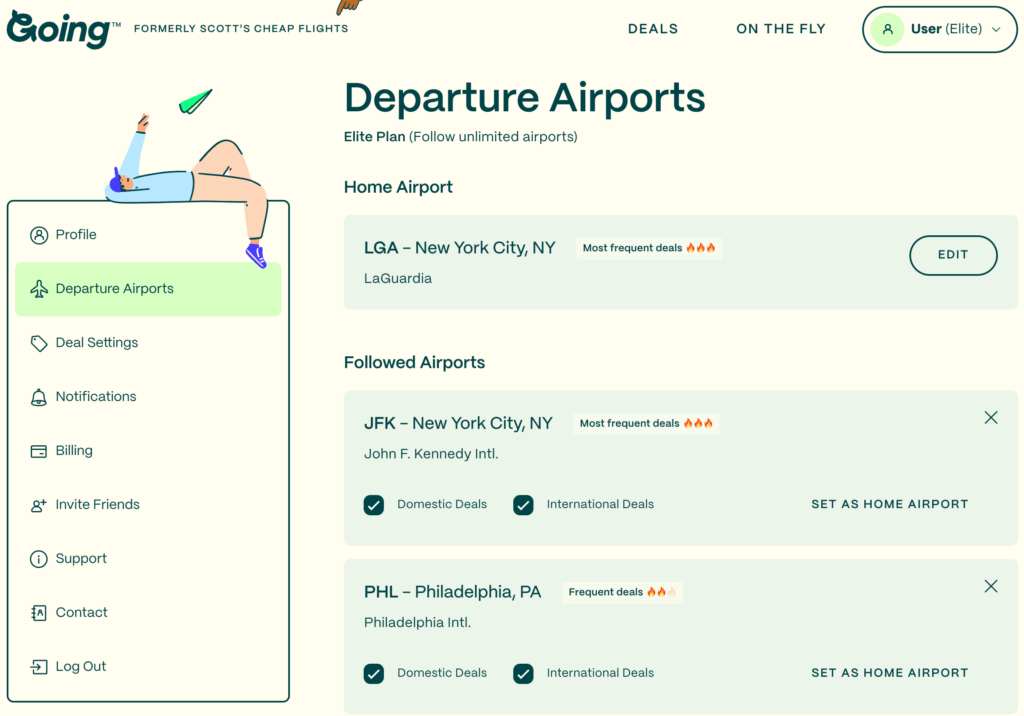 3. Set up your deal settings (Elite membership only)
Elite membership provides granular control over every class of flight deal you receive. Only interested in business or first class? You can turn off economy flight notifications in Deal Settings. Maybe economy is your go-to, but if a mistake fare comes along, you'd splurge on a once-in-a-lifetime discount for first class. That's an option, too. If you're a frequent business flyer, these settings can come in handy.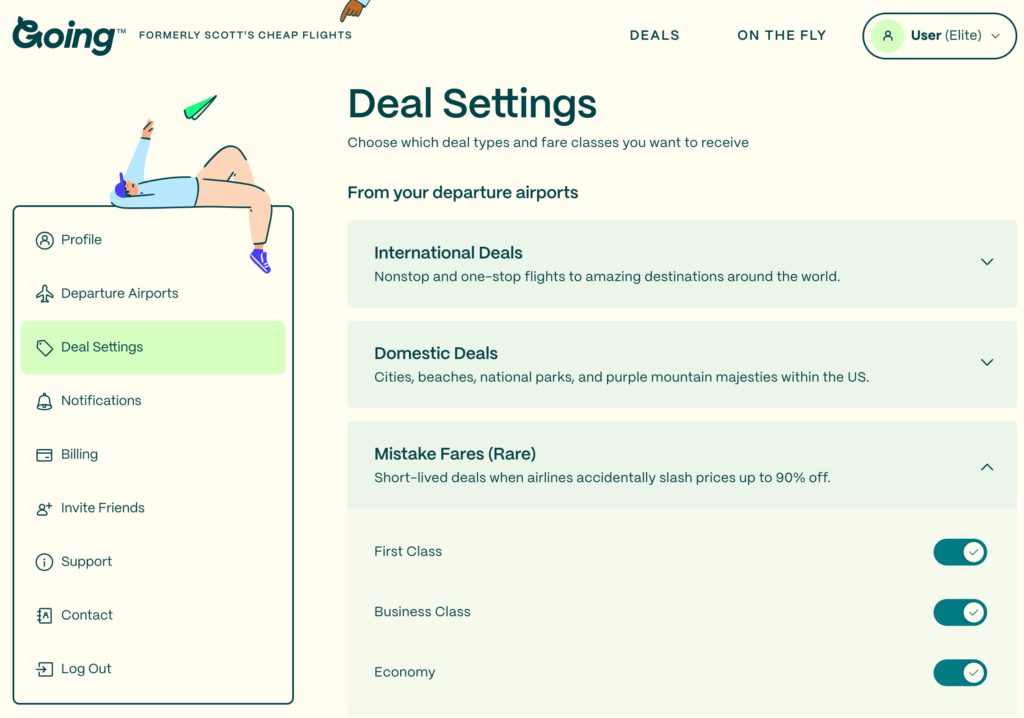 4. Let the deals roll in!
That's it! You're set up and ready to start receiving big discount flight deals direct to your inbox. Now just sit back and relax, knowing that you have America's top team of flight hackers on the case for your next big trip.
The Thrifty Gist
Flight deal subscriptions create human-generated feeds of flight deals, specific to your desired route(s)
Flight deal subscriptions can save 40-90%, an average of $550 per flight
The best flight deal services are Going (U.S. only) and Dollar Flight Club (available internationally). In Canada try Next Departure and in the U.K. check out Jack's Flight Club
A premium membership is $49/year for Going and $69/year for Dollar Flight Club, so you only need to use 1 flight deal to make the cost worth it – very easy to do when over 2000 deals are e-mailed per year
Get 20% off a premium membership with coupon code TNOMADS20
For more tips, check out our ultimate guide, How to Book the Cheapest Flight Possible to Anywhere.