Humble as Canada is often projected to be, in recent years it's hogging the travel spotlight. With Lonely Planet and the New York Times ranking Canada as the number 1 travel destination in 2017, it's got many people are asking, "what's the big deal, eh?".
As Canadians ourselves, we are decidedly biased in saying it's a place everyone should visit in their lifetime. From glittering glacial lakes to forest-lined roads speckled with wildlife – Canada is a feast for the eyes, and will leave any visitor hungry for just a little more time to explore it.
So, are your feet itching for an outdoor adventure? Hit up any of these 12 spectacular national parks. We promise you won't regret it.
---
1. Kluane National Park, Yukon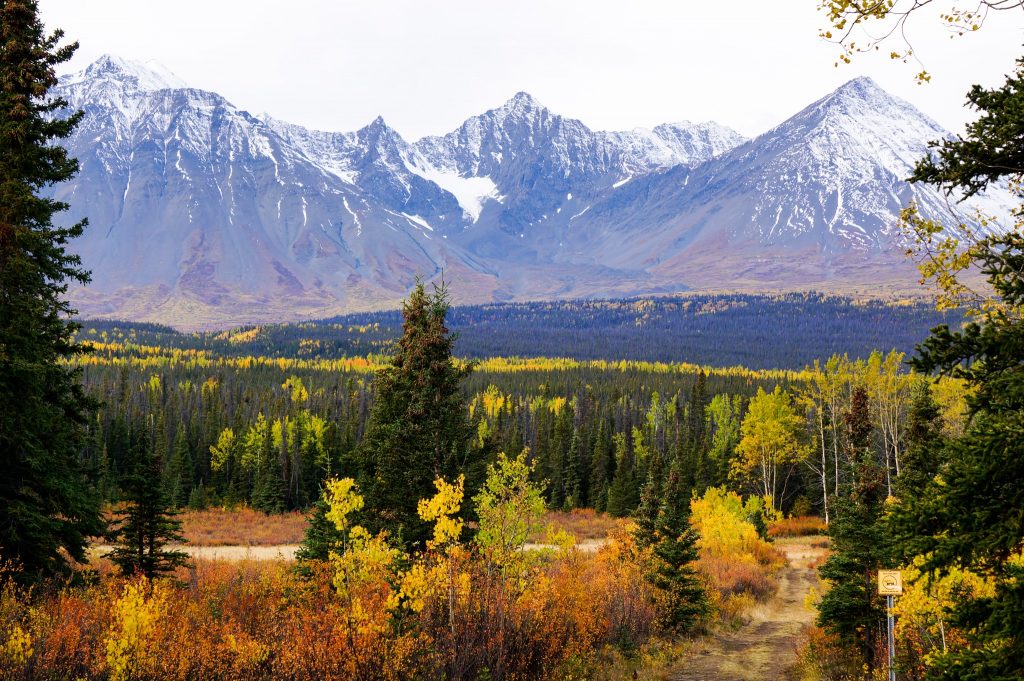 Mountains glazed in snow, the sweet perfume of pine, and lookouts that pluck the "wow" right out of you – Kluane National Park is a gem of the Yukon. As Kluane is close to the American border, this park is well paired with a figure-eight driving route through Alaska too (check our route recommendation here).
Where: Yukon (Western Canada)
What to see: Snow-capped peaks, radiant glaciers, dense forests, grizzly bears, auroras (tours available or attempt yourself while camping!)
When to go: Spring for lush landscapes, summer for warm temperatures and fall for incredible foliage
How to get there: ~2 hour drive from Whitehorse to park entrance. Can be done as day trip, camp overnight, and/or part of a longer road trip including Alaska.
Where to stay: Camp as low as $10 in the park. Whitehorse is nearest city, check Booking.com for hotels or AirBNB
2. Cape Breton Highlands National Park, Nova Scotia
Seaside driving, jaw-dropping lookouts, and the persistent crispness of sea salt-infused air, Nova Scotia's Cape Breton Highlands offer some of the best national park driving you can do. Be sure to hit up the Cabot Trail for your best odds at seeing Canada's majestic moose in the wild.
Where: Nova Scotia (Eastern Canada)
What to see: Moose, puffins (best spotted on a tour), whale watching (tours also recommended), and vibrant seaside towns
When to go: Summer for warm temperatures (it can get quite chilly by the sea, especially if camping). Fall offers incredible foliage and spring is the less busy shoulder season.
How to get there: Driving is best (one can fly into Sydney or Halifax first).
Where to stay: Camp at Cape Breton or do a hotel or AirBNB in nearby towns like Pleasant Bay
3. Wapusk National Park, Manitoba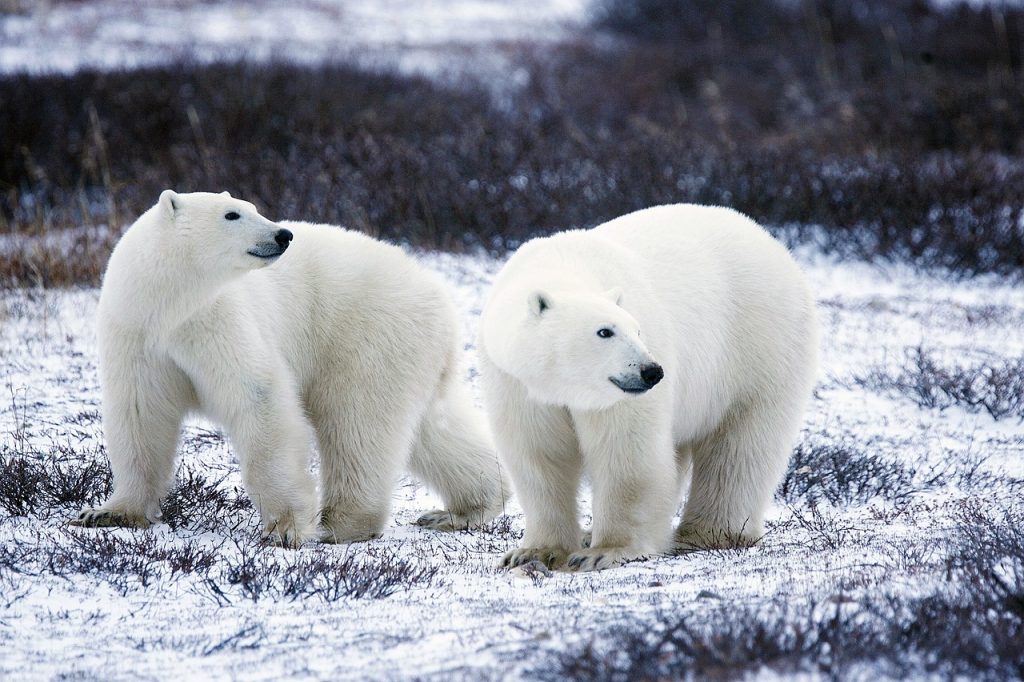 Want to check wild polar bear sightings off your bucket list? This is the best place in Canada (heck, even the world!) to do it. It's a long ways north, but the majestic sight of polar bears amidst the arctic tundra is not something you'll ever forget.
Where: Manitoba (Midwest/Central Canada)
What to see: Polar bears, arctic foxes, caribou, moose, arctic landscapes, wetlands, subarctic forests. Tours are pricey but essential for visiting the park. Day tours are available as are multi-night packages from Winnipeg.
When to go: Late February to mid-March is ideal for spotting polar cubs, while late October to November is prime time for seeing hoards of adult bears.
How to get there: Fly from Winnipeg or take the train (limited scheduling, check VIA rail website for details).
Where to stay: In the city of Churchill at a hotel or B&B.
4. Forillion National Park, Québec
Though famed for its pristine snowglobe-like winters, Quebec is just as miraculous in its other seasons, and is home to stunning beaches and nature. Gaspé has many such epic coastline, with towering cliffs and emerald waters that shimmer in the summer sun.
Where: Québec (Central Canada)
What to see: Teetering cliffs, rolling green hills, quaint cottages, and ever-stretching beaches. There's also plenty of wildlife including sea birds, whales, moose, lynx, and more.
When to go: Spring to summer for beach time and winter for outdoor activities like snow shoeing and cross country skiing.
How to get there: ~10 hour drive from Montréal, Quebec or ~7 hours from Moncton, New Brunswick. Alternatively you can take a flight from either province.
Where to stay: Gaspé is a less trodden destination, but does have hotels and cabins throughout the region.
5. Gros Morne National Park, Newfoundland
Mountains, fjords, rivers, and more – Gros Morne is the epitome of gasp-inducing Canadian wilderness. With bears, arctic foxes, lynxes, and waterfalls all on offer, how can one not be intrigued by this incredible place?
Where: Newfoundland (Eastern Canada)
What to see: Massive fjords, gaping landscapes, majestic lakes (boat tours available), waterfalls, mountains, wildlife (arctic foxes, bears, and more).
When to go: Winter is harsh here, so spring to fall is ideal with summer being best if you are wanting to camp or hike.
How to get there: It's a long (nearly 7 hour) drive from St. John's, though a quick one hour flight to Deer Lake does the trick where one can pick up a car rental.
Where to stay: Camping is possible in the park, though AirBNBs and hotels are available in the area too.
6. Prince Edward Island National Park, PEI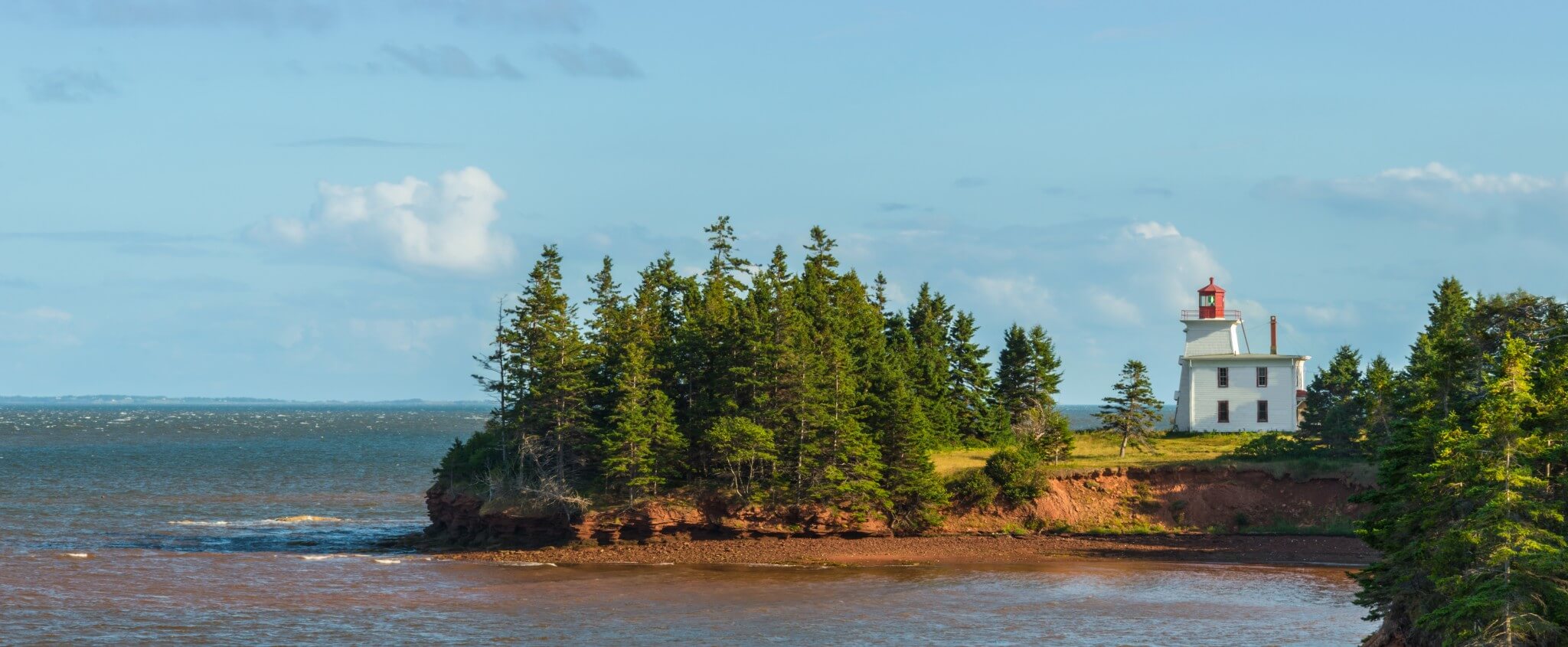 Rusty red sand and a rainbow of brightly painted beach houses – PEI National Park offers colourful oceanside views on a less trodden scale. Anne of Green Gable's fans (and even those who aren't) should pay a visit to the picturesque birthplace of the fictional character. The Irish influence in this part of Canada provides unique entertainment; don't miss a local Celidh while here, it involves live fiddle, dancing so quick feet become a blur, and an impossibly good time with small-town locals.
Where: Prince Edward Island (Eastern Canada)
What to see: Rust coloured sands, adorable lighthouses, colourful seaside towns
When to go: Summer is ideal for oceanside drives, spring and autumn are cooler and less-trafficked times to visit
How to get there: The island itself is tiny to explore and is a ~2 hour drive (across an epic bridge!) from Moncton, New Brunswick.
Where to stay: Adorable B&B's adorn this island province (check AirBNB or Booking.com for listings). Campsites are found throughout the island as well.
7. Jasper National Park, Alberta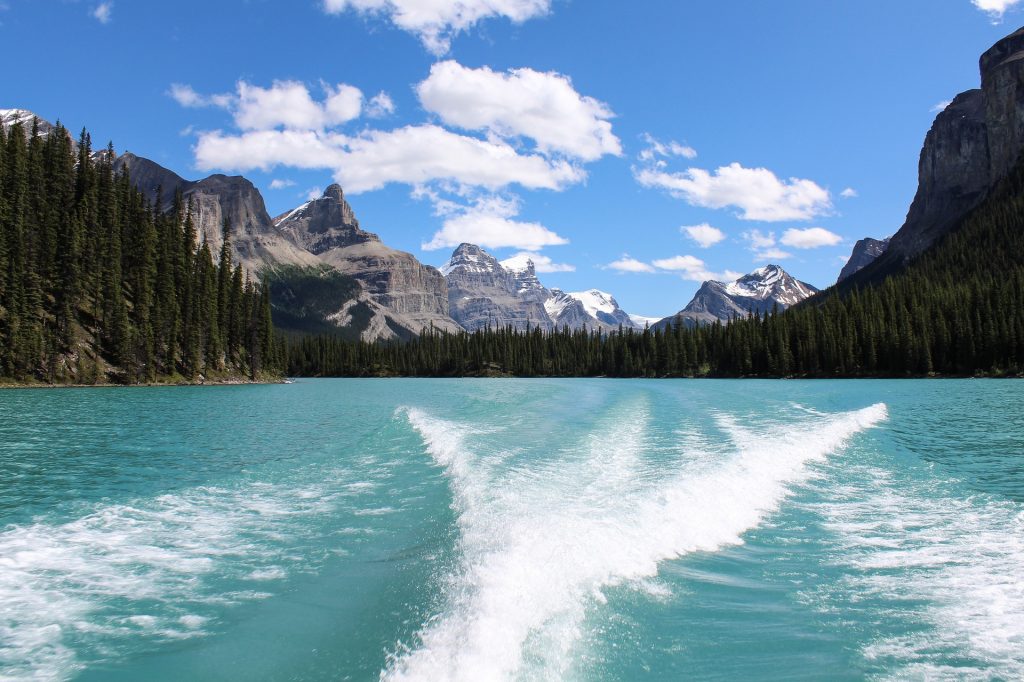 Are you an eager beaver to see Canadian wildlife? Jasper is arguably your best bet to do it. With even lesser crowds than its sister park, Banff (which is also indeed worth a visit), you're nearly guaranteed to see something. Elk, deer, and bears are surprisingly common to spot, particularly at dusk.
Where: Alberta (Western Canada)
What to see: Wildlife (moose, elk, deer, beavers)
When to go: All times of year offer different wildlife sightings, though spring to fall are arguably the most comfortable temperature-wise, especially if camping.
How to get there: Driving is recommended, though day tours are available from Jasper.
Where to stay: Camping is ideal, but AirBNBs and hotels are plentiful in Jasper.
8. Elk Island National Park, Alberta
When you hear the word 'safari', Canada doesn't come to mind. But second only to Africa, Canada is actually home to the largest number of hoofed animals on earth. See them in the wild by camping at Elk Island and driving through the park yourself which is home to bison, moose, deer, and more.
Where: Alberta (Western Canada)
What to see: Tranquil lakes, beaver, moose, elk, bison, thick forest, brilliant sunsets. Many wildlife are most active at dusk.
When to go: November to April is best for viewing elk, though fall offers incredible leaf changes and summer provides great warmth.
How to get there: 35 min drive from Edmonton (feasible day trip).
Where to stay: Edmonton is nearest city, but you can camp overnight in the park. Check Booking.com for hotels or AirBNB if you fancy nicer digs.
9. Glacier National Park, British Columbia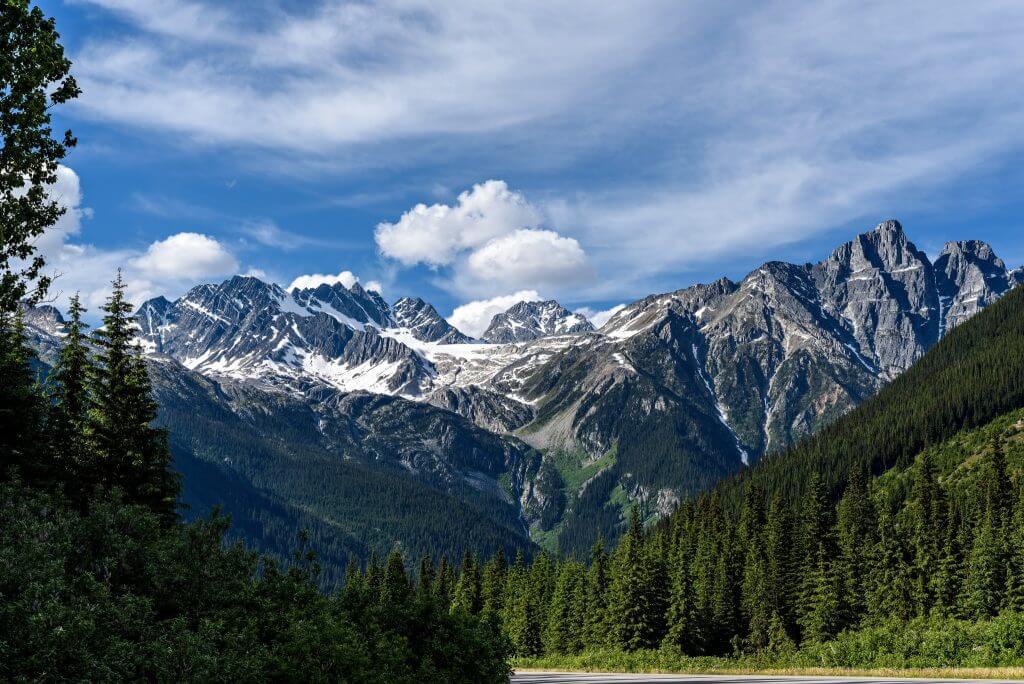 The name says it all – if you're keen to check glacier-spotting off your bucket list, here's where to do it. Glaciers snake their way between mountain peaks which create a delightfully epic skyline.
Where: British Columbia (Western Canada)
What to see: Brilliant turquoise glaciers, towering mountains
When to go: Each season provides different scenery. Winter means whiter, snowier mountains, spring provides bubbling rivers, summer is warmer, lush landscapes and fall showcases colourful forestry.
How to get there: Driving is ideal (it's a 2 hour drive from Banff)
Where to stay: Camping is recommended or stay in a hotel or B&B in neighbouring towns (note: most towns are ~1 hour away).
10. Fundy National Park, New Brunswick
Waterfalls, rugged coastline, and the highest tide change in the world. Canada's East coast is as refreshing to the eyes as it is the palate (that is, if seafood is your jam). Fundy's beaches, lighthouses, and forest walks are plentiful here, as is its wildlife including moose, whales, dolphins, beavers, and more.
Where: New Brunswick (Eastern Canada)
What to see: A dazzling array of wildlife, rust coloured beaches, incredulous cliffs and coastline, striking hikes galore
When to go: Spring, summer and fall offer tolerable temperatures (summer being warmest). Whale watching is best done from mid-July to early September. Kayaking the Bay of Fundy is also possible in warm months.
How to get there: Driving is ideal to really be feel New Brunswick's vibes. The National Park is only a 1 hour drive from Moncton.
Where to stay: Camping in the park is possible, or visits can stay 1 hour away in Moncton in hotels or AirBNBs.
11. Thousand Islands National Park, Ontario
While not numerically precise to its name, the abundance of islands here (which are worn-down ancient mountain peaks) are incredible to see. Though one of Canada's smallest national parks, the forest-lined rivers are big on the senses. Dense green forests, the sounds of lapping water, and adorable brick castles sprinkled throughout the islands are the crowd pleasers here.
Where: Ontario (Central Canada)
What to see: Quaint islands, adorable castles (try a boat-based castle or island tour), lush forests, ambiguous wildlife including beaver, coyotes, skunks, porcupines and more
When to go: Spring to fall is ideal, particularly if one wants to kayak or take a river cruise (recommended)
How to get there: Drive and then camp onsite or stay overnight nearby
Where to stay: Hotels or AirBNBs (many small towns nearby).
12. Bruce Peninsula National Park, Ontario
With hidden caves and gorgeous blue grottos reminiscent of Italy, the Bruce Peninsula is worthy of all its hype. There are plenty of spectacular hiking trails on offer here, from day walks to multi-day treks. With the Niagara region nearby, you're best to pair this with a trip to the famous falls while you're at it.
Where: Ontario (Central Canada)
What to see: Clear teal waters, stunning grottos (tours available or explore yourself on foot) bubbling waterfalls, tree-lined cliffs, timid and not-so-timid wildlife (including bears, foxes, chipmunks, raccoons and more)
When to go: Fall for an unworldly sight of rust-coloured trees, summer or spring for warmer temps and greener landscapes for hiking
How to get there: Driving is ideal (~3.5 hour drive from Toronto with many small stops along the way and near the park). One can also take a 3-day tour departing from Toronto if a DIY trip is less feasible.
Where to stay: Camp within the park or stay in a nearby town at a hotel or AirBNB.
---
And there you have it, a snippet of some of Canada's most incredible gems. But don't let our list restrict you – there's plenty of jaw-dropping parks on offer in every province and territory. With national park fees waived this year, there's never been a better time to get out there and see 'em, eh!
More posts on Canada:
What are your favourite national parks in Canada? Any must-visit's you'd add to the list?