You know you're in Montreal when you can see your breath as you exhale. It's that cold! Shovelling snow, having your eyelashes turn to icicles, and whiteout blizzards are just a few seasonal norms for Montrealers. As a proud Canadian, let me reassure you that it's not all bad! There's so much to love about this city, even in the colder months.
Whilst Covid saw much of the city in lockdown last year, thankfully the situation has improved. Most activities including restaurants and bars are open and require a vaccine passport for entry, so be sure to have that on you at all times. If you are visiting from overseas or out of province, bring proof of vaccine issued by your local government or health authority.
Here is a round-up of my favourite, affordable ways to keep happy when the Montreal air is biting your face!
1. Walk Montreal's best winter trails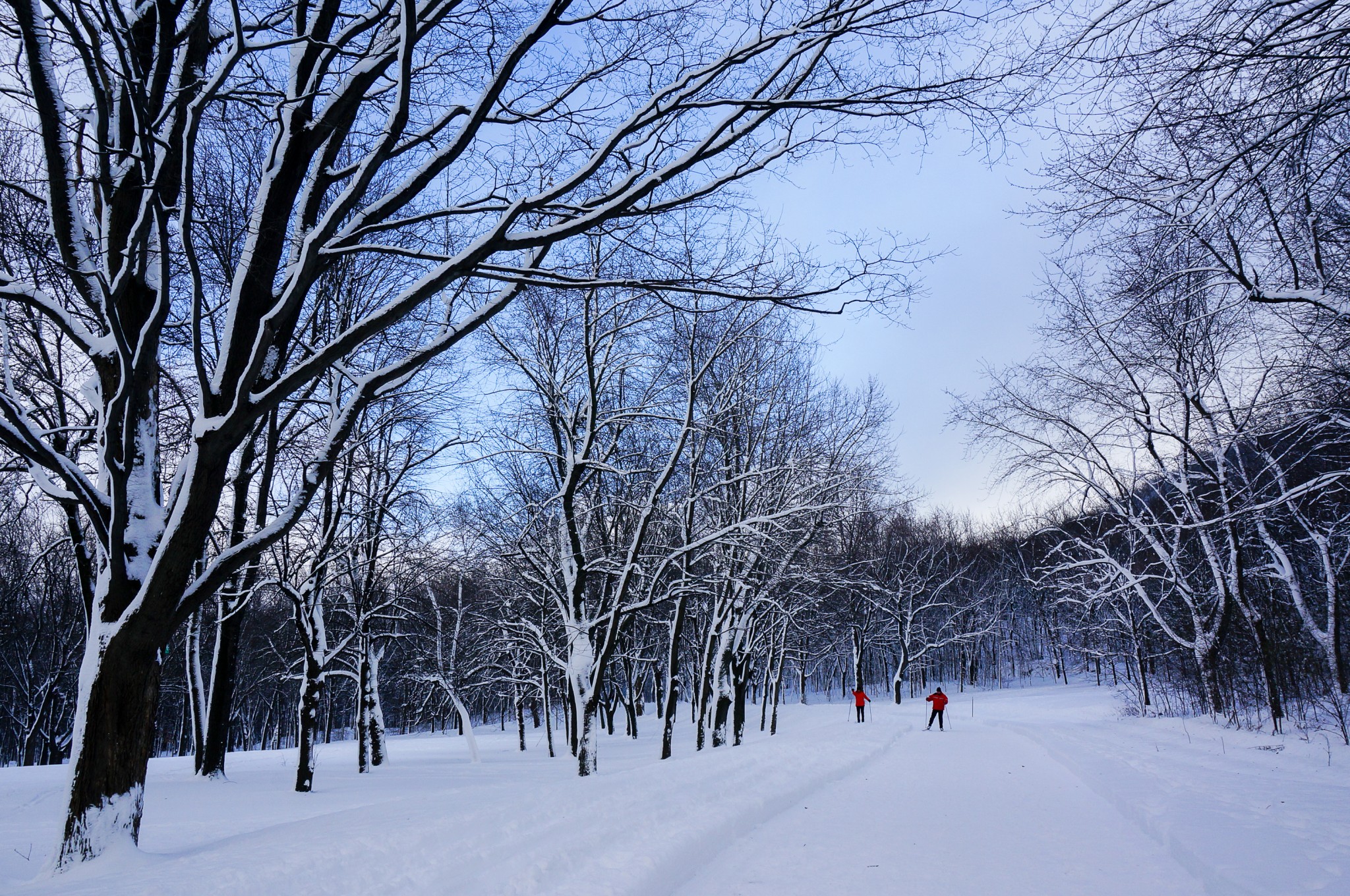 If there's a good dumping of snow, make a beeline for Mont Royal. This tree-filled park and its hilltop offers a top-notch lookout of the city. You can walk, snowshoe, cross country ski, or even "fat bike" its snowy trails. Warm up with a hot drink at the Mont Royal Chalet or Smith House located in the park. Admission free, open 7 days.
A mere 5 minutes from downtown, Parc Jean Drapeau offers snowy trails, ice skating, sledding, fat bike hire, and more. BYO gear or check ahead if equipment rental is available here. Admission free, open 7 days.
2. Visit a "Cabane à Sucre"
I'll let you in on a secret: Montrealers have a sweet tooth! That's no surprise as Quebec produces over 70% of the world's maple syrup supply. See how it's harvested by visiting a Cabane a Sucre (sugar shack) during harvest season between Feb-April.
The uniquely Quebec treat maple taffy or "tire d'erable" is a must-try. It's made by pouring hot maple syrup over fresh snow, which is then rolled onto a popsicle stick for a sweet, sticky treat. You can try maple taffy at a sugar shack or in Montreal at the following locations in winter:
Old Montréal: Wooden stand located on Place Jacques Cartier, between Rue Le Royer East and Rue Notre Dame (before the Montreal City Hall)
Jean-Talon Market: Christian Benoit's maple syrup stand on Fridays, Saturdays, Sundays
Atwater Market: Érablière Marois stand on Saturdays & Sundays
3. Visit Montreal's beautiful Notre Dame Basilica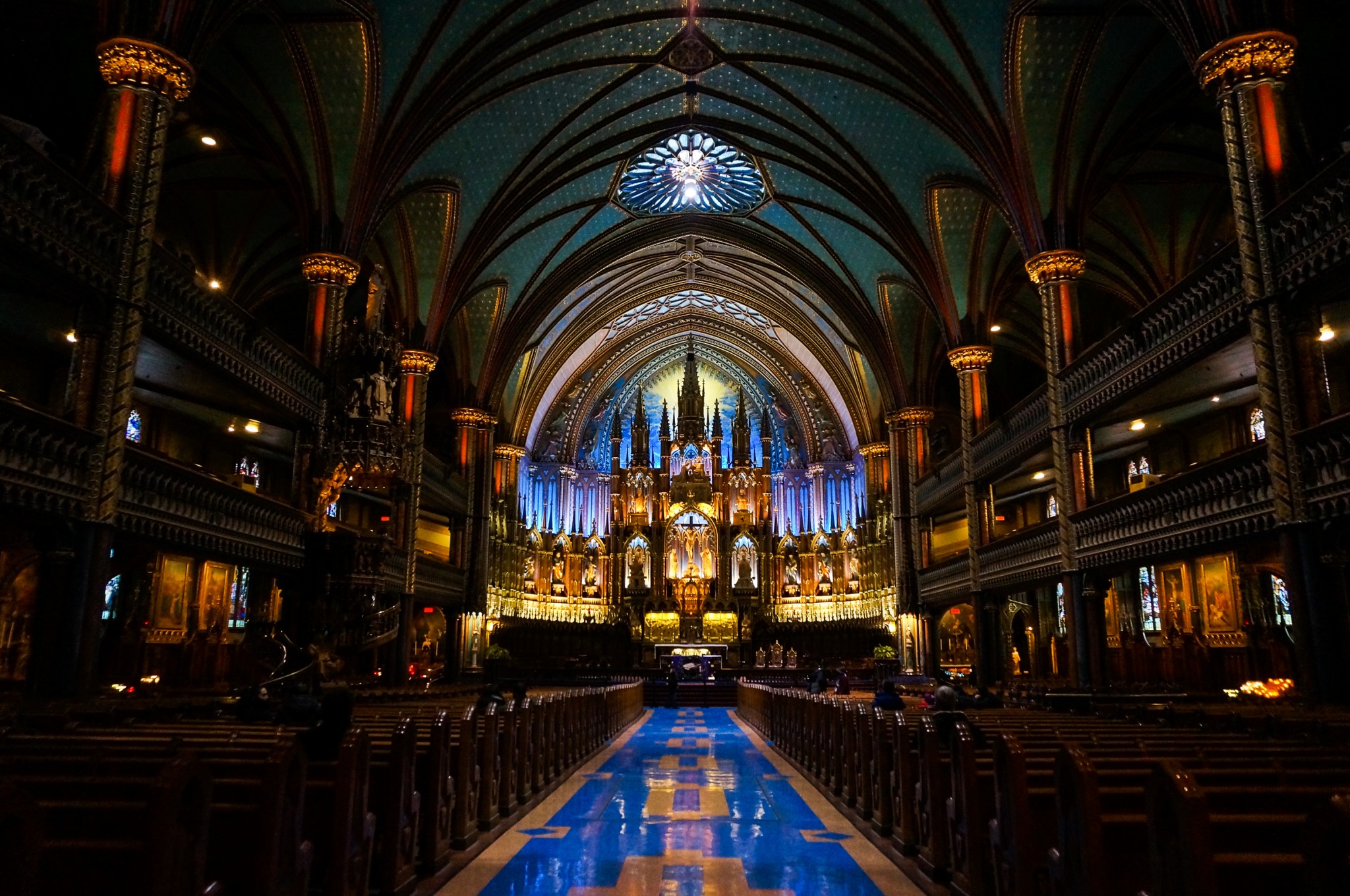 A visit to Montreal is incomplete without a visit to the Notre-Dame Basilica. Its jewel-toned colours and ornate gothic architecture will make you feel as though you're in Europe. Hot tip: if there's a big line, rally up strangers and get in as a group. Price $18 adults, $12 students, $9 kids. Booking recommended.
An unmissable winter experience is the spectacular AURA light show, which runs through November to early January each year. Booking recommended. Showtimes and tickets located on their website.
4. Wander Montreal's best markets
Fresh baked baguettes, artisan cheese, Christmas trees, and macarons are just some of what's on offer at Montreal's plentiful markets. During the festive season there are special Christmas markets which are picture perfect in the snow.
Those wanting to learn more about local cuisine can partake in one of the city's many food tours. My personal favourite is Montreal's Secret Food Tour, which gives you a taste of some of the cultures that make up this city. You can even learn to make authentic Montreal bagels!
Jean-Talon Market. The continent's largest open-air public market. Open 7 days. Hours & directions here. Christmas Market Nov 27-Dec 23, 2021.
Atwater Market. Picturesque market in one of the city's most beautiful buildings. Open 7 days. Hours & directions here. Christmas Village Market Nov 25-Dec 19, 2021.
Maisonneuve Market. Quaint market with cheese, produce, meats and more. Open 7 days. Hours & directions here.
Grand Marché de Noël de Montréal. Christmas Market located on Sainte-Catherine from Nov 20, 2021 to Jan 2, 2022. Hours & directions here.
5. Explore Montreal's winter activities
Outdoor activities and festivals abound in Montreal winter. Your only struggle will be choosing one! Bundle up – with the windchill outdoor events do get frigid. Here is a list of this year's events.
Old Port skating rink. Outdoor skating rink a Montreal's Old Port. Open 7 days from Dec 11-6 March 2022. Hours & directions here.
Montréal En Lumière. An epicurean destination by day, live cultural performances and party by night. Feb 17-27, 2022.
Igloofest.  Outdoor electronic music and dance party for ages 18+. Jan 13-Feb 5, 2022.
Christmas in the Park. Live music, real Christmas trees & more. Located at Place Émilie-Gamelin. Dec 3-23, 2021.
6. Have coffee with a cat
What are two things to cozy up with on an icy day? Coffee and cats, of course! Montréal's Cafe Chat L'Heureux offers the warmth of cats and piping hot drinks.  The cats are all rescues and some are adoptable. Open Tues-Sunday. Address: 172 Duluth East.
7. Explore Old Montreal on foot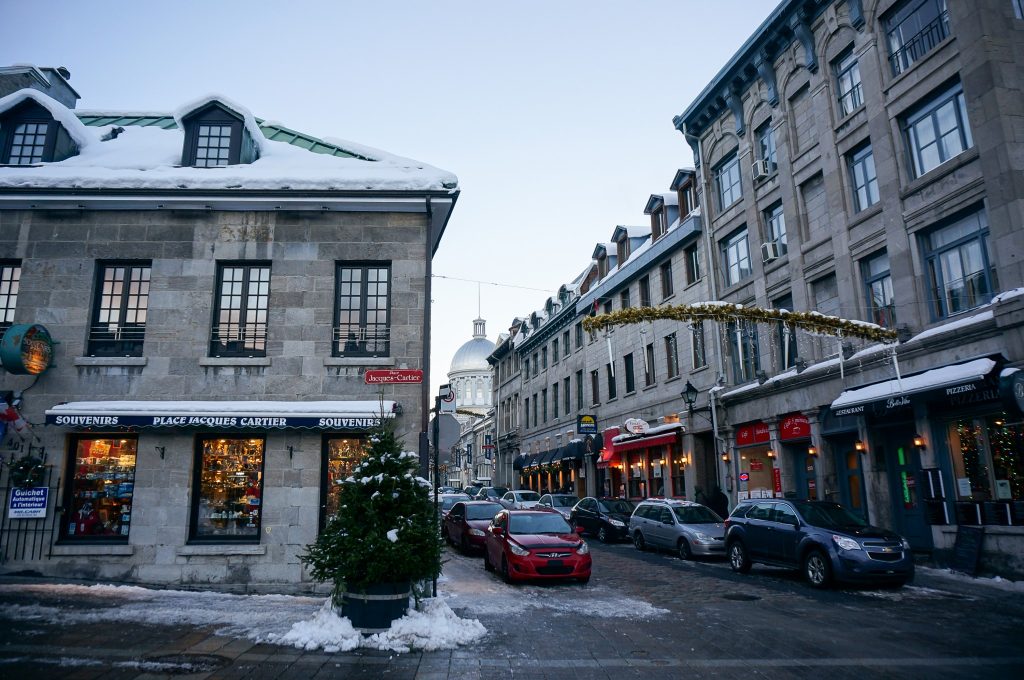 Back in the 1600s, Montréal's waterside port was one of Canada's major fur trading posts. Today, its cobblestone streets and stone buildings still ooze with rustic European charm. Stroll the streets yourself or take a Christmas walking tour and learn about the city's European holiday traditions and history.
For architectural eye candy, go to St-Urban street for its view of the Basilica and Place d'Armes. Walk St-Paul street (between St-Urban and St-Pierre streets) for quaint shops. Visit streets des Recollets and Ste-Helene to get photos of old houses and lampposts.
8. Meander museums & art galleries
Montreal is an epicentre of arts and culture, teeming with galleries big and small. One of my favourites is the Montreal Museum of Fine Arts with its impressive collection of creative works. The Galerie de Bellefeuille is renowned for its large collection of Canadian talent as well as international pieces.
For a larger than life experience, get lost in the stars at Montreal's Planetarium. Check out viewing schedules for Continuum, Aurorae, and other shows here.
If you plan on visiting five or more of the city's major attractions, the Passeport Montreal can save you some money. The attractions pass has a $500 value and will give you access to 28 different places with unlimited public transportation.
9. Discover Montreal's street murals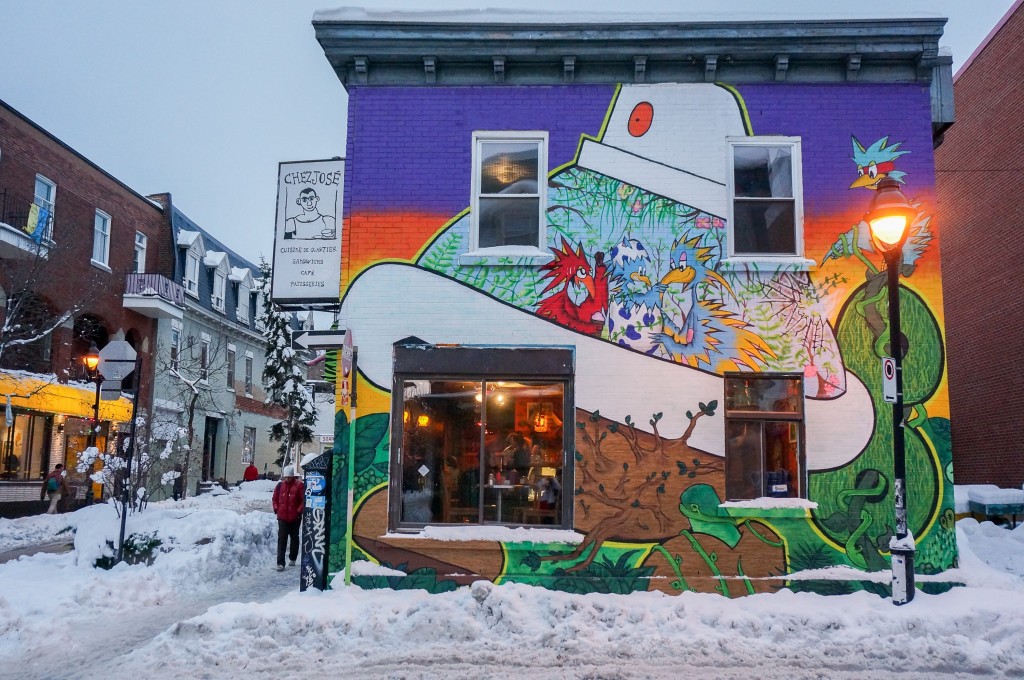 Montreal's urban centre is one big canvas for street art. Bring a hot drink and discover some art with a friendly guide or on your own by roaming the Plateau area.  This map will show you around  St-Laurent boulevard, St-Urban and St-Dominique streets' countless graffiti murals.
10. (Window) shop til you drop
Those seeking some retail therapy (or just a break from the cold) should start in the Quartier des Spectacles where you'll find the Complexe Desjardins. This also gives access to Montreal's famous Underground City. Other shopping destinations nearby are Promenades Cathedrale, the Eaton Centre, Place Montreal Trust and Place Ville Marie.
For trendy, affordable and eco-friendly fashion, shop at Frank and Oak. Look no further for vintage chic finds at Annex Vintage. Rue Sherbrooke is ideal for those seeking high-end shops. Between Guy and Montagne streets, one can find many adorable boutique shops.
Montreal has plenty to offer in the way of shopping, even for those on a budget. Many of the city's department stores put on elaborate Christmas window displays, too. Such stores include The Bay, Noel Eternel, Animalerie Paul, Plaza St Hubert and Station 16.
11. Warm up with Montreal's winter staples
There's a reason Montrealers call their favourite dishes comfort food. All are served warm and hit the spot like nothing else on a cold winter's day!
For the quintessential Montreal staple, poutine, La Banquise serves up some of the best (and infinite varieties). Finish on a sweet note with a Queue de castor (beaver tail). Smoked meat sandwich at Schwarts' Deli are another must-try. Save room for bagels fresh out of the oven at St-Viateur or Fairmount, too.
Crepes are a staple Montrealer brunch item and Muru Crepe does them well. For a weekend brunch, try Toi, Moi et Cafe or Olive and Gourmando.  It's budget friendly and has an impressive, artistic flair. For a little taste of Italy, try hole-in-the-wall restaurant Drogheria Fine for gnocchi. It's the only item on their menu and they are the best!
How about warm drinks? For a boozy twist, try a hot toddy! It's a warm cocktail that's enjoyed at sub-zero temperatures. For a fun night out, clink glasses at La Distillerie No. 1.
---
Montreal is one of the most lively winter cities on the planet. So bundle up, embrace your inner snow bunny and enjoy all that this snow globe of a city has to offer.
The Thrifty Gist
Explore the city's budget & free sites on foot (bundle up, or use the underground pathways)
Bookmark any activities of interest in your calendar – there are many!
Consider getting a Passeporte Montreal to save money on popular attractions and get free public transit
Avoid frigid queues with skip-the-line tickets, or join unique local tours with GetYourGuide and Viator. Both have instant confirmation and free cancellation, plus real traveler ratings and reviews