Housesitting is a fast-growing trend in the world of travel. Budget-wise travellers are flocking at the opportunity for free accommodation, plus the chance to make a furry friend (or several!). Those unfamiliar with the concept may wonder, why would anyone lend their home to a stranger for free?
How house sitting works:
HOME OWNERS
Get a FREE carer for their home &/or pets while on holiday
Have peace of mind that their home is secure
Do not have to put animals in kennel or another home
Make foreign acquaintances & friends
TRAVELLERS
Get FREE accommodation in exchange for providing home &/or pet care
Get an authentic, local place to stay
Make foreign acquaintances & friends
House sitting is a win-win scenario for all. Though for-profit services like AirBNB exist where vacant homes can be rented out while on holiday, home owners save big by not having to pay for maintenance while they're away (e.g. care for pools, gardens, yards, and most commonly – pets). Put simply, for home owners, the concept of house sitting is a penny saved is a penny earned.
How we stayed in Germany's most expensive city for free
Famed for Oktoberfest, beer halls, and enormous food portions, Munich is an exciting albeit costly place. In fact, it's Germany's most expensive city, though we managed to land ourselves a house sit there in the height of the summer tourist season. This provided us with our own apartment, saving us upwards of $600 USD for our 12-day visit. In exchange for feeding a cute cat twice a day, we got an authentic local experience in a charming neighbourhood, made friends with the home owners, and enjoyed great proximity to tourist attractions, all at the whopping cost of free.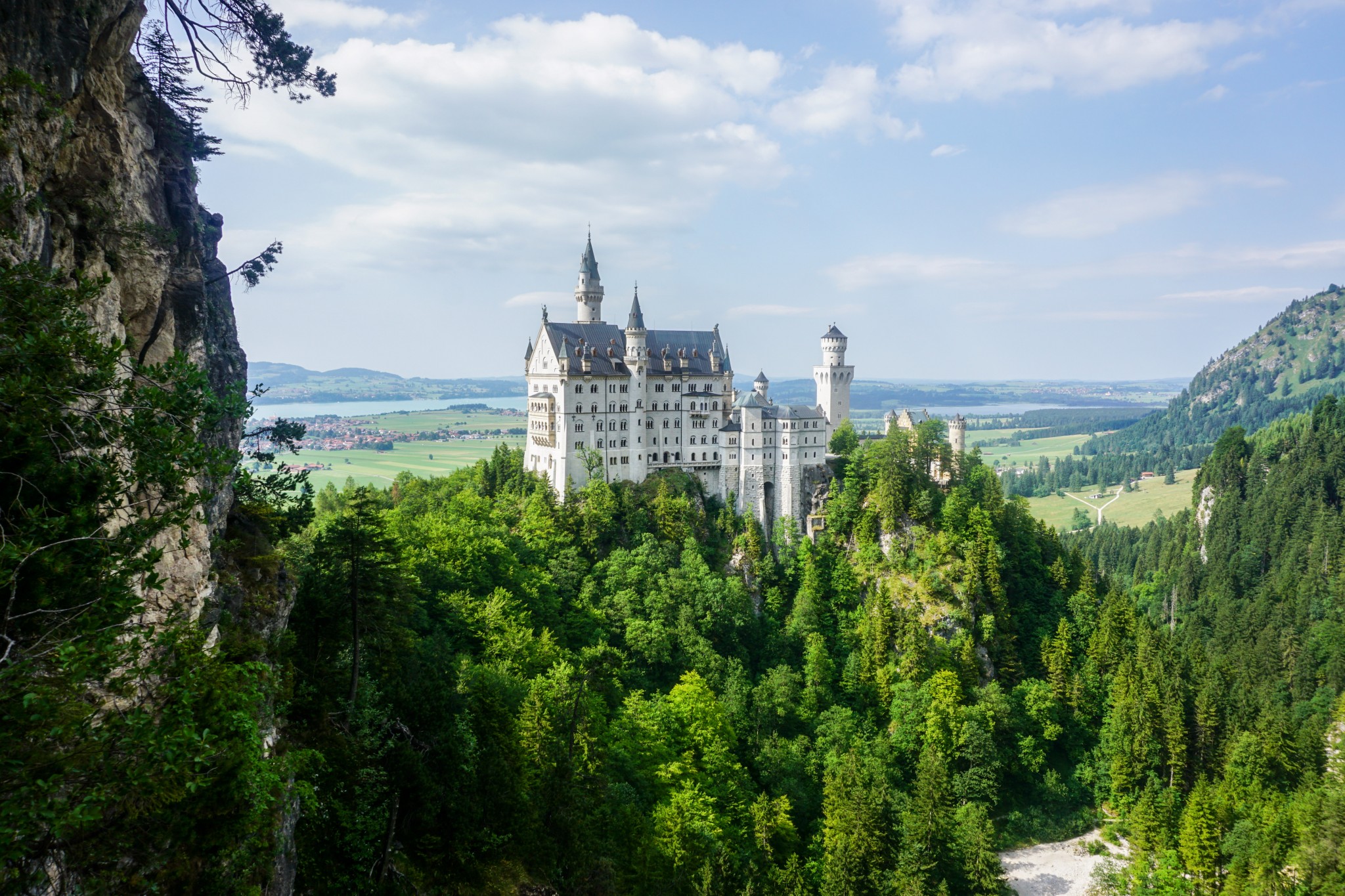 How to become a house sitter in 3 easy steps
---
Step 1. Choose a housesitting site

Website: trustedhousesitters.com
Cost: $96 USD/year. 
Pros:
 Arguably most popular
Offers veterinary phone support
Sends daily e-mails with new listings
Cons: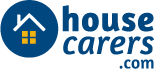 Website: housecarers.com
Cost: $50 USD/year
Pros:
Popular
Clean layout
Members can list phone numbers for contact (optional)
Cons:
Free trial is fairly limited (doesn't allow contact with home owners)

Website:
nomador.com

Cost
: $89 USD/year
Pros
:
Clean interface & easy-to-use filters
Users don't pay until a housesit is confirmed
Thorough ID check
Cons:
Fairly new, not yet popular in all major countries but big in France
The above three are services we've used ourselves, but there's plenty more out there:
Region Specific House-Sitting Sites
Region or country specific house sitting sites can mean less competition, and possibly more listings as smaller sites often provide cheaper membership.
Step 2. Make a house sitter profile
A good house sitting profile can be the difference between frequently landing great gigs and not being contacted at all. Here's some key tips to making a good housesitting profile: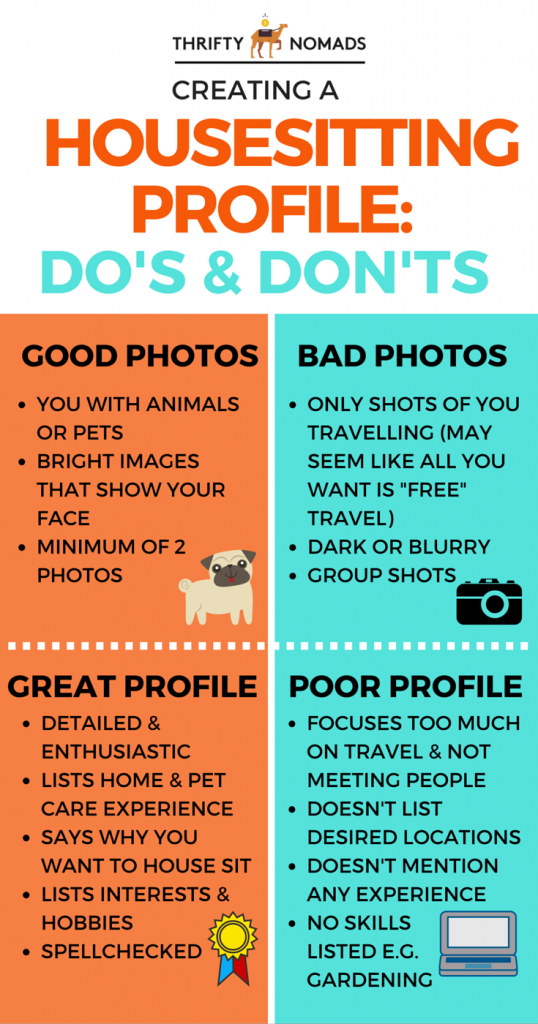 Step 3. Search & apply for house sits
Seek out listings and filter your searches accordingly (e.g. which animals you're able to care for, location preferences). When considering and applying for house sits, be sure you cover these basics:
Make sure you can "see" the home. If a listing doesn't have images, avoid surprises and ask for photos. It's wise to check that a home is liveable before committing!
Apply ASAP for hot listings. Listings in popular locations or with great perks often go quickly, in as little as half a day. Don't be discouraged, but apply as soon as you see a good one!
Determine the true location of the house before committing (sometimes a house is listed in a city, but could in fact be quite far from the city centre).
If pet-sitting, ask the right questions. Inquire about behaviour (do the pets ever scratch or bite?), special needs (e.g. medication), and how long they can be left alone.
Make clear if you need to pay for anything. Sometimes house sits require the sitter to pay for their own Internet, energy, etc. so ask upfront what is provided.
Once You've Landed A Housesit…
Decide when and if you will meet the home owner before the house sit start date. Offer to have a "meeting" on Skype or a meal or drinks before the day of your sit. Before you start your house sit, be sure to run through these important items!
Home Care Checklist
Communication: How often does host want to be contacted while away (e.g. daily or weekly updates)
Emergency contact: Emergency # & e-mail plus neighbours you can contact
Garbage & recycle: Where & how often
Home: Vaccuum, sweeping, plant care
Mail: Where to pick up & store
Maintenance: Pool, hot tub, fountains, ponds
Safety: House alarm (get code & learn to turn on/off), spare key (where is it kept)
Yard: Mowing (how often, where are tools), gardening, weeding
Pet Care Checklist
Behaviour: Likes/dislikes, how long can they be left unattended
Cleaning: How often to change litter, bathe and/or groom
Feeding: How often & how much
Medication: How often & how much
Veterinary: Contact #
Walks: How often & how long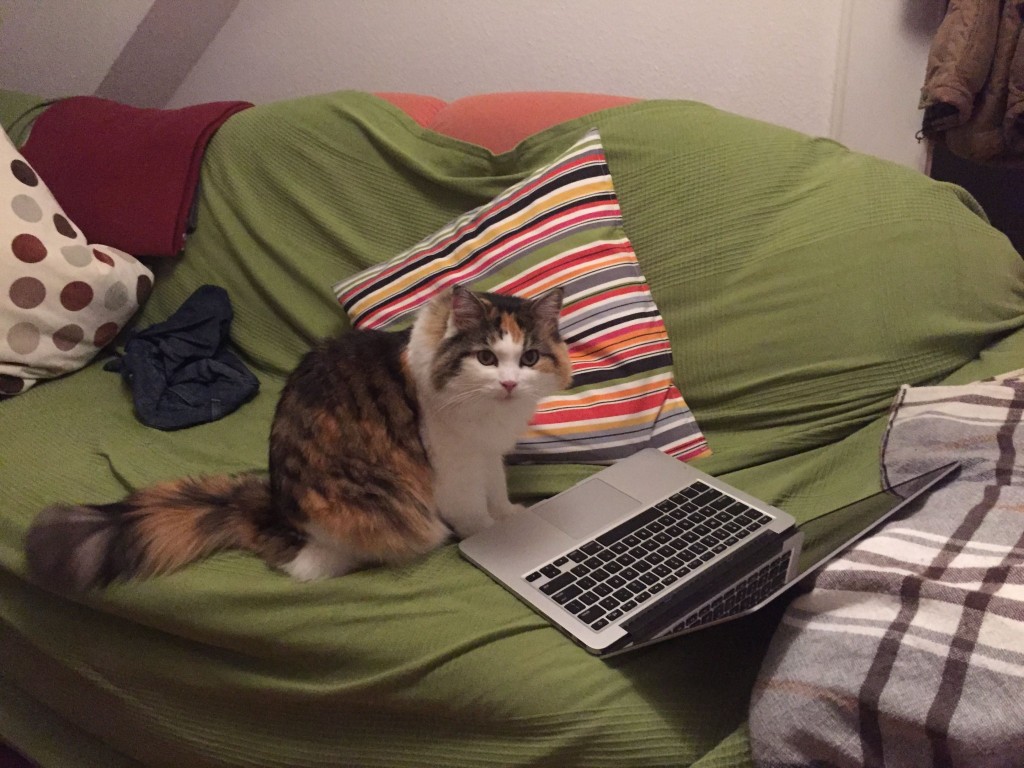 Remember: house sitting is more than just "free accommodation"
It's a responsibility – and a big one at that! Here's a few final tips on being a great house sitter:
If something's wrong, speak up. Is a pet acting strange? Has something stopped working? Did you accidentally break something? Don't be afraid to contact a home owner and never ever cover up a problem!
Say thanks – you can afford to! You're getting a "free" place, be sure to leave a kind note & token(s) of appreciation whether a bottle of wine, chocolates, or a fully stocked fridge.
Leave your host a review – and ask for one in return. Try to do this ASAP after a sit, it's easier to recall and you may later lose touch.
---
And there you have it, 3 easy steps to being a house sitter. It can't be said enough that house sitting is a great opportunity to see a new place affordably, locally, and authentically. So what are you waiting for? Get 'sitting!
Have a question about house sitting? Feel free to leave a thought below!