Imagine ending your work day approaching the glittery skyline of New York, or beginning it as the sunrise kisses Santorini's blue-capped domes. Inflating your bank account whilst bobbling from one global port to the next sounds like a dream. But if you that dream is an impossibility for you – it's not.
Enviously, many of us know that such jobs exist. But to the average wanderluster, landing a cruise contract may feel out of reach. How does one find cruise ship jobs? What qualifications do you need? Where to begin?!
To be honest, we don't know. But long-time reader Jessica does, and she's kindly hashed out all the deets!
Jessica from The Crew Hangout is an American traveller with four years experience working on cruise ships. In that time, she's visited the Bahamas, Caribbean, Mediterranean, Greek Islands, Egypt, Malta, Canary Islands, and more. She even met her now husband, Adriano, while working on a cruise together. With her help, we'll tell you exactly how to work on a cruise ship and travel the world!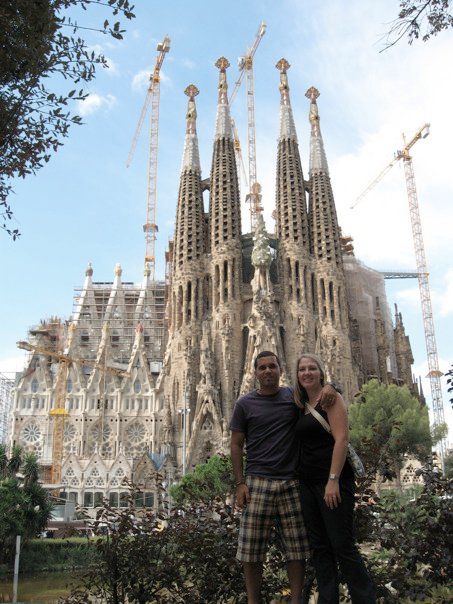 Working on a cruise ship: What's it really like?
Sipping martinis and hopping off in world-renowned cities sounds like the ideal work day. But how reflective is this of actual ship life? Truly, far from it. But there are many reasons why this career lures so many. Here's what it's really like onboard!
Living conditions
"The living conditions are pretty basic… and very small," explains Jessica. The luxurious aspects of a cruise are designed for paying guests, not staff, though there are still some pretty sweet employee perks to be had. 
Rooms
"Generally you have bunk beds, a small wardrobe, a shared desk/shelf area, and 1 large drawer" describes Jessica. "Bathrooms are very compact as well. Depending on your position you may have a slightly larger room, your own room, or a shared room with up to 3 other crew".
Food
And the tummy-rumbling question: how's the grub? In Jessica's experience, "The food onboard is decent, and included in your wage. There are usually 2-3 'messes' (cafeterias) for the crew, and your rank (crew, staff, or officer) dictates which messes you have access to. The food is buffet style and open for breakfast, lunch, dinner, and late snacks".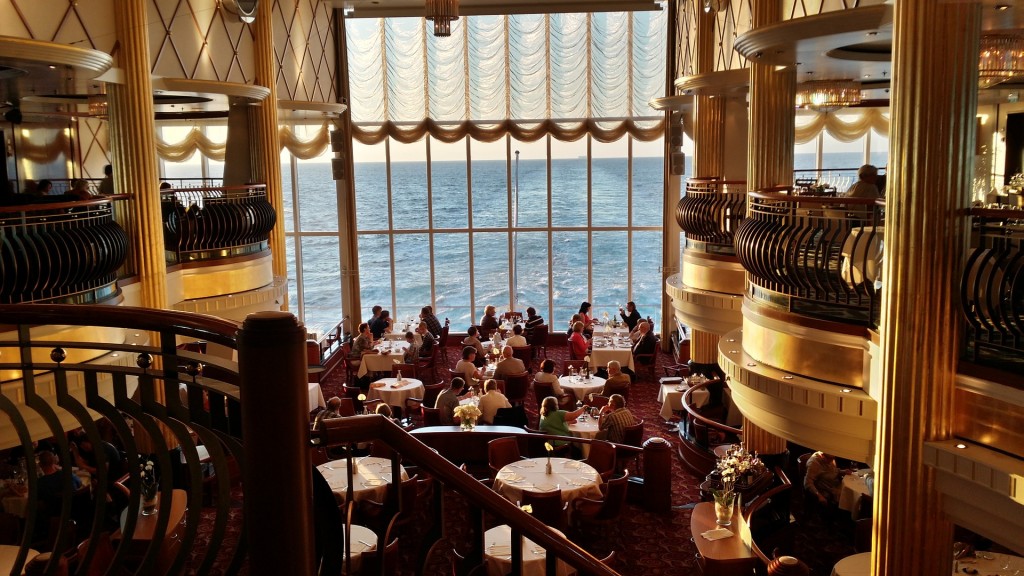 How good are the meals? "The quality and selection of the food isn't nearly as good as the guest restaurants, and the selection repeats frequently, so it's easy to get tired of the food," she explains. "Luckily, one of the privileges of our positions is that we are able to eat in the passenger buffet as long as it isn't busy, and can go to the passenger restaurants on nights off".
Amenities & perks
What about all the other cruise ship extras? "A crew gym, bar, and either pool/hot tub is available," she states. "Again, your rank and privilege dictates if you have access to the passenger gym and bars, and even that can change if crew aren't being respectful".
And do employees have alcohol privileges? "There is a crew bar, that provides fairly cheap drinks (depending on the company just beer and wine, or a full bar with spirits) where most people go at the end of the day to hang out with friends," says Jessica. "There are also crew parties offered by the company about once a month that happen in various guest or crew areas of the ship, sometimes with free drinks".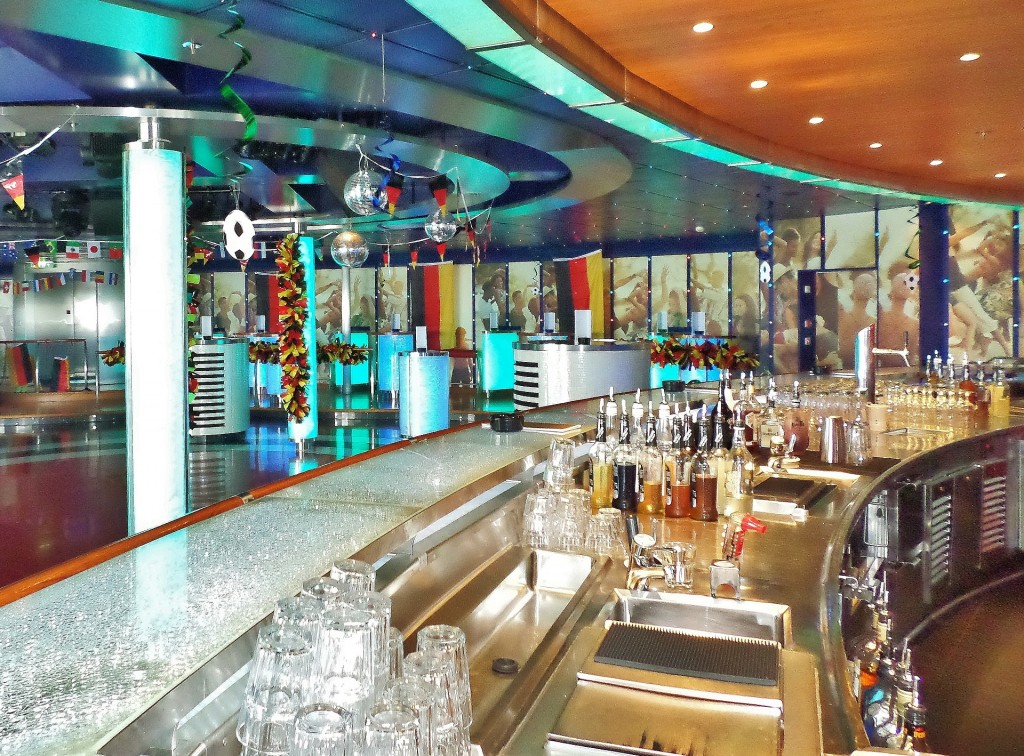 How hard you party is up to you, she explains,  "There is a big drinking culture onboard, but you don't need to partake in it in order to enjoy your time. Typically the company offers other things – spa nights, bingo, crew shows, raffles, crew sales, etc. that don't involve drinking".
Pay & travel allowance
How do cruise ships pay compared to normal jobs? "The pay for working onboard isn't as great of a salary as I would be making on land" states Jessica. But is it worth the cut? In her argument, most certainly – especially for the benefits of travel.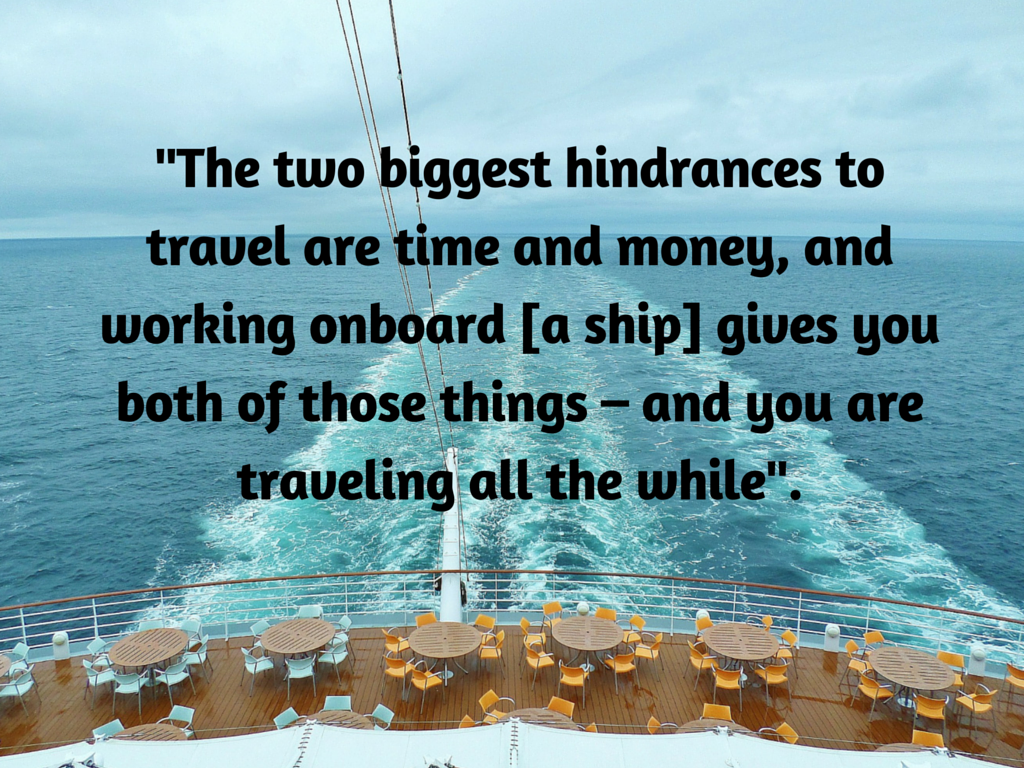 Work conditions & hours
No matter what job you have onboard, one can expect LONG hours and hard work. "On a sea day I typically work 10-11 hours/day, but on a port day I might only work 4-5," Jessica remarks.
Still, "Some positions work 10+ hours/day regardless of the ship's position. There are regulations in place to protect crew from being overworked, but they are by maritime standards, which is a bit more lenient than on land. I typically work around 50 hours a week, again depending on the itinerary".
And what about days off? "There are no days off (unless your are signed off by the doctor because you are sick). So for 6 months you work 7 days a week, and some days are very long," she states . Ain't no rest for the wicked!
A day in the life
It's hard to describe a typical work day since this varies between roles. There are varying tasks involved in the different stages of a cruise, such as the departure day, days out at sea, and when the ship is docked.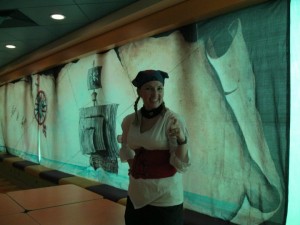 As a Youth Counsellor, Jessica is responsible for providing information to parents, registering kids, leading group activities and programs, and the occasional late-night babysitting. Her work hours vary depending on the day. Sometimes she has a 9AM start and 11PM finish with a couple of 1.5-2 hour breaks. On days where she is fully responsible for monitoring and dining with the children, she will work 9 hours straight and then have the evening off. And yes, sometimes she does get paid to be a pirate! 🙂
Training
No matter what the role, being employed out at sea requires extensive training. "Every crew member has to pass a safety exam within their first week onboard, and attend a lot of training during their first weeks, and periodically throughout the contract".
As for total newbies, "New hires also have to complete a basic firefighting and safety course that includes getting into the water with a life raft. We also have to attend a safety drill once a week," Jessica describes. 
Living the dream: The pros of cruise ship work
Travel, travel, travel
With great enthusiasm, Jessica cites, "FREE TRAVEL! And the opportunity to save a good chunk of money" as a major perk to cruise ship work. She explains, "you typically have one week of 'vacation' per month worked. So with a 6 month contract you will have approximately 6 weeks of vacation. That's a big draw for both of us".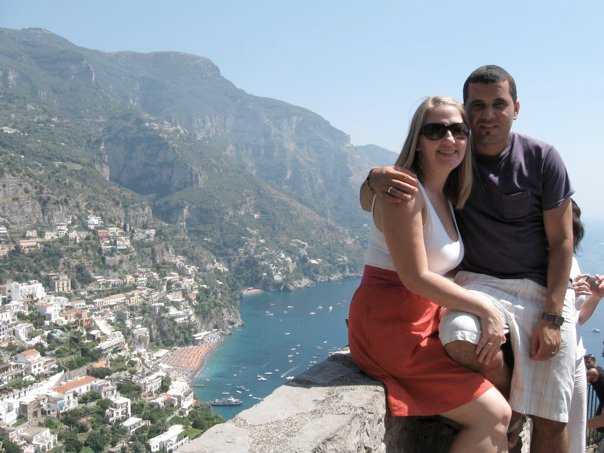 As if that bonus isn't enough, cruise ship staff can sometimes join passenger tours for free. While this isn't a guarantee for every contract, it's an attractive possibility.
What's been Jessica's best free tour to date? "My personal favorite was Egypt because it's a place I'm not sure I would have tackled on my own, but was completely enamoured by. Adriano and I were lucky enough to get to tag along on a guest tour that flew us to Luxor where we stayed overnight to see the Valley of the Kings, as well as Luxor and Karnak Temples before proceeding onto Cairo to see the Pyramids, and the Egyptian Museum".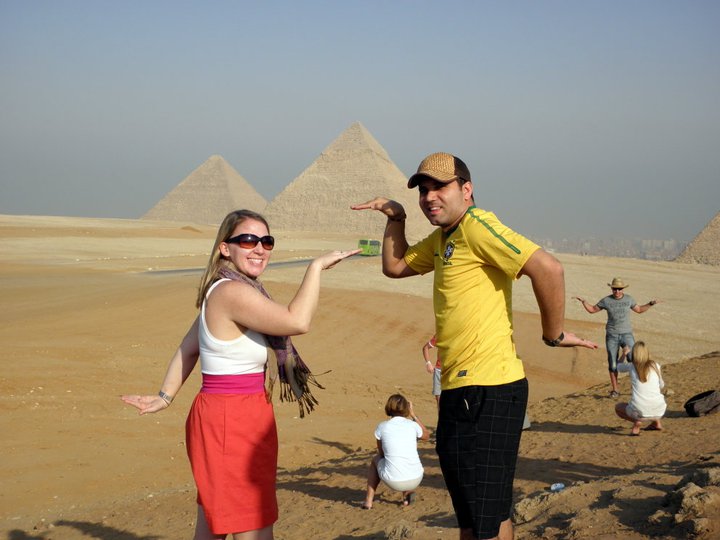 Global friendships
Since cruises hire staff from all over the world to work, the work environment is incredibly diverse. "Typically there are 50+ nationalities onboard, and at least 3-4 in my team alone," Jessica describes.
This in itself is a unique opportunity, in her words, "You learn about people and their lives, cultural differences, and how to work as a team. Also, I've been lucky to have a couch or guest room to use in so many places, with the added bonus of getting to experience living like a local with a friend I've met on a ship… and also, I got to marry a cute Brazilian! 🙂 ". 
No fixed living expenses
Jessica sums it up best when she describes this onboard perk: "For me, however, the big thing is that all of my living expenses are covered. I don't have to pay for rent, car, gas, insurance, food, etc. which allows me to save up for traveling". Slashing one's cost of living = definitely a thrifty way to save for travel!
Non-routine living
Falling asleep in one world-renowned city and waking up in another is a unique perk of cruise ship work. Those who like variation in their job will definitely have that itch scratched here!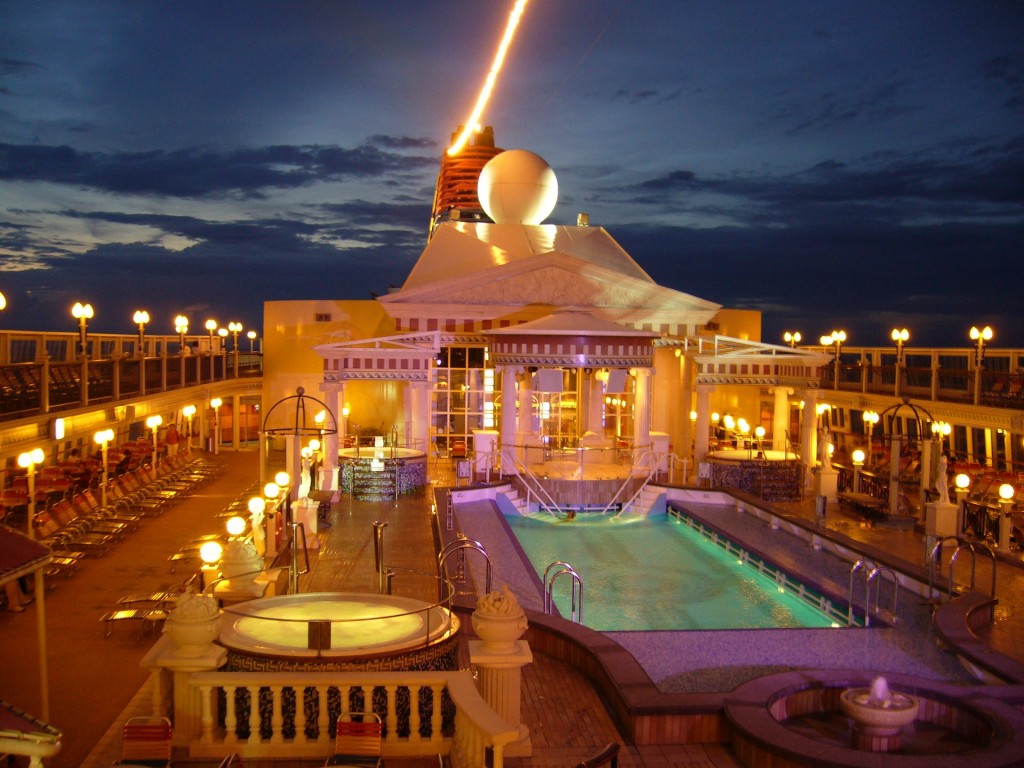 Not so cruisey: The cons of working aboard a ship
Non-routine living
On the flip-side, a lack of routine is what Jessica coins, "the 'curse' of cruise ships". As she highlights, "you get so used to things changing around you all of the time – a change of itinerary, change of teammates (people's contracts start/end throughout yours, so you're always saying goodbye or hello to someone else), and change of your own contract". 
What's it like going home after a contract ends? Not as easy as walking on dry land.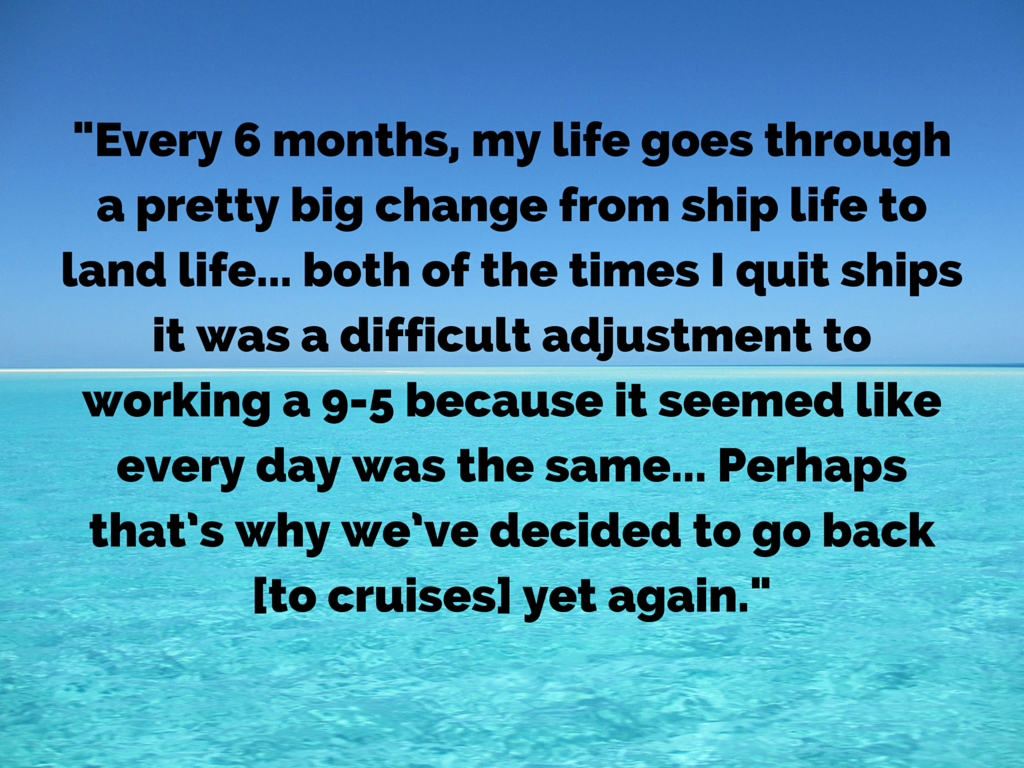 Disconnectedness
As much as many of us long to "disconnect", being unplugged gets lonesome. As Jessica describes, "You are away from family and friends for a long period of time, and tend to miss out on important life events – weddings, births, parties, etc.". Lack of wifi can take its toll, too, "Internet onboard is costly and not always reliable, so I'm not checking Facebook 20 times a day," (arguably this is a blessing and a curse!).
Hard work & long hours
As discussed before, most jobs require 10+ hour work days with zero sick days unless you have a doctor's note. "You work every day, sometimes really long days," she reinforces. 
The "travel" is restrained
While employees may have access to free tours, does this scratch the travel itch the same as independent trips? In Jessica's view, not quite. 
"One thing to keep in mind, however, is that you always have the 'time crunch' in mind as you are exploring. You HAVE to be back before a certain time or risk disciplinary action or even being terminated for being late. That takes a little of the carefree-ness out of traveling. After being back onboard for a few contracts now, I haven't found the experience as fulfilling as the times when we are traveling on our own. But it's important to keep in mind that you are there for the job first, the travel second".
The pay may not be great
Wages vary depending on the company, position, and what country you are from. That being said, there comes the savings of living expenses being covered while living aboard.

Confined living
Remember: while cruises offers luxury to passengers, staff don't enjoy the same glamour. Instead, an odd mergence of "office" and home life takes place. The freedom to escape your workplace vanishes, as Jessica elaborates,
"You aren't always free to do what you want – you can't order a pizza at night for dinner, or just take a drive and get away from it all. It's almost like living and working in a really big college dorm that you can't really leave."
Shared living is just part of the job when employed on a ship. Whether a communal eating room, bathrooms, dorm rooms, or all of these, you'll be in close quarters with other people. How good or bad this is depends on the crew and your own flexibility and attitude!
How to find cruise ship jobs
So, how does one actually find cruise ship positions? "It's fairly simple to find an opportunity," Jessica explains, "Just go to the company's website, scroll to the bottom and look for the careers link".
Basically, that's 3 easy steps:
Look for a "Careers" link.
Browse away! Note: Jessica recommends to "select the option for shipboard (rather than corporate/shoreside) positions"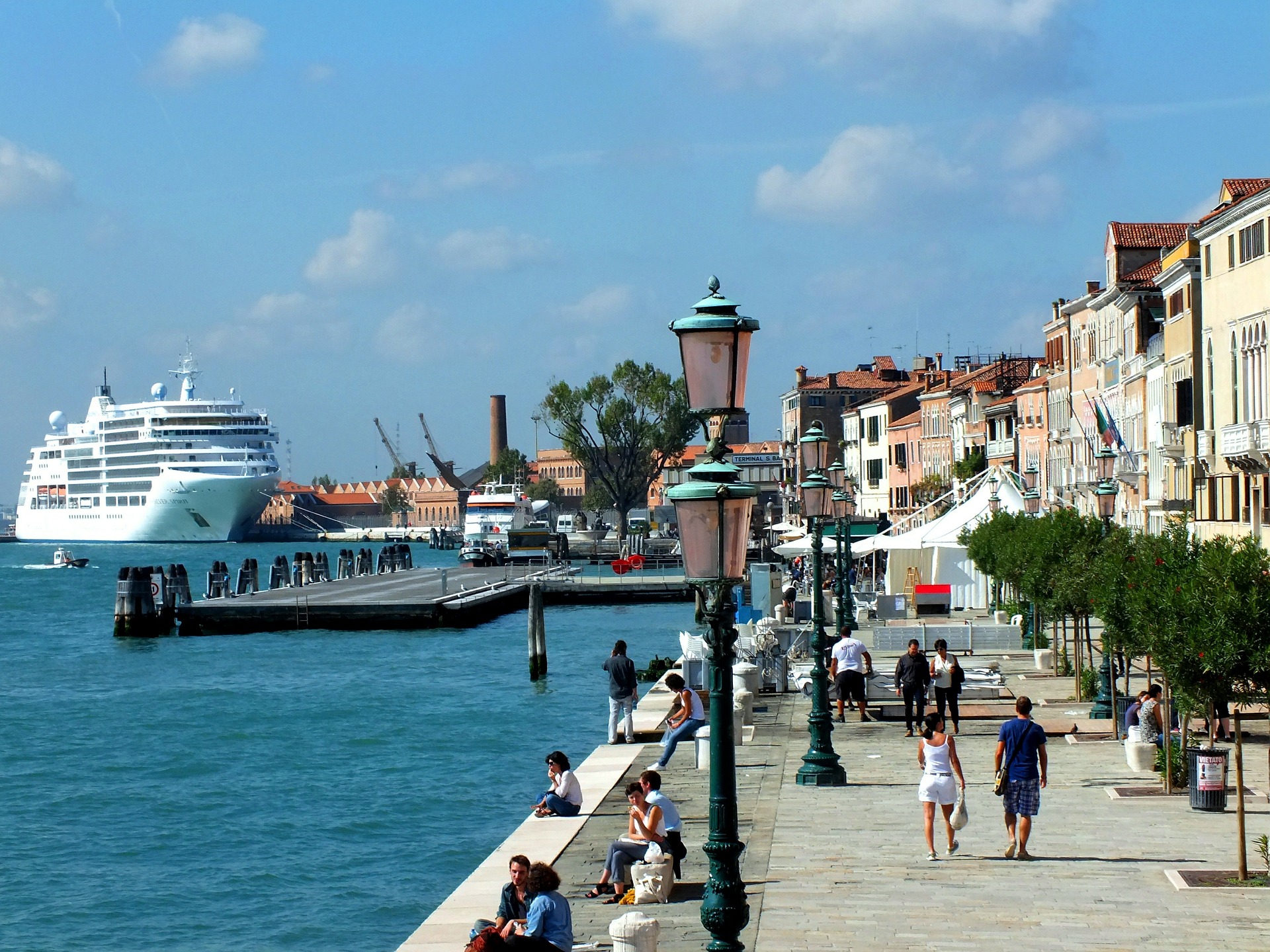 Job types & opportunities
What kinds of positions are available aboard a cruise ship? "The main divisions of positions onboard fall into 2 categories – Deck/Engine, and Hotel Operations," says Jessica.
Hotel Operations
These are "jobs that could be transferred to land – food and beverage workers (waiters, chefs, bartenders, etc.), casino, housekeeping, guest relations, HR/ training, and my department – entertainment," she describes. 
"The entertainment department is headed by the Cruise Director, and usually consists of the cast (singers and dancers), technicians, cruise staff (in charge of entertaining the adults), and the youth staff (me!). Some companies and ships don't have a youth program, depending on the clientele they aim toward". 
More general jobs exist on board, too. "There are some contracted positions – Spa, Medical, and Gift Shop that typically are employed by another company, but contracted to work onboard a particular ship," she explains.
General Positions
Food & beverage workers (e.g. bartender, waiter, chef, etc.)
Housekeeping
Human resources/staff training
Gift shop (usually contract work that is arranged externally)
Guest relations
Medical (usually contract work that is arranged externally)
Spa (usually contract work that is arranged externally)
Technicians
Entertainment
Casino
Cast members (e.g. singer, dancer, performer)
Cruise staff (in charge of entertainment for adults)
Youth staff (working with teens and pre-teens if a youth program is in place)
Deck/Engine Positions
Deck and engine work is more technical, usually requiring specialty education and training. Such jobs include:
Security

Deck hands

Engineer

Captain
Gaining relevant experience
Many cruise positions require at least a Bachelor's degree, which Jessica needed for her Youth Counsellor job. Still, she emphasizes, "even if you don't have the education, but have the experience, or vice versa, it doesn't hurt to apply and just see what develops".
Still discouraged? Keep in mind, cruise lines hire a LOT of people, "usually 1,000-1,500 crew/ship," she estimates. " But do you need an "in" to land an interview? In Jessica's opinion, nope! "…connections aren't necessarily needed for most positions. You will need prior experience related to the position you are applying for, and a second language is always helpful."
Frequently Asked Questions
What about travel insurance?
"While onboard and for the duration of your contract, the cruise line will provide health insurance for basic needs and emergencies," Jessica describes. "During your vacation, there will be no coverage from the cruise lines, so depending on where you are from, you might need to purchase additional insurance to cover the vacation months before you return for the next contract".
For more on travel insurance basics, check out our notes from a nurse (that's me, Jen!) on insurance here.
What sort of visa do you need to work aboard a ship?
As an American, Jessica hasn't had to worry about visas thus far. She explains, "Non-American citizens need to possess a valid passport and be able to obtain a C1/D Visa, which is basically a transit visa for crew".
As for who foots the bill, crew members are expected to cover any visa expenses. The ship will provide any documents needed to apply and "advise what visas you will need to obtain in advance before joining the ship you have been assigned".
How to work on a cruise ship: The Thrifty Gist
Position types: Various – anything from entertainment, deck hands, to wait staff or a gift shop attendant
Experience required: Bachelor degree usually needed, related experience is ideal, second language is a bonus but not mandatory
Time commitment: typically 4-6 month contracts with ~1 week vacation per month (varies)
Visa needed: Varies by country, cruiseline will inform you before contract
Resources: WikiHow, Price of Travel (more details on pay & conditions), Budgets are Sexy interview
---
We'd like to extend a HUGE thanks to Jessica for sharing her experiences and knowledge to create this guide. If you have a job that allows you to travel overseas and would like to inspire others on how to follow in your footsteps, get in touch with us at: [email protected] 
Question or comment on cruise ship life? Leave a thought below!