Twenty thousand artisans labored for decades at an estimated expense of almost one billion dollars in today's money to create what is considered by many to be the most beautiful building in the world. Built as a tomb for the favorite wife of the Mughal Emperor Shah Jahan, construction was completed in 1653. UNESCO put its stamp of approval on the building a mere 330 years later, declaring it a World Heritage Site in 1983.
Such is the popularity and fame of the Taj Mahal that it is hard to imagine the building actually living up to the hype. But it does. Visiting the Taj Mahal is like seeing the Eiffel Tower, the Hagia Sofia, the Sydney Opera House, and Barcelona Cathedral all rolled into one. Words and pictures can't do it justice. It is something you simply have to do for yourself.
The Taj Mahal is located in Uttar Pradesh, a state in northern India, in the city of Agra – a busy, crowded, tourist town a little over 200 kilometers from New Delhi and Jaipur respectively. Together these three cities make up the so-called "Golden Triangle", a common introduction to India's highlights. Here we'll cut through the overwhelm and show you exactly how to get to the Taj Mahal and make the most of your visit.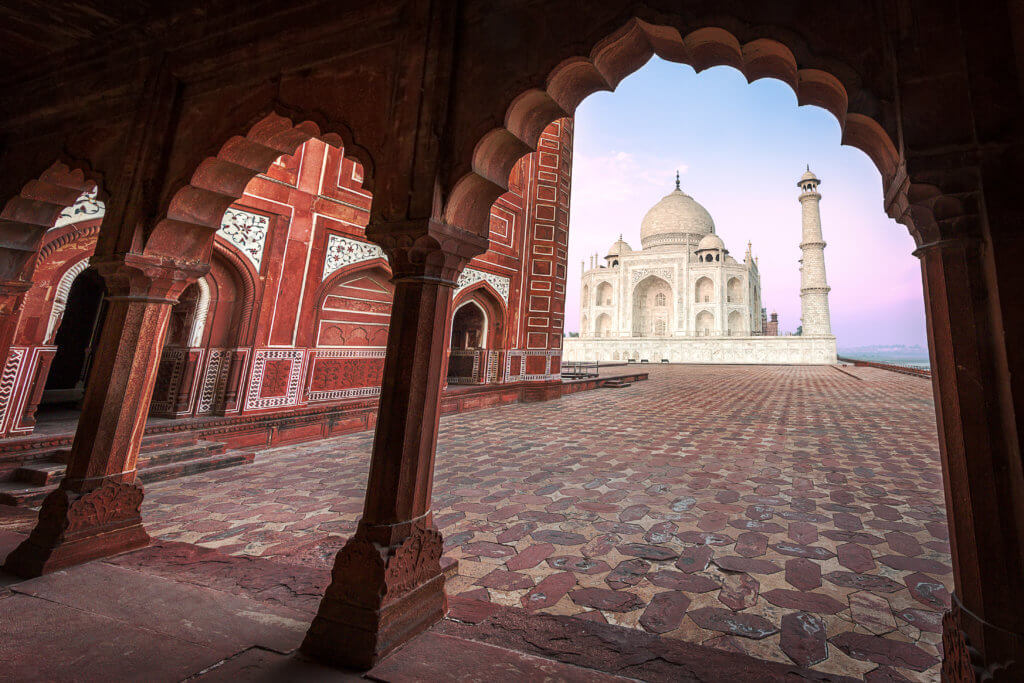 Agra and Taj Mahal: A Brief Overview
The Taj Mahal is by far the most famous attraction in Agra, if not in India itself. However, since you have made it all the way to Agra and will most likely be staying there, you may want to check out some of the other well-known sights in this ancient former capital.
The Taj Mahal Itself: The white marble mausoleum is by far the most famous aspect of the Taj Mahal complex, and is the part that you will have seen in a million photos. You will enter the garden, passing through the famous gate, and once inside, you will be able to view the gorgeous reflecting pool which perfectly frames the white marble tomb before standing in the impeccably maintained gardens. For a small extra fee (more details below) you can choose to enter the mausoleum itself.
Agra Fort: A short Tuktuk ride from the Taj and clocking in at a cheaper 650 Rupees (aprx $7.50USD) for a foreign visitor, this is where the emperors of the Mughal Empire lived until the capital was shifted to Delhi in 1638. The 38-hectare site is imposing and, unlike the Taj Mahal, you can get a sense of its vastness from the outside.
Fatehpur Sikri. A mini-world of red sandstone, this small town perfectly captures the exotic mysticism of the Mughal Empire and is a UNESCO World Heritage Site in its own right.
Itimad-ud-daula's Tomb. Sometimes known as the baby Taj, if you want another hit of beautiful marble architecture without the tourist frenzy of the better-known mausoleum, then this is not to be missed.
Akbar's Tomb. Mughal Emperors didn't just build gorgeous tombs for their favorite wives – they made sure to look after their own posterity as well. The red sandstone provides a nice contrast to the white marble Taj.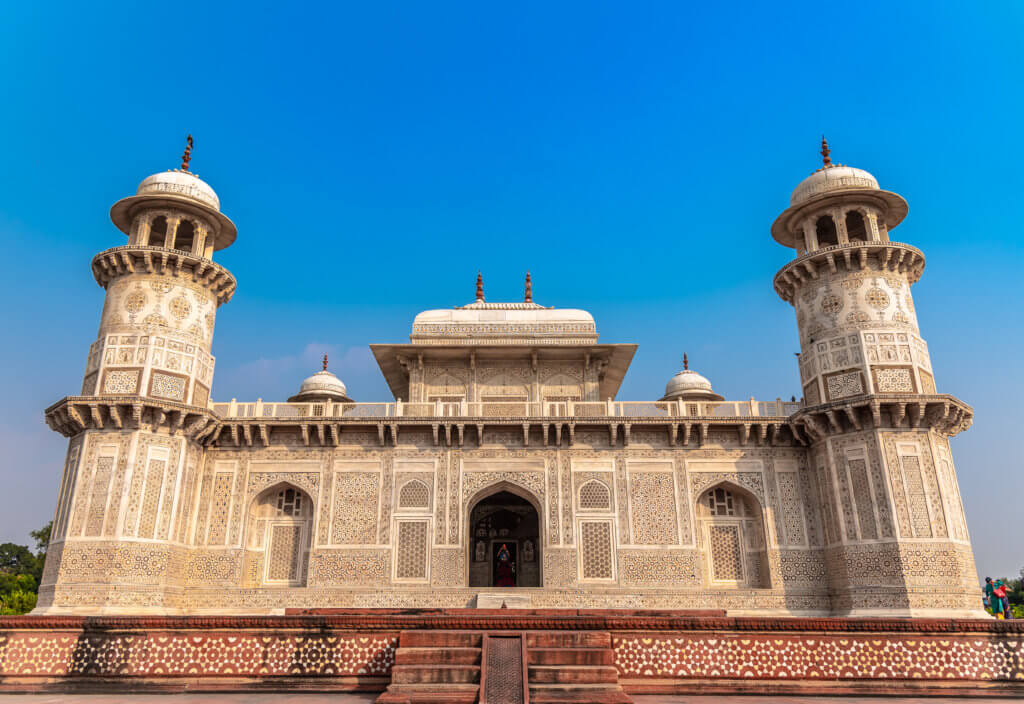 How to Visit the Taj Mahal
Where is the Taj Mahal Located?
The Taj Mahal is located within the city of Agra which forms part of the "Golden Triangle" with Delhi and Jaipur, each leg of the triangle being a little over 200 kilometers. We'll look below at some options for how to get to Agra in more detail. For this section, we'll assume you're already there!

Buying your ticket
Taj Mahal 2020 Ticket Prices: Like many tourist attractions in India, prices are radically different for Indian Citizens and foreigners. For foreign visitors, a ticket costs 1100 Rupees (aprx $15USD). You can choose to pay another 200 rupees ($2.80USD) to enter the mausoleum itself.
Getting Your Ticket Online: To skip the queue, consider getting your ticket online in advance from a site like

GetYourGuide

, which usually costs a couple of dollars more than the standard price and can include an optional transfer from your hotel. Note that because of the way tickets work, you may need to contact your guide and arrange a time for them to let you into the complex, so make sure you read any instructions you are sent after booking carefully. They will always work around your preferred timing. You can also book through the official website,

www.tajmahal.gov.in

, which is a complex 11-step process requiring your passport and will require you to print out the ticket at the end of the process.

Getting Your Ticket Onsite: Queues can be long but it is certainly possible to buy your ticket at the Taj Mahal itself, there is a major ticketing area near the Western Gate. Note that there are separate queues for Indians and Foreigners, and you may be asked to show your passport. Bring cash

because there is no guarantee that credit cards will be accepted. While queuing, you will constantly be approached by people offering information, trying to sell expensive tours, or claiming that a certain booth is closed (even if it is clearly open). Ignore them.

DIY or Guided Tour?
If you're visiting under your own steam you will have more freedom, may save money if you're a savvy India-traveler, and will be able to do so at your own pace. An organized trip, on the other hand, will save you the hassle and take care of much of the administration for you.
Planning a DIY Visit: The Taj Mahal is open from 30 minutes before sunrise until 30 minutes before sunset every day except Friday when it is closed – watch out for this! As mentioned, it's worth getting a skip-the-line ticket. If you're staying in Agra, your hotel should be able to arrange a taxi or Tuktuk to the site for you, and the driver can wait for you there. There's about a 10-minute walk from the main car park at the Western Gate to the site itself. You can take a rickshaw or tuk-tuks, but negotiate hard if you choose to do so, otherwise you will get monstrously ripped off.

What to Bring: There are restaurants and food stands near the site but these are expensive, and the atmosphere is unpleasant because of the constant harassment by touts. Instead, go with a full stomach or bring some snacks. You should bring your passport – you may not be asked for this, but it's best to have it. Take cash as credit card payment is never a sure thing. Do not bring a large day bag – security at the site is intense and you will not be able to take it in.
Visiting with a Tour: Tours from GetYourGuide can help to skip the line, and take care of the transport and hassle for you. GetYourGuide has many highly-rated options for tours from Agra including Skip the Line entrance, starting from around $21 USD. Pay close attention to the instructions, as the ticketing system can be complex and you may need to e-mail or WhatsApp the booking operator and inform them of the time-slot in which you plan to visit. There are options if you're already in Agra as well as a large number of tours leaving from Delhi, including day-trips if you want to return to Delhi for the evening. We will break down some options below.
Getting to the Taj Mahal
Most visitors to the Taj Mahal will begin their journey in New Delhi. New Delhi is well served by international flights from Europe and America and is a major global city with plenty of sights and accommodation options. If you are planning your time in India around a visit to the Taj Mahal, checking flights on Skyscanner from your hometown to New Delhi will most likely be the best bet. Once you're in New Delhi, you can go directly from there to Agra with the options below, or first visit Jaipur.
Visiting The Taj Mahal from Jaipur or New Delhi Under Your Own Steam
Train

: There are several trains a day from Delhi and Jaipur to Agra that take just over 2 hours respectively. Prices vary but they tend to be pretty cheap – around $20USD for a reasonable class with air conditioning. Booking trains in India is a complicated endeavor and should be seen as a part of the travel experience! One way is to go to the origin train station (with your passport), find the foreign ticket booking room or kiosk, and get a last-minute ticket under the tourist allowance. You can also book online through websites like Cleartrip, but this can be frustrating and is only recommended if you are doing this several weeks in advance. The Man in Seat 61 has a

comprehensive guide

specifically on this.

Flight

: Agra Airport is almost exclusively served with flights from Jaipur, which can be as cheap as $25USD and takes 55 minutes.

Uber: Long-distance Uber travel in India is well established, safe and surprisingly cheap. The price will vary but it is not unrealistic for you to expect an Uber from New Delhi to Agra, or even directly to the Taj itself for less than $40USD. Uber seems to be subsidizing the New Delhi-Agra route, as the Jaipur-Agra route, while roughly the same length, seems to be more experience, at around $60USD (as of one traveler's experience in December 2019).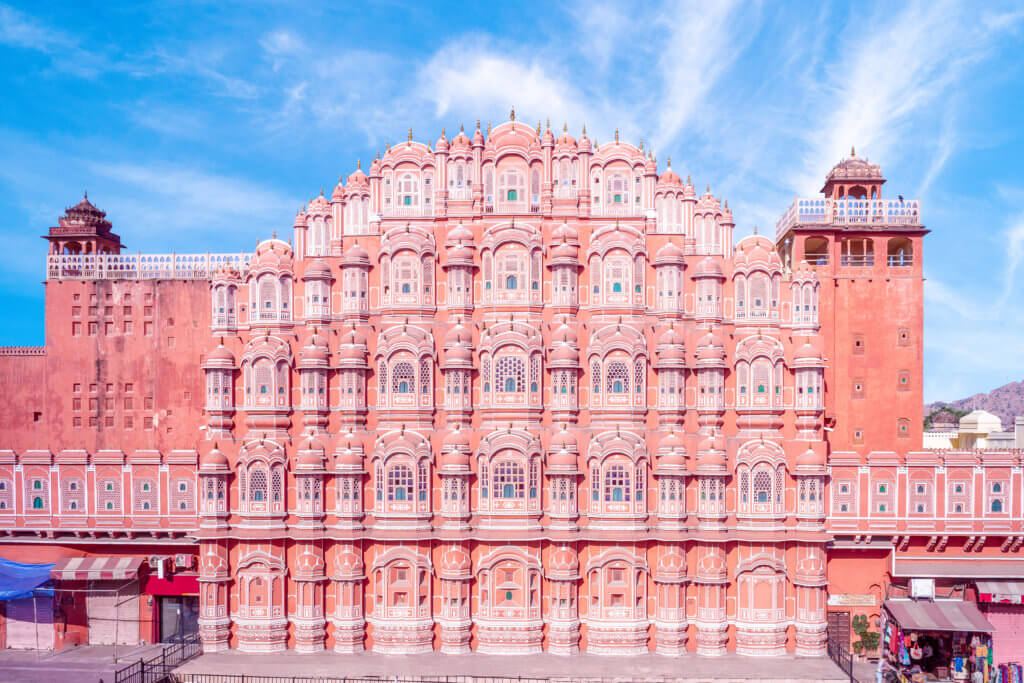 Visiting With a Tour from Delhi/Jaipur

You can also book a tour from New Delhi, including transfer to Agra and often one or two other sites in Agra, such as the Agra Fort, starting from around $50USD including air conditioned car and English speaking driver. Not all tours will include Skip the Line entrance, so double-check this as you may need to purchase it as a separate item or factor in time to get your ticket in person. If you prefer to travel from New Delhi by train, GetYourGuide has an option for a tour including train tickets, saving you at least half a day of effort. Tours from Jaipur seem to be limited to city transfer from around $60USD, approximately the same rate as an Uber.
Where to stay
Unless you're doing a day-trip from Delhi or Jaipur, most travelers will stay in Agra. Agra is a packed, loud and extraordinarily busy city. Being a well-known tourist hub, beggars and touts are plentiful. These are more an annoyance than a danger but can be shocking for a first-time visitor. Keep your valuables in a secure money-built, and try and look purposeful when you're walking on the street (even if you are lost!).
There are plenty of major brand hotels including Radisson that are popular if you want to splash-out, as well as a number of budget hotels and hostels available on Booking.com, with prices starting from around $10/USD a night for a private room. Airbnb is also an increasingly popular option in India, but pay closer than usual attention to reviews as stories of tourists being ripped off are not uncommon. A good approach is to find your chosen option on Booking.com, and then double-check reviews on at least one other site such as Tripadvisor to make sure the place seems legitimate.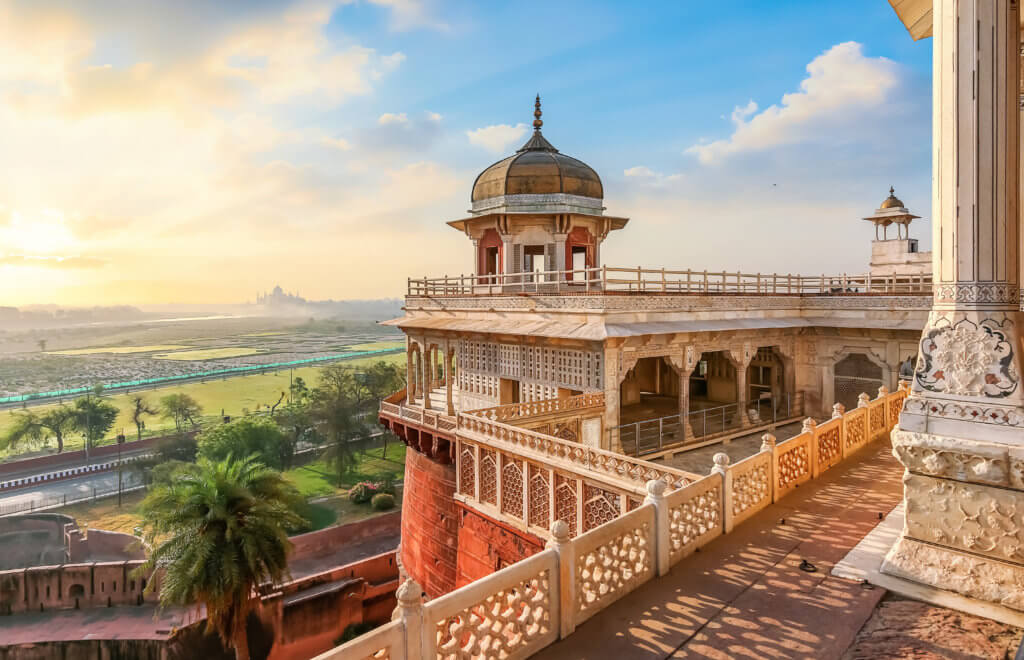 The Thrifty Gist
Worth It:

There are few major tourist attractions in the world which truly and fully live up to the hype. This is one of them.

Location info

The Taj Mahal is located in the large city of Agra in the state of Uttar Pradesh, forming the "Golden Triangle" with Delhi and Jaipur each about 200 kilometers apart

Other Sites:

Agra is the historical capital of the Mughal Empire and as such contains a number of other tombs and historical sites – the second most famous attraction is arguably Agra Fort

Tickets: Can be bought at the site for aprx $15USD – bring cash and your passport. You can also get your ticket in advance on GetYourGuide to skip the line.
Getting There:

A train from New Dehli or Jaipur takes just over 2 hours and will cost you in the ballpark of $20 USD. You can also take an Uber from either city or go with a private tour organized on GetYourGuide or Viator. You can also fly from Jaipur.

Accommodation

: If you're staying near the Taj, then you'll be staying in Agra. The city has numerous options catering to all budgets, just be careful to check multiple review sites to make sure you are getting what you pay for.