Disney World is a truly magical place, making it one of the most popular holiday destinations in the world. However, there is nothing magical about what it costs to plan a trip here. Fortunately, there are many ways to make a Disney visit much more affordable. Here's the ultimate guide to planning a cheap Disney World vacation!
Disney World: An Overview
When you think of Disney World, the first thing that pops in most people's minds is Cinderella's Castle. It is the iconic symbol of Disney World, but there is so much more on offer than that. The Disney World property expands over 25,000 acres in Central Florida (which is approximately the size of San Francisco). Within the gates of Disney World property you will find:
4 Theme Parks: Magic Kingdom, Epcot, Hollywood Studios, and Animal Kingdom
2 Water Parks: Typhoon Lagoon and Blizzard Beach
28 Disney Resorts
Disney Springs: Shopping, dining and entertainment
4 Professional golf courses
4 Miniature golf courses
ESPN Wide World of Sports: A sporting venue that hosts several professional sporting events
How much does a Disney World vacation cost?
A Disney World vacation can cost anywhere from $1,000-$5,000+ USD per person. The total depends on your length of stay, types of parks pass purchased, and how much you choose to splurge on accommodation, food, and extras like character dinners, ticketed events, and souvenirs. Below is an estimate cost comparison per person for a 5-day, 5-night trip.
Flights (not included in estimates below) will vary in price according to the time of year and where you fly in from. Weekdays are generally cheaper to fly. You can get alerts on flight deals from your closest airport at Scott's Cheap Flights. Also use Skyscanner to conduct a broad search and select "Entire Month" to visualize prices across the month of your visit.
You can also get 60,000 points (worth $750) just for signing up and hitting the minimum spend of $4,000 in the first 3 months with your everyday purchases on the Chase Sapphire Preferred® Card. That's enough to cover your flights! You can convert your points to an airline like United, JetBlue, or Southwest, or use the points directly in the Chase Ultimate Rewards portal.
Off-Site, Budget
Accommodation: $40+ USD/night entire place AirBNB
Adult parks pass: $374.95 USD (tax included) for 5-day Magic Your Way pass (entry to 1 park per day) from Undercover Tourist ($40 cheaper than gate prices)
Transportation: $10 USD Uber ride to/from Disney park 2x per day. Transport to/from airport $25 USD twice. Get $10 off your first Uber ride with coupon code uberthriftynomads
Food & drink: $40+ USD/day, packed meals only
Extras: Nil
Total for 5 days (not including flights): $924.95 USD
Off-Site, Moderate
Accommodation: $75+ USD/night entire higher-end AirBNB apartment
Adult parks pass: $433.95 USD (tax included) for 5-day Park Hopper pass (entry to all parks everyday) from Undercover Tourist ($61 cheaper than gate prices)
Transportation: $30 USD/day car rental + $20 USD/day parking
Food & drink: $50/day, alternating packed meals & basic dining, Character dinner $58 USD
Extras: Memory maker photo pass $169 USD, Souvenirs $25+ USD
Total for 5 days (not including flights): $1,560.95 USD
On-Site, Budget
Accommodation: $100 USD/night Disney Value Resort Hotel
Adult parks pass: $374.95 USD (tax included) for 5-day Magic Your Way pass (entry to 1 park per day) from Undercover Tourist ($40 cheaper than gate prices)
Transportation: $0 (transfers to/from airport included in hotel rate)
Food & drink: $48 USD/day Disney Quick-Service dining plan (two counter service meals only), snacks/breakfast $10 USD/day
Extras: Nil
Total for 5 days (not including flights): $1,164.95 USD
On-Site, Moderate
Accommodation: $166 USD/night Moderate Disney Resort Hotel
Adult parks pass: $452.24 USD (tax included) 5-day Park Hopper Plus (entry to all parks everyday and waterparks) from Undercover Tourist ($58 cheaper than gate prices)
Transportation: $0 (transfers to/from airport included in hotel rate)
Food & drink: $69 USD/day Standard Disney dining plan
Extras: $126 USD Disney After-Hours pass, Character dinner $58 USD, Memory maker photo pass $169 USD, souvenirs $27+ USD
Total for 5 days (not including flights): $2,007.24 USD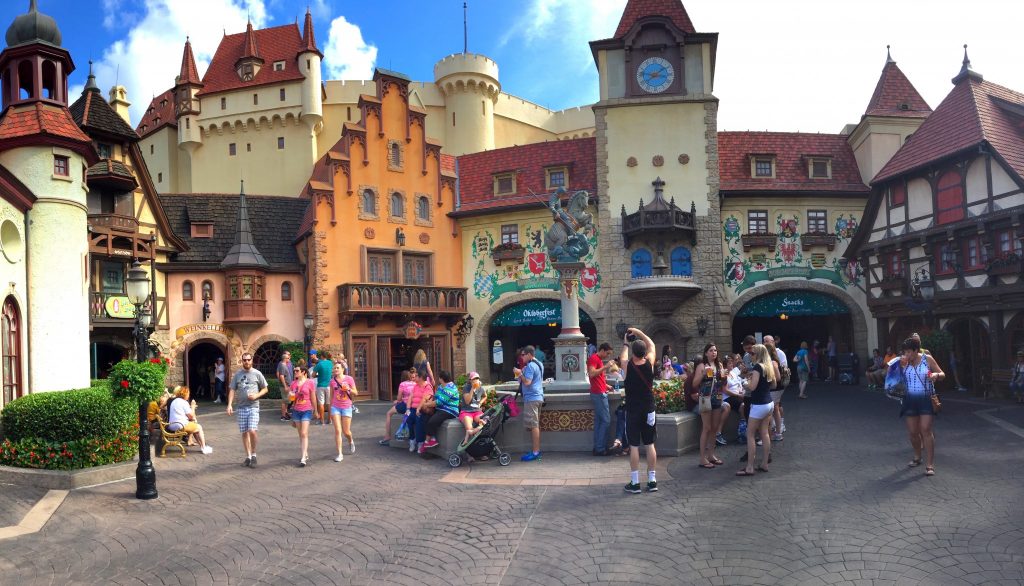 Getting There
Flying
Orlando has two main airports that you can fly into, Orlando International (MCO) and Sanford International (SFB). Most airlines fly into Orlando International, but a select few only fly to Sanford. Orlando International is approximately a 30-minute drive from the Disney World property, while Sanford International is a 75-90 minute drive.
For the cheapest rates, it is recommended to search for flights that arrive/depart mid-week. You'll find the best flight deals with an account at Scott's Cheap Flights, which can alert you about flight deals from your closest airport (and if you decide you want a premium plan, use coupon code TNOMADS20 for 20% off!) Use Skyscanner and select "Whole Month" to visualize the weekday rates across a month. For our other cheap flight hacks, check our guide here.
Also consider signing up for the Chase Sapphire Preferred credit card, which offer a 60,000 sign-up point bonus worth $750 after hitting the minimum spend of $4,000 in the first 3 months with your everyday purchases. That's enough to cover a domestic flight! These are also great cards to have on hand for the high number of points you earn on travel and dining, plus, there's no foreign transaction fees when you go overseas. Check out our full guide to getting free flights with travel points here.
The cheapest months to fly to Orlando will be when you typically see less people travelling to Disney. These tend to generally fall within:
Mid-January to mid-February
May to early June
Late August to mid-November
Getting to/from the airport
If you are staying at a Disney resort and arrive at Orlando International (not Sanford), then Disney provides complimentary transportation to and from the airport. This transport service is known as the Magical Express, and also provides luggage service to/from the airport. You must register for the Magical Express prior to your arrival.
If you will not be using Magical Express, there are other transport options. Car rental agencies are plentiful and competitively priced. You can secure a good rate on a rental with fee-free cancellation using BookingBuddy, then check back later. Pricing can fluctuate daily, so this is recommended. For other car rental cost-cutting car rental tips, check our guide, How to Book the Cheapest Car Rental Possible.
If you'd like to avoid renting a car, check with your hotel to see if they provide airport transportation. Several of the Orlando area hotels provide this, but always ask first. Other airport transport options include:
Parking
If you are staying at a Disney resort, parking at the hotel and parks will be complimentary. Some off-site hotels do charge a daily parking fee, so make sure to verify that if you plan to rent a car.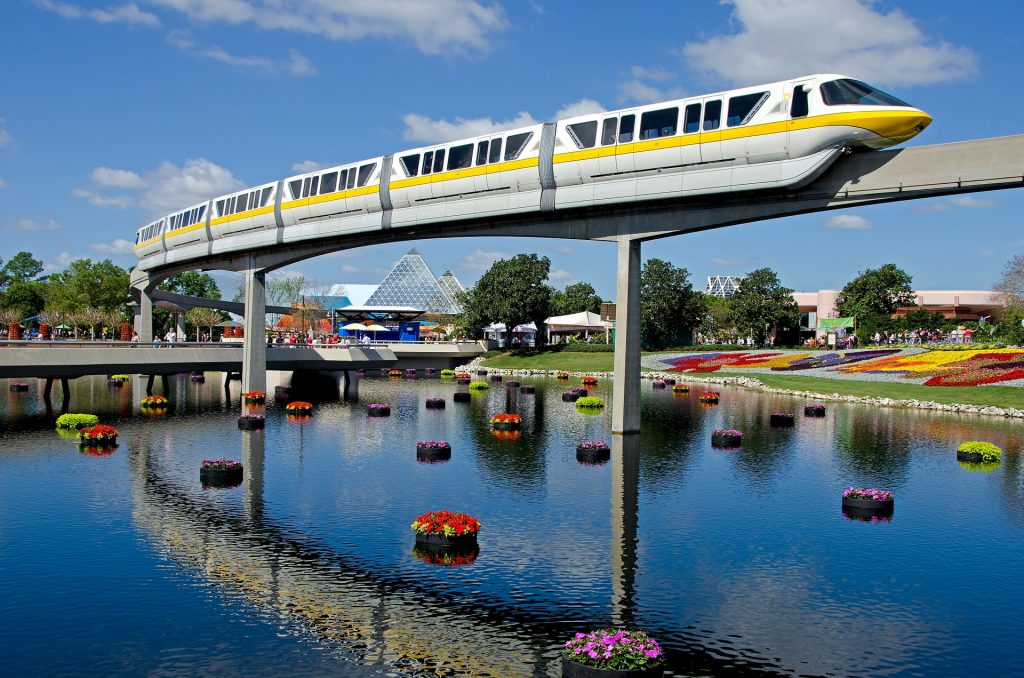 Buying Tickets
Park tickets will account for a large chunk of your Disney World vacation cost. They are not cheap, but once you enter the parks, there is no additional charge for any attractions. There are different types of tickets you can purchase, starting at $99USD for a one day pass to $515 USD for a 10-day pass. Mickey Chatter's Planning Guide provides a detailed explanation of the different types of park tickets.
With every park ticket purchase, you get access to Disney's Fastpass+ system, which allows you to book 3 rides per day ahead of time. When using a Fastpass, you get to skip the regular queue, which will help you avoid waiting in long lines.
There are a variety of places that you can purchase your park tickets from, and a handful of potential discounts you can use. Undercover Tourist is one of the most popular sites that offers discounts on 3 day and other park tickets. You can also purchase your tickets direct from Disney, and they offer special deals on packages that include hotel and tickets. Check their Special Offers page to find current offers.
Other discounts you will find on park tickets include: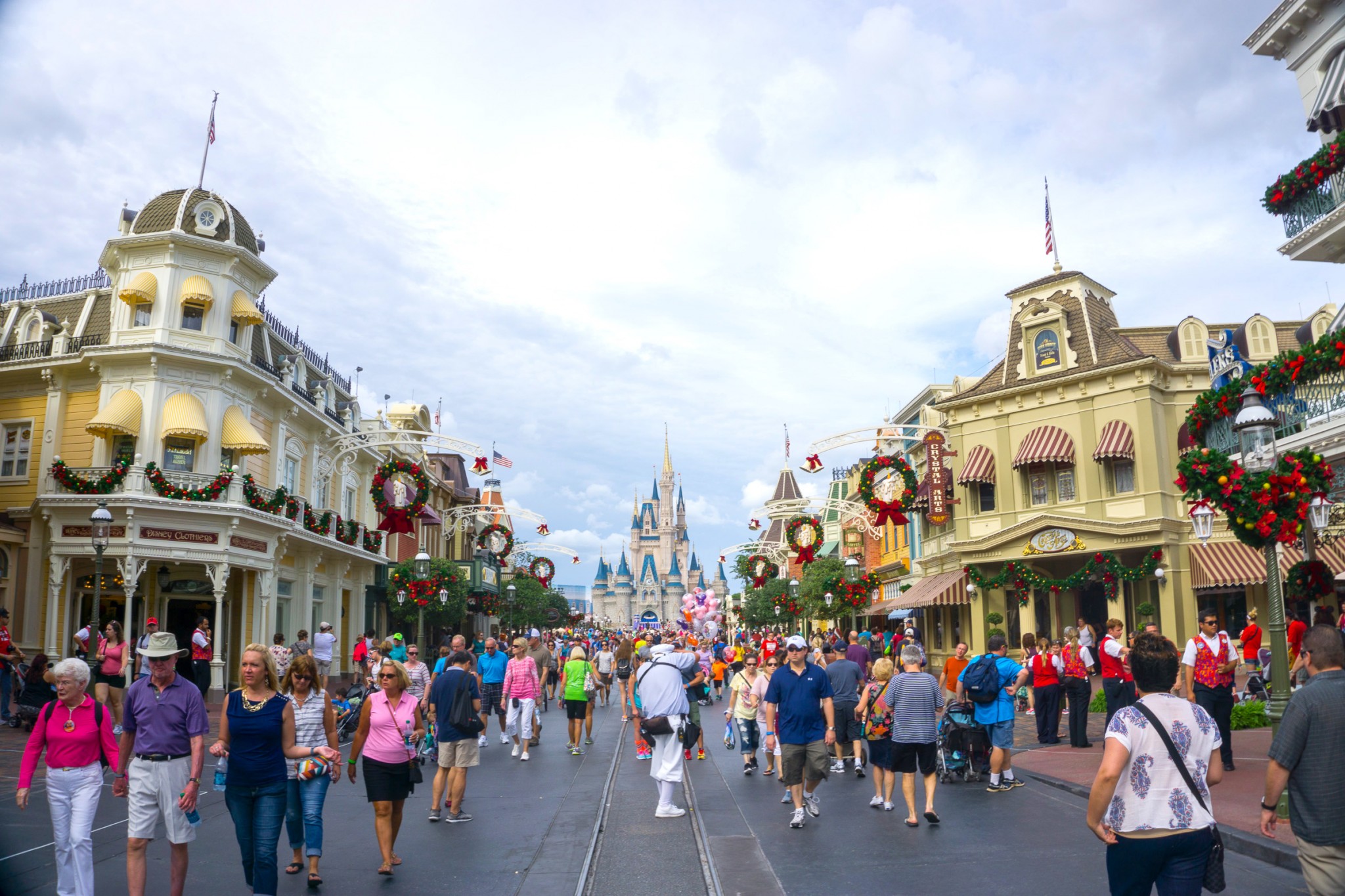 Park Info
Disney World consists of 4 main theme parks. Some deserve more time due to their size and number of attractions, while others can be sufficiently explored in just one day.
Magic Kingdom
This is the most popular theme park. Magic Kingdom has the most rides, totalling over 20. It has six themed lands that cater to all ages. Entertainment includes a daily afternoon parade and an evening fireworks show. Since there is such a high number of rides in this park, I always recommend setting aside 2 days for this park.
Epcot
This park will allow you to explore the future and travel the world, all at the same time! The front portion of the park is called Future World, which focuses on sciences, space, technology, and innovation. The back portion of the park is called World Showcase. In this area you will find 11 pavilions that represent countries from around the world. Epcot has 9 rides, exhibitions and live entertainment to enjoy. It is also where you will find some of the most diverse culinary dishes. If you are a foodie, then this is the park for you! You can enjoy this park in 1 day, but 2 days would be my recommendation.
Hollywood Studios
Hollywood Studios brings the magic of movies to life. It is the smallest park on property and currently has quite a bit of construction going on. For this reason, I consider it to be a 1 day park at the moment.  This park has 5 rides, 6 live shows, and 2 evening shows. The highly anticipated Star Wars Land is being built here, which is scheduled to open in 2019. Toy Story Land is coming close to completion, which is scheduled to open in summer of 2018.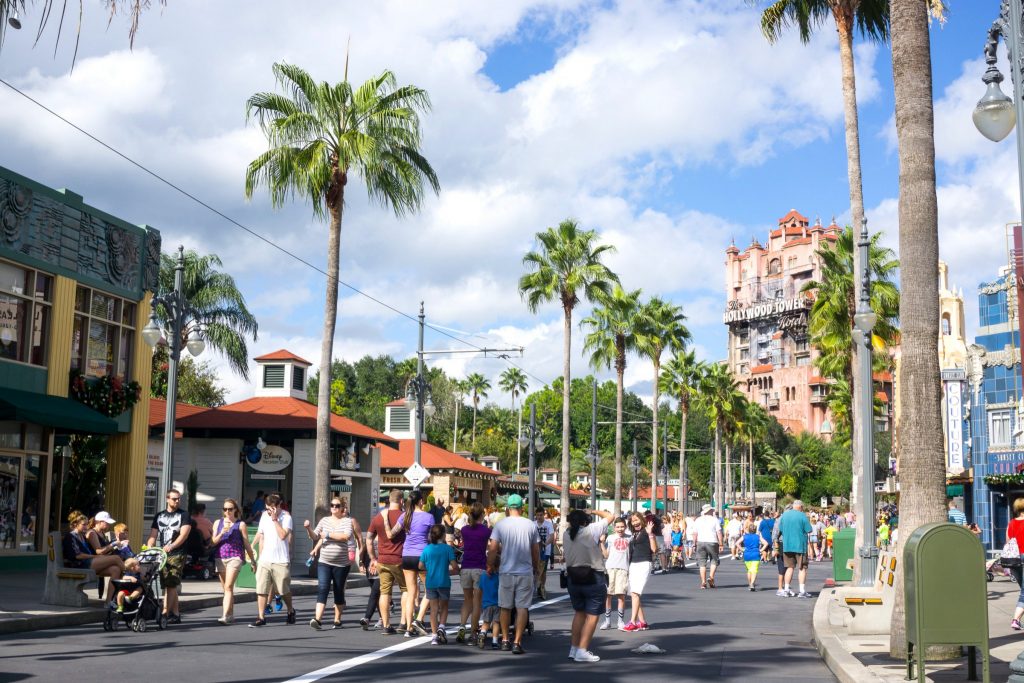 Animal Kingdom
This park celebrates animals, nature, and prehistoric giants. It is separated into five themed lands. The park has 8 rides, 2 live stage shows, and several trails where you will discover all sorts of wildlife. Pandora: The World of Avatar opened at this park in May 2017. I would recommend setting aside 1 day to tour this park.
When To Go
Crowds can get very overwhelming at Disney, so I always try to stick to the "slower" times of the year. This will also be when you will find the best hotel discounts. The slower periods include:
Mid-January to mid-February
Late August to mid-November (September being the slowest month)
If you are there for a full week, it is recommended to try and schedule your park days on weekdays. Weekends are much busier as this when you will find the locals in the parks. Also, try to avoid any US stat holidays (such as Labour Day), as that also will mean high crowds.
How Long to Stay
Your length of stay will certainly affect your Disney World vacation budget. The shorter the trip, the less it will cost. However, if you want to make sure you see all that Disney has to offer, then I recommend a minimum of 5 days in the parks. With 5 days, you will be able to visit all 4 parks and see the attractions that are at the top of your list.
If you would like to also spend some time at Disney Springs, the water parks, or some down time at your hotel, then you may consider extending your stay to a full 7 days.
For more detailed guidance on the best way to tour the parks, check out the Free Disney World vacation Itineraries provided by Mickey Chatter.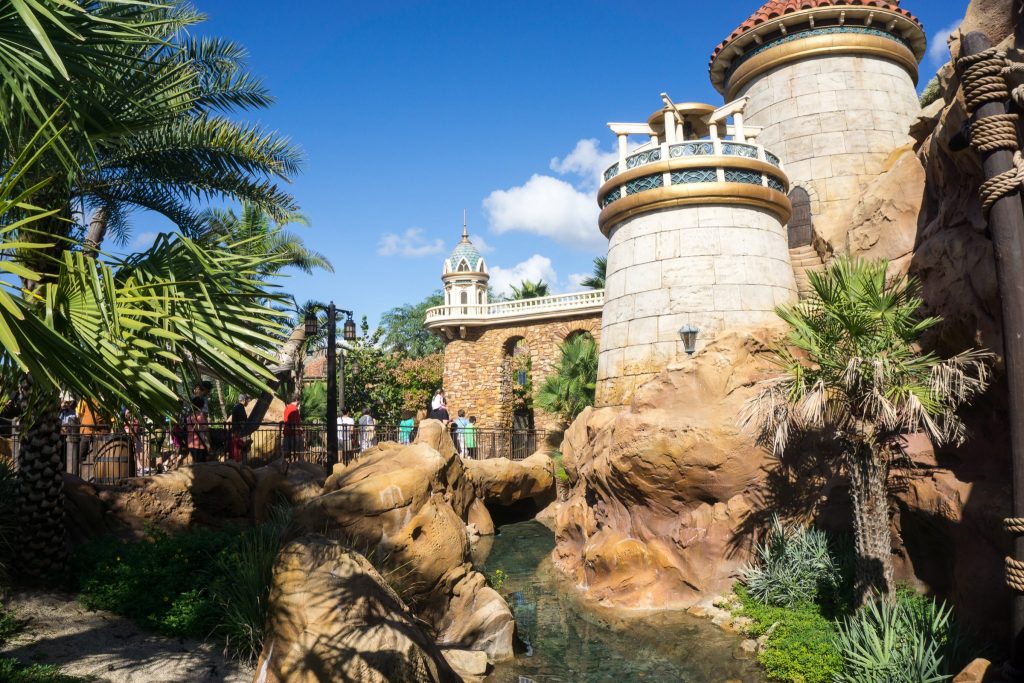 Where to Stay
On site (Disney resort)
There are a TON of options to choose from when it comes to accommodation. The obvious choice would be a Disney resort, but that may not always suit everyone's needs nor budget. Staying at a "Value" level Disney resort will be your cheapest option, but it does not offer a lot of space. It really comes down to what you require for your accommodations. To price out what it would cost to stay at a Disney resort, make sure to check their Special Offers page. You can also compare prices across hundreds of booking sites with TripAdvisor. Many third-party sites have cheaper prices and coupon codes, just be sure to check their cancellation terms.
Disney resorts offer 3 classes of properties, Value($), Moderate($$), and Deluxe($$$). Staying at a Disney resort provides several perks. These include:
Complimentary transportation
Extra hours in the parks (Extra Magic Hours)
Complimentary MagicBands (your tickets for the parks and fastpass)
Earlier access to Fastpass selections
Access to the Disney dining plan
In the Disney magic all the time
Offsite options
If you would like more space to spread out at the cost of a value level Disney resort, then you may want to consider renting off-site. Keep in mind that you will need to account for the cost of a rental car and parking of $20/day at the parks if you stay off-site. There are many accommodation options near Disney including hotels, condos, and entire homes. Recommendations include:

Planning Your Disney World Vacation
I highly recommend that you put in some time to plan out your days at the parks. Some basic planning will save you a lot of time, avoid unnecessary long lines, and will make your Disney World vacation much more enjoyable.
Basic planning involves deciding where to go on which days, which Fastpasses you will select, and where you will eat. If you want to eat at any of their sit-down restaurants, take note these require reservations.
To more easily plan out your days, check out this super detailed guide to using a Disney World Crown calendar to plan your park days smartly and avoid the crowds.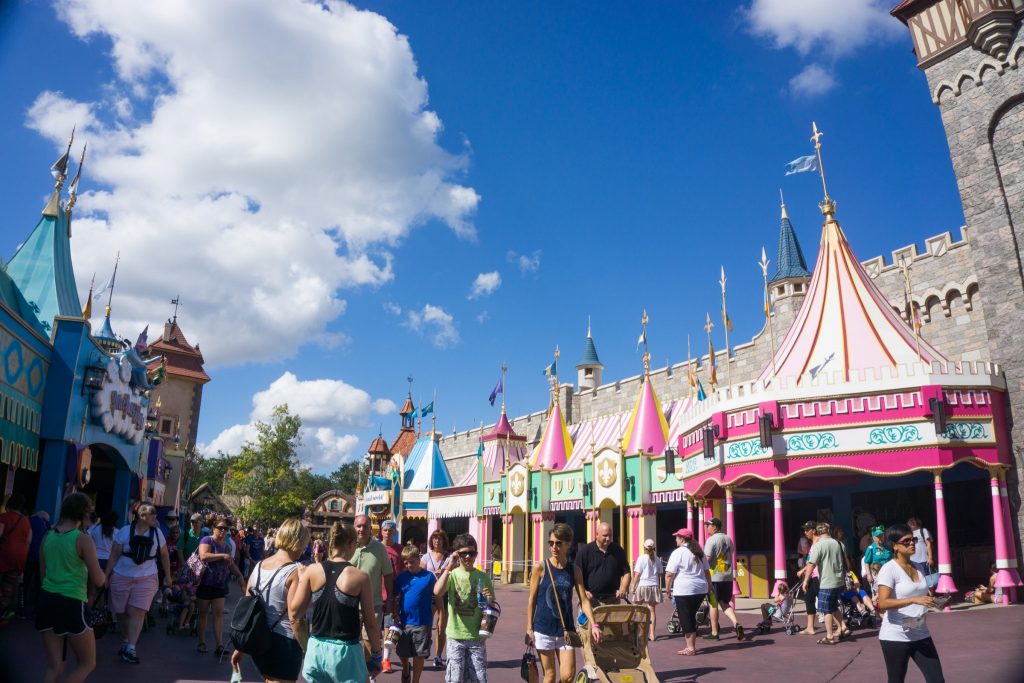 Food & Drink
This is the portion of your trip where the cost can really vary. Depending on the choices you make, you can either spend or save a lot. Disney has a variety of restaurants to choose from. They generally consist of:
Counter Service (ie. "fast food " style): approximately $10-$15 USD per person
Sit-down: approximately $20-$50 USD per person
Character Meals/Special Events: approximately $15-$60+ USD per person
If you want to reduce the amount you will spend on food, your best strategy will be to pack your own meals. There are several grocery stores and Walmarts in the area where you can pick up supplies to pack meals. If you don't have a car, there are grocery services that will deliver groceries direct to your accommodation. The ones that are highly recommend are:
*Thrifty tip: You can always ask for ice water at any restaurant free of charge in Disney World. You can also try a variety of Coca Cola drinks from all over the world at Epcot's Flavors of Club Cool.
Disney Dining Plan
Disney resort guests have access to purchase the Disney dining plan. Dining plans give access to credits which can be used at different types of restaurants throughout your stay. Essentially, you prepay for a set number of meals and snacks, so you don't need to worry about paying out of pocket.
If your objective is to save as much money as possible, then the dining plan is not cost-wise. The only instance I would recommend it for saving is if you book with an offer from Disney that includes a free dining plan. These types of offers usually run in the Fall months, and are released in late April for booking. The Free Dining promo books up quickly, so you should keep an eye on their Special Offers page at the end of April if you are interested in getting it.
For a more detailed analysis as to whether the dining plan is worth it or not, check out this in-depth guide to the Disney dining plan.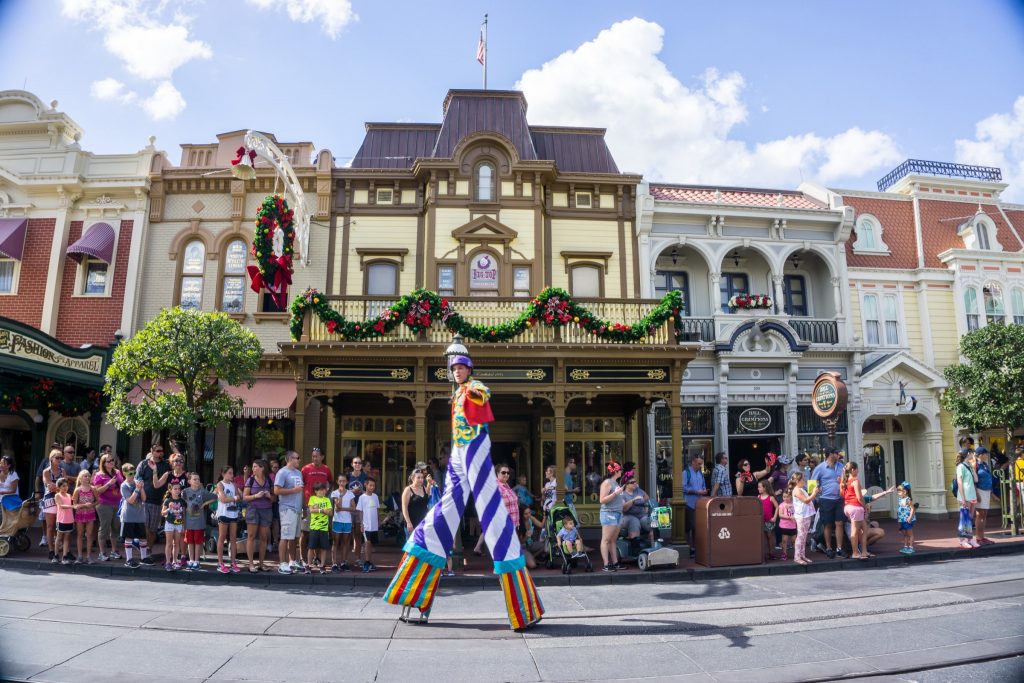 Other Costs to Consider
If you would like to enhance your Disney World vacation or splurge on a few extras, then you will have to factor in those costs as well. Some of the extra costs you may want to consider are:
Stroller/Scooter Rentals (Kingdom Strollers, Magic Strollers, Buena Vista Rentals)
Memory Maker (pre-pay for photos taken of you on rides and with your favorite Disney characters, available for digital download at the end of your trip)
Special Ticketed Events (Dessert Parties, Halloween Party, Christmas Party)
Souvenirs (What's a Disney World vacation without a token to take home? Souvenir shops are plentiful)
The Thrifty Gist
The cost of a Disney World vacation can really vary, but there are some cost saving strategies you can implement to do it on the cheap. To spend the least amount, you will want to focus your spending on the basic elements of the trip – travel, lodging, transportation, park tickets and food. Here are my best tips for staying thrifty:
Travel during the "slower" months and stick to flying on a weekday (get flight deals from Scott's Cheap Flights and use Skyscanner to search for the cheapest flight prices by month)
Reduce transportation costs by using any complimentary services offered to you
Check every park ticket offer that applies to you and choose the cheapest option
Choose the least expensive lodging option that fits the needs of your Disney World vacation (try Airbnb, VRBO, Hotwire, Priceline, and Expedia)
Order/pick up groceries and pack as many meals/snacks as you can
Don't pay for beverages, instead ask for free ice water
Thrifty Nomads has partnered with CardRatings for our coverage of credit card products. Thrifty Nomads and CardRatings may receive a commission from card issuers. Opinions expressed here are author's alone. Responses are not provided or commissioned by the bank advertiser. Responses have not been reviewed, approved or otherwise endorsed by the bank advertiser. It is not the bank advertiser's responsibility to ensure all posts and/or questions are answered.