An ancient architectural puzzle yet to be solved, Stonehenge is a 5500 year old stone circle located in Salisbury, England. Southeast of Bath in England, it consists of about 75 stones 4 meters (13 feet) high and 2.1 meters (7 feet) wide. It is one of Europe's most famous Neolithic monuments and has captured the imagination of the world for millennia.
History/Conspiracy
Construction of Stonehenge likely began around 3100BC. This makes it older than the pyramids in Egypt! Since the stone circle was built by a culture that had no writing system, its origin and true purpose remains shrouded in mystery. Naturally, bonkers theories abound. The biggest of Stonehenge's stones weigh a whopping 25 tonnes – so how a stone age society could have possibly transported these objects has lead to fevered speculation. Some believe it was aliens, others say an ancient race of giants since wiped out by Noah's flood helped the Neolithic people in their labours. 
Scientists prefer less outlandish theories, such as the use of a bridge made of tree-logs laid side by side which could be used as a kind of horizontal ramp, or greasing the ground with animal fat to decrease resistance. The arrangements of the stones lines up nicely with the sun during both the longest and shortest days of the year (Summer Solstice and Winter Solstice), so they likely had ceremonial significance, possibly were believed to have healing powers, and may have functioned as a kind of ancient observatory.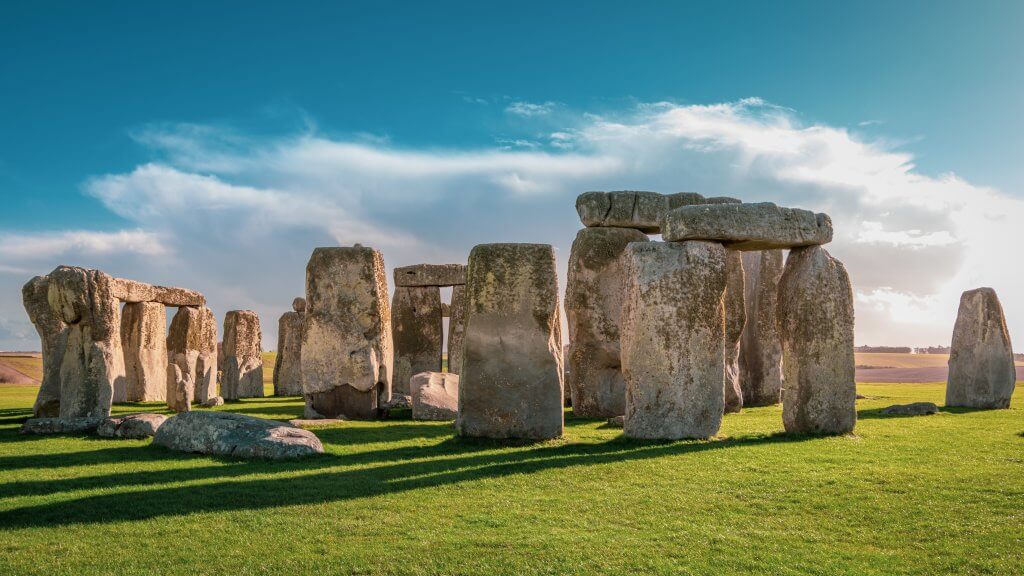 Why Go?
Stonehenge is such a large part of pop culture that seeing the monument in person is like meeting a celebrity. In addition to the thrill, people visit to get a clearer sense of the history of the place, and gain insight into the life and beliefs of our ancient Neolithic ancestors. Plus, the impressiveness of its staggering size and mysticism is pretty good fun.
What's There?
In addition to the stone circle itself, there are several man-made additions and attractions designed to help you learn more about Stonehenge and the Neolithic way of life. Reconstructed Neolithic Houses stand near the monument, made with original materials and techniques. There's also a multimedia "Standing in the Stones" experience, giving you a sense of what it would be like to be in the middle of the circle as the seasons change. The Stonehenge Exhibition lets you experience a range of Neolithic crafts and activities, and "meet" a 5500 year old man, his "real" face recreated based on bone fragments found near Stonehenge. And of course, there's a cafe and a shop onsite. 
Getting There
Stonehenge is located 36 miles (about 58 kilometres) northeast of Bath. Bath itself is a famous tourist attraction in its own right, home of ancient Roman-era springs from which the city gets its name, gorgeous stone architecture, and a wealth of great pubs, B&Bs, and attractions. The city is also associated with Jane Austen, who lived there from 1801 to 1806 (if you're into it – check out this website for information on her connection to Bath, including the Jane Austen center!)
How to Visit Stonehenge from Bath
Bath is a popular access point for Stonehenge. By public transport, you can also take the Great Western Railway from Bath Spa Station to Salisbury, and change there for a bus to Stonehenge visitor's center. The journey takes about 2 hours by public transport, or about 1 hour by private car or tour bus. Plenty of tours leave from bus and can be booked online or through your accommodation – see below for some options.
How to Visit Stonehenge from Salisbury
If the Roman heritage of Bath doesn't tempt you and you want to stay in a pleasant old city closer to Stonehenge, you could do worse than spending a night or two the medieval city of Salisbury. From there, regular
tours
depart from the train station (30 minutes) or city, and the New Canal Bus Stand (21 minutes) to the Stonehenge visitors centre. Tickets cost £10 for transit only, and can be booked here.
How to Visit Stonehenge from London
London is a bit further away, though plenty of tourists do tackle Stonehenge in a day trip from the capital, and there are tours that offer this option and includes return transport to London, making for a full-day round trip, often including some time spent in the surrounding countryside.
Via public transport, you can take the South Western Railway from Waterloo station to Salisbury, and from there is a half-hour bus ride to the visitor's center. The total journey time from Waterloo station to Stonehenge Visitor's Center is about 2.15 hours. Be sure to book your railway ticket in advance to avoid high fees and ensure that you get a seat. Tickets cost vary radically – at the time of writing on their website, one-way fares are looking to be 28GBP or $35 USD booked on the day before travel.
Where To Stay
There is no accommodation at Stonehenge itself as it's located in the countryside. There are B&Bs around, which can be booked through websites such as Home Away. For convenience as well as for the fun of the city itself, many tourists choose to stay in relatively nearby Bath, one of the UK's most celebrated and photogenic towns which is more than worth the stopover in its own right. Its popularity does make it a pricey option in summer however.
Bath has several backpacker options including the popular St Christopher's Inn chain, a bit shabby and rowdy but a great place to meet travelers. At the time of writing beds averaged 25GBP/30USD and can be booked through Hostel World. There are also a number of budget hotels and sometimes good deals can be found on Booking.com. 
How Much Does it Cost to Visit Stonehenge?
Entrance to Stonehenge costs £19.00 (~$23USD at current Brexit exchange rates). You can buy your ticket from the visitor's center, or get it online in advance on GetYourGuide – this option gives you a mobile voucher with instant confirmation, meaning you can skip the line. You also get free cancellation with some options, meaning that, if you change your mind because… I dunno – maybe the stones weren't… hengey-enough for you, you can get your money back.
If Stonehenge is just one of the many heritage attractions you plan to see during your visit to England, you can also get the "English Heritage: Attractions Pass for Overseas Visitors" on GetYourGuide for $43, giving you access to Stonehenge as over 100 castles, mansions, ruins and prehistoric sights across the country. The pass pays for itself early on, given the abundance of sights it includes and that Stonehenge entry alone is already more than half of the pass cost.
Transport from London costs around £30GBP each way if you go using public transport. Transport from Bath costs around £19GBP, and both routes can be booked in advance online. This means, going yourself from Bath and back including ticket price will cost you about 47GBP, or £80GBP from London. Train tickets can be cheaper than this if you book in advance or travel with a discount Railcard or a Eurail Pass. To determine whether a Eurail pass is worth it for your overall trip, check our other guide here. It's also useful to reiew the perks of the Eurail Pass in Britain specifically here.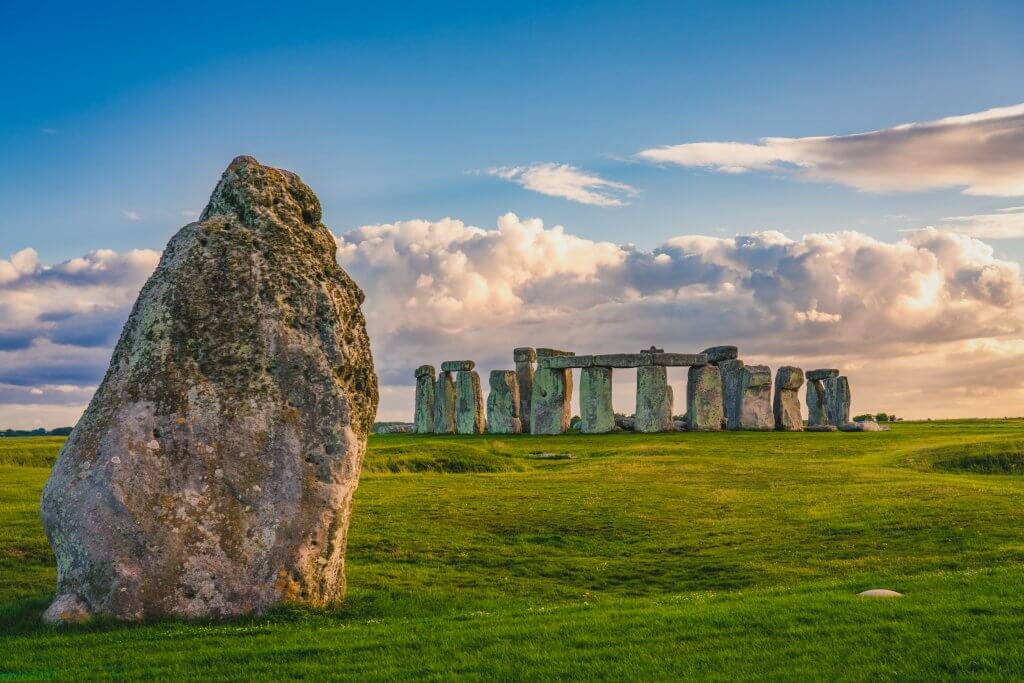 Seeing Stonehenge with a Tour
You can also take a tour from London or Bath, which will include round-trip transportation and admission. Unless you have your own car, tours are generally the most cost-effective way to take in Stonehenge.
Tours from London start from $65USD or £53GBP on GetYourGuide, often including the full round trip and some sightseeing in the surrounding countryside. For example, the popular "London: Stonehenge, Bath & West Country Day Trip" ($79.23) bookable through GetYourGuide takes 11 hours, and includes some time in Bath, the countryside and several picturesque villages, as well as Stonehenge itself.
Tours from Bath are harder to find on GetYourGuide but can be booked with local companies such as Scarper Tours who offer round-trip tours from Bath for £40.00GBP ($49USD) including admission. Your hostel or B&B should also be able to provide information on local tour options.
Bonus: Events at Stonehenge
From an out-of-the-box experience that will make you the envy of your fellow youth-hostel guests, you may want to think about attending one of the many events that are held at Stonehenge year-round. Look ahead on English Heritage to find out what's coming up – some give you the chance to experience Stonehenge at night, listen to lectures and participate in workshops on ancient astronomy, or learn the art of astrophotography. You can also try your luck at getting  Stone Circle Access pass, available by request only, that lets you get right inside the stone circle itself  tourists are normally restricted to the perimeter for reasons of preservation.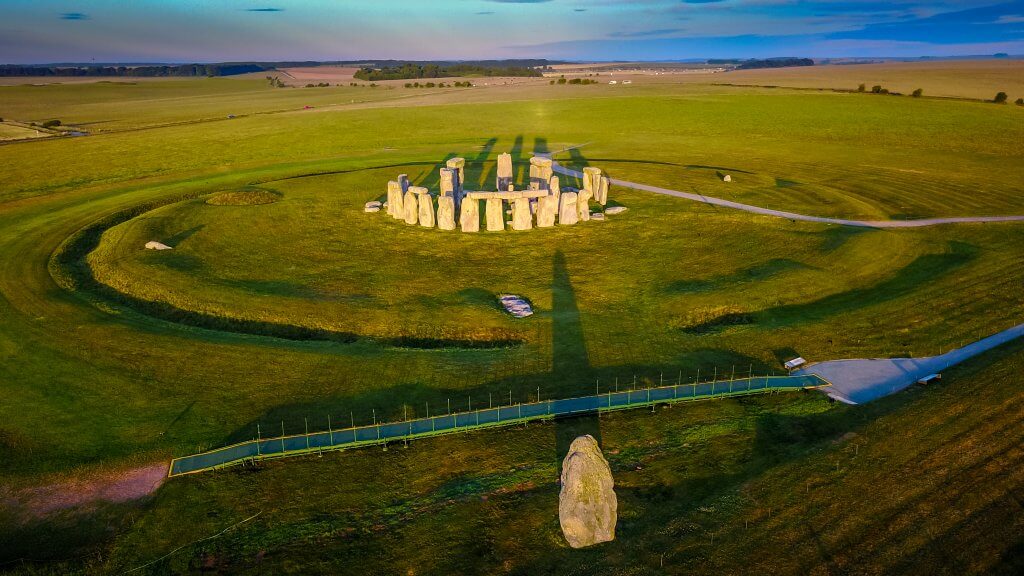 The Thrifty Gist
Stonehenge can be visited independently via public transport from Bath (~1.5 hours) or London (~2+ hours). Alternatively you can visit via tour from Bath or London

Tours typically include round-trip transportation, admission and some sight-seeing on the way, which can make for a hassle-free visit

Admission is costs £19GBP and can also be booked online to skip the queue, it includes access to the stone circle, as well as reconstructed Neolithic houses and an informative visitor's center
Bonus: Check out English-Heritage.org for events and opportunity to see Stonehenge at night and even to get inside to circle for a rare, up close & personal experience.