Travel stores are basically a candy shop for wanderlusters. And no matter how cynical you may be towards all the too-clever travel gear before you, you're likely to leave lusting over an item or two (for me it's always those hang-and-sleep hammocks – could I really travel around in one of those?).
With the oodles of epic travel gear out there, the question always lurks: which items are worth the purchase? Better yet, which gear will actually save you money while out on the road?
Lucky (or not so) for us, we've got to be ultra selective about what goes into both mine and Ted's 28-litre bags. Whatever makes the cut either has to be functional or cut costs– or ideally, both. We've bought, used, tossed, and kept various gear in our years of travel. Here's 8 must-pack items that we can vouch for to travel cheaper on your next trip!
---
1. Reusable water bottle

Costs saved: $1-$3 USD per bottle (varies by region)
Purchase price: $8-$12 USD (assorted sizes & styles)
Where to buy: Amazon, REI (US), MEC (Canada)
Depending where you're travelling, a reusable water bottle will pay itself off after just a few bottles (and reduce waste). We've been using the Platypus soft bottles almost daily for the last year and a half – a worthy upgrade from the cheap Dollar store ones that cracked and leaked.
What's awesome about the Platypus is that it folds completely flat when empty. It also has a loop so it can be attached with a clip onto a bag. The only downsides are that it's tricky to clean (we swish with hot soapy water & rinse), and the tiny cap which is easy to lose when it pops off.
Pro tip: You can re-purpose this into a portable hot water bottle – simply fill with hot water, screw tightly, and wrap in a towel!
2. Portable water filter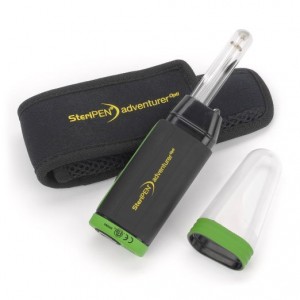 Costs saved: $1-$3 USD per bottle (varies by region)
Purchase price: $85+ USD (varies by brand/style)
Where to buy: Amazon, REI (U.S.), MEC (Canada), travel/outdoor stores
If you're travelling in a region where water contamination is a risk, a portable water sterilizer can prevent wasting money and water bottles. Upfront it's not a cheap purchase, but with over 8,000+ uses per battery life, it will pay itself off.
Personally, I've now surpassed the point of wasting my time and money boiling our own water and buying bottles. A portable filter is definitely ideal to curb stresses about carrying enough Iodine tablets, constantly boiling water, or wasting money (& plastic!) on bottles.
3. Portable coffee/tea filter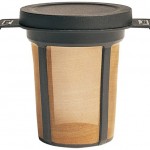 Costs saved: $1-$4 USD per coffee (varies by region)
Purchase price: ~$15 USD
Where to buy: Amazon, REI (U.S.), MEC (Canada), travel/outdoor stores
If you love a good cup of java or tea every day, then you've identified a regular budget bleeder. We picked up this portable MSR MugMate filter nearly two years ago now, and it paid itself off after just a few brews. It has also eliminated instant coffee from our life – all together now: YAY!
To use, simply scoop in coffee grinds or tea leaves, add hot water, stir, and steep. Leave for 2-3 minutes (or longer for stronger taste), remove the filter & enjoy. The lid sits on top while brewing, then doubles as a coaster for the filter after you remove it.
Pro tip: only use coarse grinds as the mesh does allow some fine particles at the bottom. The coffee is somewhat comparable to a French-press style which may be bolder if you're used to drip coffee.
4. Compact mug or thermos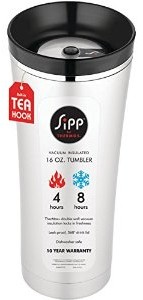 Costs saved: $1-$4 USD per coffee (varies by region) and even more on meals (see below)
Purchase price: $5+ USD, varies by brand and type
Where to buy: Mug – Amazon, MEC (Canada), travel/outdoor stores, Thermos – Amazon, travel/outdoor stores, department stores
A reusable mug or Thermos pacifies the urge for (pricey!) on-the-go hot drinks, and can multi-function as a food container as well. Beyond hot drinks, one can also store oatmeal, cereal, yogurt, soups, noodles, chilli can in a mug or thermos. This saves especially on breakfast when hotels skimp out on providing cups or bowls.
Pro tip: If travelling with 2+ people, aim for stackable mugs to save on space. For travel mugs, get one that's sturdy and leak-proof (this one doesn't leak even if upside down) and will keep food and drink hot or cold for several hours.
5. Collapsible tupperware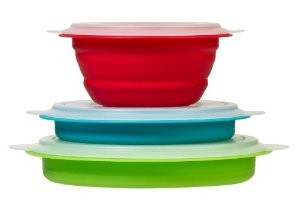 Costs saved: Upwards of $3USD per meal or snack
Purchase price: $16+ USD (depends on brand)
Where to buy: Amazon, Bed Bath & Beyond (U.S. & Canada), travel and outdoor stores
Tupperware is awesome. Collapsible tupperware is even better. It makes packing meals and snacks a no-brainer, with hardly any compromise on space.
Pro tip: No need to buy overpriced individually wrapped snacks when you can pack your own instead. Grab a large bag or box of nuts, popcorn, pretzels, crackers, DIY trail mix, etc. and throw into a container on the go.
6. Reusable cutlery set or spork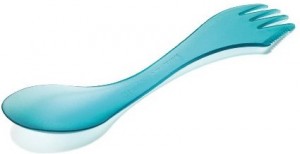 Costs saved: Upwards of $5+ per meal (varies by region and meal type)
Purchase price: ~$4-$8 USD, varies by brand
Where to buy: Spork – Amazon, REI (U.S.), MEC (Canada), travel/outdoor stores, Cutlery set – Amazon, travel/outdoor stores
Having cutlery on hand is a sneaky way to save. On road trips, this means we can stroll into grocery stores and buy grab-and-go items like salads, yogurts, and pastas if we have zero food on hand. Compared to dining out at a fast-food chain, this is always cheaper and healthier.
Now, if you're mindful of the presence (and purpose!) of portable cutlery, it can also help you create a habit of bringing food with you more often. I can't emphasize enough how much this can save, even on a short trip!
We've used the "Light My Fire" Spork for years now, the ultimate minimalist cutlery that's great for simple meals. For those preferring something bigger, a complete cutlery set is ideal, especially if you want to eat with more than one utensil at a time.
7. Travel toiletry bottles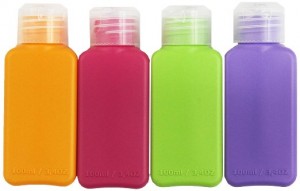 Costs saved: Upwards of $2+ per bottle
Purchase price: ~$1-$5 USD
Where to buy: Amazon (assorted sized ones and standard IKEA ones), IKEA, travel/outdoor stores, Dollar store (be wary – cheap ones may crack and leak)
Those adorable travel-sized bottles of anything are oddly compelling to buy, but let's be real – they aren't cost-effective and they're wasteful. Buying yourself a decent set of travel toiletries means you can stock and refill with shampoo, lotions, sunscreen, and other goods on the go. Much cheaper than re-buying miniaturized everything!
Pro tip 1: For longer trips, pick up a medium-sized shampoo bottle and use it during a longer stay. On check out, empty the remainder into the travel bottles.
Pro tip 2: Toiletry sets can be multi-purposed into on-the-go cooking supplies. I use an assorted sized set like this one to store various spices (in the mini containers) and put olive oil in the spray bottle.
8. Luggage scale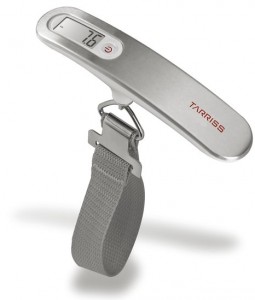 Costs saved: Airline baggage fees (anywhere from ~$50 USD to hundreds of dollars)
Purchase price: $8-$18 USD (varies by brand)
Where to buy: Amazon, department stores, travel/outdoor stores
An essential part of flying cheap with budget airlines is buying the correct luggage weight you need in order to avoid fees. To know this, you need a scale, and a portable one is ideal.
Now, in case you haven't already read our own horror story of how we threw out half our life in an airport trash bin, that's got to be the best example of how a luggage scale can seriously save your butt. Don't repeat our failure!
---
And that's a wrap, folks! What things do you bring along to save some cash in your travels? Share a thrifty thought below!