Next to plane tickets, accommodation is the biggest chunk of any trip. As echoed in our post on how to book the cheapest flight possible, the Internet has brought with it a monstrous pile of booking sites – many of which offer different prices even for the exact same hotel. These days, it's far too easy to waste your time and your money when planning.
To simplify things, we've laid out the cheapest accommodation booking options out there. That includes sharing the best ways to snag a deal (even free!), to our ultimate hotel hacks and tips. Here's how to book the cheapest accommodation possible!
1. Sign in for savings
That one minute it takes to sign up on a hotel or booking website can amount to some serious members-only savings. Skeptical? Check our example below or try comparing for yourself!
Many booking sites offer rewards programs (where you earn credit or free nights after a certain # of bookings) or members programs (where a membership earns you exclusive discounts). If you're hesitant to sign up because your inbox is perma-flooded with e-mails, fear not! You can still snag deals with a one-time sign-up to get a log-in ID, click "unsubscribe" from all e-mails thereafter.
A few companies that take advantage of members-only rewards programs include: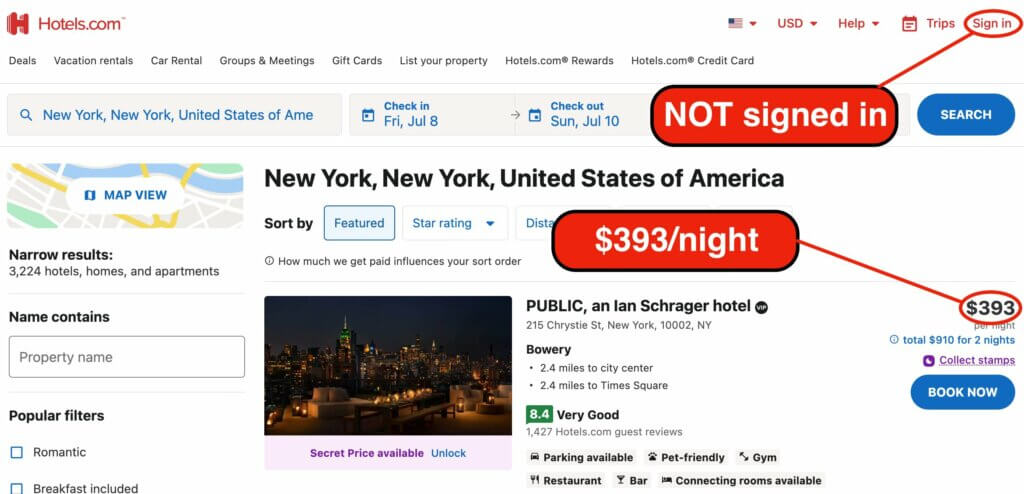 2. Use the best search engines
As you've probably learnt by now, not all booking services are created equal. Many sites tack on sneaky commissions to already inflated rates. The websites we've found to consistently have the best prices that also search broadly include:
Thrifty Tips: Reserve as far in advance as possible for best price – intentionally waiting for last-minute deals is a huge gamble, especially considering tip #3 (up next)!
3. Sign up for a hotel rewards credit card with a huge points bonus
One of the easiest ways to save hundreds on travel is by signing up for a hotel rewards credit card. With so many card issuers competing for your business, there are massive point bonuses to be had simply by signing up for the card and hitting the minimum spend requirement, simply by using the card for your everyday purchases.
Our top choice for travel rewards credit card with a stellar sign-up bonus is the Chase Sapphire Preferred card. You can earn 60,000 bonus points worth $750 after hitting the minimum spend requirement with your everyday purchases. The card earns 3x the points on dining, 2x the points on other travel purchases, and has no foreign transaction fees. You can convert the points to both hotel and flight partner programs, or book hotels and flights directly through the Chase Ultimate Rewards portal to get 25% bonus value on your points. The Chase Sapphire Preferred is our top overall pick for travel credit cards, so it's definitely worth considering!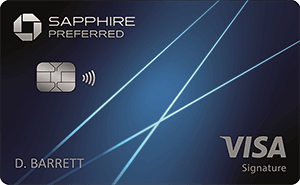 60,000 reward points (worth $750) after meeting the minimum spend of $4,000 in the first 3 months
$50 annual Ultimate Rewards Hotel Credit, 5x points for purchases on Chase Ultimate Rewards, 3x points on dining, and 2x points on all other travel purchases.
Points are worth 25% more on airfare, hotels, car rentals, and cruises when booking through Chase Ultimate Rewards (e.g. 60,000 points worth $750 toward travel)
Includes trip cancellation/interruption insurance, auto rental collision damage waiver, lost luggage insurance and more.

Can transfer your reward points to leading airline and hotel loyalty programs

No foreign transaction fees
Annual fee: $95
If you prefer something without an annual fee, or you already use Hotels.com a lot and want to earn rewards even faster, then the Hotels.com Rewards Visa Card could be for you (learn how to apply). This card has a great welcome bonus of 2 reward nights worth $250 total (max $125 per night) when you spend $1,000 on purchases in the first 3 months. You'll earn 1 stamp in the Hotels.com Rewards program for every $500 spent on the card, and you'll get some great perks in your first year, such as free breakfast, airport transfers, free WiFi, and more at selected properties. Plus, this card has essential travel features like no foreign transaction fees, a travel protection package, and no annual fee – so really, signing up for this card is a no-brainer.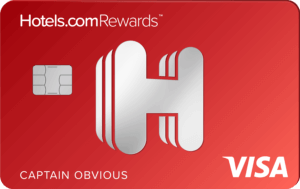 Hotels.com® Rewards Visa® Credit Card
Get 2 reward nights worth $250 total (max $125 per night, excluding taxes and fees) after spending $1,000 on purchases in the first 3 months
Collect 1 stamp for every night you stay at an eligible property booked on Hotels.com
Collect 1 stamp every time you spend $500 with your card
When you collect 10 stamps, you get 1 reward night to redeem on Hotels.com
Perks including free breakfast, airport transfers, and free wifi at select properties for your first year
No foreign transaction fees
No annual fee
4. "Hold" great rates by booking ahead with free cancellation
Booking a reservation that has "free cancellation" can help you secure great rates in advance. Most booking sites have free cancellation on the majority of listings, but always be sure of the cancellation policy and check how long that is valid for (e.g. sometimes it's only free cancellation until 48 hours before the booking date).
While this is a great way to hold an exceptionally good rate, many booking sites like Expedia and Hotels.com will offer an even greater discount if you book a non-refundable rate. It pays to plan ahead!
Finally, don't make a habit of "holding" infinite hotel rooms/dates – hotel owners don't enjoy repeated cancellations!

5. Collect points for free or upgraded hotel stays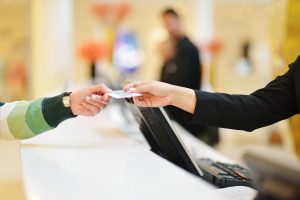 Every major hotel chain has a rewards program, letting you earn points that can be exchanged for free hotel stays or upgrades to your room. What you may not realize is that hotel booking sites have started their own loyalty programs too. The advantage with earning points on a booking site is that you can earn points when staying at any hotel, not just one chain. So if you stay at the Hilton one night and the Marriott the next, both stays will earn you points as long as you book with the same booking site.
Some booking sites that have their own loyalty programs are:
Loyalty programs with hotel chains can still be a great option. Many hotels offer exclusive perks and pricing to members of their program, such as late check-out and complimentary internet access. Most hotel programs are well connected with many partners, allowing you to earn points through credit cards, flights, car rentals, online shopping, and more.
Some popular hotel loyalty programs are:
6. Sign up for membership discounts
Many (non-hotel/booking site) memberships provide discounts on hotels and hostels worldwide. Often you simply type the membership/discount code in a coupon box when booking online. Some programs that offer discounts include: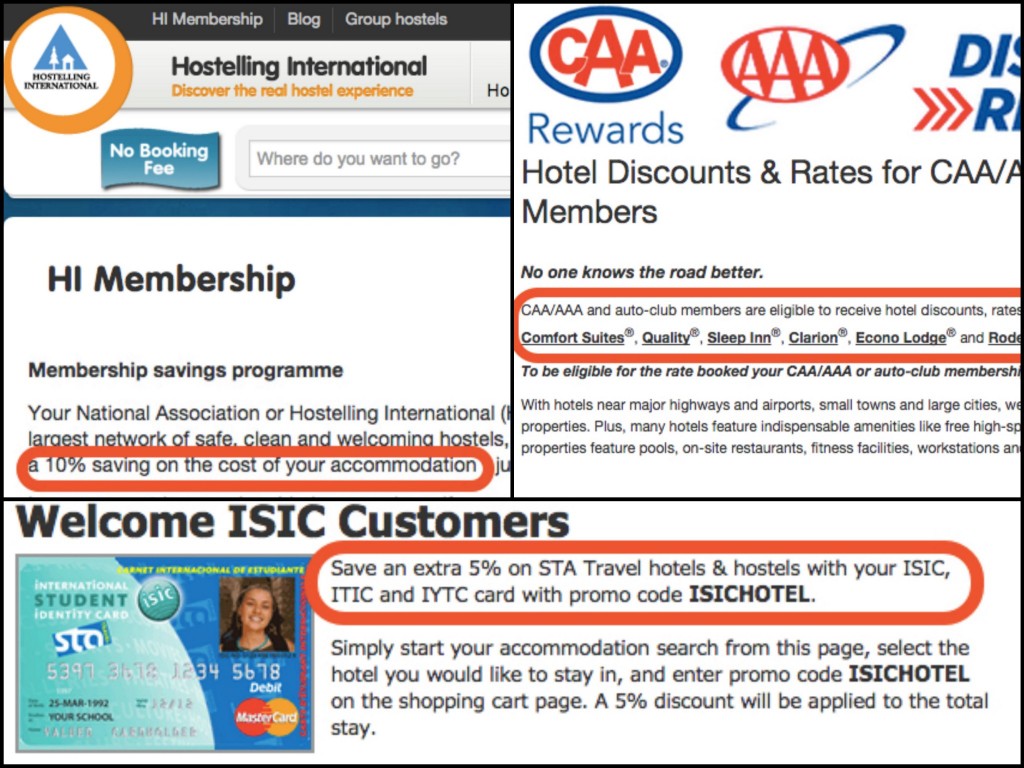 7. Scope out coupon codes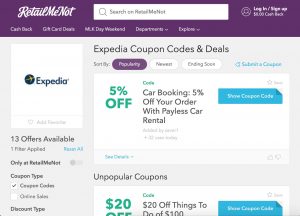 Found the best hotel price? Next, find a coupon for that hotel chain or the booking site you found it on. Always put in the year and/or month to filter out expired coupons, e.g. "Hotels.com September 2015 coupon". Some of the more reliable sites that offer coupons include RetailMeNot and Coupons.com.
8. Find region-specific search engines and hotel chains
More often than not, broad search engines miss smaller, region specific search engines and hotel chains. It pays to ask around on Tripadvisor forums, friends, and Google to see if there are local hotel chains or booking sites you may not be aware of. Here's a few region-specific examples (got more to add? Leave a comment below!):
9. Snag a last-minute or mystery deal
"Mystery deals" happen when the hotel name is only revealed after payment, in exchange for a deep discount off regular rates. Websites that offer mystery deals include Hotwire and Priceline (scroll down to "Express Deals").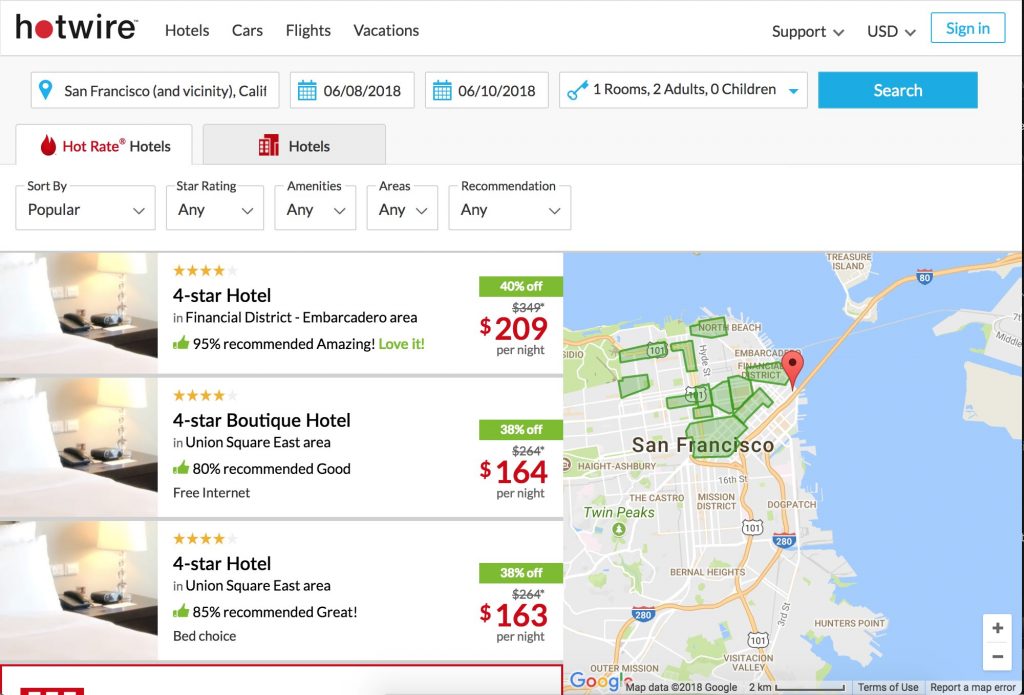 Thrifty Tips: Mystery deals can often be determined before booking – check out Better Bidding and Bid Goggles to potentially identify which one you're getting.
Last Minute Deals
Last minute deals happen when rates are reduced to sell a room. Such prices can be found on normal booking sites or via HotelTonight, which specializes in last minute deals (get $25 credit using promo code TAVERY19). Expedia has a last-minute deals page as well. That being said, it's not recommended to delay booking in hopes of finding last minute deals – at least make a Plan A and "hold" a room with free cancellation first (tip #3)!
Book Someone's Non-Refundable Reservation at a Discount

A new service called Roomer allows you to reserve a hotel room that someone else has booked but can no longer use, and is non-refundable. By offering someone else's set booking, the original buyer gets some money back, and you get a reduced rate. Win-win for all!
10. Use the sharing economy
The sharing economy relies on "sharing" in one form or another, such as renting someone's home while they're on vacation. This is often hugely cheaper (and sometimes even nicer) than hotels, hence its worldwide explosion in popularity. Check our round-up of sharing economy travel services here.
What does it cost to stay somewhere using the sharing economy? Anywhere from FREE to as much as you want to fork out for a high-end apartment rental. Couchsurfing, housesitting, and house swapping are all cost-free options. Those wanting to splash out on fancier accommodations can book timeshares for rent by owners at a fraction of the cost set by the resorts themselves. Prices can range from as low as $28/night to a few thousand per week, depending on how luxe you want.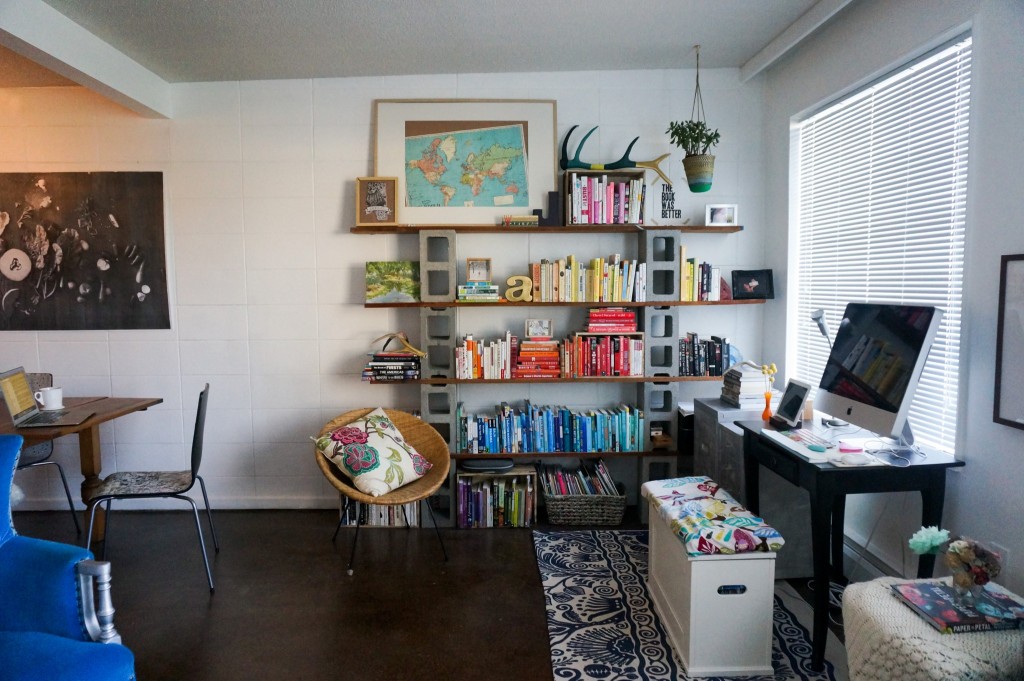 Some sharing economy accommodation options include:
Home Rentals
Couchsurfing
Hospitality Club (stay at a home/farm etc for free, sometimes volunteering/working)
Timeshares
Thrifty Tips: Create a detailed, enthusiastic profile with photos to be an appealing, responsible guest and/or home owner. Where relevant, detail any your pet/housesitting experience (even if you've only done so for friends – anything is better than nothing!). If listing your own home for an exchange, be sure to include bright photos and detailed descriptions of nearby attractions.
11. Check Groupon & deal-of-the-day sites
Hotel bookings or holiday packages can have significant discounts on group buy sites, especially if you're seeking fancier hotels. Some group buy sites include:
Thrifty Tips: Always double check for black-out dates and take note of additional fees (e.g. extra charges for bookings on weekends or holidays).
12. Book longer stays for weekly & monthly rates
Longer term rates can reduce nightly rates significantly. Surprisingly, a 7 night stay can be even cheaper than staying 6 (see example below). Why is that? Extended bookings are ideal for owners as it means less room changeovers for them and thus less costs. Weekly and monthly rates on Airbnb are quite competitive against what locals pay in terms of rent, and are almost always much cheaper than hotels.

Final Thrifty Tips
---
WHEW! And there you have it. All of our best booking tips in a single place. If you've got some other cost-cutting hacks, recommendations, and tips feel free to share the thrifty love in the comments below. Happy saving!
Thrifty Nomads has partnered with CardRatings for our coverage of credit card products. Thrifty Nomads and CardRatings may receive a commission from card issuers. Opinions expressed here are author's alone. Responses are not provided or commissioned by the bank advertiser. Responses have not been reviewed, approved or otherwise endorsed by the bank advertiser. It is not the bank advertiser's responsibility to ensure all posts and/or questions are answered.